Biography of Marlene Dietrich
Marlene Dietrich – German actress and singer.
Name: Marie Magdalene "Marlene" Dietrich
Date of Birth: 27 December 1901
Place of Birth: Berlin, German Empire
Date of Death: 6 May 1992 (aged 90)
Place of Death: Paris, France
Occupation: Actress
Father: Louis Erich Otto Dietrich
Mother: Wilhelmina Elisabeth Josephine Felsing
Spouse/Ex: Rudolf Sieber (m. 1923; died 1976)
Children: Maria Riva
Early Life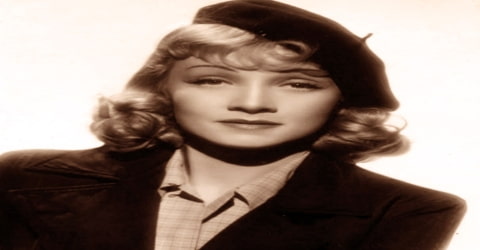 Film actress Marlene Dietrich was born on December 27, 1901, in Berlin, Germany. She was a German actress and singer who held both German and American citizenship. Throughout her long career, which spanned from the 1910s to the 1980s, she maintained popularity by continually reinventing herself. This internationally famed actress cum singer was a frontline performer with an amazingly long career in the show business. One of the highest paid actresses of her time she reached superstardom and was named the 9th greatest female star of classic Hollywood Cinema by the 'American Film Institute'.
In 1920s Berlin, Dietrich acted on the stage and in silent films. Her performance as Lola-Lola in The Blue Angel (1930) brought her international fame and a contract with Paramount Pictures. Dietrich starred in Hollywood films such as Morocco (1930), Shanghai Express (1932), and Desire (1936). She successfully traded on her glamorous persona and "exotic" looks and became one of the highest-paid actresses of the era. Throughout World War II, she was a high-profile entertainer in the United States. Although she still made occasional films after the war, Dietrich spent most of the 1950s to the 1970s touring the world as a marquee live-show performer.
A symbol of glamour and elegance, she continuously developed herself both professionally and personally. Her rendition in films and enthralling cabaret dancing was seductive, magical and ageless. Her image epitomized by Lola-Lola in 'The Blue Angel' was of an enticing cabaret singer with a top hat and silk stockings – a progressive woman who is financially independent and can choose her own men. During the Second World War, she was seen as a high-profile performer. After the Second World War, she mostly performed as a marquee artist doing live shows around the globe occasionally doing films.
One of the most glamorous leading ladies of the 1930s and 1940s, Marlene Dietrich is remembered for her smoldering sex appeal, distinctive voice, and unusual personal style.
Marlene Dietrich was noted for her humanitarian efforts during the war, housing German and French exiles, providing financial support and even advocating their US citizenship. For her work on improving morale on the front lines during the war, she received several honors from the United States, France, Belgium, and Israel. In 1999, the American Film Institute named Dietrich the ninth-greatest female star of classic Hollywood cinema.
Childhood, Family and Educational Life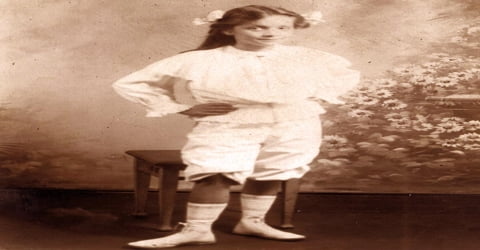 Marlene Dietrich, original name Marie Magdalene Dietrich, also called Marie Magdalene von Losch, was born on 27 December 1901 at Leberstraße 65 in the neighborhood of Rote Insel in Schöneberg, now a district of Berlin. Her father, Ludwig Dietrich, a Royal Prussian police officer, died when she was very young, and her mother, Wilhelmina Elisabeth Josephine, remarried a cavalry officer, Edouard von Losch.
At 11 Dietrich adopted the name, Marlene, bridging her first two names. From 1907 to 1917 she studied in Auguste-Viktoria Girls' School and completed graduation in 1918 from 'Victoria-Luise-Schule'. She studied English and French.
Dietrich studied the violin and became interested in theater and poetry as a teenager. A wrist injury curtailed her dreams of becoming a concert violinist, but by 1922 she had her first job, playing violin in a pit orchestra for silent films at a Berlin cinema. She was fired after only four weeks.
While in her late teens, Dietrich gave up music to explore acting. She attended Max Reinhardt's drama school and soon started to land small parts on stage and in German films. Because of her family's disapproval of her career choice, Dietrich chose to use a combination of her first and middle name professionally.
Personal Life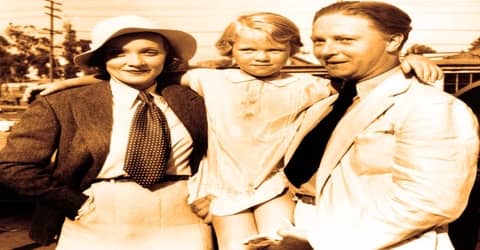 In 1923, Marlene Dietrich married Rudolf Sieber, a film professional who helped her land a part in Tragedy of Love (1923). The couple welcomed their only child, Maria, the following year. They later separated but never divorced.
Even though Dietrich married only once, she had an unending string of affairs throughout her career. She had affairs with actors Gary Cooper and James Stewart. Marlene was in a relationship with writer Erich Maria Remarque, from 1938 to 1941. Almost at the same time, she was having an affair with the French actor Jean Gabin. Cuban-American writer Mercedes de Acosta was also one of her lovers. With actor Yul Brynner, her affair lasted more than a decade. She also claimed to have had affairs with George Bernard Shaw, John F. Kennedy, and John Wayne.
Career and Works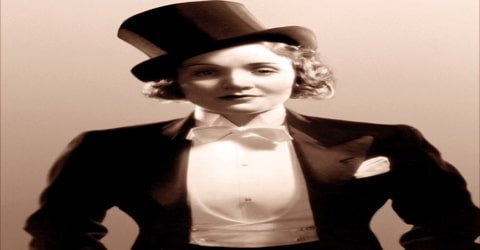 Dietrich's earliest professional stage appearances were as a chorus girl on tour with Guido Thielscher's Girl-Kabarett vaudeville-style entertainments, and in Rudolf Nelson revues in Berlin. In 1922, Dietrich auditioned unsuccessfully for theatrical director and impresario Max Reinhardt's drama academy; however, she soon found herself working in his theatres as a chorus girl and playing small roles in dramas. She did not attract any special attention at first. She made her film debut playing a bit part in the film The Little Napoleon (1923).
During the 1920s, Dietrich performed in Vienna and Berlin, both on stage and films. Her remarkable stage shows include William Shakespeare's 'A Midsummer Night's Dream', George Bernard Shaw's 'Back to Methuselah' and musicals like 'Broadway'.
Her career in Germany began to take off in the late 1920s. Making film history, she was cast in Germany's first talking picture Der Blaue Engel (1930) by Hollywood director Josef von Sternberg. An English language version, The Blue Angel, was also filmed using the same cast. With her sultry good looks and sophisticated manner, Dietrich was a natural for the role of Lola Lola, a nightclub dancer. The film follows the decline of a local professor who gives up everything to have a relationship with her character. A big hit, the film helped make Dietrich a star in the United States.
Dietrich met her future husband, Rudolf Sieber, on the set of 'Tragedy of Love' in 1923. She continued to work on stage and in the film both in Berlin and Vienna throughout the 1920s. On stage, she had roles of varying importance in Frank Wedekind's Pandora's Box, William Shakespeare's The Taming of the Shrew, A Midsummer Night's Dream, as well as George Bernard Shaw's Back to Methuselah and Misalliance. It was in musicals and revues such as Broadway, Es Liegt in der Luft, and Zwei Krawatten, however, that she attracted the most attention. By the late 1920s, Dietrich was also playing sizable parts on screen, including roles in Café Elektric (1927), I Kiss Your Hand, Madame (1928), and The Ship of Lost Souls (1929).
Marlene Dietrich played a leading part in the film 'Die Frau, Nach Der Man Sich Sehnt ' for the first time in 1929. Her real breakthrough came with the film 'The Blue Angel' in the role of a sensual cabaret dancer Lola-Lola. The film is also noteworthy for having introduced Dietrich's signature song "Falling in Love Again", which she recorded for Electrola and later made further recordings in the 1930s for Polydor and Decca Records.
In April 1930, shortly after the premiere of 'Der Blaue Engel' in Berlin, Dietrich moved to America. Again working with von Sternberg, Dietrich starred in Morocco (1930) with Gary Cooper. She played Amy Jolly, a lounge singer, who gets entangled in a love triangle with a member of the Foreign Legion (Cooper) and a wealthy playboy (Adolphe Menjou). For her work on the film, Dietrich received her one and an only Academy Award nomination.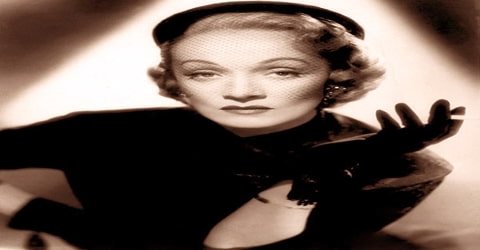 The film's success catapulted Dietrich to stardom. Von Sternberg took her to the United States and signed her with Paramount Pictures. With von Sternberg's help, Dietrich began to develop her legend by cultivating a femme fatale film persona in several von Sternberg vehicles that followed Morocco (1930), Dishonored (1931), Shanghai Express (1932), Blonde Venus (1932), The Scarlet Empress (1934), and The Devil Is a Woman (1935). She showed a lighter side in Desire (1936), directed by Frank Borzage, and Destry Rides Again (1939).
Continuing to play the femme fatale, Dietrich challenged accepted notions of feminity. She often wore pants and more masculine fashions on- and off-screen, which added to her unique allure and created new trends. Their last film together was The Devil Is a Woman (1935) reportedly her personal favorite film. Considered by many to her most ultimate portrayal of a vamp, Dietrich played a cold-hearted temptress who captivates several men during the Spanish revolution.
Dietrich's first film after the end of her partnership with Sternberg was Frank Borzage's Desire (1936), a commercial success that gave Dietrich an opportunity to try her hand at romantic comedy. Her next project, I Loved a Soldier (1936), ended in shambles when the film was scrapped several weeks into production due to script problems, scheduling confusion and the studio's decision to fire the director, Ernst Lubitsch.
In 1936 she worked in 'Desire', a commercially successful film by Frank Borzage. 'The Garden of Allah', her first color film produced by David O. Selznick fetched her $200,000. In 1937 she starred in 'Knight Without Armour' under the production of Alexander Korda drawing a salary of $450,000.
While both films performed respectably at the box office, her vehicles were costly to produce and her public popularity had declined. By this time, Dietrich placed 126th in box office rankings, and American film exhibitors proclaimed her "box office poison" in May 1938, a distinction she shared with Greta Garbo, Joan Crawford, Mae West, Katharine Hepburn, Norma Shearer, Dolores del Río and Fred Astaire among others. While she was in London, officials of the Nazi Party approached Dietrich and offered her lucrative contracts, should she agree to return to Germany as a foremost film star in the Third Reich. She refused their offers and applied for US citizenship in 1937. She returned to Paramount to make Angel (1937), another romantic comedy directed by Ernst Lubitsch; the film was poorly received, leading Paramount to buy out the remainder of Dietrich's contract.
In 1939 with a significant pay cut she worked in a western comedy named 'Destry Rides Again'. Though she could not regain her earlier success, she worked in different films for the next two decades with established directors like Billy Wilder, Fritz Land, and Alfred Hitchcock.
Around this time, Dietrich also made several films with John Wayne, including Seven Sinners (1940), The Spoilers (1942) and Pittsburgh (1942). The two were said to have had a romantic relationship, which later turned into a strong friendship.
During the Third Reich and despite Adolf Hitler's personal requests, Dietrich refused to work in Germany, and her films were temporarily banned there. Renouncing Nazism ("Hitler is an idiot," she stated in one wartime interview), Dietrich was branded a traitor in Germany; she was spat upon by Nazi supporters carrying banners that read "Go home Marlene" during her visit to Berlin in 1960. In 2001, on the 100th anniversary of her birth, the city issued a formal apology for the incident.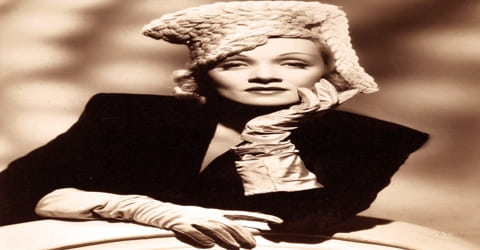 Having become a U.S. citizen in 1937, she made more than 500 personal appearances before Allied troops from 1943 to 1946. She later said, "America took me into her bosom when I no longer had a native country worthy of the name, but in my heart, I am German – German in my soul."
While Dietrich never fully regained her former screen success, she continued performing in motion pictures, including appearances for such distinguished directors as Alfred Hitchcock, Fritz Lang, Orson Welles, and Billy Wilder in films that included Golden Earrings (1947), A Foreign Affair (1948), Stage Fright (1950), Rancho Notorious (1952), Witness for the Prosecution (1957), and Touch of Evil (1958).
The early 1950s to mid-1970s saw her exclusively performing live in theatres of all major cities as a high profile cabaret dancer.
As her film career faded, Dietrich began a thriving singing career in the mid-1950s. She performed her act around the world, from Las Vegas to Paris, to the delight of her fans. In 1960, Dietrich performed in Germany, her first visit there since before the war. She encountered some opposition to her return, but she received a warm reception overall. That same year, her autobiography, Dietrich's ABC, was published.
On September 29, 1975, her career almost ended after she fell from the stage in Sydney Australia and broke her thigh.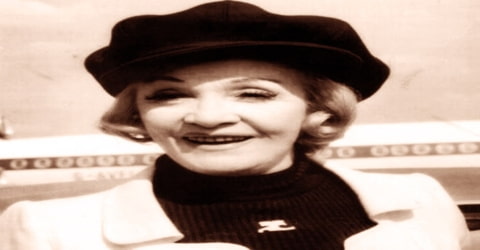 After a period of retirement from the screen, she appeared in the film Just a Gigolo (1978). The documentary film Marlene, a review of her life and career, which included a voice-over interview of the star by Maximilian Schell, was released in 1986.
By the mid-1970s, Dietrich had given up performing. She moved to Paris where she lived out the remainder of her life in near-seclusion. In the mid-1980s, she did provide some audio commentary for Maximillian Schell's documentary film on her, Marlene (1984), but she refused to appear on camera.
Her autobiography, Ich bin, Gott sei Dank, Berlinerin ("I Am, Thank God, a Berliner"; Eng. trans. Marlene), was published in 1987. Eight years after her death, a collection of her film costumes, recordings, written documents, photographs, and other personal items was put on permanent display in the Berlin Film Museum (2000).
Awards and Honor
Dietrich received the Medal of Freedom from Gen. Maxwell D. Taylor in a ceremony at West Point (1947)
The U.S. Government awarded Dietrich the Medal of Freedom for her war work. Dietrich has been quoted as saying this was the honor of which she was most proud in her life. They also awarded her with the Operation Entertainment Medal.
The French Government made her a Chevalier (later upgraded to Commandeur) of the Légion d'honneur and a Commandeur of the Ordre des Arts et des Lettres. Her other awards include the Medallion of Honor of the State of Israel, the Fashion Foundation of America award and a Chevalier de l'Ordre de Leopold (Belgium).
The main-belt asteroid 1010 Marlene, discovered by German astronomer Karl Reinmuth at Heidelberg Observatory in 1923, was named in her honor.
On 27 December 2017, Dietrich was given a Google Doodle on the 116th anniversary of her birth. The doodle was designed by American drag artist Sasha Velour, who cites Dietrich as a big inspiration due to her "gender-bending" fashion and political views. Sasha portrayed Marlene during her time at competitive reality series RuPaul's Drag Race.
Death and Legacy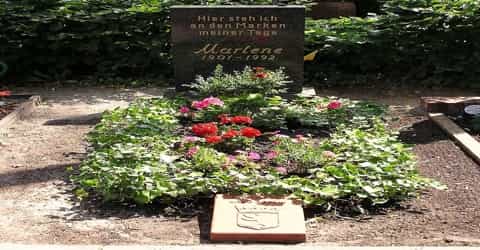 Marlene Dietrich died on 6 May 1992, of renal failure at her flat in Paris at age 90. After her funeral, she was buried next to her mother in Berlin. Dietrich was survived by her daughter Maria and her four grandchildren. Her daughter later wrote her own biography of her famous mother, Marlene Dietrich, in the mid-1990s.
Dietrich's funeral service was attended by approximately 1,500 mourners in the church itself including several ambassadors from Germany, Russia, the US, the UK and other countries with thousands more outside. Her closed coffin rested beneath the altar draped in the French flag and adorned with a simple bouquet of white wildflowers and roses from the French President, François Mitterrand. Three medals, including France's Legion of Honour and the US Medal of Freedom, were displayed at the foot of the coffin, military style, for a ceremony symbolizing the sense of duty Dietrich embodied in her career as an actress, and in her personal fight against Nazism.
The officiating priest remarked: "Everyone knew her life as an artist of film and song, and everyone knew her tough stands … She lived like a soldier and would like to be buried like a soldier". By coincidence, her picture was used in the Cannes Film Festival poster that year which was currently posted up all over Paris.
A substantial portion of her estate was sold to Stiftung Deutsche Kinemathek on October 24, 1993, while her movable assets in Manhattan apartment were auctioned by Sotheby. In 1998 the apartment was sold at $615,000.
Dietrich's persona was carefully crafted, and her films (with few exceptions) were skillfully executed. Although her vocal range was not great, her memorable renditions of songs such as "Falling in Love Again," "Lili Marleen," "La Vie en rose," and "Give Me the Man" made them classics of an era.
In 1992, a plaque was unveiled at Leberstraße 65 in Berlin-Schöneberg, the site of Dietrich's birth. A postage stamp bearing her portrait was issued in Germany on 14 August 1997.
Her adoption of trousers and other mannish clothes made her a trendsetter and helped launch an American fashion style that persisted into the 21st century. In the words of the critic Kenneth Tynan: "She has sex, but no particular gender. She has the bearing of a man; the characters she plays love power and wear trousers. Her masculinity appeals to women and her sexuality to men." But her personal magnetism went far beyond her masterful androgynous image and her glamour; another of her admirers, the writer Ernest Hemingway, said, "If she had nothing more than her voice, she could break your heart with it."
For some Germans, Dietrich remained a controversial figure for having sided with the Allies during World War II. In 1996, after some debate, it was decided not to name a street after her in Berlin-Schöneberg, her birthplace. However, on 8 November 1997, the central Marlene-Dietrich-Platz was unveiled in Berlin to honor her. The commemoration reads – Berliner Weltstar des Films und des Chansons. Einsatz für Freiheit und Demokratie, für Berlin und Deutschland ("Berlin world star of film and song. Dedication to freedom and democracy, to Berlin and Germany").
Information Source: