Barack Obama – 44th President of the United States
Full Name: Barack Hussein Obama II
Date of Birth: August 4, 1961 (age 55)
Place of Birth: Honolulu, Hawaii, U.S.
Parents: Barack Obama Sr.
Ann Dunham
Spouse(s): Michelle Robinson (m. 1992)
Children: Malia Obama, Sasha Obama
Political party: Democratic
Early Life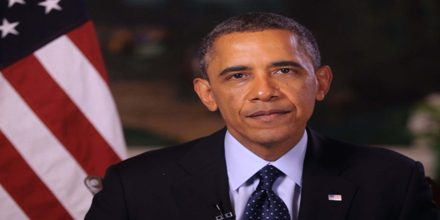 Barack Obama, in full Barack Hussein Obama II was born on August 4, 1961, in Honolulu, Hawaii, U.S. He is an American politician who was the 44th president of the United States (2009–17) and the first African American to hold the office. Before winning the presidency, Obama represented Illinois in the U.S. Senate (2005–08). He was the third African American to be elected to that body since the end of Reconstruction (1877). In 2009 he was awarded the Nobel Peace Prize "for his extraordinary efforts to strengthen international diplomacy and cooperation between peoples."
Obama ran unsuccessfully in the Democratic primary for the United States House of Representatives in 2000 against incumbent Bobby Rush while representing the 13th District for three terms in the Illinois Senate from 1997 to 2004. During that year, Obama received national attention with his March primary win in the U.S. Senate campaign, his July keynote address at the Democratic National Convention, and his November election to the Senate. In 2008, Obama was nominated for president, a year after his campaign began and after a close primary campaign against Hillary Clinton. He became president-elect after defeating Republican nominee John McCain in the general election, and was inaugurated on January 20.
During his first two years in office, Obama signed more landmark legislation than any Democratic president since the Great Society.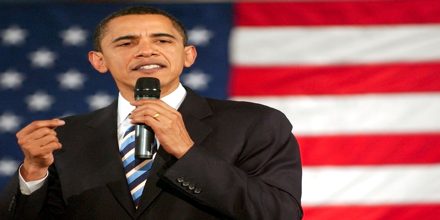 In foreign policy, Obama increased U.S. troop levels in Afghanistan, reduced nuclear weapons with the U.S.-Russian New START treaty, and ended military involvement in the Iraq War. He ordered military involvement in Libya in opposition to Muammar Gaddafi, and the military operation that resulted in the death of Osama bin Laden.
In 2013, Obama was sworn in for a second term after being re-elected over Mitt Romney in November 2012. During his second term, Obama promoted greater inclusiveness for LGBT Americans, with his administration filing briefs that urged the Supreme Court to strike down same-sex marriage bans as unconstitutional (United States v. Windsor and Obergefell v. Hodges). Obama also advocated gun control in response to the Sandy Hook Elementary School shooting. In foreign policy, Obama ordered military intervention in Iraq in response to gains made by ISIL after the 2011 withdrawal from Iraq, continued the process of ending U.S. combat operations in Afghanistan, promoted discussions that led to the 2015 Paris Agreement on global climate change, brokered a nuclear deal with Iran, and normalized U.S. relations with Cuba.
Childhood and Educational Life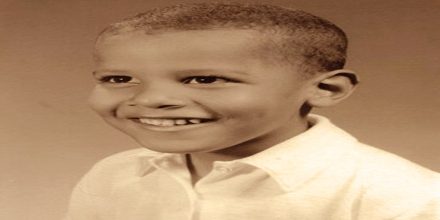 Barack Hussein Obama II was born on August 4, 1961, at Kapiʻolani Maternity & Gynecological Hospital (now Kapiʻolani Medical Center for Women and Children) in Honolulu, Hawaii.
From ages six to ten, Obama attended local Indonesian-language schools: Santo Fransiskus Asisi (St. Francis of Assisi) Catholic School for two years and Besuki Public School for one and a half years, supplemented by English-language Calvert School homeschooling by his mother. During his time in Indonesia, Obama's step-father taught him to be resilient and gave him "a pretty hardheaded assessment of how the world works."
While living with his grandparents, Obama enrolled in the esteemed Punahou Academy, He excelled in basketball and graduated with academic honors in 1979. As one of only three black students at the school, Obama became conscious of racism and what it meant to be African-American. He later described how he struggled to reconcile social perceptions of his multiracial heritage with his own sense of self: "I noticed that there was nobody like me in the Sears, Roebuck Christmas catalog. . .and that Santa was a white man," he wrote. "I went into the bathroom and stood in front of the mirror with all my senses and limbs seemingly intact, looking as I had always looked, and wondered if something was wrong with me."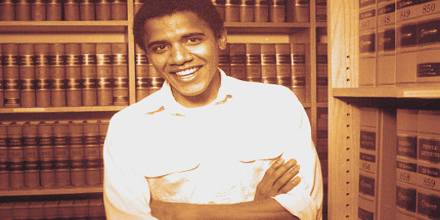 After high school, Obama studied at Occidental College in Los Angeles for two years. He then transferred to Columbia University in New York City, graduating in 1983 with a degree in political science. After working in the business sector for two years, Obama moved to Chicago in 1985. There, he worked on the impoverished South Side as a community organizer for low-income residents in the Roseland and the Altgeld Gardens communities.
Obama also struggled with the absence of his father, who he saw only once more after his parents divorced, when Obama Sr. visited Hawaii for a short time in 1971. "My father had left paradise, and nothing that my mother or grandparents told me could obviate that single, unassailable fact," he later reflected. "They couldn't describe what it might have been like had he stayed."
Ten years later, in 1981, tragedy struck Obama Sr. when he lost both of his legs in a serious car accident. Confined to a wheelchair, he also lost his job. In 1982, Obama Sr. was involved in yet another car accident while traveling in Nairobi. This time, however, the crash was fatal. Obama Sr. died on November 24, 1982, when Obama was 21 years old. "At the time of his death, my father remained a myth to me," Obama later wrote, "both more and less than a man."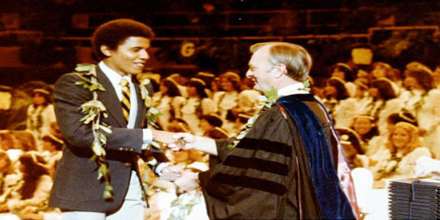 (Barack Obama receives his law degree at Harvard Law School in 1991)
Returning from Kenya with a sense of renewal, Obama entered Harvard Law School in 1988. The next year, he met with constitutional law professor Laurence Tribe and their discussion so impressed Tribe, that when Obama asked to join his team as a research assistant, the professor agreed. "The better he did at Harvard Law School and the more he impressed people, the more obvious it became that he could have had anything, said Professor Tribe in a 2012 interview with Frontline, "but it was clear that he wanted to make a difference to people, to communities." That same year Obama joined the Chicago law firm of Sidley Austin as a summer associate and it was there he met Michelle Robinson, a young lawyer who was assigned to be his adviser. Not long after, the couple began dating. In February 1990, Obama was elected the first African-American editor of the Harvard Law Review. He graduated magna cum laude from Harvard Law in 1991.
After law school, Obama returned to Chicago to practice as a civil rights lawyer with the firm of Miner, Barnhill & Galland. He also taught constitutional law part-time at the University of Chicago Law School between 1992 and 2004—first as a lecturer and then as a professor—and helped organize voter registration drives during Bill Clinton's 1992 presidential campaign.
Family and Personal Life
Barack Hussein Obama II was born on August 4, 1961, in Honolulu, Hawaii. His mother, Ann Dunham, was born on an Army base in Wichita, Kansas, during World War II. After the Japanese attack on Pearl Harbor, Dunham's father, Stanley, enlisted in the military and marched across Europe in General George Patton's army. Dunham's mother, Madelyn, went to work on a bomber assembly line. After the war, the couple studied on the G.I. Bill, bought a house through the Federal Housing Program and, after several moves, ended up in Hawaii.
Obama's father, Barack Obama Sr., was born of Luo ethnicity in Nyanza Province, Kenya. Obama Sr. grew up herding goats in Africa and, eventually earned a scholarship that allowed him to leave Kenya and pursue his dreams of going to college in Hawaii. While studying at the University of Hawaii at Manoa, Obama Sr. met fellow student Ann Dunham, and they married on February 2, 1961. Barack was born six months later.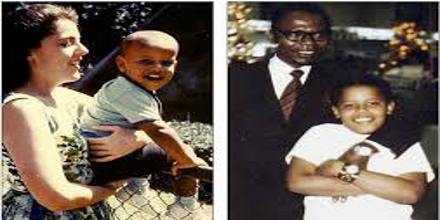 As a child, Obama did not have a relationship with his father. When his son was still an infant, Obama Sr. relocated to Massachusetts to attend Harvard University and pursue a Ph.D. Obama's parents officially separated several months later and ultimately divorced in March 1964, when their son was two. Soon after, Obama Sr. returned to Kenya.
In 1965, Dunham married Lolo Soetoro, a University of Hawaii student from Indonesia. A year later, the family moved to Jakarta, Indonesia, where Obama's half-sister, Maya Soetoro Ng, was born in 1970. Several incidents in Indonesia left Dunham afraid for her son's safety and education so, at the age of 10, Obama was sent back to Hawaii to live with his maternal grandparents. His mother and half-sister later joined them.
Obama is a Protestant Christian whose religious views developed in his adult life. He wrote in The Audacity of Hope that he "was not raised in a religious household". He described his mother, raised by non-religious parents, as being detached from religion, yet "in many ways the most spiritually awakened person that I have ever known." He described his father as a "confirmed atheist" by the time his parents met, and his stepfather as "a man who saw religion as not particularly useful." Obama explained how, through working with black churches as a community organizer while in his twenties, he came to understand "the power of the African-American religious tradition to spur social change."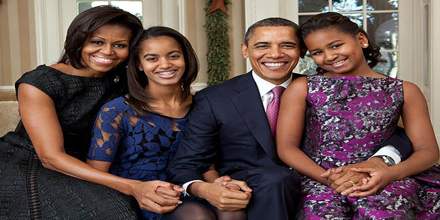 In June 1989, Obama met Michelle Robinson when he was employed as a summer associate at the Chicago law firm of Sidley Austin. Assigned for three months as Obama's adviser at the firm, Robinson joined him at several group social functions, but declined his initial requests to date. They began dating later that summer, became engaged in 1991, and were married on October 3, 1992. The couple's first daughter, Malia Ann, was born on July 4, 1998, followed by a second daughter, Natasha ("Sasha"), on June 10, 2001. The Obama daughters attended the private University of Chicago Laboratory Schools. When they moved to Washington, D.C., in January 2009, the girls started at the private Sidwell Friends School. The Obamas have two Portuguese Water Dogs, the first, a male named Bo, a gift from Senator Ted Kennedy. In August 2013, Bo was joined by Sunny, a female.
Regarding to Obama's smoking habit, in early 2010, Michelle Obama said that he had quit smoking.
Entry into Illinois Politics
Obama was elected to the Illinois Senate in 1996, succeeding Democratic State Senator Alice Palmer from Illinois's 13th District, which, at that time, spanned Chicago South Side neighborhoods from Hyde Park–Kenwood south to South Shore and west to Chicago Lawn.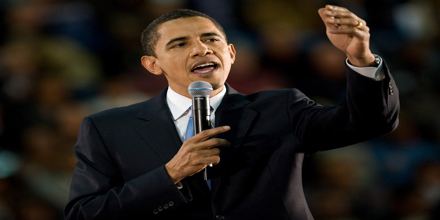 Obama's advocacy work led him to run for a seat in the Illinois State Senate. During his years as a state senator, Obama worked with both Democrats and Republicans to draft legislation on ethics, as well as expand health care services and early childhood education programs for the poor. He also created a state earned-income tax credit for the working poor. As chairman of the Illinois Senate's Health and Human Services Committee Obama worked with law enforcement officials to require the videotaping of interrogations and confessions in all capital cases after a number of death-row inmates were found to be innocent.
In 2000, Obama made an unsuccessful Democratic primary run for the U.S. House of Representatives seat held by four-term incumbent candidate Bobby Rush. Undeterred, he created a campaign committee in 2002 and began raising funds to run for a seat in the U.S. Senate in 2004. With the help of political consultant David Axelrod, Obama began assessing his prospects for a Senate win.
In January 2003, Obama became chairman of the Illinois Senate's Health and Human Services Committee when Democrats, after a decade in the minority, regained a majority. He sponsored and led unanimous, bipartisan passage of legislation to monitor racial profiling by requiring police to record the race of drivers they detained, and legislation making Illinois the first state to mandate videotaping of homicide interrogations. During his 2004 general election campaign for the U.S. Senate, police representatives credited Obama for his active engagement with police organizations in enacting death penalty reforms. Obama resigned from the Illinois Senate in November 2004 following his election to the U.S. Senate.
U.S. Senate Career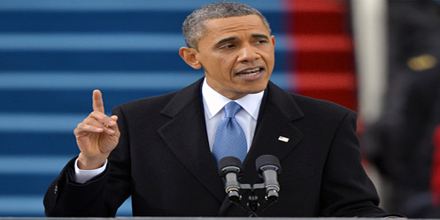 Encouraged by poll numbers, Obama decided to run for the U.S. Senate open seat vacated by Republican Peter Fitzgerald. In the 2004 Democratic primary, he defeated multimillionaire businessman Blair Hull and Illinois Comptroller Daniel Hynes with 52 percent of the vote.
That summer, he was invited to deliver the keynote speech in support of John Kerry at the 2004 Democratic National Convention in Boston. Obama emphasized the importance of unity and made veiled jabs at the Bush administration and the diversionary use of wedge issues.
In July 2004, Obama delivered the keynote address at the 2004 Democratic National Convention, seen by 9.1 million viewers. His speech was well received and elevated his status within the Democratic Party.
Obama's expected opponent in the general election, Republican primary winner Jack Ryan, withdrew from the race in June 2004. Six weeks later, Alan Keyes accepted the Republican nomination to replace Ryan. In the November 2004 general election, Obama won with 70% of the vote. With his win, Obama became only the third African-American elected to the U.S. Senate since Reconstruction.
Sworn into office on January 3, 2005, Obama partnered with Republican Senator Richard Lugar of Indiana on a bill that expanded efforts to destroy weapons of mass destruction in Eastern Europe and Russia. Then, with Republican Senator Tom Coburn of Oklahoma, he created a website to track all federal spending. Obama also spoke out for victims of Hurricane Katrina, pushed for alternative energy development and championed improved veterans' benefits.
On June 3, 2008, Senator Obama—along with Senators Tom Carper, Tom Coburn, and John McCain—introduced follow-up legislation: Strengthening Transparency and Accountability in Federal Spending Act of 2008.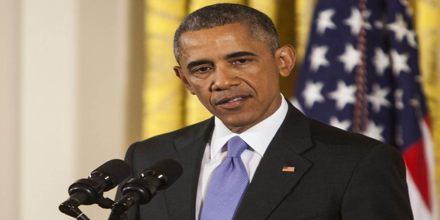 Obama sponsored legislation that would have required nuclear plant owners to notify state and local authorities of radioactive leaks, but the bill failed to pass in the full Senate after being heavily modified in committee. Regarding tort reform, Obama voted for the Class Action Fairness Act of 2005 and the FISA Amendments Act of 2008, which grants immunity from civil liability to telecommunications companies complicit with NSA warrantless wiretapping operations.
Obama held assignments on the Senate Committees for Foreign Relations, Environment and Public Works and Veterans' Affairs through December 2006. In January 2007, he left the Environment and Public Works committee and took additional assignments with Health, Education, Labor and Pensions and Homeland Security and Governmental Affairs. He also became Chairman of the Senate's subcommittee on European Affairs. As a member of the Senate Foreign Relations Committee, Obama made official trips to Eastern Europe, the Middle East, Central Asia and Africa. He met with Mahmoud Abbas before Abbas became President of the Palestinian National Authority, and gave a speech at the University of Nairobi in which he condemned corruption within the Kenyan government.
President of the United States
Presidential campaigns
In February 2007, Obama made headlines when he announced his candidacy for the 2008 Democratic presidential nomination. Obama emphasized issues of rapidly ending the Iraq War, increasing energy independence, and reforming the health care system, in a campaign that projected themes of hope and change.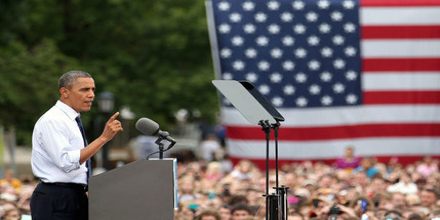 He was locked in a tight battle with former first lady and then-U.S. senator from New York Hillary Rodham Clinton. On June 3, 2008, Obama became the Democratic Party's presumptive nominee after winning a sufficient number of pledged delegates during the primaries, and Clinton delivered her full support to Obama for the duration of his campaign.
On August 23, Obama announced his selection of Delaware Senator Joe Biden as his vice presidential running mate. Obama selected Biden from a field speculated to include former Indiana Governor and Senator Evan Bayh and Virginia Governor Tim Kaine. At the Democratic National Convention in Denver, Colorado, Hillary Clinton called for her supporters to endorse Obama, and she and Bill Clinton gave convention speeches in his support. Obama delivered his acceptance speech, not at the center where the Democratic National Convention was held, but at Invesco Field at Mile High to a crowd of over 75,000; the speech was viewed by over 38 million people worldwide.
On June 19, 2008, Obama became the first major-party presidential candidate to turn down public financing in the general election since the system was created in 1976.
John McCain was nominated as the Republican candidate, and the two engaged in three presidential debates in September and October 2008.
On November 4, 2008, Barack Obama defeated Republican presidential nominee John McCain, 52.9 percent to 45.7 percent, to win election as the 44th president of the United States—and the first African-American to hold this office. His running mate, Delaware Senator Joe Biden, became vice president. He became the first African American to be elected president. Obama delivered his victory speech before hundreds of thousands of supporters in Chicago's Grant Park.
First 100 Days
Between Inauguration Day and April 29, 2009, the Obama administration took action on many fronts. Obama coaxed Congress to expand health care insurance for children and provide legal protection for women seeking equal pay. A $787 billion stimulus bill was passed to promote short-term economic growth. Housing and credit markets were put on life support, with a market-based plan to buy U.S. banks' toxic assets. Loans were made to the auto industry, and new regulations were proposed for Wall Street. Obama also cut taxes for working families, small businesses and first-time home buyers. The president also loosened the ban on embryonic stem cell research and moved ahead with a $3.5 trillion budget plan.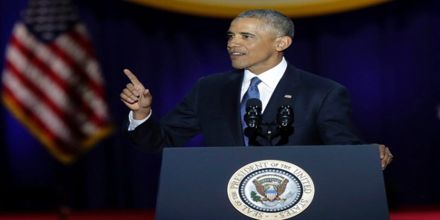 Over his first 100 days in office, President Obama also undertook a complete overhaul of America's foreign policy. He reached out to improve relations with Europe, China and Russia and to open dialogue with Iran, Venezuela and Cuba. He lobbied allies to support a global economic stimulus package. He committed an additional 21,000 troops to Afghanistan and set an August 2010 date for withdrawal of nearly all U.S. troops from Iraq. In more dramatic incidents, he ordered an attack on pirates off the coast of Somalia and prepared the nation for a swine flu outbreak. He signed an executive order banning excessive interrogation techniques and ordered the closing of the military detention facility at Cuba's Guantanamo Bay within a year (a deadline that ultimately would not be met). For his efforts, the Nobel Committee in Norway awarded Obama the 2009 Nobel Peace Prize.
Challenges and Successes
In the second part of his first term as president, Obama faced a number of obstacles and scored some victories as well. In spite of opposition from Congressional Republicans and the populist Tea Party movement, Obama signed his health care reform plan, known as the Affordable Care Act, into law in March 2010. The new law prohibited the denial of coverage based on pre-existing conditions, allowed citizens under 26 years old to be insured under parental plans, provided for free health screenings for certain citizens and expanded insurance coverage and access to medical care to millions of Americans. Opponents of the Affordable Care Act, which foes dubbed "Obamacare," asserted that it added new costs to the country's overblown budget, violated the Constitution with its requirement for individuals to obtain insurance and amounted to a "government takeover" of health care.
On the economic front, Obama worked to steer the country through difficult financial times. After drawn-out negotiations with Republicans who gained control of the U.S. House of Representatives in the 2010 mid-term elections, he signed the Budget Control Act of 2011 in an effort to rein in government spending and prevent the government from defaulting on its financial obligations. The act also called for the creation of a bipartisan committee to seek solutions to the country's fiscal issues, but the group failed to reach any agreement on how to solve these problems.
2012 presidential campaign
In the 2012 election, Obama faced Republican opponent Mitt Romney and Romney's vice-presidential running mate, U.S. Representative Paul Ryan. On November 6, 2012, Obama won a second four-year term as president by receiving nearly five million more votes than Romney and capturing more than 60 percent of the Electoral College.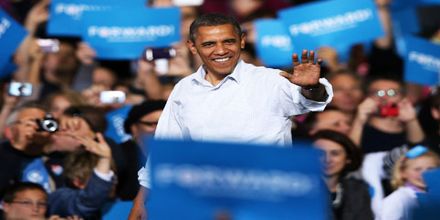 On November 6, 2012, Obama won 332 electoral votes, exceeding the 270 required for him to be reelected as president. With 51.1% of the popular vote, Obama became the first Democratic president since Franklin D. Roosevelt to twice win the majority of the popular vote. President Obama addressed supporters and volunteers at Chicago's McCormick Place after his reelection and said: "Tonight you voted for action, not politics as usual. You elected us to focus on your jobs, not ours. And in the coming weeks and months, I am looking forward to reaching out and working with leaders of both parties."
Barack Obama officially began his second term on January 21, 2013, when U.S. Chief Justice John Roberts administered the oath of office. The inauguration was held on Martin Luther King Jr. Day, and civil-rights activist Myrlie Evers-Williams, the widow of Medgar Evers, gave the invocation.
In early July 2013, President Obama made history when he joined former President George W. Bush in Africa to commemorate the 15th anniversary of al-Qaeda's first attack on American targets, the U.S. embassies in Tanzania and Kenya. The event marked the first meeting between two U.S. presidents on foreign soil in commemoration of an act of terrorism.
Later that month, Obama spoke out about the outrage that followed a Florida jury's decision to acquit George Zimmerman in the murder of African-American teen Trayvon Martin. "When Trayvon Martin was first shot, I said that this could have been my son," the president remarked at a White House press conference. "Another way of saying that is Trayvon Martin could have been me 35 years ago." Obama explained that this particular case was a state matter, but he discussed how the federal government could address some of the legislative and racial issues highlighted by the incident.
Foreign policy
The fall of 2013 brought Obama additional challenges in the area of foreign relations. In October 2013, German Chancellor Angela Merkel revealed that the NSA had been listening in to her cell phone calls. "Spying among friends is never acceptable," Merkel told a summit of European leaders. In the wake of these controversies, Obama saw his approval rating drop to a new low in November 2013. Only 37 percent of Americans polled by CBS News approved of the job he was doing as president, while 57 percent disapproved of his handling of the job.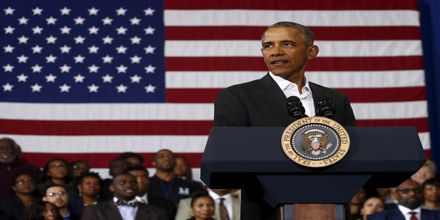 Echoes of the Cold War also returned after civil unrest and protests in the capital city of Kiev led to the downfall of Ukrainian President Viktor Yanukovych's administration in February 2014. Russian troops crossed into Ukraine to support pro-Russian forces and the annexation of the province of Crimea. In response, Obama ordered sanctions targeting individuals and businesses considered by the U.S. government to be Ukraine agitators or involved in the Crimean crisis. "In 2014 we are well beyond the days when borders can be redrawn over the heads of democratic leaders," Obama stated. The president said the sanctions were taken in close coordination with European allies and gave the U.S. "the flexibility to adjust our response going forward based on Russia's actions."
In August 2014, Obama ordered the first airstrikes against the self-proclaimed Islamic State, also known as ISIS or ISIL, which had seized large swathes of Iraq and Syria and conducted high-profile beheadings of foreign hostages. The following month, the U.S. launched its first attacks on ISIS targets in Syria, although the president pledged to keep combat troops out of the conflict. Several Arab countries joined in the airstrikes against the extremist Islamic militant group. "The only language understood by killers like this is the language of force," Obama said in a speech to the United Nations. "So the United States of America will work with a broad coalition to dismantle this network of death."
In August 2015, the Obama administration announced The Clean Power Plan, a major climate change plan aimed at reducing greenhouse gas emissions, the first-ever national standards to limit carbon pollution from coal-burning power plants in the United States. President Obama called the plan the "single most important step that America has ever made in the fight against global climate change."
The plan calls for aggressive Environmental Protection Agency regulations including requiring existing power plants to cut carbon dioxide emissions 32 percent from 2005 levels by 2030 and use more renewable energy sources like wind and solar power. Under the regulations, states will be allowed to create their own plans to reduce emissions and are required to submit initial plans by 2016 and final versions by 2018.
Final Year in Office
Entering his final year as President of the United States, in early January 2016 Obama held a press conference to announce a new series of executive orders related to gun control. Citing examples such as the 2012 mass shooting at Sandy Hook elementary school in Connecticut, the president shed tears as he called on Congress and the gun lobby to work with him to make the country safer. His measures, which have met with vehement opposition from members of both the Republican and Democratic Parties, as well as gun advocacy groups such as the NRA, would implement more thorough background checks for gun buyers, stricter governmental oversight and enforcement of gun laws, better information sharing regarding mental health issues as related to gun ownership and investment in gun safety technology. According to a 2015 Gallup poll, most Americans favor some kind of stricter regulations of gun sales.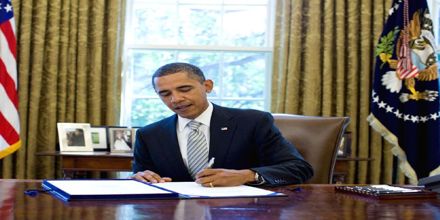 On January 10, 2017, President Obama returned to his adopted home city of Chicago to deliver his farewell address. In his speech, Obama spoke about his early days in Chicago and his continued faith in the power of Americans who participate in their democracy. "Now this is where I learned that change only happens when ordinary people get involved, and they get engaged, and they come together to demand it," he told the cheering crowd. "After eight years as your president, I still believe that. And it's not just my belief. It's the beating heart of our American idea — our bold experiment in self-government."
On January 19, 2017, Obama's last full day in office, he announced 330 commutations for nonviolent drug offenders. The presidents granted a total of 1,715 clemencies, including commuting the sentence of Chelsea Manning, the U.S. Army intelligence analyst who was sentenced to 35 years in prison for leaking classified information to WikLeaks.
Post-presidency
Barack Obama's presidency ended on January 20, 2017, following the inauguration of his successor, Donald Trump. Obama flew from the inauguration on the Executive One helicopter, circled the White House, then flew to Joint Base Andrews.
Dreams from My Father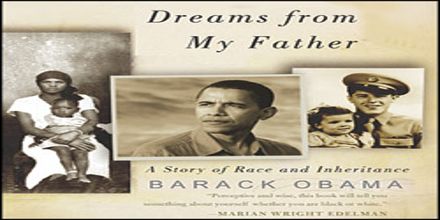 Dreams from My Father: A Story of Race and Inheritance (1995) is a memoir by Barack Obama, who was elected as U.S. President in 2008. It explores events of his early years up until his entry into law school in 1988. Obama published the memoir in July 1995, when he was starting his political campaign for Illinois Senate. He had been elected as the first African-American president of the Harvard Law Review in 1990.
After Obama won the U.S. Senate Democratic primary victory in Illinois in 2004, the book was re-published that year. He gave the keynote address at the 2004 Democratic National Convention (DNC) and won the Illinois Senate seat in the fall. Obama launched his presidential campaign three years later. The 2004 edition includes a new preface by Obama and his DNC keynote address.
In an interview for The Daily Beast, the author Philip Roth said he had read Dreams from My Father "with great interests," and commented that he had found it "well done and very persuasive and memorable."
The book "may be the best-written memoir ever produced by an American politician," wrote Time columnist Joe Klein. In 2008, The Guardian's Rob Woodard wrote that Dreams from My Father "is easily the most honest, daring, and ambitious volume put out by a major US politician in the last 50 years." Michiko Kakutani, the Pulitzer Prize-winning critic for The New York Times, described it as "the most evocative, lyrical and candid autobiography written by a future president."