A bi-fuel vehicle is a vehicle that can run on two types of fuel, typically gasoline and compressed natural gas (CNG) or liquefied petroleum gas (LPG). These vehicles have a switch that allows the driver to choose which fuel to use at any given time. The use of CNG or LPG can result in cost savings, as well as reduced emissions compared to gasoline. However, bi-fuel vehicles may have a slightly lower fuel efficiency when running on CNG or LPG, and the availability of CNG or LPG fueling stations may be limited in some areas.
Bi-fuel vehicles are designed to switch seamlessly between the two fuels depending on which is more readily available or cost-effective. Some bi-fuel vehicles can also run on gasoline and propane. These vehicles have separate fuel systems for each type of fuel and are equipped with a switch or control that allows the driver to select the desired fuel. Bi-fuel vehicles are becoming increasingly popular as an alternative to traditional gasoline-powered vehicles, as they can offer significant cost savings and reduced emissions.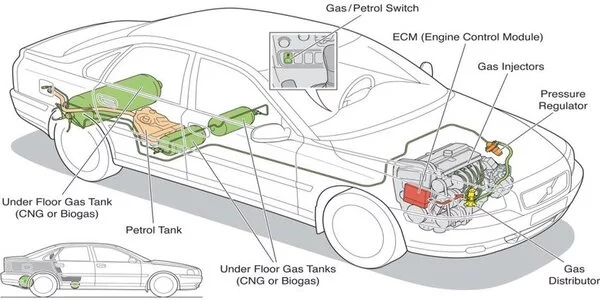 The most common type of bi-fuel vehicle is one that can run on both gasoline and compressed natural gas (CNG). These vehicles typically have a switch or button that allows the driver to switch between the two fuel sources. Other types of bi-fuel vehicles may run on a combination of gasoline and propane, or diesel and CNG. The advantage of bi-fuel vehicles is that they can take advantage of the lower cost and cleaner burning properties of alternative fuels, while still having the option to use gasoline or diesel in case the alternative fuel is not readily available.
Autogas (LPG) is the most common technology and alternate fuel available on the market for bi-fuel gasoline cars, followed by natural gas (CNG), and it is primarily used in Europe. Many cars in Poland, the Netherlands, and the Baltic states run on LPG. Italy currently has the most CNG vehicles on the road, followed by Sweden. They are also used in South America, where they are primarily used as taxicabs in major cities such as Rio de Janeiro and Buenos Aires. Standard gasoline vehicles are typically retrofitted in specialized shops, which includes installing the gas cylinder in the trunk, as well as the LPG or CNG injection system and electronics. Because the gases can use the spark-ignition of a gasoline engine, the conversion is possible.