Introduction
1.1.     Preamble:
Banking is the system of Exchanging Money through a middleman. It has along history. But with the change of Time I got a new shape. Now a man can not think to transact money without Banking. Even you can't find a man who does not take any help from Bank, in his entire life. Basically, one can't leave in this world as the situation, without help of Bank.
Therefore, now the Banking systems roll over the world's monetary transaction. The Main activities of the Banking system are, taking deposit, giving loan and balancing between those. Without those activities modern Banking performs different work as the needs of the customers.
In the world of Banking, Prime Bank is a small ship where I was a cru of the ship as an Internee. By studying on the Consumer credit of Prime Bank I have tried to befit the Bank with my simple Knowledge. By observing the Prime Bank I have seen that Prime Bank is performing well is last 5 years. But problem is that I have a lack of balance between credit and Deposit.
1.2 Origin of the Report:
Now we are living in the age of competition at anything in any places. From that tendency recently Education is also in the age of competition. So the procedures and standards of teaching are upgraded by different universities and institution in our country. In respect to that, internship is mandatory for our BBA program offered by Dhaka University. This program is a partial fulfillment of our BBA curriculum. To do so I decided to complete my internship in Prime Bank Limited. In connecting, HRD of PBL sent me to the Sat Mosjid Branch and assigned to prepare this report.
1.3. RATIONALITY:
Internship program is the practical aspect of our theoretical learning. It makes a bridge between the gap of classroom learning and practical learning. In this view, Internship plays a pivotal role for each professional degree like BBA. The study will help formulate suitable policies taking into consideration different ideas, suggestions and feelings of the customers and bankers. Further more, it may note that Prime Bank executives who are really executing the policies undertaken by the top management will have a chance to communicate their interaction and provide necessary feedback.
1.4. OBJECTIVES:
Objectives regarding this study are as follows:
To fulfill academic requirement;
To gain practical knowledge in banking;
To compare PBL deposit schemes with other private sector Banks.
To make a general evaluation of PBL activities among different professionals;

 To find out the real picture of PBL in terms of deposits and other financial products.
To get an overview of the private Banking in our country.
To identify major strength and weakness of PBL in respect to other Banks.
To analyze the different type of interest rates and ratios of PBL with other Banks.
To assess and evaluate the growth trends on PBL among other Banks.
To recommend ways and means to solve problems regarding Banking.
1.5. DURATION:
The duration of the study was a very short span of time. It was three month long internship program (15th January to March 200808). It was very much hard to complete a report as well as assigned tasks by the Bank. So I had to complete this study facing very much time presser.
1.6. AREA OF OPERATION:
This report covers only Consumer Credit Scheme of Prime Bank Limited. Especially this report emphasizes on the comparison of different bank interest rate and deposit schemes, in a word financial products. It considers only one Branch from all well known private Banks.
1.7. METHODOLOGY:
This report is Descriptive and exploratory nature, in which I have collected data from the primary and secondary source, to know about the nature of Banking and find out the problem of Bank. But Uncertainly I am presenting the prime Bank on behalf of Prime Bank as an Internee of the Bank. Therefore, I have concerned on the problem of prime Bank and its nature of activities.
The report tried to evaluate the problems and the prospects of the product of the Prime Bank. But to make the report, my concern was on the consumer credit of the prime Bank. But it was very difficult to complete the study by use a single methods. Therefore i have used several procedures to find out the problem of Credit system and the customers requirement of the prime Bank.
1.7.1 Source of Data Collection
To make the Report more meaningful and presentable, two sources of data and information have been used widely.

Both primary and secondary data sources were used to generate the report.
Primary: Interview, observation, and 3-month work experience with different divisional in charge and suggestions of many executives of the bank.
Secondary: Annual reports of PBL, Instruction circular of Head Office, Brochures of different Banks, News Paper & Magazine regarding Banking issues, Seminar papers, and so on.
1.7.2 Collection Procedures of Data
Primary interview technique was the primary tool used in collection information. Interview with the customers have done through questionnaire in order to discuss about the related matters before preparing the report. Managers and officers of Prime Bank from different divisions were the main sources of Secondary data.
1.7.3 Analysis of Data
Collected data are analyzed by using percentage, graphs to draw the conclusions. All the Data have shown in the tabular form.
1.7.4 Sampling Plan and Sample size
Study population:
The first step of the sampling design is to define the study population. Due to time restriction and other limitations, the survey is focused into the customers of Prime Bank in Sat Mosjid Branch and the Employee of that
Sampling Frame:
To prepare the research plan I have no needs of sampling plan. Because, I have collected data from the customer of the Bank at Sat Mosjid Road Branch.
Sampling Method:
I have used the convenient sampling technique to collect the date from the Sample. I have used the customers who come to the Bank and the employee who have in the Bank at the time of Data collection.
Sampling Size:
I have studied on the 15 Customers and the 15 Employees of the Bank at Sat Mosjid road Branch.
1.7.5 Data Gathering Methods
Multiple choice questions, scaling techniques and rank order techniques are used to collect data from the customers. Then those transfer at the SPSS software and the Excel to evaluate the Data.
1.7.6 Data Collection Methods:
The data is collected through questionnaire survey. If the respondent is confused about any of the question then the interviewer himself will fill up the questionnaire based on the respondent answer.
1.7.7 Coding, tabulation and analysis procedure:
The response of the respondent is entered into the computer for tabulation and analysis. Microsoft Excel is highly used to analysis the Data.
1.8. LIMITATIONS:
The major limitations of this study are:
 Sufficient records, publications were not available as per my requirement.
 Information is not processed through computer.
 Time and budget constraint.
 Non-cooperative behavior of some officials of the bank.
 3 months are very short time to prepare this.
 AN OVERVIEW OF Prime Bank Limited
bank's business policies, procedures and through integration of technology at all levels.
OBJECTIVE OF PRIME BANK LIMITED
Prime Bank aims to continuously update and develop its product line and range of            services to cater to the needs of retail and corporate customers. To achieve this goal,     efforts have been directed in three main areas:
  Design and introduction of new products and services
  Shaping and developing the system to face new challenges and emerging need of the market
  Full implementation and utilization of the Bank's excellence program which aims to provide service to customers.
2.4 PRIME BANK'S ORGANIZATIONAL STRUCTURE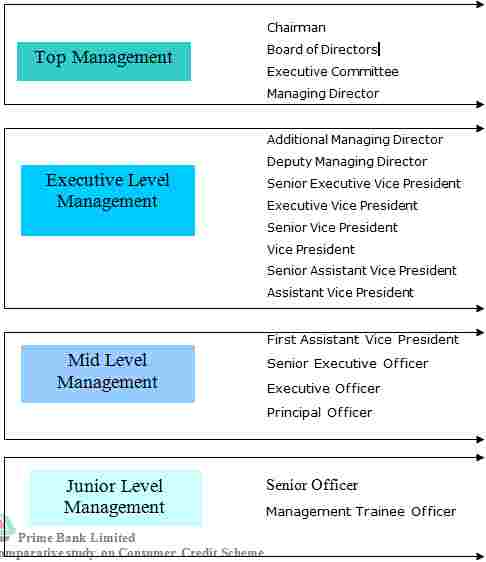 2.5 FUNCTIONAL STRUCTURE
The functions of GSD are classified as Establishment and General Banking (GB).
2.5 .1 General service division
The main function of GSD is to procure and supply the tangible goods to branches of PBL. Those are:
Tangible functions of opening a branch, for example, interior decoration, making lease agreement
Print all security papers and bank stationeries, forms, registers and distribute them to the branches
Purchase and distribution of bank's furniture and fixtures
Find out the demand of equipment from the branches and divisions and arrange the purchase and delivery of them to the branches concerned
Install and maintain different facilities in different branches.
General Banking
General department performs the majority functions of a bank. It is the core department of any bank. The activities of GB of PBL are mainly divided into the following categories:
Account opening section
Local remittance section
Online branch banking section
Deposit scheme section
Clearing section
Collection section
Cash section
Accounts section
2.5 .2 Head office accounts
Its deals with the Head Office transactions with banks and its different branches and these are recorded under the following headings:
Income and expenditure positioning: It maintains all the income and expenditure information
Cash section: It handles cash expenditure for office operations and payments.
Bills section: It deals with inland bill transactions.
Salary and wages section: Salary and wages of head office executives are given from this account.
Provident fund: Employee provident fund are maintained here.
2.5 .3 Consolidation of branch accounts
All branches of PBL have to periodically send their income and expenditure, profit and loss accounts to head office. This division consolidates all these information and makes statements to submit to Bangladesh Bank.
2.5 .4 Credit division
The main functions of this division are:
To Manage PBL's credit portfolio
Receive credit proposal from branches
Appraise and approve the proposals
Sanction letters and send them to branches
Monitor and follow up the loans and advances provided by the bank
Set up prices for credits and ensure their effectiveness
Prepare various statements to submit to Bangladesh Bank
2.5 .5 International division
This division is responsible for monitoring and supervising the foreign exchange dealings of the bank. It performs the following functions:
Making guidelines and frameworks for foreign dealings complying the rules of Bangladesh Bank
Circulating instructions of Bangladesh Bank
Maintaining correspondence with foreign banks and exchange houses with which it has exchange arrangement
Maintaining NOSTRO accounts with banks in abroad
Fixing and sending foreign exchange rates to Authorized Dealer (AD) branches and Bangladesh Bank.
2.5 .6 Treasury
Treasury is considered to be an important division for income generation purpose within the head office. The treasury of PBL continues to efficiently manage bank's cash flow. It optimizes the investment of the bank's excess liquidity. Treasury is also expected to provide quality services and products to meet the demand of the customer needs and play a major role in raising bank's income.
2.5 .7 Computer division
This division operates and keeps the record of all transactions, assets, liabilities of PBL by using integrated software. Though the technology of PBL is not advanced, the computer division tries to provide the following functions:
Supply and installation of computer as per requirement
Design software to support accounts operation
Train the officers and employees about the operation of different software
Updating the software if there is any lagging in its operation.
2.5 .8 Marketing division
There are two types of marketing division. These are:
Asset Marketing: It refers to various kinds of loan and advances. This division maintains communication with corporate clients gives incentive to take loan from PBL and approaches them to borrow from PBL in profitable projects
Liability Marketing: This refers to marketing for collecting funds through buying of depository products from large depositors. The division communicates to the persons or organization having excess fund of deposit, informs them about the attractive features of the depository products and convince them to invest in PBL in various deposit scheme.
2.5 .9 HR division
The Human Resource Division performs the activities related to administration and personnel. The main functions of HRD are:
 Selection and recruitment of new personnel
 Appropriate placement of human resources
 Maintain the detail about transfer, promotion and leave of personnel
 Training and development of human resource
 Keeping employee records and personal file
 Taking disciplinary action if necessary
2.5 .10 Credit card division
In 1999, PBL obtained the membership of Master Card and a separate division has been assigned to look after the credit card operation. There are four types of credit card, Local Silver Credit Card, International Silver Credit Card, Local Gold Credit Card, International Gold Credit Card.
2.5 .11 Research and development
This division is maintained to do the research and development work to innovate new products and services as well as to improve existing products and services.
2.5 .12 Committees and group division
Prime Bank Ltd. has both democratic and consultative decision making process. The subordinates are given chance to participate in the goal and objective setting of the bank. In this regard, there are three committees functioning in the bank. These are:
Policy Committee: In this case, the committee members are drawn from the Board of Directors. The committee reviews the principles, policies, rules and gives a decision which later requires the approval of the Board.
Executive Committee: This committee consists of the members of the Board. To approve the matters beyond the delegation of the board, this committee exercises the power delegated by the Board from time to time.
Management Committee: This committee consists of the Managing Directors and Head Office Executives. They discuss about the progress and improvement on the guidelines regarding deposit, loans, gives different ideas, decision regarding various issues.
More parts of this post-
An Overview of Prime Bank Banking System (Part-1)
An Overview of Prime Bank Banking System (Part-2)
An Overview of Prime Bank Banking System (Part-3)
An Overview of Prime Bank Banking System (Part-4)