1.1.   Introduction
Three month internship program which is a part of MBA program, gave me the opportunity to gather practical knowledge on Banking. This assignment is basically about Corporate Social Responsibility (CSR) and SME financing of Bangladesh. Both of these topics are literature based which I tried to find out what these is all about in the theoretical part and match it with my employer SEBL what are they doing?
As the requirement of the MBA Program a student have to complete an internship under an organization for a period of three months. I am working Southeast Bank at New Elephant Road Branch, Dhaka as a Junior officer. In relation to this requirement I'm doing all sort of work but my concentration is on SME financing.
After the meeting with my supervisor Dr. Laila Arjuman Ara, we both decided to create a report on CSR later I requested to Madam to include SME as it is related to my job. In this report I have collected information from various sources and put my practical job experience.
In my three month of the working career I have tried my level best to prepare a report which can reflect the actual scenario CSR and SME activities of different bank's of Bangladesh and also try to compare it with the Southeast Bank Limited. This is why my report is titled as —
"CSR & SME – An empirical study on SEBL"
1.2. Objective of the Report
The main objective of the study is to examine the Corporate Social Reporting and SME financing and also find out where SEBL stands in these two issues. To achieve the main objective, the following specific objectives have been covered in this study.
To identify the nature and extent of CSR practices in the companies, listed on DSE.
To assess the importance of Corporate Social Reporting.
To observe the position of social information in the Annual Report.
To identify the problems regarding Corporate Social Reporting practices.
To put forward necessary suggestions to overcome the problems.
To analyze the SME sector in Bangladesh.
To know the enterprise selection criteria to provide SME loan.
To know the terms and conditions of SME loans.
To know the disbursement and recovery procedures of SME loans.
To make some recommendations and conclusion to further the development of SME loan products of Southeast Bank Ltd.
Entry of commercial banks into SME banking industry in Bangladesh.
Recent performance level of the SEBL on SME loan in the country.
1.3. Research Methodology
The study uses both primary data and secondary data. The report is divided into two parts. One part is the theoretical part and the other part is the practical part. The information for the theoretical part of the report was collected from secondary sources like books, published reports and web site of the SEBL (www. sebl.com). For general concept development about the bank short interviews and discussion session were taken as primary source. For the practical part of the report general working experience has been utilized.
Information regarding CSR is being collected from Annual Report of Southeast Bank and reports regarding CSR of Bangladesh bank. The information for the Project" Analysis of SME loan in SEBL Bank Limited" both were collected from primary and secondary sources. For gathering concept of SME loan, the Product Program Guideline (PPG) thoroughly analyzed. Beside this observation, discussion with the employee of the SME department and loan administration division they said bank was also conducted. More over a market survey was conducted with a specific questioner. To identify the implementation, supervision, monitoring and repayment practice- interview with the employee and extensive study of the existing file was and practical case observation was done.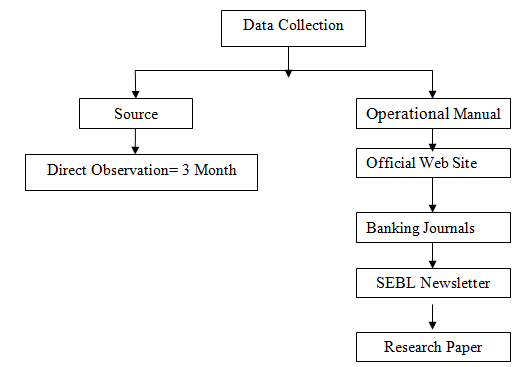 1.4. Literature Review
In recent times a business case has been made for CSR around the world (Pachauri, 2004). A number of academic observers (Belal, 2002; O'Dwyer, 2002; Owen, Swift, & Hunt, 2001; Owen, Swift, Humphrey, & Bowerman, 2000), however, have expressed concern that current CSR practice has failed to achieve the fundamental objective of transparency and accountability (Medawar, 1976). The rapid pace of globalization of markets over the last few decades has added new dimensions to the concept of corporate responsibility in the context of the market economy.
There is a significant and growing interest in the legal academy in exploring new ways to regulate corporations and, in particular, an interest in a shift from regulation to governance. So, Corporate Responsibility has been gaining space in the public policy sphere day by day. It has been increasingly becoming a part of the business practice and has generally been considered as a pragmatic response to consumer and civil society pressures (Bhattacharya, D., 2003). Conventional models, such as command-and-control regulation, operate under a deterrence approach to regulation (Malloy, 2003), which is generally adversarial and punitive (Ruhnka and Boerstler, 1998). Although this traditional approach to regulation has provided many benefits to society (e.g., cleaner air, safer products, and less discrimination), it has its limits and in some cases may have the unintended consequence of actually reducing social welfare (Aalders and Wilthagen, 1997; Sunstein, 1990). For example, some argue that a strict and inflexible regulatory approach may cause some organizations to adopt an adversarial approach to regulators, instead of making good faith attempts to follow the law (Malloy, 2003).
In response to the need for the law to evolve to reflect changes in society and growing complexities, governments have experimented with new approaches to regulation that come closer to self-regulation. Although critics view self-regulation as simply advancing a policy of deregulation (Sinclair, 1997), an increasing number of legal scholars reject a choice between self-regulation and command-and-control and advocate a legal regime based on governance.
Previous studies (Belal, 2001; Imam, 2000) indicated that there is a low level of CSR in Bangladesh and this is the field of study for this research. The main objective of this report is to examine the Corporate Social Responsibility reporting practices in some selected companies listed in Dhaka Stock Exchange. The study identified the companies making disclosure of CSR, its legal status; position of CSR related issues in the Annual Reports. With respect to poor CSR reporting practices, the main problems that have been identified in this study are lack of provision for reporting in the Companies Act, 1994, lack of separate accounting standard, lack of understanding and awareness, lack of qualified and trained personnel and lack of motivation. The study has also put forward suggestions to overcome the problems. The CSR reporting practices need to be improved without any further delay in order to streamline the financial reporting of the selected companies.
1.5. Limitation of the study
In spite of related peoples willingness I could not avail the full concentration as I supposed to have. The officers are extremely busy with their assigned jobs. And even I had to perform the internship while doing the job. On the way of my study, I have faced the following problems that may be termed as the limitations/shortcoming of the study. The main limitations encountered in producing this report are:
I am a full time employee of Southeast Bank Limited. It was difficult for me to allocate enough time to prepare the report. For an analytical purpose adequate time is required. Due to the time limit, the scope and dimension of the study has been curtailed.
At the time of preparing my report I tried to gather every details of process but the major limitation is lack of adequate information.
Due to lack of experience, there may have been faults in the report though maximum labors have been given to avoid any kind of slip-up.
Load at the work place also stood as a barrier to prepare this report.
Poor Library Facility: Most of the commercial bank has its own modern, rich and wealthy collection of huge and various types of banking related books, Journals, Magazines, Papers, Case Studies, Term Papers, Assignments etc. But the library of Southeast Bank Limited is not well ornamented.
1.6. About South East Bank Ltd
Southeast Bank Limited is a scheduled Bank under private sector established under the ambit of bank Company Act, 1991 and incorporated as a Public Limited Company under Companies Act, 1994 on March 12, 1995. The Bank started commercial banking operations effective from May 25, 1995. During this short span of time the Bank had been successful to position itself as a progressive and dynamic financial institution in the country. The Bank had been widely acclaimed by the business community, from small entrepreneur to large traders and industrial conglomerates, including the top rated corporate borrowers for forward-looking business outlook and innovative financing solutions. Thus within this very short period of time it has been able to create an image for itself and has earned significant reputation in the country's banking sector as a Bank with vision. Presently it has thirty branches in operation.
The emergence of Southeast Bank Limited at the junction of liberation of global economic activities, after the URUGUAY ROUND has been an important event in the financial sector of Bangladesh. The experience of the prosperous economies of Asian countries and in particular  of  South  Asia, has been the driving force and the strategies behind operational policy option of the Bank. The Company Philosophy – "A Bank with Vision" has been preciously the essence of the legend of bank's success.
Southeast Bank Limited has been awarded license by the Government of Bangladesh as a Scheduled Bank in the private sector in pursuance of the policy of liberalization of banking and financial services and facilities in Bangladesh. In view of the above, the Bank within a period of 10 years of its operation achieved a remarkable success and met up capital adequacy requirement of Bangladesh bank.
Corporate Mission and Vision of Southeast Bank Limited
Mission:
   High quality financial services with the help of latest technology.
   Fast and accurate customer service.
   Balanced growth strategy.
   High standard business ethics.
   Steady return on shareholder's equity.
   Innovative banking at a competitive price.
   Deep commitment to the society and the growth of national economy.
   Attract and retain quality human resource.
Vision:
To stand out as a pioneer banking institution in Bangladesh and contribute significantly to the national economy.
Core Objectives:
The bank's overall objective is to have a higher profitability than that of the weighted average of other banks. As such the main focus of the Bank is on highly profitable business with convincing growth potential. Vision for the future is the characteristic that differentiates Southeast Bank from other competitors.
Main Operational Area:
As a commercial bank, Southeast Bank does all traditional banking business including the wide range of savings and credit scheme products, retail banking and ancillary services with the support of modern technology and professional excellence. The bank has launched a number of financial products and services since its inception. Among them different types of monthly savings schemes have achieved wide acceptance among the people.
Comparative financial position of Southeast Bank Ltd
| | | | |
| --- | --- | --- | --- |
| 01. | Date of Incorporation | : | 12th March, 1995 |
| 02. | Date of Commencement of Business | : | 12th March, 1995 |
| 03. | Capital                  Authorized | : | Tk. 2500.00 Million |
| |                              Paid-up | : | Tk. 677.16 Million |
| |                              Reserve Funds | : | Tk.622.99 Million |
| 04. | Deposits | : | Tk. 20,118.82 Million |
| 05. | Advances | : | Tk. 15,548.11 Million |
| 06. | Operating Profits | : | Tk. 665.16 Million |
| 07. | Loan as a % of Total Deposits | : | 77.28% |
| 08. | Global Relations | : | 350 Correspondents Worldwide |
| 09. | Number of Employees | : | 2560 |
| 10. | Capital Adequacy Ratio | : | 9.20% |
| 11. | Ratio of Classified Loans to Total Loans | : | 2.09% |
| 12. | Return on Assets | : | 1.11% |
| 13. | Name of the Chairman of SEBL | : | Mr. Alamgir Kabir, FCA |
| 14. | Number of Branches | : | 66 |
| 15. | It is a Publicly Traded Company | : | Share quoted daily in DSE & CSE |
| 16. | Credit Card | : | Member of Master & VISA Card |
| 17. | Banking Operation System | : | Both conventional & Islamic Shariah System |
| 18. | Technology Used | : | Member of SWIF Online Banking Computer System |
2.1.   What is Corporate Social Responsibility (CSR)?
Corporate social responsibility (CSR), also called corporate responsibility, corporate citizenship, responsible business and corporate social opportunity is a concept whereby organizations consider the interests of society by taking responsibility for the impact of their activities on customers, suppliers, employees, shareholders, communities and other stakeholders, as well as the environment. This obligation is seen to extend beyond the statutory obligation to comply with legislation and sees organizations voluntarily taking further steps to improve the quality of life for employees and their families as well as for the local community and society at large.
Corporate Social Responsibility (CSR) is a concept whereby organizations consider the interests of society by taking responsibility for the impact of their activities on customers, employees, shareholders, communities and the environment in all aspects of their operations. This obligation is seen to extend beyond the statutory obligation to comply with legislation and sees organizations voluntarily taking further steps to improve the quality of life for employees and their families as well as for the local community and society at large.
The practice of CSR is subject to much debate and criticism. Proponents argue that there is a strong business case for CSR, in that corporations benefit in multiple ways by operating with a perspective broader and longer than their own immediate, short-term profits. Critics argue that CSR distracts from the fundamental economic role of businesses; others argue that it is nothing more than superficial window-dressing; still others argue that it is an attempt to preempt the role of governments as a watchdog over powerful multinational corporations.
The World Business Council for Sustainable Development defines corporate responsibility as the continuing commitment by business to behave ethically and contribute to economic development while improving the quality of life of the workforce, their families and the local community and society at large.
More than goodwill, corporate community involvement or strategic corporate philanthropy, corporate responsibility is a genuine attempt by a company to build meaningful relationships between the corporate sector and the rest of society.
Corporate responsibility is achieved when businesses adapts all of its practices to ensure that it operates in ways that meet, or exceed, the ethical, legal, commercial and public expectations that society has of business.
To be considered effective, corporate responsibility must be an integrated part of day-to-day business, engaging all stakeholders and including strategies to support individual managers to make socially responsible decisions, conform to ethical behavior and obey the law.
For more parts of this post-
An Empirical Study On Southeast Bank Limited.(Part-1)
An Empirical Study On Southeast Bank Limited.(Part-2)
An Empirical Study On Southeast Bank Limited.(Part-3)
An Empirical Study On Southeast Bank Limited.(Part-4)
An Empirical Study On Southeast Bank Limited.(Part-5)
An Empirical Study On Southeast Bank Limited.(Part-6)