Continuous auditing is an emerging trend in the auditing landscape today. This audit enjoys many benefits. The most important advantages are detailed below:
Advantages of Continuous Audit –
Easy to the quick discovery of errors
It is helpful in checking the errors and frauds easily. Errors and frauds can be discovered easily and quickly as the auditor checks the accounts at regular intervals and in detail. Early detection makes rectification also easy. As a auditor visits the client after a month or two or so on, the number of transactions will be small and hence, the errors will be detected easily and quickly.
Proper Planning of Audit Work
Under the continuous audit, an auditor can plan his audit work systematically: He can spread his work evenly throughout the year. It helps him in improving his efficiency in the audit work.
Knowledge of technical details
The audit staff can prepare their program on the basis of time allocated to one business. Since the auditor remains more in touch with the business, s/he is in a position to know its technical details and hence can be of great help to her/his clients by making valuable suggestions.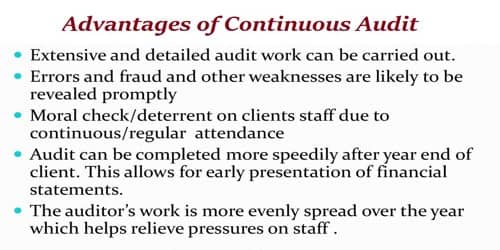 Quick presentation of accounts
As most of the checking works are already performed during the year, the final audited accounts can be presented to the shareholders soon after the close of the financial year at an annual general meeting. The auditor can point out the errors after every visit.
Accounts of the business are kept up to date by the staff because they know that the auditor may visit and check the accounts at any time.
Keeps the client's staff alert
This audit motivates the staff of the client and ensures proper maintenance of accounts. As the auditor visits the clients at regular intervals, the clerks are very regular in keeping the accounts up-to-date. They will see that there is no accuracy or fraud as it would be detected by the auditor at the next visit.
Moral check on the client's staff
If the auditor pays a surprise visit, it will have a considerable moral check on the clerks preparing the accounts as they do not know when the auditor may pay a visit to check. In this way, the employees are forced to work properly. A morale check will be more valuable to make staff alert and careful. There are fewer chances of fraud in this type of business.