The funerary complex of Sultan al-Ashraf Qaytbay is an Islamic complex consisting of a kuttab, a mosque, and a madrasa, and is located in Cairo, Egypt. It is an architectural complex designed in Cairo's Northern Cemetery by Sultan al-Ashraf Qaytbay and completed in 1474. In 1979, as part of Historic Cairo, the complex was registered as a UNESCO World Heritage Site. His madrasa, dedicated to Sufi students learning the Hanafi rite, featured a covered prayer hall that also served in the afternoon as a congregational mosque for regular Sufi activities. It is also considered one of the late Egyptian Mamluk architecture's most majestic and accomplished temples and is pictured on a one-pound note in Egypt. The entrance consists of the primary, northern face of the madrasa. The entrance shape follows the design typical of Mamluk entrances, typically crowned with a tri-lobed arch comprising carved muqarnas. To the right of the entrance, there is a minaret, which is considered one of the most complete examples of Mamluk since it reflects both the architectural harmony and the artistic ability of the period.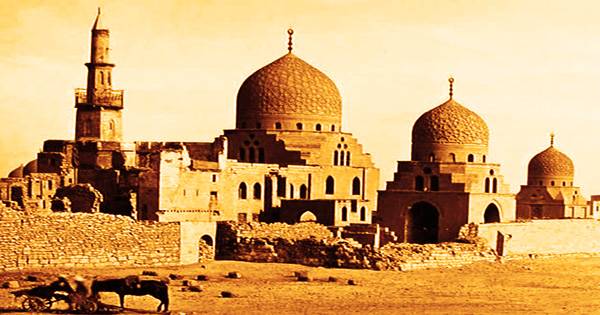 (Complex of Sultan al-Ashraf Qaytbay)
One of his earliest architectural commissions was Qaytbay 's funeral complex; building work for the complex began in 1470 and the mausoleum was completed in 1474. The expansion of the zawiyas to the complex of Barsbay, which represents the decrease in the size of the khanqah, the change of the supplication corridor into a congregational mosque, and the partition of the Sufis' cells from the principal body of the strict perplexing, all show the rise of another type of Sufism that deserted the detached devout life. The mausoleum and complex of Qaytbay was also built near the shrine of the Muslim mystic 'Abd Allah al-Manafi, over whose tomb a new dome was built in 1474 by Qaytbay. His decision to name a Maliki madhhab shaykh to his mosque, which was unprecedented for Mamluk institutions, may have been affected by this. Four iwans surround the courtyard, the largest of which is the qibla iwan, which, through a horseshoe arch, overlooks the courtyard. This iwan includes a splendid minbar, adorned with intricate geometric ornamentation, made of wood and inlaid with ivory and mother-of-pearl. The upper portion of the walls is characterized by stuccoed windows, inset with colored glass. The dome of the Mausoleum of Gani Bak al-Ashrafi exhibits a pendentive-squinch, a typical hybrid type, in its inner zone of transition. The base of the Gani Bak dome Mausoleum exhibits chamfered corners and prismatic triangles on the outside. The Qaytbay Complex is considered one of Islamic Egypt's most innovative and beautiful architectural complexes. The extensive decor, the elegance of its dimensions, and the harmony of its architectural elements, including the madrasa, the mosque, the water dispensary, the Qur'anic school, and the mausoleum, are of great importance.