Imagine the following scene: a gorgeous, clear day in California, with the sun beaming, the sky blue, and the ocean pink. Say what? That's exactly what you'll get if you visit the San Diego beach in January and February, courtesy of researchers from the University of Washington and the Scripps Institution of Oceanography at UC San Diego.
They have begun an experiment dubbed Plumes in Nearshore Conditions, or PiNC, to investigate how freshwater outflows are interacting with the ocean surf zone (see what they did there).
The PiNC study's principal investigator, Scripps coastal oceanographer Sarah Giddings, said in a statement: "I'm excited because this research hasn't been done before and it's a truly unique experiment."
Los Peasquitos Lagoon, which is a part of Torrey Pines State Beach and Natural Reserve in San Diego, California, is the subject of the experiment. The team is interested in learning more about how freshwater, which is warmer and more buoyant than ocean water, interacts with the waves.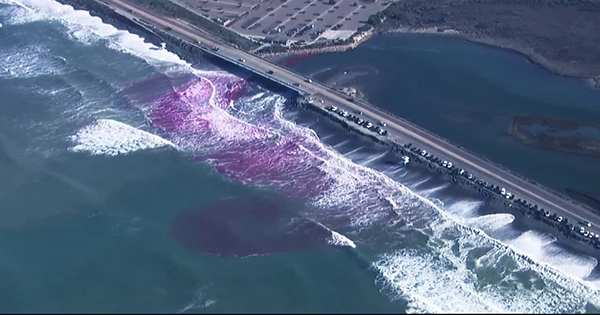 The pink dye is used to track where the tiny freshwater plumes are colliding with the saltwater waves by coloring the freshwater. The eco-friendly dye will then be followed as it moves using a drone and sensors mounted on poles placed along the sand. Even a jet ski that can measure the light the dye emits has been connected to a fluorometer. Additional sensors can measure salinity, temperature, wave height, and ocean currents outside the surf zone.
The dye releases will continue with two more scheduled for the end of January and the beginning of February. The pink dye is expected to provide more information about how sediment, contaminants, and even larvae enter the ocean via these freshwater discharges, according to the researchers.
"I think it's going to have some really wonderful results and impacts because we're bringing together so many different people with various experiences, "Giddings remarked. "We will advance our understanding of how these plumes propagate by fusing the findings from this experiment with those from an earlier field investigation and computer models.