Introduction
ACME Laboratories Ltd today symbolizes a name – a state of mind. But its journey to the growth and prosperity has been no bed of roses. From the inception in 1954 it has today burgeoned into one of the top line conglomerates in Bangladesh. ACME Laboratories Ltd the flagship company, is holding the strong leadership position in the pharmaceutical industry of Bangladesh since 1999 and is now on its way to becoming a high performance global player.
ACME Laboratories Ltd is the largest pharmaceutical company in Bangladesh and it has been continuously in the 2nd position among all national and multinational companies. It was established in 1954 and converted into a private limited company in 1976. The sales turnover of The ACME laboratories LTD was more than US$ 60 million in the last year.
ACME Laboratories Ltd has extended her range of services towards the highway of global market. , ACME obtained ISO 9001: 2000 standard certifications in June 08,
1999 and continues to comply with it. To maintain Good Manufacturing Practice (GMP) approval, proper attention is paid to the latest concepts of cross contamination, air circulation and air handling, particle free finishes, equipment layout, process flow hygiene and safety. She pioneered exports antibiotics and other pharmaceutical products. This extension in business and services has manifested the credibility of ACME Laboratories Ltd.
Historical Background and characteristics:
The ACME Laboratories Ltd, the pharmaceutical major and the flagship Company of the ACME Group, is a Manufacturer and Global exporter of Human, Herbal and Veterinary Pharmaceutical products. Our comprehensive Product List ranges from Antibiotics to Histamines to Vitamins. Certifications include: ISO
9001:2000, ANSI/ASQC Q9001:2000
Strategic Management Analysis of the ACME laboratories limited Corporate History:
Year of Establishment (Initially as a Partnership) :1954
Incorporated as a Private Limited Company : 1976
Commercial operation at the modernized plant equipped with sophisticated and advanced facilities : 1983
company reached golden jubilee : 1995
Awarded ISO-9001 Certificate : 1999
Partnership with the SUZY Project of ICDDR,B, : 2006
Business Lines :
Manufacturing and Marketing of Pharmaceuticals Finished Products, Basic Chemicals and AgroVet Products
Product line :272
Number of Employees :3000+
Last year turn over :$60 million
Strategic Management Analysis of the ACME laboratories limited Characteristics:
#Sophisticated manufacturing facilities in a state-of-the-art factory
#Committed to provide quality medicine at affordable price
#Strict adherence to WHO cGMP regulations
#An ISO 9001:2000 certified company
#Wide range of dosage forms & products
#Perpetual quest for excellence in quality products & services
#Developing Health Care awareness Serving the community since 1954
#Opened office in Pakistan
#Exporting successfully to 11 countries World-Wide
Accolades :
Got golden jubilee in 1995
Best Entrepreneur of the Country for the year 2006, by the Daily Star
Export Operation:
Highlights of the Export Operations
Exports pharmaceutical finished products
Quality products at competitive price
Offers more than 272 off-patent and on-patent molecules
Provides Bio-Equivalence (BE) study reports for certain products
Offers facilities for contract manufacturing
Provides assistance in product promotion and training in overseas markets
The company is continuously pressing hard for extending its export sales. The exports are expected to rise in coming years.
During the last couple of years the company has been able to familiarize its products in the neighboring countries like Bhutan, Neal, Sri Lanka, Myanmar, Cambodia, Vietnam, Philippines, East Africa. It is also in exploring joint venture production reaching from Central Asia, Africa, the Middle East, the United States, Canada, Mexico, South America, and Europe.
Commercial Lab Operating:
Acme Analytical Laboratory was incorporated in 1971 and is a Canadian owned and operated private company. Acme is a full service commercial lab offering inorganic chemical analysis of geological materials including the analysis of water, vegetation, soil, sediment and rock for single and multi-element determinations using geochemical, wet-assay and fire-assay test methods. Acme Analytical Laboratories
Strategic Management Analysis of the ACME laboratories limited  Ltd. provides its services worldwide to individuals, companies, universities and governments active in assessment and exploitation of mineral resources.
Acme implements a quality system compliant with the International Standards Organization (ISO) 9001:2000 Model for Quality Assurance and ISO17025 – General Requirements for the Competence of Testing and Calibration Laboratories. Acme also participates regularly in the CANMET and Geostats round robin proficiency tests. Acme is recognized as a participant in the CAEAL Proficiency Testing Program and is registered by the BC Ministry of Water Land and Air Protection under the Environmental Data Quality Assurance (EDQA) Regulation.
INDUSTRY AND COMPETITION ANALYSIS
Dominant Economic Features of the Industry
Market Size & Growth Rate:
Bangladesh Pharmaceuticals market comprises with more than 150 companies. Top 30 companies are present in all over the country and among them 5-6 companies are big with foreign collaboration or international exposure. The approximate size of the Pharmaceuticals market in Bangladesh is around Taka 20 Billion as annual turnovers with average growth of 15%.
The pharmaceuticals industry in Bangladesh is characterized with high growth rate with the entry of new companies and the expansion of existing companies. The average growth of the industry is around 15% annually for the last three years.
Scope of Competitive Rivalry:
Strong competition exists in the pharmaceuticals market in Bangladesh because the market is composed of substantial number of rival companies. The competitive rivalry primary exists among the local companies only. Due to protective rules of the government, multinational companies are not allowed in the market without the local ownership. Despite of that a number of multinational companies are competing with the local companies. Because of this strong compaction, the local companies have made significant improvement in their products and quality to survive in the competition. International rivalry present in a limited extent.
Number of Rivals and their Relative size:
More than 150 companies are operating in the pharmaceuticals business in Bangladesh. The top 30 companies are controlling 90% of the market share. ACME Pharmaceuticals is the market leader with more than 15% of market share. Other strong players are Beximco Pharmaceutical with 8.25% and Aventis Pharma 6.5% and Acme laboratories with 5.5%.
Stages in the business life cycle:
The pharmaceutical industry in Bangladesh is in high and rapid growth stage in the business life cycle.
Type of Distribution Channels:
Different types of distribution channels are used by different companies. The most common channels are company nominated distributors and wholesales. Sales centers operated by the company people are the most effective distribution channels used by the companies. Apart from that retail chemist and institutional sales team are also used by the company to sale and distribute its products.
Product Innovation:
The pharmaceuticals industry in Bangladesh is characterized by the very low product innovation and the life cycle of the product is long. Top pharmaceuticals companies are not putting enough effort and attention in R&D activities. There are several reasons behind that. The most important reason is the weak regulatory law regarding the patent rights. Most of the companies depend on the leading global multinational companies for the formula of new products. The market size is another reason for the company to employ huge money in their R&D activities.
Product differentiation:
Products of the rival companies are almost identical in the local market. Almost all the firms are producing the same category of drug with the own brand name. But the products are only differing in quality from brand to brand.
Degree of Vertical Integration:
Backward integration is present in the market as some manufactures have integrated themselves in supplying raw materials for their own use. As the dependence on key suppliers for raw materials has become risky for the manufactures, backward integration is most appropriate for the companies in the pharmaceuticals in Bangladesh.
Capital Requirement:
High capital is required to set up manufacturing facility in the pharmaceuticals industry. As the economies of scale is present in the industry, high investment is required to start minimum production for keeping the price low and make the product competitive. Products are also required to fulfill the standard prescribed and controlled the regulatory authority, so high investment is required to maintain the standard of the facility. High cost is also required because of the high cost of machinery and equipment.
Economies of scale:
The economies of scale exist in manufacturing & purchasing of pharmaceuticals products in the market. As large quantities of raw materials are used for the production and as higher production is required to keep the price low and competitive. So, the higher the productions are done, the lower cost of per unit of medicine.
Industry Profitability
The profitability in the pharmaceutical industry is above average. The profitability is mainly depending on the scale of operation, utilization of capacity, realizing the economics of scale and learning curve effect. So, only the volume sale of the product can maintain profitability for the company.
PORTER'S MODEL
As we know, Michael Porter's analysis of five primary competitive forces is the key to analyze the state of competition in the industry. Following are the brief of the competitive forces that contribute to shape pharmaceutical business in Bangladesh.
Rivalry among competing sellers:
The competition among companies in this industry ranges from moderate to high. There are more than 150 product categories where price limit is set and controlled by the government. So the competition between firms in pharmaceutical industry is based mostly on non-price factors like brand preference and customer loyalty, product quality etc. The nature of rivalry among pharmaceutical industry can be explained in terms of following factors:
Rivalry in the industry is intense as significant numbers of companies are operating in this industry. There are around more than 150 companies inthis industry among which the top 30 companies control more than 90% of the market, which makes the industry consolidated in nature.
As the government is controlling and setting the price for the product class of around
150 products, the competition is mainly based on other marketing activities instead of price. Only top 10-15 companies are marketing all these product categories and rivalry is mainly exist in these products class and among these 10-15 companies.
Competition is not that intense in those product classes for which the government is not controlling and setting up the prices. Moderately expensive molecules where demand is coming usually from the affluent and urban classes, competition is getting high these days as increasing number of companies are coming up to cover these segments of the market.
Rivalry is strong in the market as the demand for the product is growing slowly. There are many companies who are offering in the same markets for their products. Rivalry is also strong because the customers' cost of switching the brands is low. Doctors are flexible to prescribe different products for their availability in the market.
Rivalry tends to be vigorous as the exit barriers are very high due to requirement of huge capital and other investments. Rivalry increases because strong companies of the other business are acquiring weak firms in the industry and aggressively launching the pharmaceutical business.
Competitive firms are using price cuts and other competitive weapons to boost unit volume and to realize the economies of scale which is also causing intensive rivalry. Potential Entry of new competitors:
Entry barriers in pharmaceutical industry is high for foreign companies as the govt. rules does not permit foreign companies to enter the market without joint venture with a Bangladeshi firm owning at least 50% share of the company. Initial capital requirement, brand preference and customer loyalty, strict government rules and regulations to match with and qualify for entering this market etc. are also playing as high entry barriers for the potential competitors. Even though there are high entry barriers in the industry, threats from potential new entrants in this industry are also significant because of the industry profitability and the rapid growth of the market.
Following are the factors that can be considered as entry barriers of this industry:
Economies of Scale:
As the scale economies deter entry in this industry and cannot be achieved at the beginning of operation, potential new entrants have to start on a large scale which is a costly and perhaps a risky move. Sustainable profitability certainly depends on the scale of the operation and production of large volume. Potential entrants have to encounter scale-related barriers in this industry not just in production but in advertising, marketing and distribution and raw material purchasing as well.
Brand preference and customer loyalty:
As mass media advertising is not allowed in the pharmaceutical industry, Promotional and advertisement activities are done through physicians, chemists or retailers. In case of physicians it's done through direct contact, providing free samples, arranging seminars, providing necessary information etc. In case of chemists or retailers it's done through discounts, commissions etc. Usually the end user of the products must follow the physician's prescription, so they don't have any choice in brands. So brand preference and loyalty of the consultant class is playing a vital role in establishing relative market share in this industry. It's very hard for any new entrant to build preference and loyalty to these special segments within a short period of time.
Distribution channel:
The distribution channel in the industry is not that much organized and therefore all the big companies have to develop their own channel by their own work force, which is very difficult and time consuming for new entrants.
Capital requirement:
High capital is required to set up manufacturing facility in the pharmaceuticals industry. As the economies of scale is present in the industry, high investment is required to start minimum production for keeping the price low and make the product competitive. Products are also required to fulfill the standard prescribed and controlled the regulatory authority, so high investment is required to maintain the standard of the facility. High cost is also required because of the high cost of machinery and equipment.
International trade restrictions:
International trade restrictions and government regulation played a major role to impose high barriers for foreign companies in Bangladesh market. Under the existing related law, foreign companies can only export or sell medicine in the local market without affiliation with a local company, but for manufacturing it must go for fulfilling the local law. This has increased the entry barriers for foreign companies but reduced the same for local companies.
Threat from substitute products:
Three factors play vital role in strengthening the competitive pressure from substitute products which are whether attractively priced substitute products are available, how satisfactory the substitute products are in terms of quality, performance and other relevant attributes, and the ease with which buyers can switch to substitutes. Although there is no direct substitute for pharmaceuticals products, there are some cases where limited substitutes are available. The substitute for general antibiotic is Ayurvedic and Homeopathic and Herbal medicine. In Bangladesh the rural people who constitute large share of population highly depend on Ayurvedic and Homeopathic medicine. In urban areas the trend is more toward medicines with herbal ingredients rather than chemical. So, in rural areas affluent people pay good money for Ayurvedic and Homeopathic medicine. They are also very cheap, as they are not scientifically produced. The rural people being ignorant and uneducated are unaware about the consequences of taking these medicines. They buy them as they offer cheaper price. Sometimes fake village doctors use religious believes as a backdrop for selling false medicine and reject the medicines produced by pharmaceutical companies. As long as the people of our country don't educate themselves these false medicine will be playing significant
role as substitute products.
Bargaining power of suppliers:
Bargaining power of suppliers in this industry is moderately low. Most of the manufacturers in this industry import raw materials directly from abroad which constitute low dependency on the raw materials suppliers. Also the number of suppliers is very high in the industry and the purchase volume is big, which are playing positive role for the buyers to bargain over suppliers. Therefore, the dependency on suppliers and the switching cost to other suppliers are relatively low in this industry.
Bargaining power of buyers:
As the end-consumers are not the decision maker here, the buyer characteristics in pharmaceutical industry are somewhat different from other consumer products. The decision makers are mainly physicians and chemist or retailers. There are around 120,000 physicians around the country to whom the competitors visit regularly to promote their products. Almost all promotional expenditures of the firms, a very big portion of any firm's yearly sales revenue, is utilized to convince these segments. Also as most of the products in this industry are nearly identical and there are significant numbers of brands existing in this market, the bargaining power of buyers is very high. The unique power of physicians to make any band establishment and in some case, unethical practices of sharing mutual benefits among physicians and firms have increased this bargaining power even higher.
DRIVING FORCES OF THE INDUSTRY
Driving forces of the industry are those which have the biggest influence on what kinds of changes will take place in the industry's structure and competitive environment. The driving forces in an industry are the major underlying causes of changing industry and competitive conditions. The following driving forces are causing the pharmaceutical industry to change:
Technological change:
Significant change in technology is working as a major driving force in our pharmaceutical industry. These technological changes are causing the pressure to invest more capital to upgrade the production facilities and improve the production process. The major companies are now maintaining the cutting edge of technology in order to be competitive in the market by producing competitively significant changes in working capital requirements, minimum efficient plant sizes, distribution channels and distribution logistics, and learning and experience curve effects.
Changes in the long-term industry growth rate:
Shifts in industry growth up or down are a driving force for industry change – affecting the balance between industry supply and buyer demand, entry and exit, and the character and strength of competition. The pharmaceutical business in Bangladesh is indicating a long-term demand that has triggered a race for growth among established firms and newcomers to capture growth opportunities and win a place among the market leaders.
Marketing Innovation:
As the active buyers and decision makers (physicians) in pharmaceutical industry is unique, major firms are introducing new ways to market their brands to spark a burst of these sorts of buyer interest, widen industry demand, increase product differentiation and lower unit costs. Now a day, the marketing representatives are using laptop computers to demonstrate their products to the buyers, offering different complementary guidebooks regarding health issues, using cell phones and Internet as a vehicle for a newer kind of marketing innovations and so on.
Changes in cost and efficiency:
A difference in the costs and efficiency among key competitors tends to dramatically alter the state of competition in pharmaceutical industry during the recent years. The dynamic improvement in cell phone communication system, use of modern inventory management software, online demonstration facilities to physicians, use of skilled labor and sophisticated equipments have dramatically changed the industry efficiency and cost structure.
Regulatory influences and government policy:
The drug policy of Bangladesh is forcing significant changes in the pharmaceuticals industry practices and strategic approaches. Government efforts to reform medicine and health insurance during the recent years have become potent driving forces in this industry. Political and legal factors created opportunity as well as threat for pharmaceutical industry. The government prohibits import of new product in the segment where a national company is producing product even at a higher cost. The government rules regarding price restriction on 117 products forced the companies to compete on the ground of non-price factors like brand loyalty and product quality. Changes in government policies like increase in taxes, import tariff, Value Added Tax, etc is also forcing significant changes in the pharmaceutical industry practices and strategic approaches.
The Internet and e-commerce technologies:
The internet has changed the information system in all over the world. Using the internet, the manufactures as well as consumers are updating themselves with advance medical technology and health care information. Internet has significantly helped the manufacturers with the up dated information regarding new drugs, manufacturing process, quality control process. The use of e-commerce has also developed the marketing procedure of the industry products.
Socio-cultural:
Society's traditions, values, attitudes, beliefs, tastes, and patterns of behavior, and how they are changing affect the operation of any business. As more and more people are getting educated and are becoming conscious in quality medicine, the future of quality conscious firms like ACME Laboratories Ltd and other pharmaceutical industries certainly looks to be brighter in the near future.
Which companies are in the strongest/weakest position?
In order to identify which companies are in the strongest/weakest positions, it is necessary to analyze strategic group map. This map is designed in terms of product line breadth and product quality.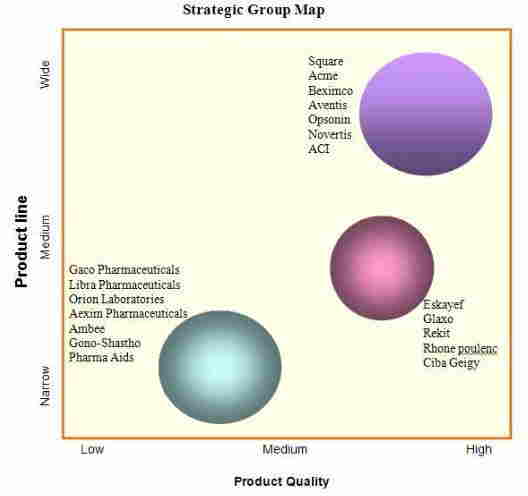 What strategic moves are rivals likely to make next?
ACME Laboratories Ltd has already started operating their new state-of-art facility. Beximco has also started manufacturing in their world class MDI plant and is going for certification in the regulated markets. Beximco has also made a US$ 50 M investment on a new plant confronting to USFDA standard. They are now crafting all their strategies towards year 2009, when the global market will be open for Bangladesh due to WTO agreement. The rules in this agreement will make the current biggest pharmaceutical exporters China and India to fall in very hard situation where as Bangladesh and other underdeveloped countries (LDCs) will enjoy exemption from these rules up to 2016.
Key success factors for competitive success
An industry's key success factors are those competitive factors that most affect industry members' ability to prosper in the marketplace- the particular strategy elements, product attributes, resources, competencies, competitive capabilities, and market achievement that spell the differences between being a strong competitor and a weak competitor.
Following are the key success factors in the pharmaceutical industry:
Technology Related KSFs:
Technological superiority in manufacturing process.
Research expertise in introducing new products
Advance technology in marketing, distribution and production system
Capability to utilize the internet technology in product research, marketing and distribution
Advanced systems and telecommunications infrastructure to support all kinds of manufacturing and distribution process.
Manufacturing related KSF's:
Low production cost by achieving scale economies, learning and experience curve effects.
Maximum utilization of fixed assets because of the nature of high fixed-cost industry.
Availability of skilled labor.
Low cost product design and engineering
Distribution related KSF's:
Broad network of wholesales and distributors.
Short delivery time.
Low distribution costs.
Having company owned retail outlets.
Marketing Related KSF's:
Efficiency of marketing department.
Superior customer service.
Wide product line.
Attractive styling of packaging
Skills-related KSF's:
Superior workforce in manufacturing and quality control department
Quality control know how
Other KSFs
Convenient locations and overall low cost
Favorable reputation and image with buyers
Pleasant and courtesies employees
Providing safe and healthy workplace.
Industry prospects and overall attractiveness:
While evaluating the industry and competitive environment, the preceding analysis has been used to decide whether the outlook for the industry presents the company with sufficiently attractive prospects for profitability and growth.
The important factors on which to base such conclusions are given below:
 The industry's growth potential is high. The overall pharmaceutical industry for the last 5 years was growing at an average rate of 15 percent annually.
 The current competitive environment permits the major firms to enjoy average to above par profitability
 Competitive forces will become stronger in the future as more firms are being paying attention to this industry.
 Industry profitability will be favorably affected by the prevailing driving forces.
Considering the above factors it can be concluded that the pharmaceutical industry of Bangladesh has a prospective future. ACME is aware of it and preparing to enjoy above average profitability through taking some strategic moves in the near future.
COMPANY STRATEGIC ANALYSIS
How well is the company's present strategy working?
Continued successful application of ACME's business model and solid sales increases in all market segments led the company to gain high revenue and considerable amount of market share and towards long term sustainable growth. ACME Laboratories Ltd has tightly fit together their metrics, their unique operating model, their business strategy and their highly-crafted tailored business practices.
ACME Laboratories Ltd's present strategy is to keep the growing trend in sales. The company is also emphasizing considerable attention to improve its market share.
The pharmaceuticals sector attained a lower growth of 8.6% only during the year 2004 as against 5.90% during the previous year. The lower growth rate of national pharmaceuticals market may be attributed to various factors such as lower public expenditure on health care, natural calamities including floods, cyclones, epidemical diseases & lower agro-corp harvest. The national pharmaceuticals market growth and that of the company during past few years are given below:
Year National Market Growth rate Company's Growth rate
2004 27.79% 29.95%
2005 22.46% 22.70%
2006 10.18% 11.70%
2007 5.90% 15.91%
2008 8.60% 13.08%
The above statistics prove that the company has been performing at a higher rate than that of the national growth rate of pharmaceuticals market ensuring continued leading position in the market.
ACME Laboratories Ltd sales are growth faster than its competitors. Company's profit margin is well matched with the company objectives and its overall financial strength is strong enough to extend more product line. The shareholders of the company are getting more earning per share every year and the images of the company is getting stronger year after year. Exporting to other countries has enabled the company to extend its market and pursue its continues growth.
Although the company is suffering from some strategic and internal problems, the above factors say that ACME's growth strategy is working well but the other are not. If those problems are not solved quickly, this growth rate will not be sustainable in the future.
SWOT ANALYSIS
Sizing up a firm's resource strengths and weaknesses and its external opportunities and threats, commonly known as SWOT analysis, provides a good overview of whether a firm's business position is fundamentally healthy or unhealthy. SWOT analysis is grounded in the basic principle that strategy-making efforts must aim at producing a good fit between a company's resource capability and its external situation. In light of the above fact, the SWOT analysis of ACME Laboratories Ltd is given below:
Strength
Key Strengths:
High company image and widely recognition as the pioneer of the industry
Decentralized decision-making structure where decision-making inputs are coming from all levels of the organization.
Strong corporate culture with emphasis on quality, customer responsiveness and environmental policy
A long tradition of participative management and employee retention.
A strong financial condition; ample financial resources to grow the business.
Efficient and well equipped R&D department to carry out up to date research and product improvement
Trained and efficient marketing and sales team.
 An attractive loyal customer base.
Collaborative support from some foreign companies that provide access to valuable technological know-how.
Manufacturing plant with flexible manufacturing capacity and batch 

processing
Weakness
Key weaknesses:
Underutilized plant capacity in Pabna & inability to meet current demand condition due to under production capacity.
Dependency on traditional distribution channel
Centralized controlled on manufacturing plants
Dependence on Volume products
Lack of proper integration between functional units and divisions; thus benefit from cross-functional collaboration is not fully realized.
High cost of manufacturing and distribution
Absence of backward integration causing absolute dependency on input supplier and external environment;
 Inability to estimate current and future market demand and upgrade production capacity accordingly.
Opportunities
 Growing consciousness about ethical standards and expectations from customers
 Growing demand in domestic market
 Existing demand in the neighboring country's pharmaceutical market
 Globalization allows ACME to enter global market by diversifying its business by utilizing the company image
Threats
Key threats:
Aggressive promotional activity by the rivals.
Exchange rate fluctuation causing input price high.
Infiltration of low price smuggled products
Likely entry of potent new competitors due to attractive industry profitability.
Growing bargaining power of customers and suppliers.
Modern technology are coming to obsolete the existing technology. This will cause huge capital loss for the production process.
STRATEGIC COST ANALYSIS AND THE VALUE CHAIN
Are the company's prices and costs competitive?
ACME Laboratories Ltd prices are competitive because in this industry, due to its nature of competitiveness, identical attributes of product, high buyer bargaining power and low brand switching costs, no one can afford to charge high price. In terms of economics point of view, this market is positively elastic, thus a slight increase in price might cause a heavy fall in sales.
As ACME Laboratories Ltd sales are increasing in this positively elastic market, we can conclude that their prices are competitive.
ACME Laboratories Ltd has a long experience and by utilizing its experience curve effect it has much cost advantage over its rivals. ACME is consistently producing quality products under clearly defined Standard Operating Procedures (SOP) in compliance with the procedures and instructions of quality system.
The plant is well designed and well equipped with all latest facilities and state-of-the- art technologies. To maintain this high quality standard, ACME has to import finest quality raw materials taking almost 70% of its total turnover including duties and taxes paid to government exchequer.
To maintain quality production, their operating expenditure is also very high. ACME Laboratories Ltd believes that it is hard to compete against a firm with low costs while maintaining appropriate quality. That's why ACME Laboratories Ltd strategy is not to compromise the quality rather, they are willing to realize lower profit margin in the short-run.
ACME Laboratories Ltd believes that their high quality brand reputation will enable them to grab an increased portion of market share in the long run and thus enjoy economy of scale ensuring higher profit and sustainable growth.
Material Management: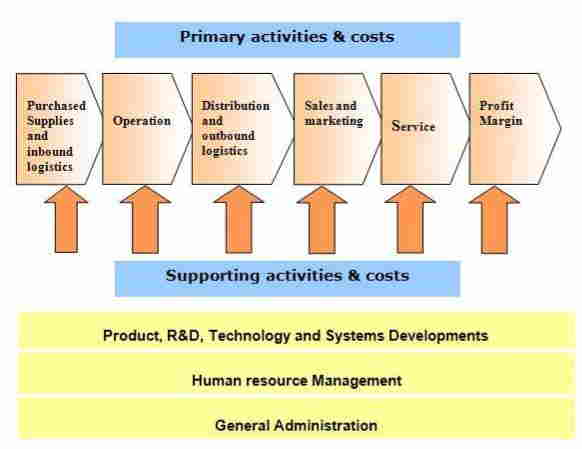 The materials management function controls the transmission of physical materials through the value chain, from procurement through production and into distribution. The efficiency in this process can significantly lower cost and create value.
ACME Laboratories Ltd is only integrated downstream with its own distribution network. Most of the raw materials are directly imported. The cost of production is minimized, as efficiency is high in production because of Quality Management System. But the process of communication between the manufacturing and distribution network requires various levels of inspection and approval mechanisms, pushing the bureaucratic cost upward. The raw material used for production purpose is fully imported, this also causes problem when exchange rate fluctuates, exporters fail to ship raw materials timely, they suddenly increase their price, when materials are disrupted by port congestion, political strikes, abrupt changes in world demand and supply situation.
Purchase of supplies and Inbound Logistics
ACME Laboratories Ltd purchase large volume of raw materials for the company and thus utilize the opportunities to minimize the cost in their inbound logistics. They have an opportunity to purchase bulk amount so that they can minimize the cost in their inbound logistics. Their purchases are relatively large volume compared to that of other pharmaceutical companies and get a most favorable rate for the company. Distribution and outbound logistics
When the operation units complete their production, the finished products are then stored and sent to the respective department through their own delivery units. Then they distribute their products throughout the country. They have district medical officer and send medicines to the needed areas at the minimum time with their own delivery van. They also export their products to Europe, Asia and African nations to fulfill the demand and create markets.
Research and Development:
In Bangladesh there is no patent law for medicine so any company can copy the medicine of another company and market it, that's the primary reason that the companies in pharmaceutical industry don't have extensive R&D facilities.
ACME Laboratories Ltd has a dedicated research and development team to upgrade the product and find new products. The product development has added value for the company. Finding new products and successfully introduction in the market will create more profit for the company. They always watch what competitors are doing and find better and new products for the consumers. Product development department also search information on the internet and add value for the existing products to gain more market share. Their leadership in this area has given them a competitive advantage by allowing them to develop new products and build image in this industry.
Production/Operations:
Production is concerned with the creation of a good or service, which generally has to do with manufacturing for physical products. Production can create value by performing its activities in a way that is consistent with high product quality, which leads to differentiation and to lower cost, both of which increases the value created by the company.
ACME Laboratories Ltd is committed to quality products and maintains their standards of the industry products. They always try to their best to benchmark for high productivity and lowest cost per unit. They use state of the art technology to their production unit and get higher production at the minimum time. This is done to utilize their production facilities that will have cost advantage over the rivals.
The manufacturing process of different type of products depends on demand for certain type of product. Here cyclical or seasonal needs of different products are considered. Usually the flow of medicine is consistent other than few exceptions throughout the year. New entrants, aggressive marketing and sales promotion of existing firms are mainly the factors that drive down the demand.
The quality of raw materials is not compromised in any situation though they are imported from outside. ACME Laboratories Ltd follows International Standards on Quality Management System to ensure consistent quality of product keeping in mind customer satisfaction.
Sales and Marketing:
Marketing and sales function of an organization can create value when consumer's perception of the value of the product increases. This can be done through brand positioning and advertising. As these activities create a favorable impression of the company's production the minds of the consumer, they increase value.
The marketing and sales department always tries to find the new ways to compete the local market as well as international market. In the highly competitive marketplace, ACME Laboratories Ltd has been very successful in creating a strong brand name and achieving significant market share. Their marketing techniques, including PR activities and special offer to the doctors, are clearly a source of differentiation. Their staff and medical promotion officer seems to truly understand what is most important to the value customers and doctors and how to deliver the proper information of the products' that can benefit the end consumers.
The marketing and sales department of ACME Laboratories Ltd pharmaceutical includes following activities:
Management of sales representatives and medical promotion officer.
National Sales manager along with marketing manger under the supervision of executive director undertakes planning, organizing, directing and controlling of the sales performance at different regional areas.
Sales target are set with regard to past performance and forecasting.
Identification of consumer needs
Sales forecasting based on previous information and recent changes
Identifying different market segment and their demand pattern.
Monitoring the sales performance of the sales representative, area sales manager and regional sales manager on a regular basis to achieve target without failing.
Determine the marketing objectives.
Positioning the company as a producer and importer of quality product.
Formulate market strategies including trade promotion, distribution etc. to boost to the sales force and all the sales activities.
Human Resource:
The human resource function of a company ensures that the company has the right mix of skilled people to perform its value creation activities effectively. The job of human resource department of ACME ensures that people at functional level and business level are adequately trained, motivated and compensated to perform their value creation tasks. Human resource is the core resource or competency that is very hard for competitors to imitate. So, special focus in always on the employees of ACME and their pros and cons of human resource management are identified.
The department of marketing and sales has lot of reward and incentives for exceptional performance in individual level, team level and department level. They have a performance appraisal system that continuously monitors the performance of employees at different level. They have bonus system for over time or extra work hours. They have immediate reward system for exciting new ideas that can help the growth of the company in any sector. They have cash reward system where the team receives a cash amount based on their performance of meeting targets and going beyond it.
ACME Laboratories Ltd believes in company growth by increasing efficiency level of employees and for that offering excellent environment and support for skill and knowledge up gradation. ACME Laboratories Ltd values productivity as the spontaneous contribution of Human Resources. Strategic Human Resource Development Programs are the energy sources for ACME Laboratories Ltd HR for running towards the zenith of success. Flow of clear and specific information and justification of queries play the vital role to ensure the market reputation of ACME as the most trusted and transparent company and it enriches the motivation level of HR who are the real contributors and owners of his / her own jobs.
COMPANY'S COMPETITIVE POSITIONING
Following are the competitive strengths and weaknesses of ACME Laboratories Ltd:
Competitive Strengths:
Strong Brand image and company reputation
High quality product standard and cost efficient manufacturing
Collaborative support from some foreign companies that provide access to valuable technological know-how.
An attractive loyal customer base.
Well positioned in attractive market segments.
Superior workforce talent and quality control know how
Strong Financial resource
Strong Partnership with suppliers
Ability to respond quickly to changing market environment.
Competitive Weaknesses:
Shortage of adequate sales people to cover every corner of the market.
Absence of backward integration causing full dependency on suppliers.
Disruption in supply of raw material causing delay in production.
Dependence on volume to keep the profitability high
STRATEGIC ISSUES THE COMPANY IS FACING
Strategic issues that the company is facing:
1. How to respond towards the pressure of cost reduction while maintaining product quality?
2. How to enhance the distribution network to cover every corner of the current market?
3. How to reduce the obstacles and fulfill the requirement to cover more geographic areas abroad and increase globalization?
4. How to reduce the problems regarding the weaker integration between functional units and what is the appropriate way to enhance cross-business strategic and resource fits to achieve strong competitive advantage?
5. How to improve the present strategy and finding out appropriate strategic options for sustaining the company's market position in light of the five competitive forces?
Potential threat of new entrants, prevalence of existing rivals and substitute products, and growing bargaining power of buyers and distributors puts forward the issue whether ACME Laboratories Ltd would be able to retain its brand image and overall competitiveness in the market.
In spite of their state-of-the-art competitive technologies and all out marketing and promotional efforts, the issue arises whether their high cost structure (a major weakness) would plague their performance, brand image and company reputation of superior product quality (a major strength).
STRATEGIC TASK ANALYSIS
Mission, Vision & Objectives:
Mission
ACME Laboratories Ltd mission is to provide quality & innovative healthcare relief for people, maintain stringently ethical standard in business operation also ensuring benefit to the shareholders and other stakeholders.
Vision
ACME Laboratories Ltd Vision is to "see business as a means to the wellbeing of the investors, employees and the society at large, leading to accretion of wealth through financial and moral gains as a part of the process of the human civilization".
Objectives
ACME Laboratories Ltd objectives are to conduct transparent business operations within the legal & social frame work with aims to attain the mission reflected by the vision.
Strategic objectives:
 To create an image for quality of its products and services, productivity of its operations and innovative abilities of its employees.
 To devote resources to ensure value for money to its customers.
 To encourage and support qualitative improvement of the services of its distributors and suppliers.
 To contribute to the personal well being of its employees.
 To achieve large volume of sales and increase market coverage.
 To introduce wider product line and superior on time delivery
Financial objectives:
 To ensure superior return on investment through healthy and sustainable growth of the company.
 To ensure strong bond and credit ratings and bigger cash flows
Long-term objective:
 To maximize shareholder value.
 To maintain leadership in local market.
 To introduce new products and maintain quality
 To maximize export globally.
 To contribute social well being for the nation.
Short-term objective:
 To increase reasonable market shares at the end of 2009.
 To maximize profit for the current fiscal year.
Strategic intent:
Values
"To become leader in pharmaceutical industry"
ACME Laboratories Ltd strives for:
 ACME Laboratories Ltd strives, above all, for top quality health care products at the least cost reaching the lowest rungs of the economic class of people in the country. We value our social obligations.
 ACME Laboratories Ltd owe its shareholders and strives for protection of their capital as well as ensure highest return and growth of their assets.
 ACME Laboratories Ltd strives for best compensation to all the employees who constitute the back-bone of the management and operational strength of the Company through a pay-package composing salary/wages, allowances, bonuses, profit participation, leave salary and superannuation & retirement benefits.
 ACME Laboratories Ltd strives for the best co-operation of the creditors & debtors the banks & financial Institutions who provide financial support when they need them, the suppliers of raw materials & suppliers who offer them at the best prices at the opportune moments, the providers of utilities-power, gas & water etc. and the customers who buy its products & services by redeeming their claim in time by making prompt payment and by distributing proper product on due dates to its customers.
 ACME Laboratories Ltd strives for fulfillment of our responsibility to the Government through payment of entire range of due taxes, duties and claims by various public agencies like municipalities etc.
 ACME Laboratories Ltd strives, as responsible citizen, for a social order devoid of malpractices, anti-environmental behaviors, unethical and immoral activities and corruptive dealings.
 ACME Laboratories Ltd strives for practicing good-governance in every sphere of activities covering inter alia not being limited to, disclosure & reporting to
shareholders, holding AGM in time, distribution of dividends and other benefits to shareholders, reporting/dissemination of price sensitive information, acquisition of shares by insiders, recruitment & promotion of staff, procurement & supplies, sale of assets etc. all that directly and indirectly affect the interest of concerned groups – the shareholders, the creditors, suppliers, employees, government and the public in general.
 ACME Laboratories Ltd strives for equality between sexs, races, religions and regions in all spheres of its operation without any discriminatory treatment.
 ACME Laboratories Ltd strives for an environment free from pollution and poisoning.
Quality Policy:
ACME Laboratories Ltd's Quality Policy:
 Ensure strict compliance with WHO cGMP standards and local regulatory norms in every phase of sourcing & procuring quality materials,
manufacturing, quality assurance and delivery of medicines.
 Ensure all activities through documented Quality Management System (QMS)
complying International Standard requirements of ISO 9001 through continuously developing Human Resources by regular training and participation.
ACME Laboratories Ltd is committed to undertake appropriate review, evaluation and performance measurement of processes, business activities and Quality Management System for continual improvement to ensure highest standard, customer satisfaction, developing human resources and company's growth.
STRATEGIES AT DIFFERENT LEVELS
Corporate strategies:
1. Making the moves to establish positions in different businesses and achieve related or unrelated diversification.
2. Pursuing ways to capture valuable cross-business strategic fits and turn them into competitive advantage.
3. To take the initiative and act accordingly to boost overall performance of the company.
4. Venture new business to utilize resources and reduce risk.
5. Establishing investment priorities and steering corporate resources into the most attractive business units.
6. Achieve business objectives through quality and customer acceptance by providing quality & effective drugs
7. Providing uncompromising quality strategy all over the business units to achieve and maintain corporate key beliefs and goals and to comply with regulatory requirements and have ethical practices.
Business Strategies:
ACME Laboratories Ltd strategic managers' current business strategy is mostly to peruse ways to increase product line and breadth, focus on specific market segment, strengthen distinctive competency by achieving superior quality and increase geographic coverage. These issues of Business level strategy are discussed below:
Financial strategies:
The functional departments take the responsibility to implement and achieve their objectives. Each department helps to formulate strategy for the business. The functional department knows the areas to be developed and achieve the company objectives. The company has diversified business and is responsible for formulating and implementing the strategy for each business. Coordination and consistency among the various functional and process strategies are helping the company to achieve its objectives.
1. Pursuing ways to realize economies of scale
2. Moves to achieve continuous reduction of total cycle time in production process. ACME is implementing flexible manufacturing systems and doing batch processing to minimize costs.
3. Finding ways to enrich human capital and develop fully efficient and productive workforce by necessary training and good recruitment process
4. Continuous involvement in introducing newer molecules to market and new distribution systems to meet the needs of the future.
5. Moves to empower all ACME employees in a participative, cooperative and creative workplace. Any new idea of product marketing and sales is instantly rewarded.
Operating strategies:
1. The operating strategy of the company to implement the actions effectively & efficiently.
2. Moves to implement JIT inventory management system. This will reduce ACME Laboratories Ltd's fixed overhead cost.
3. Finding more sources of quality raw materials inputs. ACME Laboratories Ltd is also looking at the local suppliers for this purpose.
4. Developing and inventory stocking strategy to a limited extent to meet any unanticipated demand.
5. Instituting proper warehouse staffing strategy by proving proper training and support system so that any order can be fulfilled accurately within shortest period of time.
MARKETING PERFORMANCE (4 P's)
Product:
ACME Laboratories Ltd has many product lines. Major product lines fall into the following therapeutic classes:
Alimentary Preparations
Antiallergy Preparations
Antidiabetic Preparations
Antiparasite Preparations
Bone Calcium Regulator
 CNS Preparations
Drugs for Urinary Incontinence
Eye and Ear Preparations
Haematinics
Lipid Modifying Preparations
NSAIDs and Antigout Preparations
Other Antibacterials
Penicillins and Cephalosporins
Quinolone Antibiotics
Respiratory Tract Preparations
Systemic Antifungal, Antiviral and Antiprotozoal Agents
 Topical Preparations
Vitamins and Minerals
Place (Channels of distribution):
ACME Laboratories Ltd has nationwide distribution channels. The company has Plant in Gazipur. The company has 18 depots from where the products are distributed throughout the country. There are 158 vehicles and 675 distribution personnel responsible for reaching the products in the country. The dedicated team is highly responsible to supply the products right place at the right time.
Promotion:
Advertisement on mass media for pharmaceutical companies is prohibited. Promotional and advertisement activities are done through physicians and chemists or retailers. In case of physicians it's done through direct contact, providing free samples, arranging seminars, providing necessary information etc. In case of chemists or retailers it's done through discounts, commissions etc.
ACME Laboratories Ltd has very strong field forces to convey product information to the medical professionals regularly. The brand image and company reputation has helped them to get favorable responses from personal selling. ACME Laboratories Ltd has big budget for promotional campaign. They promote their products in such ways as:
 Distributing samples of the new products to the doctors
 Print informational materials for the company such as leaflet, posters, booklets, diary etc. and distribute those to the medical professionals and outlets.
 Sponsor events arranged by doctors and promote the brand.
 Arrange seminars and symposium on different diseases
 Sponsor and participate social events to build company image, etc.
Price:
ACME Laboratories Ltd's prices are competitive because in this industry, due to its nature of competitiveness, identical attributes of product, high buyer bargaining power and low brand switching costs, no one can afford to charge high price. In terms of economics point of view, this market is positively elastic, thus a slight increase in price might cause a heavy fall in sales. As ACME Laboratories Ltd's sales are increasing in this positively elastic market, we can conclude that their prices are competitive.
PRODUCTION PERFORMANCE
ACME Laboratories Ltd's are manufacturing most of the products mainly in Dhamrai plant. The production capacity of the plant is very high. The company is the local giant and most of the market share is attained by this company. They are also exporting products to Asian, European and African countries. The production unit is always searching for new technology to increase the production capacity to pace with the market demand.
RESEARCH AND DEVELOPMENT
ACME Laboratories Ltd has a huge budget for research and development. They always search data on line and find the latest development of this industry and try to get the information for the company. They have dedicated research team to develop the existing products and innovate new products. They ensure strict compliance with WHO cGMP standards and local regulatory norms in every phase of sourcing & procuring quality materials, manufacturing, quality assurance and delivery of medicines. ACME Laboratories Ltd also ensure all activities through documented Quality Management System (QMS) complying International Standard requirements of ISO 9001 through continuously developing Human Resources by regular training and participation.
ACME Laboratories Ltd is committed to undertake appropriate review, evaluation and performance measurement of processes, business activities and Quality Management System for continual improvement to ensure highest standard, customer satisfaction, developing human resources and company's growth.
HUMAN RESOURCE PRACTICES
ACME Laboratories Ltd, with its progressive business outlook, believes and practices corporate work culture with a classic blend of efficiency and equity. ACME Laboratories Ltd believes in company growth by increasing efficiency level of employees and for that offering excellent environment and support for skill and knowledge up gradation. ACME Laboratories Ltd values productivity as the spontaneous contribution of Human Resources. Strategic Human Resource Development Programs are the energy sources for ACME Laboratories Ltd HR for running towards the zenith of success.
Flow of clear and specific information and justification of queries play the vital role to ensure the market reputation of ACME Laboratories Ltd as the most trusted and transparent company and it enriches the motivation level of HR who are the real contributors and owners of his / her own jobs. At ACME, HRD symbolizes the unique blending of professionalism as well as sharing the stress and success equally like a family where every member has deep concern, feelings and pride for their own company ACME Laboratories Ltd.
HR ensures the strong supporting role to develop & implement HR policy guidelines for ensuring uninterrupted operation and spontaneous participation to achieve organizational objective as well as fulfillment of employee needs. HR is maintaining an effective way to deal with labor union and still no unrest has been recorded as dispute. Personnel working here are taking care of ACME as if it is their own family. Employee-employer relation is cordial and supporting always.
SOCIAL CONTRIBUTION
ACME Laboratories Ltd 's activity goes well beyond the sphere of business. As socially conscious and responsible corporate body ACME is committed to the improvement of the society as a whole. ACME Laboratories Ltd is involved in the welfare program of the acid burn victims and the ACME Laboratories Ltd sponsored Meril – Prothom Alo festival has become a national calendar event.
ACME Laboratories Ltd helps many NGO's in their effort to make available healthcare to the disadvantage population of the Country. It sponsors programs to build awareness on the healthcare need. ACME Laboratories Ltd is also a major sponsor of sporting events in the country.
PROBLEM ANALYSIS
Stiff competition and low profit
The pharmaceuticals industry of Bangladesh has become one of the most attractive and risk free manufacturing industry in recent years. It has vast opportunity and long term growth. As a result, Pharmacy industry has become the top priority sector for most of the investors. All the big business groups in Bangladesh have already entered in this industry along with lot of new investors which made the industry of too many competitors. Consequently, the competition has become very stiff and profitability has gone down significantly.
Inability to achieve higher plant capacity
ACME Laboratories Ltd is yet to maximize the full manufacturing capacity of its Dhamrai plant even though they have invested huge capital to establish the facility. One of the reasons for this is the wrong estimation of market demand and accordingly built the plant on the basis of that estimation. ACME Laboratories Ltd had made a long term estimation for building the facility and their estimation did not realized due to slow market growth and increasing number of new competitors entry in the industry. Recently, ACME Laboratories Ltd has started to export overseas by utilizing the present capacity.
Risk of maintaining limited suppliers
ACME Laboratories Ltd is maintaining a policy of purchasing its raw material and other supplies from much selected suppliers. The nature of the industry and its basic raw material has made the market of limited suppliers which is one reason for ACME Laboratories Ltd to work with limited number of supplier for the pharmaceuticals raw material. The dependence on these limited suppliers has created big risk for the company as sudden shortfall of the raw materials or the delay supply could create a disaster for the company. Although ACME Laboratories Ltd has recently started importing raw materials directly from manufactures, but the volume is very limited and there is possibility for ACME Laboratories Ltd to stop importing by themselves as to avoid many difficulties and keep sourcing the whole quantity from outside suppliers.
Deteriorating trend in average collection period
Recently, the average collection period of ACME Laboratories Ltd has become long and created big concern for the company to reduce the average period of collection. Inconsistent discount policy
The discount policy which ACME Laboratories Ltd has adopt to pursue sales through its sales peoples has often poses great problem for the company. There is no common guiding principle or structure which all the sales people of different region or territory could follow. This is creating frustrating and de-motivating environments in many sales fronts. There are many reasons for this occurrence. First, sales people are allowed to sell at a higher discount in major metropolitan areas whereas at relatively lower discount in the localized regional areas. This is encouraging many local retailers to buy form the city outlet and enjoy higher discount causing a loss of motivation for the regional sales outlets. Second, discount authority is not same for all sales people, higher ranked officer can give a higher discount that the lower ranked officer, resulting in an imbalance between sales effort and actual selling. Third, there are some unethical practices among some sales people to offer high sales discount even sacrificing company interest to show higher performance to the management. As according to the company policy, every sell offers a sales commission to the respective sales people, these unfair and irrational discount structures is actually depressing the total sales volume of ACME Laboratories Ltd as a whole.
Inefficiency of utilizing multiple distribution channel
Pharmaceutical companies in Bangladesh use three types of channels to distribute their products. These are, (i) company operated own depots, (ii) company nominated sales center or distributors and (iii) direct wholesale delivery (DSD).
ACME Laboratories Ltd distributes its products through 18 depots located strategically throughout the country. ACME Laboratories Ltd has its own fleet of vehicles (158 vehicles) engaged round the clock in delivering goods to the Depots. ACME Laboratories Ltd has long been practicing distributing its products through its own depots located in 10 different places in the country. After that local distributors collect the products and sell through retailers. Here, ACME Laboratories Ltd has shown inefficiency to handle the local distributors as well as retailers. ACME Laboratories Ltd has in fact no proper guideline and policy for the local distributors for selling their products. Proper utilization of the local distributors and retailers could give the company more advantage over its rivals while selling the local and rural markets.
Inability to estimate current and future market demand and upgrade production capacity accordingly
ACME Laboratories Ltd's top management often fail to properly forecast the company's future demand condition when market is growing rapidly,. Thus the company is facing tremendous under production capacity now a day. For any company, who is ruling the market this situation is severely harmful for them in a competitive market where other rivals are always alert to grab any gap. Though ACME Laboratories Ltd is going to increase their capacity very shortly, improper demand estimation might create the same situation again, causing declination of their market share.
Absence of cross-functional collaboration among functional units and centralized controlled on manufacturing plants
ACME Laboratories Ltd has facing problem in achieving cross-functional collaboration among its functional units when divisional heads pursue their own agendas and priorities. Divisions are often not cooperative or responsive to the requests and needs of other sister divisions which cause problem for the company as a whole. Division independence tended to result in strategies and behavior that appeared best for the division and that sometimes were contrary with the competitive interest of the company's common goal. Moreover, ACME Laboratories Ltd has adopted a centralized control for its manufacturing plant which often create great problem for the factory people while it is quite impossible to operate and control the all production activity from the central corporate office.
Family culture in the organizational hierarchy
There is family culture prevailing in the organization. Major share of the company is owned by family, so the management usually can't challenge any decision that come from the directors and or top management people belong to the family even it is wrong. There is a belief in the minds of the employees that their scope of climbing up the corporate ladder is limited to a certain level as all the top positions are currently held by the Chairman's family members.
Unrelated diversification
The company has invested huge capital for unrelated diversification. This diversification has lowered the risk but did not make sufficient profit for the company. The unrelated diversification and investment in those sectors has lowered the profit margin for the company.
ALTERNATIVE STRATEGIES
Considering the above problems which we have found in ACME Laboratories Ltd following Six broad alternative approaches have been suggested to address all of the above problems in order to maintain ACME Laboratories Ltd's long term growth and performance.
Alternative 1: Best Cost Provider Strategy
ACME Laboratories Ltd currently the industry leader having market share of 14% and annual growth rate of around 13% as against the industry growth of 8%. ACME Laboratories Ltd's nearest competitor Beximco has the market share of only 8.5% which shows that ACME Laboratories Ltd is far ahead than its competitors. So, the main strategic concern for the industry leader revolves around how to defend and strengthen its leadership position.
ACME Laboratories Ltd has shifted from it's a low cost strategy to a focused differentiation strategy. This low cost strategy was effective until Y2002 when their growth rate fell from 22% to 11%. From Y2002, ACME Laboratories Ltd started implementing its focused differentiation strategy but the statistics shows that this strategy could not help them improve their growth rate rather maintains the growth rate at a moderate level. So, it is quite clear that the market has been very competitive and it has become very difficult for ACME Laboratories Ltd to maintain high growth rate under the present market conditions. On the other hand, the market is very price sensitive and some firms, though not in all sectors, are being able to offer the same quality with a slightly lower price, making ACME Laboratories Ltd uncompetitive in those sectors. So, it has been suggested that ACME Laboratories Ltd should apply a best-cost provider strategy where it will be able to offer a better quality with the same market price, or a better price with the same quality. As one of the ACME Laboratories Ltd's main strategic objective is to maintain its product quality high and also keep the existing market share, this best cost provider strategy would definitely help ACME Laboratories Ltd to maintain its high quality as well as marinating its status of industry leader.
Alternative 2: Vertical integration strategy: reducing dependency on inputs and enhancing distribution network
One of ACME Laboratories Ltd's the major difficulties are to effectively use the inbound and outbound logistic sectors of its value chain activities. A huge cost is incurred while marinating these value chain activities. From the financial report of
2008, it is seen that more than 50% of its yearly revenue is spent in raw material cost, in which around 35% is the procurement cost whereas 15% is gone to pay the import duty. Due to global and local macro environmental instability (strike, demand-supply movement, exchange rate, natural calamities), it has to pay more unforeseen direct and indirect costs. This is certainly a major constraint to keep the market dominancy. ACME Laboratories Ltd has to apply progressive strategy to gain strong control over its inputs. ACME Laboratories Ltd must put more resources to improve its production of raw materials to reduce absolute dependency on suppliers. This step will also reduce its duty expenditure; therefore direct contribution to its profitability. ACME Laboratories Ltd also has to find ways to enhance its distribution network, both local and foreign. Strong distribution network is a vital competitive advantage in pharmaceutical business, which must be realized to maintain the leadership position. Instead of depending on outside distributors, ACME Laboratories Ltd should put more emphasis on running direct sales centers or expanding forward integration by acquiring major distributor of Pharmaceuticals products. Due to only relatively weaker distribution channel, ACME Laboratories Ltd is losing its potential sales prospects. Due to weaker presence of traditional readily available distribution channel, higher involvement of self-operated company owned distribution channel represents a unique nature of the industry.
Alternative 3: Reduction of overhead cost by increasing the production capacity
One way to reduce or keep cost of operation low is to increase the production capacity. As we have already found that ACME Laboratories Ltd has the problem of utilizing its full capacity and much of its capacity is being unutilized, it is suggested that ACME Laboratories Ltd must go for utilizing its full capacity to reduce its overhead cost. The full utilization of the capacity will give significant benefit for the company in terms of reducing overall cost and to expand its sales in more geographical areas. The fixed assets would be utilized properly and efficient employees will help to reduce the total cost for the company. The company can also subcontract its distribution channels for delivering products. The company may also supply products to other companies to reduce its overhead cost.
Alternative 4: Cooperative strategy: strategic alliances with foreign companies
In this globalization era and in competitive marketplace companies in all types of industries and in all part of the world have elected to form strategic alliances and partnerships to compliment their own strategic initiatives and strengthen their competitiveness in domestic and international markets.
ACME Laboratories Ltd has to think of a better cooperative strategy. ACME Laboratories Ltd has already started entering foreign market and to explore more foreign country and to cover more geographic region, ACME Laboratories Ltd must find out suitable partner oversees to enter new market. For domestic market, it has already become mature stage. Lot of new competitors is operating with different competencies with different strategies. It is also important for ACME Laboratories Ltd to find ways in local market to explore this type of strategic alliances with foreign company in terms of R&D, product improvement, new production facilities or even improving the marketing activities.
Alternative 5: Expand geographical coverage and maintain international standard
As we have found ACME Laboratories Ltd has potential to increase its production capacity while maintain the product standard, it is being suggested that ACME must aggressively increase its geographical coverage with all the products across the countries. ACME Laboratories Ltd has already achieved much progress in exporting its products in neighboring countries and gains much confidence in entering new markets, the company should give much attention to explore the new areas and maintain the international standards of the products. The higher geographical coverage will lead to more demand for the products as well as reduce the overhead costs of the company
Alternative 6: Diversify business in the profitable industry
Another alternative strategy ACME Laboratories Ltd should seriously pursue is to diversify in profitable related business. As we know ACME Laboratories Ltd Group of Industries has gained tremendous successes by diversifying its business in all profitable related and unrelated business, ACME Laboratories Ltd Pharmaceuticals can explore this experience and diversify its own business in more profitable related business.
Suggestion
To achieve the objectives of keeping the status of market leader and the high growth trend by further increasing the market share and to expand the export to more geographic regions by entering to more foreign countries, a complete package of a number of alternative strategies developed in the previous section has been recommended as follows:
Strategic alliance and cooperative partnership: Helping get world recognition
To make the way smooth while entering more world market, ACME Laboratories Ltd should take initiative for strategic alliance with big foreign reputed companies. This is more easier for ACME Laboratories Ltd for developing cooperative partnership, as it has already some connection and association with some major foreign companies. This strategic move will enable ACME Laboratories Ltd to understand cross-cultural knowledge, which is a vital competitive advantage for international business.
On the other hand, ACME Laboratories Ltd can utilize the strategy of strategic alliance by getting direct entry in valuable skill, technology and management quality of their foreign partners. Implementing this strategy effectively can significantly change ACME Laboratories Ltd to become the one of the renowned player in the global pharmaceuticals.
Best-cost provider strategy: Escalation of the present position
To provide more value for the money, ACME Laboratories Ltd has two options – reduce the price maintaining the same quality or maintain the price increasing the quality. As ACME Laboratories Ltd must maintain the current quality, it has to reduce the price slightly to make its products more competitive in the market. Even if this step reduces the profitability of the firm, ACME Laboratories Ltd has to consider it and implement this strategy for the short-term. This will increase their ultimate profitability in the future by an increase the market demand dramatically resulting in realization of scale economy, thus reducing overall cost.
Vertical integration strategy: Making the leadership position more stronger
To maintain its leadership position stronger and long lasting, ACME Laboratories Ltd has to be prepared for strengthen the position in local market and aggressively expand geographic coverage by increasing the export. In order to do that ACME has to reduce its dependency over raw materials and gain control by finding ways to produce some category of raw materials locally. It should also enhance the current distribution network, both local and foreign to enlarge the market coverage. Though there is a risk involved in vertical integration, as it increases the exit barrier because of greater involvement in the business, considering the market growth opportunity,
ACME must take these initiatives. Moreover, a backward integration will increase its ability to reduce the cost and increase their control over price, which is necessary for Acme to maintain its leadership position in a business.
IMPLEMENTATION PLAN
In formulating the action agenda, strategy implementers should begin with a probing assessment of what the organization must do differently and better to carry out the strategy successfully. They should then consider how to make the necessary internal changes as rapidly as possible. According to the recommendations for the strategies discussed in the earlier section, Acme management has to restructure the company massively to overcome the current impediments, strengthen the present and getting prepared for the upcoming tremendous market opportunities.
The implementation plans below are suggested to execute the recommended strategies and achieve target objectives successfully:
Developing budgets to channel sufficient resource into strategy critical value-chain activities:
The first step of the implementation plan is to develop a series of short, medium and long-term expenditure budget to execute the above-recommended strategies and find out the source of financing them. Because of the good credit worthiness to the lenders it is not very difficult to finance the planned expenditures for Acme alternative sources are available – issuance of new market shares of stocks, issuance of corporate bonds and taking loans from commercial banks. The first option has the risk of declination of the stock price because of issuance of new stocks. The second one is difficult because of the thin market of corporate bonds in Bangladesh. The final option is relatively easier and less costly.
Building a capable organization: Staffing the organization effectively
In order to do this Acme has to remove the limitation regarding sales force and distributions channel. As stated earlier, this problem is resulting in loss of prospective sales and relative company growth.
ACME Laboratories Ltd. should carefully recruit and retain talented employees to the business to cope with the growing competitive environment. Whenever there is any gap of necessary expertise and experienced personnel, Acme has to fulfill the gap quickly and try to retain the existing employees, because building capable employees is an expensive and time-consuming matter.
CONCLUSION
Even sometimes the best plans do not work. If the above recommended strategies fail to achieve the objectives and incur financial losses due to unforeseeable events Acme should give up the above strategies and adopt a focused differentiation strategy. It should be noted that the pharmaceuticals business can't take an absolute low-cost provider strategy, because a minimum quality and utility should be ensured in the medicine product to be marketed that takes cost.
So a focused differentiation strategy is suggested in the contingency plan, where Acme will concentrate in producing the best product of the industry and sell it to a group of sophisticated and conscious customers. This will enable Acme to charge a premium price in the market and also export in the quality conscious western countries to certain extent.
Acme should also reduce its operating cost by cutting down the distribution network and withdrawing the backward integration activities. This strategy will reduce Acme's overall sales revenue, but it also will increase the profit margin on the other hand.