Employee Satisfaction on Aarong's compensation
BRAC the largest NGO of world was established in 1972. Then in 1976, BRAC the largest NGO of the world dedicated to lessen poverty and empowering the underprivileged people has started a small initiative to promote sericulture among the women of Manikganj. Later, Aarong was born in 1978 need of helping the disadvantaged, poor silk farmers of Manikganj. Their visionary goal to change the lives of deprived artisans and underprivileged rural women by enlivening and encouraging their arts and crafts. At the very beginning their target buyers were a few merchants of Dhaka. Soon enough, Aarong started to grow and spread throughout the whole country, from one single shop to the biggest retail chains of Bangladesh. Now, Aarong has a big family of 65,000 artisans with versatile artists including weavers, potters, brass workers, jewelers, jute workers, basket weavers, wood carvers, leather workers and more. Among these artisans, 85% of them are rural women which show positive indications towards empowering women. Today, it can be easily said that Aarong has become the biggest platform for the little independent groups and family-based initiative for selling their crafts in the national and international market. Aarong is stands as the interfacing bridge through which rural artisans and women can sell their home-made products and bring food to their table.
Objective of the project:
There are two objectives of internship program. These are broad objective and specific objective. These two types of objectives are as follows:
Broad Objective
The broad objective of this report is familiarizing with the practical professional world. To gain a practical experience related to major concentrated area is the broad objective of internship program.
Specific Objectives
Except the broad objective there are some other objectives. These objectives are specific objectives. This paper was designed to accomplish some specific objectives. From my point of view, these issues are very important to find out the gap between expectation and perception of the employees to eliminate dissatisfaction. Through this study, I tried to attain the following specific objectives:
The specific objectives of internship program are given below:
To accomplish the educational requirement.
To have knowledge about the organization that means Aarong.
To know about Aarong"s overall human resource related operations.
To know about employee benefits of Aarong.
To know about compensation benefits of Aarong.
To know about satisfaction level of Aarong"s employee.
To know about specific areas of dissatisfaction of the Staff"s.
To know about the reasons of dissatisfaction.
Methodology:
The data I have presented in this internship report are collected from various sources. The sources are mentioned below:
Primary Data Source
Primary data are those data which is originated by the author for the specific purpose of describing or analyzing something. I collected information by doing face to face conversation with the employees Aarong. Besides, I developed a set of questionnaire which was filled up by employees of Aarong.
Secondary Data Source
Secondary data are data collected for some purpose other than the main facts. Secondary data are quick source of background information. I also collected information from secondary data sources. The sources are:
Internet
Financial statements
Interview with the HR (Human Resource) personnel
HRPP of Aarong
Previous reports on HR of Aarong
Description/ Nature of Jobs:
Aarong is the leading fashion house in Bangladesh. For conducting their activities they need qualified human resources. The HR department of Aarong ensures right people, at the right place, at the right time, doing the right job. Besides, Aarong"s Human Resource Department (HR Department) has huge range of activities. The nature of the core jobs performed by HR department of Aarong is as follows:
Recruitment and Selection
The main job of HR department is ensuring right people at the place at the right time doing the right job. In Aarong when staffs leave the organization, new positions are introduced or due to increase in responsibility, some departments need more people. At that time HR ensures inflow of qualified staffs within the organization. The HR department of Aarong is responsible for doing all the recruitment and selection related activities. After getting staff requisition from any department, HR department takes approval the director/Managing Director/Chair Person. After that all the all the recruitment and selection procedure are done by HR department. Some of the activities that are performed here are job advertisement design and placement, CV collect, CV sorting, interview call and scheduling, interview process, selecting salary, and benefits and so on.
Transfer
Transfer means moving or shifting staffs from one place to another place for job purpose. All the transfer related activities are performed by HR department in Aarong. In Aarong two types of transfer are seen. One is voluntary transfer and another is professional transfer. Sometimes staffs move from one department to another department for personal or physiological problem. It is voluntary transfer. Besides, staffs moves from one location to another location and it is decided by the management from where to from and where to place. It is called professional transfer.
After getting the staff"s request or department head"s request for transfer, HR department is responsible for doing all the activities of transfer such as transfer approval from department head and director, prepare transfer order, issue transfer order and file, and so on.
Attendance
Attendance of staffs is taken for counting salary. For taking attendance punching machine is used in Aarong. Every regular staff must have to come in the office before 8:45 am in the morning and punch the punching machine. The office hour ends up at 5:15 pm at the noon. Then at the time leaving the office, again the regular staffs have to punch the punching machine. This way attendance for each day is taken for regular staffs. For temporary staffs there is attendance register where each temporary staffs has to sign when they would enter into the office. HR department records all the attendance of each employee in the HRMS (Human Resource Management Software) for counting salary amount. Moreover, HR department also have some other responsibilities related to attendance such as punishment for being absent or being late in the office. For 3 days late, 1 day"s salary would be cut and for 7 days late, warning letter would be sent to the respective staff. Besides, this there are some other rules related to punishment.
Counting attendance for determining salary amount & benefits and taking any action if needed is the responsibility of Aarong HR department.
Leave
In Aarong there are different types of leave facility for staffs. Those leave includes regular/earned leave, sick/accidental leave, maternity leave, paternity leave, higher study leave, extra ordinary leave, transfer leave and compulsory leave. Each sort of leave requires different rules. For example, in case of regular/earned leave, it is 20 days for administrative staffs, 24 days for outlet and field staffs, 42 days for service staffs in a year. In case of paternity leave, it is 7 days with pay leave for confirmed staffs and 7 days without pay leave for non-confirmed staffs.
The paternity leave must be taken within one month and it is applicable only for two children. This way each types of leave has different rules and it varies depending on staff"s type. HR department maintains all the rules as they are authorized to perform all the leave related activities to avoid misuse of these leaves. The leave related activities in Aarong are providing leave form, taking approval from the staff"s head of the department, input data in the HRMS (Human Resource Management system) and other activities.
Performance Appraisal
For improving the performance of staffs performance appraisal is given. In this organization performance appraisal is given to all regular staffs who hold a PIN (Personal Identity Number). The staffs who has provided one year of continuous service and their provided service is satisfactory, are entitled to get performance appraisal. Once in a year, generally in December HR department do evaluation of the performance of each staffs and in January of next year performance appraisal is given to selected staffs. The recommendations for performance appraisal are change in designation, promotion, appointment (temporary to regular), confirmation, termination/dismissal, and special allowance. Before one month of the appraisal, HR department sends performance evaluation form and listing of staffs to each department for performance assessment. If needed, HR department do meeting with department"s head. This process ends up with issuing performance appraisal letters to the selected staffs. HR department handles the whole procedure.
Confirmation
In Aarong the job of every confirmed staff is confirmed if she/he has provided one year of continuous service and the provided performance is satisfactory. If the performance of the staff is not satisfactory, the job will be terminated after completion of probation period of the staff. The duration of probation period of sales associates is six months and for corporate staffs it is one year. First HR department of Aarong sends listing of staffs and confirmation form to each department before one month of confirmation. Then HR department do follow up to ensure that the forms are filled within right time, check the form after submission whether those are filled up in the right way or not and rectify if necessary. Then HR department approved those forms by the Director/Managing Director/Chair Person. Then input those data into HRMS (Human Resource Management System), payroll and EDMS (Employee Database Management System).
Lastly, the Aarong HR department issues confirmation letter to the selected staffs.
Job Separation
Job separation means ending the job or termination of employment. In Aarong job termination can be voluntarily done by the staff or involuntarily done by the employer or organization"s policy. Here four types of job separation: resignation, termination, dismissal and retirement.
Resignation means voluntarily termination of job by the employee him/herself. Termination and dismissal are by the employer due to dissatisfactory performance, conducting illegal activities (theft, sexual harassment etc.) or something that is beyond organization"s policy, absent in the workplace for many days without taking leave and unable to complete the period of probation. Retirement is termination of job according to organization"s policy. If an employee has provided 20 years of continuous service, she/he can take retirement by his/her own will. The retirement age for Aarong is 60 years. HR department handles the job termination procedures. HR department provides application form, termination document approval, investigation in case of termination and dismissal; update all the information and other activities of the procedures.
Grievance Management
Grievance management is one of the job responsibilities of HR department. Aarong puts a lot of emphasis on grievance management. The steps in the procedure of grievance management are submission of written complaint/incident report or accusation from the victim to the HR department, issuing show cause letter to the accused person or form an investigation committee, accepting show cause reply within three to seven days or preparing investigation report, making decision based on the organization"s policy or according to the recommendation of the investigation committee. The decisions can be taking no action if there is no guilt, warning letter issue, transfer, suspension, penalty, termination, dismissal and demotion. After the decision making, HR department inform the decision to the respective person through a letter and file all the documents. HR department ensures proper investigation and judgment for giving justice to both victim and accused person.
Loan
For financial safety of staffs, Aarong has loan facility. In this organization varieties of loan are given to the staffs such as staff loan, special loan, welfare fund loan, provident fund loan, higher education loan, car loan (only for BRAC staffs), home loan, motor cycle/bicycle loan and mobile loan. HR department handles all the procedures. According to the requirement of staffs, HR department provides loan forms and fill it up by the staffs, then check those forms with personal files, verify reasons for taking loan, submit necessary documents, check with accounts, take approval from the director etc. There is slide difference in the procedure based on type of loan.
HR department performs all the steps of the procedure according to the organization"s policy and ensures the facility of providing loan to staffs. After completing the entire procedures HR department update their EDMS (Employee Database Management System) for recording purpose.
Travel Authorization
Sometimes the staffs of Aarong have to stay outside the country for attending training, attending seminars, participating in any international fair and so on. And sometimes they have to stay places within country for official purpose. For this reason they are entitled to get allowance.
Travel authorization can be two types. One is travel authorization international and another is travel authorization within country. HR department provides travel authorization form to fill it up to the staff, and then they take permission from the director or head of the department (in case of travel authorization within country). After that the HR department calculate how much can be spent, how much pocket money is reasonable, how the staff has to stay there etc. Then the sends this calculation to the accounts and accounts provides the allowance to the staff. For documentation HR department preserve all the papers into a file. So it is the responsibility of HR department to ensure travel allowance.
Allowances
The HR department of Aarong ensures housing allowance and distance allowance for the staffs who works in the 13 foundation centers. The staffs of foundation have to stay various places in Bangladesh for job purpose. Sometimes in some sub-centers there are no housing facility and transportation facility. The staffs have to arrange housing and transportation by their own cost. In this situation, they are entitled to get housing and distance allowances. HR department ensures that the staffs get all the allowances.
Temporary Staff Salary
In Aarong temporary staffs are those who have no PIN (Personal Identity Number). There are some casual workers. When their service is needed, they are being called to do their service. In this organization there are electricians, helpers and some other types of workers who are considered as temporary worker. For counting the salary of temporary workers HR department collect information from respective department. Then they check attendance of the temporary workers from the attendance register and prepare letter which is recommended by HR department. After that they take approval from the director and send it to the accounts for salary payment. Lastly they file all the documents.
Visiting Card
In this organization there are some staffs who are in officer level such as General Manager, Deputy General Managers, Officers etc. They handle customers and need to communicate continuously. According to the organization"s policy, they must have visiting card. HR department is responsible for providing visiting cards. When the HR department gets requisition for visiting card from the person with the respective department head"s approval, they take approval of the head of HR. Then they place order for visiting cards. After receiving those visiting cards, HR department distributes those cards to the staff who required those visiting cards.
Aarong Health Care Service
Health care services are one of the services provided by Aarong. The doctor helps for sickness problem of staffs and verifies the test reports for sick leaves. Moreover if some staff is hospitalized for accident, he verifies that by visiting the staff in the hospital. HR department set up appointment with the doctor, collect consultation fees, prepare records, deposit fees to accounts and they file those documents.
Compensation:
Compensation is a systematic approach to provide extrinsic and intrinsic benefits, monetary and non monetary benefits to the employees. It is also considered as measurement how employees are being treated in an organization. Each and every organization has their own compensation planning where they specify what facilities are going to provide their employees, how it should be provided and based on what category. Having the theoretical knowledge of compensation I feel interest to know about the real scenario of compensation practices and how it is being implemented in an organization of our country. I have selected Aarong to know about their compensation system and employee satisfaction. The human resources policy and procedure manual of BRAC provides the policies and procedures for managing and developing staffs. It also provides the guideline Aarong will use to administer these policies with the correct procedure to follow. These policies and procedures are applied to the employees of Aarong as well as to the employees of all subsidiaries of BRAC.
Compensation Dimensions
Compensation system results allocation, conversion, and transfer of a portion of the income of an organization to its employees. It can be two types" monetary and in-kind claims. Monetary claims are wages and salaries paid to an employee in the form of money or a form that is quickly & easily transferable to money. On the other hand in-kind claims are claims on goods and services are made available and paid for either totally or in some percentage. Compensation dimensions are as follows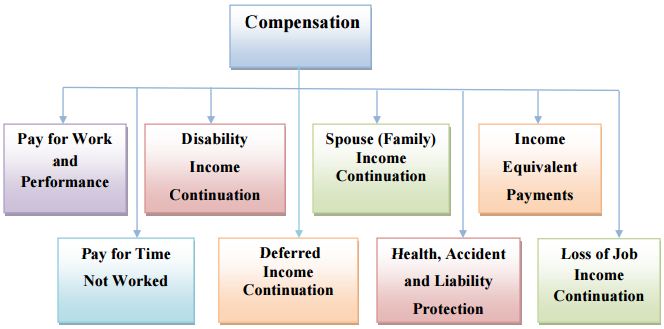 Non compensation Dimensions
These rewards are much more complex. These are all situation related and for the physical and psychological well being of each employee. Any activity that has an impact on the intellectual, emotional and physical well being is included here. Generally it is given to improve work performance. Non compensation dimensions are as follows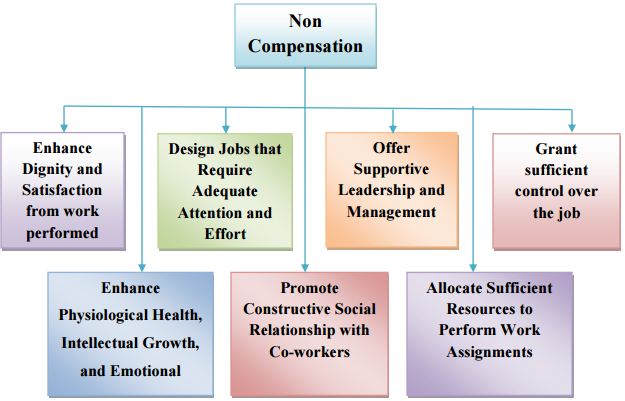 Research Type
The research on "Employee satisfaction on Aarong"s Compensation" will be explanatory in terms of research type. Explanatory research is one type of research design, which has as its primary objective the provision of insights into and comprehension of the problem situation confronting the researcher. Explanatory research is used in case of problem must define more precisely, identify relevant courses of action, or gain additional insights before an approach can be developed. When an issue is encountered that is already known and have a description of it, there might arise need to begin to wonder why things are the way they are. The desire to know the reason to explain is the purpose of explanatory research. This research process is flexible and unstructured. By doing explanatory research it will be helpful to study about employee satisfaction on Aarong"s compensation.
Research Hypothesis
Null Hypothesis Ho: "Employees of Aarong are satisfied with their compensation"
Alternative Hypothesis H1: "Employees of Aarong are not satisfied with their compensation"
To know about employee satisfaction of Aarong on compensation these are chosen as hypothesis.
Sample
Sample is a subgroup of elements of the population that selected for participation in the study. To conduct research on employee satisfaction on Aarong"s compensation sample size is 40. In Aarong Head Office the total no. of employee is all around 700. It is quite impossible to select all of them as sample size. For this reason employees of Aarong are considered as group of clusters based on their departments. Total 40 employees of Aarong head office are selected as sample size from each and every department. From different department 2-4 employees are chosen based on no. of employees.
Compensation benefits of Aarong
Pay for work & performance: Aarong provides this staff benefits to their employees. These are base pay, cost of living adjustments, bonus/incentives, vacation and some other suite of employee benefits. These are as follows
Salary: Aarong provides salary to their employees on time. The employees of Aarong are given fixed amount of salary each and every month. It never deducts employee"s salary as punishment.
Annual increment: All confirmed staffs get increment each and every year based on their level.
Salary adjustment: Salaries of employees in Aarong are adjusted to inflation rate. When inflation rate becomes more than 3% salary of Aarong"s employee are increased. A fixed amount of increment is given to them based on inflation rate.
Advance payment: If someone goes outside of office and there is no chance of coming back within that month he/she will be given advance payment salary.
House Rent: A fixed amount of house rent is given to the employees of Aarong. It is given based on level of employees.
Travelling Allowance: Travel allowance is provided based on the level of employees and considering the distance. Transportation cost, food, ticket collection cost these are included into travelling allowance. If anyone use transport of BRAC they are not suppose to get this allowance.
Conveyance Allowance: All employees of BRAC are provided convenience allowance according to their level.
Accommodation & Food Allowance: When staffs of Aarong have to go for field visit or any other official purpose outside of office they get accommodation and food from Aarong. If they are not given food and accommodation they get food and accommodation allowance.
Night Haltage Allowance: When staffs of Aarong go outside of office for official purpose and they have to stay over there Aarong gives night haltage allowance for them. It is fixed and it varies from level of staff.
Transfer Allowance: Aarong provides its employees transfer allowance. The amount of allowance depends on family size. Maximum 2 days transfer leave also given to the staffs of Aarong.
Distance Allowance: Those who work out of own district Aarong gives them distance allowance. Distance allowance is 500-700.It is determined based on level of employment.
Overtime Allowance: Staffs of Aarong gets overtime allowance when they are suppose to stay after office hour and have to come to office on holidays. Amount of overtime per day/ per hour is determined according to type of employment.
Facilities for Transport, Logistics & Maintenance Staff: At the very beginning of each and every year Driver, Mechanic, Security Guard and all maintenance staffs get assigned uniform for them within the first week of January.
Transport & Food Allowance for Working after Office Time: Those who are not entitled for over time they are given transport and food allowance for working after the office time.
Entertainment Allowance: Those who have to handle guests frequently they are given entertainment allowance as they do not have to use their pocket money to take care of guests.
Consultancy Fee: If someone is involved with consultancy service when clients give consultancy fee for service then he/she will be given that fee.
Loan Facilities: There is loan facility at Aarong for their staffs. The confirmed staffs and those who work for at least one year they are considered as eligible to get loan facility. 12% interest is charged for loan.
Incentives/Sales Commission/ Honorarium: All employees of Aarong get incentive each and every year as yearly increment. Sales commission is given for employees who are directly involved with sales.
Transport Facility: The staffs of Head Office are provided transport facility. Part time/ contractual/ temporary employees are not provided transport facility.
Telephone Facilities: Aarong provides telephone facilities for its employees. It"s basically provided for official use. However employees are allowed to do personal communication in a limited basis. Telephone facility is also provided for some employees at their home depending on their designation. Mobile phone set and mobile SIM Card is also given to the employees for easiest communication. A fixed amount of mobile bill is allocated for employees and it varies from designation and job description.
Festival Bonus: All regular & service staffs can enjoy festival bonus twice in a year. Festival bonus is equivalent to staffs monthly salary. If it is provided twice in a year it will be divided into two portions. One portion will be paid first time and another portion will be given second time.
Medical Allowance: A fixed amount of medical allowance is allocated for staffs of Aarong. Amount of medical allowance also varies from level to level.
Special Allowance: According to the approval of director non practicing allowance, shop management allowance, technical allowance etc can be paid to the staffs of Aarong.
Special Allowance for Recruitment: If anyone has to present at office for recruitment purpose in weekend days he/she will be paid extra 400 taka per day with conveyances & other fees.
Special Allowance for Maintenance Staff for working on Weekly/Annual Holiday: The employees of Head Office those who do not get overtime if they work in holidays they will get special allowance. The amount of special allowance will be double of their basic salary.
Special Allowance for the Staffs Working in Hard to Reach Areas: Those who serves in hard to reach areas they are provided1500 taka per month without considering the level.
Earned Leave: This leave is earned by work. It is with pay. Earned leave includes only the leaves of working day. Weekly holiday, occasional holiday or any other holidays are excluded from this leave.
Field worker
All the field workers who serve for 6 days in a week they will get 30 days earned leave. If the workers are transferred from field to head office they will get earned leave according to the policy.
Head office worker
Those who works for 5 days in a week they will enjoy 20 days full earned leave. Those who work 6 days in a week they will get 24 full days earned leave.
Service worker
Service worker of BRAC those who serves for 7 days in a week they will get 42 days full earned leave. The security guards who enjoy one days leave after every 15 days, their earned leave will be 30 days & those who enjoys 1 day weekly holiday they will get 24 days leave in a year.
Pay for time not worked:
Weekly Holiday: Two holidays (Friday & Saturday) per week for the employees of head office of BRAC and Aarong. The employees of field office of BRAC & its subsidiaries get one holiday (Friday) in a week. Security guards (male) can enjoy one holiday for every 15 working days. That means they get 2 holidays in a month. Female guards can enjoy one holiday in a week. BRAC authority has the right to change weekly holiday.
Annual Holiday: According to the published list of leave by main office the annual leave plan for the employees of BRAC & Aarong is decided. These holidays are basically the government holidays. It is determined based on government holidays.
Sick Leave: 14 days sick leave with pay is provided to the staffs of Aarong each and every year.
Maternity Leave: Aarong provides 6 months with pay maternity leave to its female staffs. Extra 6 months non paid maternity leave is also given to the staffs of Aarong.
Paternity Leave: 7 days paternity leave is given to the all confirmed staffs of Aarong at a stretch. Non confirmed staffs are not eligible to get this leave.
Accidental Leave: Every employee can take this leave due to accident in work place, in case of hospitalized because of accident or surgery, miscarriage for these issues. Aarong gives 21 days with pay accidental leave for accidental or surgical issue to its staff. For miscarriage, 15 days with pay leave is given to the staffs. If required more leave, staffs of Aarong can take more days leave but that will be given as without pay. For certain cases authority provides 21 day"s extra leave.
Compulsory leave: Those who work six days in a week they get 6 days compulsory leave in a year at a stretch and who works five days in a week they are also given 5 days compulsory leave at a stretch.
Extra ordinary leave: It is without pay leave. To get this leave staffs must work for Aarong at least 5 years. Those who work 5 years they are given 1 year extra ordinary leave at a stretch. Those who work 10 years or more they are given 2 years extra ordinary leave at a stretch.
Quarantine leave: This leave is applicable for all types of contagious diseases. This leave is generally given for the following diseases- chicken pox, jaundice, measles, diphtheria, mumps, TB, conjunctivitis etc. This leave is given 3-14 days considering the case.
Disability Income Continuation:
Accident can occur at any time in workers life. If a worker become disable to work due to accident or health problem organizations generally pay some suite of incentives to the worker. As like as any other organization BRAC also has disability income continuation which is followed by all subsidiaries of BRAC including Aarong.
Deferred Income Continuation:
Most of the employees become dependent on some kind of employer provided programs for income continuation after retirement. So that BRAC has some opportunities for their employees as they can lead their life. It includes gratuity fee, provident found etc.
Gratuity: It is started from joining to the workplace. It is only given to the staffs if their year of involvement with Aarong is not less than 3 years. If someone serves for 3 or above years and he/she is not dismissed from the job, he/she will be given at the rate of last month"s salary for every completed year.
Contributory Compulsory Provident Fund: After confirmation each and every staff of Aarong have to give 10% of their basic salary to the contributory compulsory provident fund. Aarong also provide same amount of money to the provident fund. If someone switch job willingly before 3 years of employment then he/she will get all money of his/her contribution but nothing from Aarong. If switch job after 3 years but less than 5 years he/she will get full amount of money from own contribution and half from organizations contribution. If switch job after five years staff will get full from own and Aarong"s contribution both.
Health, Accident & liability protection:
Staff Security Benefit: If any staff of Aarong suffers from mutilation or become death for accident he/she or his/her nominee will be given staff security benefit. It is provided considering damages. Generally it is given equivalent of 12 months last salary to 50 months last equivalent salary.
Non compensation benefits of Aarong
With a significant no. of compensation benefits Aarong also provides some non compensation benefits to their staffs. These are as follows-
Enhance dignity & satisfaction from work performed
Training & Higher Study: Authority can provide higher study leave to a confirmed regular staff. The regular staff with at least 2 years service Aarong chose competent employee from them to send for a training or higher study. It is one kind of pay for performance. Those who perform well they are generally selected for training and higher study and organization bears all cost. It"s a kind of performance reward. This opportunity enhances dignity and satisfaction of staffs. They become motivated to give their best effort.
Discount: Every employees of Aarong get 10% discount on Aarong"s product. So that staffs of Aarong can get Aarong"s product with lower price. It enhances their dignity and satisfaction.
Enhance physiological health, intellectual growth & emotional maturity
Work place: Aarong ensures a well organized work place for their employees. It has well decorated conference room, canteen, and well equipped office room for the staffs of Aarong. It also assigns a doctor for its staffs. The overall work environment in Aarong is favorable to physiological health, intellectual growth and to promote emotional maturity.
Day care: Aarong has day care facility to take care of the babies of their staffs. Any staff can keep their baby into here. Enough staffs are assigned to take care of these children. The day care center is well organized with toys with other facilities as children can enjoy their moments. Mothers of children can work with their full effort by keeping their babies near to them. They do not have to worry about their babies within the office hours. It ultimately increases satisfaction of staffs as well as enhance their physiological health.
Promote constructive social relationship with co-workers
Annual Picnic: Each and every year all employees of Aarong get together and go to picnic. They enjoy their moments with co- workers and family members. They spend whole day with making fun, playing games, raffle draw and concert. The arrangement of picnic helps the staffs of Aarong to promote their relationship with co-workers and their family.
Allocate sufficient resources to perform work assignments: Aarong ensures that staffs always get sufficient resources to perform work assignments. It has enough equipment to perform task successfully. Employees are provided all required official equipments on time as they can perform their work assignment effectively.
Often supportive leadership: In each and every department Aarong assigns a good leader to lead the team and ensure supportive leadership. The leaders of Aarong are very helpful and friendly. They continuously observe work performance of their team members and always get ready to help their members whenever they face any kind of problem.
Recommendation:
Aarong should increase salary of staffs as 45% staffs are dissatisfied with their salary. Competitors may take this opportunity and hire talent staffs of Aarong by offering them attractive salary.
It can provide performance bonus to motivate staffs to give their best effort for well being of organization. If staffs do not get reinforcement on performance they will become demotivated day by day.
Aarong can provide lunch for staffs which will safe times of staffs because they have to bring their lunch from home in the morning when they come to office. It specially creates problem for women as most of them have to make their lunch by own. As staffs bring lunch in the morning and take it at afternoon sometimes it becomes unhealthy to take especially during summer.
Aarong can share some portion of profit each and every year with its all staffs. Profit sharing initiative will lead staffs to give their best effort because they know that if everyone gives their best effort, profit will increase and increase of profit will bring more incentive for them. This is how staffs can be motivated to give their best effort to Aarong and become emotionally attached with this organization. When staffs become loyal to the organization, employee turnover rate will be reduced as well as organizations cost will be saved.
Conclusion:
Since 1978 Aarong is operating business in the fashion industry and they are now the leading fashion brand in Bangladesh. At present Aarong provides the local and international public opportunity of owning a Bangladeshi handcrafted product. It is playing the role of representative of Bangladeshi culture to the outside world. As a result of the valuable contribution of artisans and handicraft producers and the administrative staffs, Aarong has come so far. The qualified human resources of Aarong keep the business running and foster the growth of business. The HR department of Aarong ensures attract, attain and retain of talent staffs within the organization and helps in placing right people, at the right place, at the right time doing the right job. Talent and qualified staffs are loyal to the Aarong for it"s best compensation package. Staffs of this organization are satisfied with their overall compensation benefits. However competitors can attract talents of Aarong through offering more attractive salaries and other benefits. For this reason Aarong should be more concern about it and should increase salary of staffs. It can introduce performance bonus, profit sharing, and lunch facility to the staffs. However the recruitment and selection of staffs is the main responsibility of HR department. Except this they have some other responsibilities such as transfer of staffs, maintaining attendance of staffs, leave management, performance appraisal related activities, confirmation of staffs, job separation, grievance management etc. so HR of Aarong can take initiatives as competitors cannot attract talent staffs of Aarong. As Aarong is growing and spreading its outlets throughout the whole country, this organization will require lots of qualified human resources. Human Resource department of Aarong will ensure hiring pool of qualified, talented human recourses for Aarong.
Through attract, attain, and retaining talent staffs by offering excellent compensation package to the talents HR department will encourage Aarong to move forward.