Satisfaction level regarding 3G services among Bangladeshi Youth Subscribers
Till 1989, the telecommunication sector of Bangladesh was run by the state run monopoly provider Bangladesh Telegraph and Telephone board (BTTB). However, in 1989, the Government of Bangladesh gave license to two operators named BRTA (Bangladesh Rural Telecom Authority) and BTL (Bangladesh Telecom Limited). BRTA was given the license to operate their business in the rural area of Bangladesh whereas BTL was given the authority to operate cellular as well as pager service. Later, in 1992 the cellular license of BTL was bought by Pacific Bangladesh Telecom Limited (PBTL) also known as Citycell. Later on, in 1996 three more licenses were issued which were taken by Grameenphone Limited (GP), Aktel (at present Robi) and Sheba Telecom (at present Banglalink). The first operator to operate to offer cellular, pager and other forms of wireless service are Citycell (PBTA) who started their journey from the year 1993. Also, it is important to note that Bangladesh Telecommunication Regulatory Commission along with the Telecommunication Act was formed in 2001 with the view to eliminate any form of discrepancy in the Telecom Sector of Bangladesh and a year later, ICT (Information and Communications Technology) policy was formed in 2002. Teletalk launched in 2004 as the first state owned cellular operator in 2004. In 2005, Orascom (Egyptian firm) acquired Sheba Telecom while NTT DoCoMO (Japanese firm) acquired 30 percent stake of Aktel in 2008. Grameenphone went public in the later part of the year 2009 and in January 2010, Bharti Airtel acquired 70 percent stake of Warid Telecom which started their Journey in Bangladesh in the year December 2005 via obtaining a 15 year license. Last but not the least, in 2012; Teletalk was the first operator to be provided with a 3G license and later in 2013 four other operators obtained the license to offer 3G (Grameenphone Limited, Robi Axiata Limited, Banglalink and Airtel Bangladesh Limited.
History of Airtel Bangladesh Limited
December 2005: Warid Telecom International a subsidiary of Abu Dhabi group paid US$ 50 million to obtain a GSM license from the BTRC.
August 17, 2006: Warid announced via a press conference that its network would be activated two months ahead of schedule in October, 2006. However, in October, 2006 Warid Telecom held off the launch of its cell phone services in Bangladesh until April 2007 since its major supplier Nokia walked out on a contract due to a payment dispute.
January 2007: Warid had a soft launch at the end of the month by giving away complimentary subscriptions amongst a chosen group of individuals with the intention to make 'test calls'. Warid adjusted its network's quality based on their comments.
May 9, 2007: Via an advertisement in a daily newspaper, Warid stated that it would be launching in public on May 10, 2007. However, no details regarding call rates or packages were revealed.
October 1, 2007: Warid Telecom expanded its network to five more districts which included: Mymensingh, Jamalpur, Sherpur, Rajbari and Narail.
November 10, 2007: 61 districts under Warid network coverage.
June 10, 2008: Warid Telecom expanded its network to 3 more districts Bandarban, Khagrachhari and Rangamati. By then, all 64 districts of Bangladesh are under Warid network coverage which meant that Warid Telecom had nationwide coverage.
January 2010: Bharti Airtel Limited bought 70% stake of Warid Telecom for US$300 million.
December 20, 2010: Warid Telecom was rebranded to Airtel.
December 21, 2011: Airtel Bangladesh launched "Airtel Circle of Friends", the first ever Interactive Commercial in Bangladesh.
March, 2013: Warid Telecom sold its rest 30% share to Bharti Airtel"s Singapore-based concern Bharti Airtel Holdings Pte Limited.
September 8, 2013: Airtel Bangladesh received 5 MHz 3G spectrum with US$ 1.25 million
Bharti Group
Founded in 1976, by Sunil Bharti Mittal, Bharti has grown from being a manufacturer of bicycle parts to one of the largest and most respected business groups in India. With its entrepreneurial spirit and passion to undertake business projects that are transformational in nature, Bharti has created world-class businesses in telecom, insurance, retail, and foods.
Bharti started its telecom services business by launching mobile services in Delhi (India) in 1995. Since then there has been no looking back and Bharti Airtel, the group"s flagship company, has emerged as one of the top telecom companies in the world and is amongst the top four wireless operators in the world.
Through its global telecom operations Bharti group operates under the "Airtel" brand in 20 countries across Asia and Africa– India, Sri Lanka, Bangladesh, Seychelles, Burkina Faso, Chad, Congo Brazzaville, Democratic Republic of Congo, Gabon, Ghana, Kenya, Madagascar, Malawi, Niger, Nigeria, Rwanda, Sierra Leone, Tanzania, Uganda, and Zambia. In addition, the group also has mobile operations in Jersey and Guernsey.
Over the past few years, Bharti has diversified into emerging business areas in the fast expanding Indian economy. The group has forayed into the retail sector by opening retail stores – small and medium formats. The group offers – life insurance and general insurance to customers across India. Bharti also serves customers through its fresh and processed foods business. The group has growing interests in other areas such as mobile internet, real estate, training and capacity building, and distribution of telecom / IT products.
What sets Bharti apart from the rest is its ability to forge strong partnerships. Over the years some of biggest names in international business have partnered Bharti. Currently, SingTel, Qatar Foundation Endowment, IBM, Ericsson, Nokia Siemens and Alcatel-Lucent are key partners in telecom. AXA Group is the partner for the insurance business and Del Monte Pacific for the processed foods division.
Bharti strongly believes in giving back to the society and through its philanthropic arm the Bharti Foundation it is reaching out to over 39,000 underprivileged children and youth in India.
Bharti Airtel
Bharti Airtel Limited is a leading global telecommunications company with operations in 20 countries across Asia and Africa. Headquartered in New Delhi, India, this company ranks amongst the top 4 mobile service providers globally in terms of subscribers. In India, the company's product offerings include 2G, 3G and 4G wireless services, mobile commerce, fixed line services, high speed DSL broadband, IPTV, DTH, enterprise services including national & international long distance services to carriers. In the rest of the geographies, it offers 2G, 3G wireless services and mobile commerce. Bharti Airtel had nearly 287 million customers across its operations at the end of Dec 2013.
Bharti Airtel is the largest provider of mobile telephony and second largest provider of fixed telephony in India, and is also a provider of broadband and subscription television services. It offers its telecom services under the "Airtel" brand, and is headed by Sunil Bharti Mittal. Bharti Airtel is the first Indian telecom service provider to achieve Cisco Gold Certification.
Airtel 3G Tariff Plan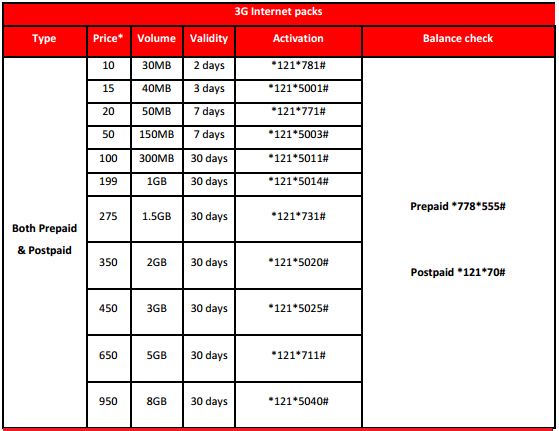 Market Share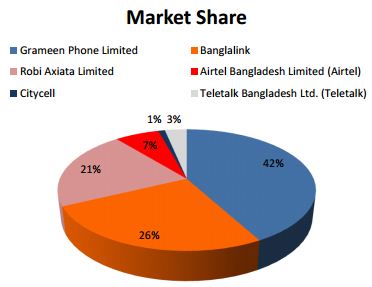 Figure: Current Market Share (Source: BTRC website)
As of March 2015, Airtel Bangladesh Limited is ranked 4th in terms of subscribers with 8.185 million subscribers. Grameenphone is leading with 52.006 million subscribers followed by Banglalink (31.924 million) and Robi (26.289 million). Teletalk (4.041 million) is right behind Airtel followed by Citycell (1.246 million).
SWOT Analysis of Airtel Bangladesh Limited
Strengths:
Charges a low call/data rate.
Fourth largest operator in Bangladesh within three years of operation. This shows that they have a very decent growth rate.
Nationwide network coverage is provided by them.
Subsidiary of Bharti Airtel which is the 4th largest telecom service provider globally. This means that they have good financial as well as technological support.
Quality of Management.
Their brand name symbolizes youth which in turn is helping them to build a good brand name.
Weaknesses:
Dissatisfaction among the customers regarding the quality of network.
Poor internet service in certain areas in comparison to their competitor.
Other competitors have unique offers for their heavy usage customers whereas Airtel does not e.g. GP Star and Banglalink Icon.
Opportunities:
One of the main opportunities for Airtel in Bangladesh in my view is the Population growth of this country which means that more subscribers are becoming available.
Increasing the number of corporate customers i.e. making deals with different organizations for using Airtel.
Offering better packages at a lower price in comparison to their competitors.
Giving more focus on mobile banking facility.
Threats:
Competitors pricing and variety of services.
Political instability prevailing in the Bangladesh economy.
Customer switching to other operators.
Price war among the industry.
Threat of new entrants.
All other internet service provider e.g., Quebee, Banglalion, Link3 etc.
Project Summary
Customer satisfaction is the fundamental key to success in the telecommunications industry. In order to attract new customers or retain old customers, any telecom firm needs to have the image of providing the finest level of service. Nowadays, it can be seen that the 3G service is one of the biggest source of revenue for firms in the telecommunication sector. This part of the report contains the analysis of 78 respondents regarding their satisfaction level related to the 3G internet service provided to them by their operators. I have mainly focused on factors like internet speed, tariff, clarity of bills and bundles offered to them by the telecom operators in Bangladesh and related how these factors contribute to their overall level of satisfaction.
Before going to the analysis, I have given a brief description of the technologies used in the telecommunication industry as well as a list of factors that contribute to the overall level of satisfaction.
Objective of the report
The main objective of the report is to give the reader a brief indication of how factors like internet service; tariff etc. helps to increase customer satisfaction. Also, this report contains a few details of Airtel Bangladesh Limited as well as descriptions of the technology used in the telecommunication industry.
Methodology
The primary data"s includes survey questionnaire whose responses were collected via Google docs.
The secondary data"s includes journals, articles, websites etc. which were used for the preparation of the exploratory contents of the report.
Sample Design
Target Population: 3G Subscribers in Bangladesh (Mainly youths pursuing their Graduation).
Sample Size: 78.
Sampling Technique: Convenient Sampling.
Technologies used in the Telecommunication Industry
The mobile operators of Bangladesh above all use Global System for Mobile Communication (GSM) as the core technology. Currently, this technology is used by Grameenphone Limited, Banglalink, Robi Axiata Limited, Airtel Bangladesh Limited and Teletalk Bangladesh Limited. Citycell is the only exception as they are still stuck with Code Division Multiple Access (CDMA) technology. A brief description along with advantages as well as disadvantages of CDMA, GSM, 3G and 4G are given below:
CDMA
Code Division Multiple Access (CDMA) in simple word is a method of wireless technology for transmitting multiple digital signals simultaneously over the same frequency or channel. "When you receive a customer call on your CDMA phone, it converts your voice to digital data, and the wireless system tags your conversation with a unique code. Though the local signal contains hundreds of other calls, you hear only yours because of the code" (Barett, 2015). CDMA is also the fundamental technology used 3G (GSM) and 2G (GSM).
Advantages of CDMA:
High Capacity as it uses the same wireless signal to connect many customers simultaneously. CDMA can have 10 times more capacity than earlier Analog systems as well as 5 times more capacity than GSM.
It is extremely secured as messages are encrypted in such a way that it is tremendously difficult to hack.
CDMA has the capability of producing a call at a low level of signal thus reducing the likelihood of dropped calls.
Energy Efficient – CDMA uses less battery life.
Disadvantages of CDMA:
Call quality degrades when too many calls are being handled by a single wireless signal simultaneously.
No scope of changing handsets since it is locked to the handset.
Limited number of handsets for consumers.
In majority of the cases, the technology related to CDMA is patented by Qualcomm which must be licensed from them.
GSM
GSM (Global System for Mobile Communication) is a digital mobile telephony system that is an evolved version of TDMA (Time Division multiple Access). TDMA is a method via which a network is divided to multiple slices where each device on the TDMA network gets one or more slice of signal to transmit or receive data. GSM on the other hand uses a SIM (Subscriber Identity Module) cards which is used to identify the users account as well as receive all the features offered by this digital wireless telephony technology GSM digitizes and compresses data to send them down other streams of user data known as spectrum. GSM represents more than 80 percent of all global connections. China is the largest market for GSM followed by Russia, India and USA respectively (Source: Wikipedia).
Advantages of GSM:
Number of Subscribers: GSM is used by more than 450 million subscribers all over the world.
GSM network is more stable and secure in comparison to CDMA.
Choice of phones is the highest in terms of GSM.
The GSM network is much faster than CDMA network.
Disadvantage of GSM:
The roaming charge is higher for GSM in comparison to CDMA.
Overall call rate is higher in comparison to CDMA.
Calls made through GSM can be tampered.
Third Generation of mobile Telecommunications Technology (3G)
The term 3G stands for third generation of mobile telephony technology. The third generation as the name states is an evolution of the previous two generations (CDMA & GSM). In simple words, with the introduction of 3G, subscribers were allowed to use services such as video calls, faster internet, mobile TV, video conferencing etc.
Advantages of 3G:
General Packet Radio Service (GPRS) speed increased to as much as 114 Kbps.
Enhanced Data Rates for Global Evolution (EDGE) reached up to 384 Kbps.
Download speeds increased to almost 14Mbps in terms of High Speed Downlink Packet Access (HSDPA).
Mobile TV services can be availed via 3G network.
More users can be served within a single network.
The subscriber gets to enjoy better multitasking facility (e.g Video Call as well as surfing the internet simultaneously).
Uninterrupted video streaming.
Disadvantages of 3G:
The cost of upgrading to 3G devices can be expensive.
Maintaining 3G network is costly for the service providers since the 3G network requires the base station to be close by for better transmission which increases the operational cost.
Power consumption is high.
Licensing, network deployment and spectrum cost is tremendously high.
Fourth Generation of mobile Telecommunications Technology (4G)
4G is a more evolved version of the 3G network which is far superior to its predecessor. This technology will allow its mobile users to have a speed greater than the speed offered via broadband connection. It is believed that 4G can offer its mobile users a bandwidth greater than 100 Mbps which will eventually benefit the user to gain high quality multimedia streaming. 4G was first introduced by the name of WiMAX in 2005. At present cellular service providers can provide 4G service via either WiMAX or LTE (Long Term Evolution). WiMAX is popular in Asia and Eastern Europe whereas LTE is popular in the United States.
The reason we are forced to move towards 4G is that it attributes to the substantial growth in overall range of subscribers and because of the high demand of latest services like information, audio, image or video. The expectation is usually over service and support for seamless property and access to any application in spite of device and placement.
Advantages:
Superior speed which will specifically allow mobile users greater and uninterrupted speeds for activities such as video conferencing, streaming, buffering etc. (Bandwidth of more than 100 Mbps).
Improved signal strengths i.e. 4G network is more capable of penetrating walls/objects which likely cause current network to loose reception.
It is believed that 4G network offers more coverage in comparison to its predecessors.
4G network is assumed to offer more secure network. This factor can be very beneficial for businesses or individuals who hold sensitive information.
Extremely high voice quality.
Disadvantages:
The number of 4G compatible handset available in the market is quite low. Also, among those which are available, most of them are quite expensive. As a result, it will be a bit hard to attract customers.
The cost of upgrading to this network for Cellular service provider is quite high i.e. very high start-up cost.
Very few operators have introduced 4G services till now.
The fact that this is a new technology, it is likely that a few initial bugs will be faced. This in turn might annoy the customers.
Prospect for 4G in the Bangladesh Telecommunications industry
In my view, introducing 4G services in Bangladesh might not be a good idea at present. There are a number of reasons for me to believe this. First of all is the cost of upgrading the equipment"s related to this service. Second is the licensing fee associated with upgrading to a new form of network. It is likely that BTRC will charge a huge amount given the fact that they charged a fee around US$21 million per Megahertz (MHz) of spectrum in case of 3G. Last but not the least, is the circumstance that there are few number of 4G compatible handsets available in the Bangladeshi market and among the ones that are available, most of them are high end expensive smart phones. Also, most of the mobile phone users use handsets that are completely incompatible with 4G. Even if the operators in the Bangladesh telecommunication industry upgrade to 4G network, they will not only have to convince the subscribers to upgrade to 4G network but also have to persuade them to buy a new 4G compatible handset. This from the perspective of the consumers is expected to be costly and it is less likely that they will be willing to upgrade. So, to sum up, it is not only extremely costly to upgrade to 4G but it will be more difficult to attract subscribers to upgrade to 4G network given the current scenario of the Bangladesh Telecommunication Sector. Although 4G network offers a large number of benefits for both operators and subscribers, it does come with a number of drawbacks which means that it will take time to surpass 4G as the most popular form of mobile network. I strongly suggest that operators who are interested to invest in 3G should go for a thorough analysis before adopting this new technology.
Analysis and Results
Factors affecting Service Quality in Mobile Telecommunication Industry in Bangladesh:
Nowadays creating customer satisfaction and attaining customer loyalty has become the top most priority for most of the marketers and marketing managers, and this will prevail in the future.
Customer satisfaction is considered to be the primary objective and a marketing tool for the customer centered companies, especially the telecommunication industry of Bangladesh.
Recently it has been seen from the industry pattern that relationship marketing is more valued than transactional marketing. Organizations can only achieve customer satisfaction by meeting their customer needs and wants.
In case of mobile commerce, customers reaction to the overall product or service after purchasing the product, including appraisal and emotional response, is referred to as customer"s satisfaction. Increasing customer satisfaction directly affects the market share of the company.
This might lead to increased profits, better brand image, and also might lead to lower marketing expenditures, which the company always strives to achieve. This also helps to boost company image and ensures its continued existence. Ultimately better customer relationship leads to increased customer loyalty, increased purchases and favorable word-of-mouth.
Customer loyalty can only be achieved through customer satisfaction which largely depends on the service quality offered by the service providing firms. Customer service quality is presumed to be the ultimate source for distinctive competitiveness which in later may be used to attain sustainable competitive advantage. Hence this is the golden strategy which the service provider companies use in order to be successful and survive in the pertaining competitive industry
Factors affecting customer satisfaction
In order to provide appropriate products and services to meet customer"s needs emphasis on appropriate infrastructure is required. Hence, regular assessment of customers" needs, desires, tastes, and interests is entailed in order to upgrade the perceived quality.
Several factors affect customer satisfaction:
Fairness of Price: Price is used as a sign of product quality in this industry. This determines higher satisfaction through resulting better expectations from the product.
The research shows that price sensitivity directly influences opinion of satisfaction as well as indirectly through insights of price fairness. Significant association lies between price reasonability and consumer satisfaction. Customers always have the choice to switch to any other cellular service provider who offers fair prices. This shows that customers can be sustained for a longer duration by offering them fair prices; thus evaluating the price competition that exists in the telecommunications industry of Bangladesh. Hence it can be stated that customer satisfaction is caused by the fairness of the price.
Brand Value: The company brand image is said to be a valuable intangible capital which is hard to copy. Brand value can help an organization to achieve sustainable and superior financial performance as well. Company image refers to the total impression that the public has for a company. Being reliable, professional, innovative, having social contribution and valuing customers are the features that form the company's image, from the companies" perspective. Brand image is a significant element in the customer"s satisfaction model. The company image is expected to have a positive relationship towards the customer"s expectations, customer satisfaction and customer loyalty to the company. Gupta (2002) found the empirical evidence between corporate reputation and competitive advantage for the firms by successfully differentiating it from competitors. The components of competitive advantage include willingness to purchase, willingness to pay a premium price, customer satisfaction and customer loyalty. Gupta (2002) also found that the components of a company"s reputation are corporate ability and corporate social responsibility. So it can be deduced that when customers are faced with equivalence with price and quality of a product, they would usually prefer to choose products and services from the company that contributes to corporate social responsibility when making the consumption related decision.
Service Innovativeness: Rapid changes in technology pose a great challenge for the companies in order to satisfy the customers and hence helping them to achieve their loyalty through innovative products. The innovation is not only used as a strategy towards customer satisfaction and loyalty but is also used to gain market share of the company. Service innovativeness, or the propensity to introduce service innovations to satisfy customers and improve firm value at acceptable risk, has become a critical organizational capability (Dotzelet al. 2013).
Network/signal Coverage: Signal quality and network coverage have always been indispensable criteria for deciding on MTS providers. Earlier company networks were limited only to certain locations. Now the signal quality has improved dramatically and the company networks have grown to a great extent. Surveys have shown that both signal quality and network coverage affect positively consumer"s satisfaction and the image of the company (Woo, Fock 1999).
Managing customers" complaints: By encouraging the expression of customer complaints today, a company might be able to decrease future complaints. It is very important for any customer to know where he can address his complaints which will be given the proper consideration (Vranakiset al. 2012).
Value added service: The top most concern for the current mobile service providers is to provide value added service for promoting customer satisfaction. These value added services include SMS, MMS, voice call service, SMS alert, information service, etc.
Major Findings
Airtel is the most used brand among the youths.
Grameenphone is the most recommended operator.
Airtel users have given the most complaints regarding access to 3G network everywhere.
Highest level of dissatisfaction level among respondents was regarding the tariff charged by the operators.
Youths mainly use 3G network for the purpose of social networking.
There are still rooms for improvement regarding internet speed, clarity of bills etc.
Recommendation
In my opinion, a number of factors help telecommunications operators to either attract new customers or retain them. First of all would be to offer the best services. In order to offer the best service, it is extremely important that the network facility provided by the operator is good otherwise even if they are able to attract new subscribers; the operators will not be able to retain them in the future. Factors like customer care service and value added service also plays a big role. Also, the operators need to focus on what the subscribers want and not what they think is best for their subscribers. Second would be to offer services at the most competitive price. In order to do this, a firm has to be efficient and effective at the same time in terms of managing their cost. Third, would be the satisfaction level of the existing subscribers. If the existing subscribers are not satisfied, the operators will not only loose subscribers but will also hamper their ability to attract new subscribes due to word-of-mouth. Last but not the least, is the subscribers perception of the brand name. If we take Grameenphone as an example, it can be claimed that the perception regarding Grameenphone is dependable network quality. This in particular has helped them gain a lot in terms of market share. So, in my opinion, it is extremely important that the subscribers create a good perception regarding their brand name among the subscribers.
Conclusion
This research study tried to analyze the factors that might have an impact on the telecommunication customer"s satisfaction level which will eventually have an impact on the operators brand image. According to the results obtained, Grameenphone is leading the market in terms of subscriber"s recommendation whereas Airtel is the most used operator. In my opinion, Grameenphone is the most recommended operator is because of the fact that they have a very good brand name. Airtel has the highest number of youth subscribers is because of their low call rate structure and because of their marketing policy. To sum up, I would like to state that the overall satisfaction level regarding 3G services provided by the Bangladesh telecommunications operator is quite satisfactory on the basis of the responses obtained from the sample.
In terms of 4G, in my opinion, it will not be a good idea to bring this service now due to the factors like costs involved and lack of availability of handsets. Although the first one to bring this service will avail first mover advantage, it is important that the operators do a thorough analysis before investing in this technology.
The telecommunications sector of Bangladesh is growing very fast and the market is extremely sensitive to competitors pricing specifically in terms of 3G services. From my understanding, I believe that the operators should segment the market first in terms of subscribers and then offer them relevant services. Also, being cost effective is mandatory nowadays since the subscribers are always looking for the best offer at the cheapest rate.