An artificial pancreas is a closed-loop system that automatically delivers insulin to people with diabetes. Such a system has been successfully trialed for use by patients with type 2 diabetes. It typically consists of a continuous glucose monitor (CGM) and an insulin pump, which are connected by a computer algorithm that calculates the appropriate insulin dose based on the patient's glucose levels.
The goal of an artificial pancreas is to improve glucose control and quality of life for people with diabetes. However, it is important to note that the use of an artificial pancreas is not a cure for diabetes and that patients must still monitor their glucose levels and make lifestyle changes as advised by their healthcare provider.
Scientists have successfully tested an artificial pancreas for use by patients with type 2 diabetes. When compared to standard treatment, the device doubled the amount of time patients were in the target range for glucose and cut the time spent experiencing high glucose levels in half.
Cambridge scientists have successfully tested an artificial pancreas for use by type 2 diabetes patients. The device, which was powered by an algorithm developed at the University of Cambridge, doubled the amount of time patients were in the target glucose range compared to standard treatment and cut the time spent experiencing high glucose levels in half.
Many people with type 2 diabetes find it difficult to control their blood sugar levels with current treatments, such as insulin injections. The artificial pancreas can help them in a safe and effective way, and the technology is simple to use and can be implemented safely at home.

Dr. Charlotte Boughton
Type 2 diabetes is estimated to affect 415 million people worldwide, costing $760 billion in annual global health expenditure. According to Diabetes UK, more than 4.9 million people in the UK have diabetes, with 90% having type 2 diabetes, costing the NHS £10 billion per year.
Type 2 diabetes results in abnormally high levels of glucose (blood sugar). Normally, the release of insulin regulates blood sugar levels, but in type 2 diabetes, insulin production is disrupted. This can lead to serious issues such as eye, kidney, and nerve damage, as well as heart disease, over time. The disease is usually managed through a combination of lifestyle changes – improved diet and more exercise, for example and medication, with the aim of keeping glucose levels low.
Researchers from the Wellcome-MRC Institute of Metabolic Science at the University of Cambridge have developed an artificial pancreas that can help maintain healthy glucose levels. The device combines an off-the-shelf glucose monitor and insulin pump with an app developed by the team, known as CamAPS HX. This app is run by an algorithm that predicts how much insulin is required to maintain glucose levels in the target range.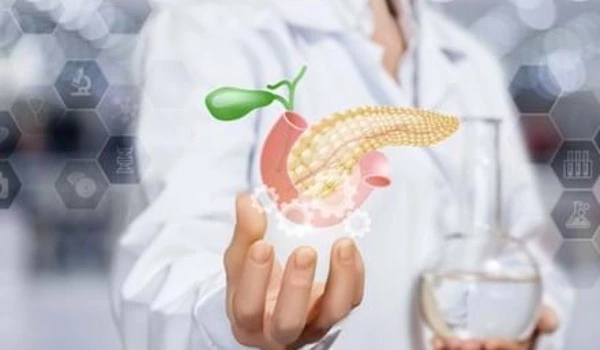 The researchers have previously demonstrated that an artificial pancreas powered by a similar algorithm is effective for type 1 diabetes patients ranging from adults to very young children. They have also successfully tested the device in type 2 diabetes patients who require kidney dialysis.
The team reports the first trial of the device in a larger population of people with type 2 diabetes today in Nature Medicine. Unlike the artificial pancreas used for type 1 diabetes, this new version is a fully closed loop system; whereas patients with type 1 diabetes must tell their artificial pancreas when they are about to eat in order for insulin to be adjusted, patients with this version can leave the device to function entirely automatically.
The researchers recruited 26 patients from the Wolfson Diabetes and Endocrine Clinic at Addenbrooke's Hospital, part of Cambridge University Hospitals NHS Foundation Trust, and a local group of GP surgeries. Patients were randomly allocated to one of two groups – the first group would trial the artificial pancreas for eight weeks and then switch to the standard therapy of multiple daily insulin injections; the second group would take this control therapy first and then switch to the artificial pancreas after eight weeks.
The team assessed the effectiveness of the artificial pancreas using a variety of metrics. The first was the percentage of time that patients spent with their glucose levels between 3.9 and 10.0mmol/L. Patients using the artificial pancreas spent two-thirds (66%) of their time within the target range, which was more than double that of the control (32%).
The proportion of time spent with glucose levels above 10.0mmol/L was another metric. High glucose levels, over time, increase the risk of potentially serious complications. Patients receiving the control therapy had high glucose levels for two-thirds (67%) of the time; this was reduced to 33% when the artificial pancreas was used.
Average glucose levels dropped from 12.6mmol/L when the control therapy was used to 9.2mmol/L when the artificial pancreas was used. The app also reduced levels of a molecule known as HbA1c, or glycated hemoglobin. Glycated haemoglobin develops when haemoglobin, a protein within red blood cells that carries oxygen throughout the body, joins with glucose in the blood, becoming 'glycated'. Clinicians can get an overall picture of a person's average blood sugar levels over a period of weeks or months by measuring HbA1c. The higher the HbA1c in diabetics, the greater the risk of developing diabetes-related complications. The average HbA1c level after control therapy was 8.7%, while it was 7.3% after using the artificial pancreas.
No patients experienced dangerously-low blood sugar levels (hypoglycaemia) during the study. One patient was admitted to hospital while using the artificial pancreas, due to an abscess at the site of the pump cannula.
Dr. Charlotte Boughton, co-leader of the study at the Wellcome-MRC Institute of Metabolic Science at the University of Cambridge, stated: "Many people with type 2 diabetes find it difficult to control their blood sugar levels with current treatments, such as insulin injections. The artificial pancreas can help them in a safe and effective way, and the technology is simple to use and can be implemented safely at home."
Dr. Aideen Daly of the Wellcome-MRC Institute of Metabolic Science added, " "Concerns about the risk of severe 'hypos,' or dangerously low blood sugar levels, have been one of the barriers to widespread use of insulin therapy. However, we discovered that no patients in our study experienced these, and patients spent very little time with blood sugar levels below the target levels."