At the 1968 Summer Olympic Games, one of the most memorable award ceremonies was held. Tommie Smith and John Carlos, respectively, won the gold and bronze medals. "As the American flag rose and the Star-Spangled Banner began to play, the two closed their eyes, bowed their heads, and began their protest."
African-American sprinters John Carlos and Tommie Smith raised their gloved fists in a black power salute at the 1968 Olympics in Mexico City in 1968, while the U.S. national anthem played during the presentation of their medals. Their gesture was a show of defiance against oppression taking place at the height of the civil rights struggle in America.
In Short;
Tommie Smith and John Carlos give the Black Power salute at the 1968 Summer Olympics.
The two men were suspended by the United States team and banned from Olympic village.
The action is considered a milestone of The Civil Rights Movement.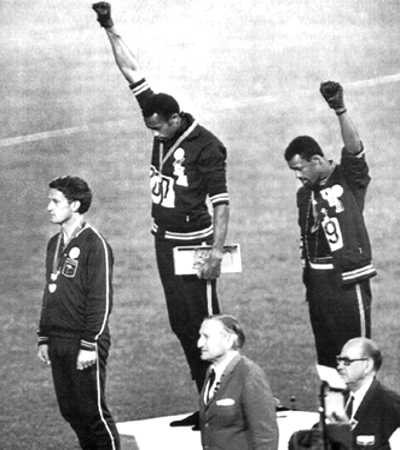 Civil Rights Movement
John Carlos and Tommie Smith raised their black gloved-fists as a nod to Black Power. It all began when a friend of theirs, Harry Edwards, attempted to launch a mass boycott of the summer games by all black American athletes. His organization, OPHR, gained popularity, but the boycott never materialized. Inspired by his effort, however, Carlos and Smith wore an assortment of black materials to represent Black Power in the Civil Rights Movement. They did not wear shoes to represent poverty among African Americans. The raising of the fists acknowledged Black Power in America. This act by Smith and Carlos was brave, because they were not the ones necessarily suffering, rather their friends and family were. They could have left their fists un-raised, and celebrated their victory in the spotlight of the world
Black Power
When Olympic sprinters Tommie Smith and John Carlos stood atop the medal podium at the 1968 Summer Games in Mexico City, bowed their heads and raised black-gloved fists during the playing of the national anthem, millions of their fellow Americans were outraged. But countless millions more around the globe thrilled to the sight of two men standing before the world, unafraid, expressing disillusionment with a nation that so often fell, and still falls, so short of its promise.
Black Power is a term that emphasizes racial pride and the desire for African Americans to achieve equality.
The term promotes the creation of Black political and social institutions.
The term was popularized by Stokely Carmichael during The Civil Rights Movement.
Many SNCC (Student Nonviolent Coordinating Committee) members were becoming critical of leaders that articulated non-violent responses to racism.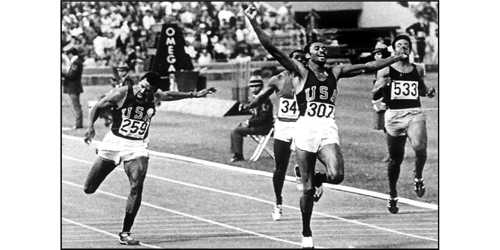 Conclusion
The two athletes share what Smith calls a "strained and strange" relationship. Carlos says he actually let Smith pass him in 1968 because "Tommie Smith would have never put his fist in the sky had I won that race." Smith, who won the race in a world-record 19.83 seconds, dismisses that claim as nonsense.
But both men insist they have no regrets about 1968. "I went up there as a dignified black man and said: 'What's going on is wrong,' " Carlos says. Their protest, Smith says, "was a cry for freedom and for human rights. We had to be seen because we couldn't be heard."
Information Sources: