Structural insulated panels (SIPs) are high-performance building systems for residential and light commercial construction. It is also known as a structural insulating panel, is a form of sandwich panel used in the construction industry. It provides building panels for the walls, floors, and roofs of homes and light com­mer­cial buildings. The panels consist of an insulating foam core sandwiched between two structural facings, typically oriented strand board (OSB).  Other names for SIPs include foam-core panels, struc­tur­al foam panels, stress-skin panels, and sandwich panels.
SIP is a sandwich structured composite, consisting of an insulating layer of rigid core sandwiched between two layers of structural board, used as a building material. SIPs are manufactured under factory controlled conditions and can be fabricated to fit nearly any building design. SIPs can also be manufactured in larger sizes for custom work, but these larger panels may require a crane for installation.
Structural insulated panels (SIPs) are engineered panels used to construct walls, ceilings, and floors. It provides an extremely durable, strong, and energy-efficient building option.
SIPs share the same structural properties as an I-beam or I-column. The result is a building system that is extremely strong, energy-efficient, and cost-effective. The rigid insulation core of the SIP acts as a web, while the sheathing fulfills the function of the flanges. Building with SIPs generally costs about the same as building with wood frame construction when you factor in the labor savings resulting from shorter construction time and less jobsite waste. SIPs combine several components of conventional buildings, such as studs and joists, insulation, vapor barrier, and air barrier. These panels are manufactured in various sizes or dimensions, with thicknesses ranging from 4 to 8 inches. They can be used for many different applications, such as an exterior walls, roofs, floors, and foundation systems.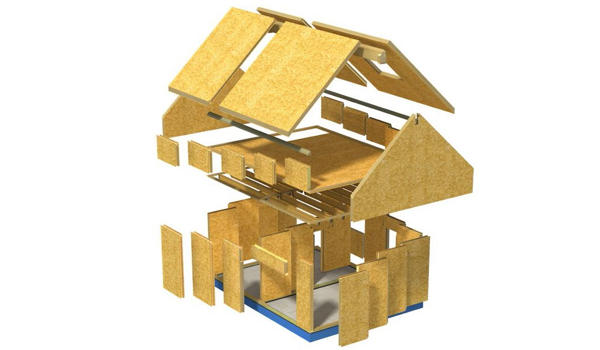 Materials
SIPs are most commonly made of OSB panels sandwiched around a foam core made of expanded polystyrene (EPS), extruded polystyrene (XPS) or rigid polyurethane foam. Producers of SIPs commonly use 7⁄16-inch thick oriented strand boards (OSB) for the sheathing boards. Other materials can be used in replacement of OSB, such as plywood, pressure-treated plywood for below-grade foundation walls, steel, aluminum, cement board such as Hardiebacker, and even exotic materials like stainless steel, fiber-reinforced plastic, and magnesium oxide. Other sheathing materials include plywood, gypsum sheathing, sheet metal, fiber-cement siding, magnesium-oxide board, fiber­glass mat, and composite struc­tur­al siding panels.
The third component in SIPs is the spline or connector piece between SIPs. SIP con­struc­tion produces straight walls with higher levels of insu­la­tion, airtightness, and strength compared to wood-frame construction. Dimensional lumber is commonly used but creates thermal bridging and lowers insulation values. To maintain higher insulation values through the spline, manufacturers use Insulated Lumber, Composite Splines, Mechanical Locks, Overlapping OSB Panels, or other creative methods. However, the numerous problems with SIP construction can diminish the quality of the wall system and ultimately cost both the contractor and building owner time and money. Depending on the method selected, other advantages such as full nailing surfaces or increased structural strength may become available.
Information Source: