Review about SureFlap Microchip Cat or Pet Door
UK firm SureFlap, which already makes a range of micro-chipped-enabled pet products such as feeders and pet doors which only open for the correctly chipped (or RFID-collared) pet, reckons pet owners are hankering for even more remote-control options with their high tech pet kit — ergo, they've announced an app-controlled version of their micro-chipped pet door will go on sale this summer.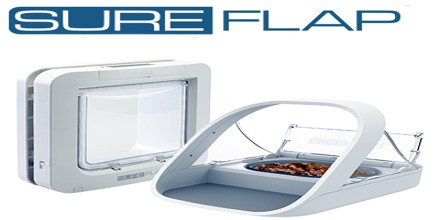 The forthcoming Microchip Pet Door Connect will have a companion app that enables pet owners to remotely lock or unlock the door from anywhere, and also schedule curfew times to keep their pets in at a specified time of day.
This door runs on 4 AA batteries, allowing it to recognize the microchip and unlock the latch. The batteries pop into an easy-to-reach chamber on the top of the door.
SureFlap Microchip Cat Door is a pet door that uses a microchip implanted in the cat's skin as an identification key, unlocking the door only when the allowed cat in entering the house, keeping the neighbor's cat and other intruders out.
The system does not need the cat to wear a collar with a tag to work, this is especially beneficial if your cat does not like to wear collar tags or if your pet has lost several collars already.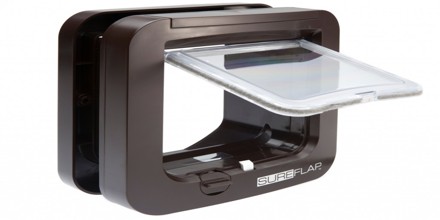 If you don't like the idea of your cat getting micro-chipped, SureFlap also offers collar tags that can be purchased separately
The system of the SureFlap is "selective entry", which means it keeps unwanted cats or other pets (animals) from entering the house, but any cat can leave, with or without the microchip implanted.
The SureFlap cat door is suitable for small and medium sized cats or other pets.
Features of SureFlap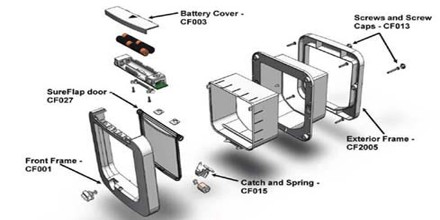 Cat door uses RFID microchip technology as a key.
4-way manual locking: 2-way, only-in, only-out and locked.
It works with your cat's existing microchip.
Compatible with 9, 10 and 15 digit microchips (Except 10-digit microchips with cods beginning 000, 010, 020).
Capacity to program up to 32 cat microchips ID's in its memory.
No collar or tag required that commonly get lost or snagged.
It runs on 4AA batteries. Batteries last from 6-12 months with one cat or pet, depending on the use.
Low battery indicator light.
Selective entry – any cat or pet can exit (with or without microchip).
Sturdy and nice looking two-part design can be installed easily in doors, windows or walls.
Fits into the hole left by most existing cat doors.
It works also with collar tags, available for purchasing separately.
Tunnel design keeps intruder cats from pulling the door inwards.
3-year warranty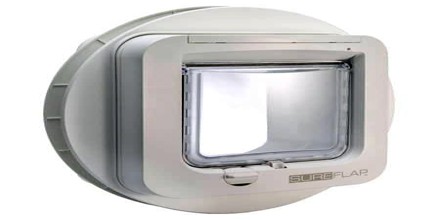 Microchip Implants
SureFlap cat or pet door works with the following microchip codes:
15-digit microchips 9Known as FDXB, standard in Europe)
10-digit microchips (Known as FDXA mostly in the USA)
9-digit microchips (Known as Avid Secure/Encrypted Chip)
It is a good idea to pass the microchip through the pet door in order to test it before implanting the chip in the cat's skin.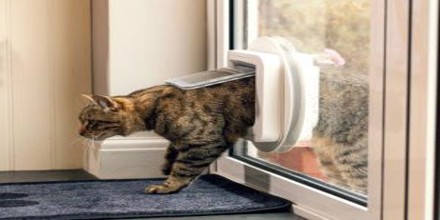 Conclusion
SureFlap Microchip Cat or Pet Door it is a very good pet door that works as advertised. They improved the door with the latest version which is much quieter when unlocking, although, the unit still makes a little clicking noise when unlocking, which some cats will nor like But its not really very loud, and with a little practice they get used to quickly. The instructions explain how to train your cat or other pets to use the door.