Executive Summary
Since the late 1951s, the Ready Made Garments (RMG) industry started developing in Bangladesh primarily as an export-oriented industry. In Bangladesh, the RMG industry has emerged as a major economic sector and has had its impact on the financial services sector, communications, transportation, and on other related industries. The RMG industry has had a major social impact. It has empowered 1.2 million women with employment and economic independence, which in turn has earned for Bangladesh recognition as a modern and enlightened society.
In this era of present globalization, garments sector is playing its important role to keep the people moving with the movement of the modern technology. The ready made garments industry of Bangladesh has become the largest foreign exchange earning sector. The annual nation export income of garments sector is driven from two sectors. They are woven garments and knitwear. The implementation of HRM in garments has made its activities speedier, easy and comfortable.
Chapter one is introductory part of the report. In this chapter origin of the report, objectives, scope of the study, methodology, important & limitation of the report and lack of experience are discussed.
Chapter two is overview of SAG. In this part historical back ground, mission, vision, objective, business, product capacity, product raw materials, design, clients, work place environment, company organ gram, infrastructure facilities are discussed.
In the chapter three, my duties and position is discussed
Chapter four that means literature review part here I discussed about the concept of Human Resource Management, its function, scope, objectives, planning, recruiting, executive recruiting, its method, testing and selection, different types of tests and interview and finally training and development.
Chapter five is the HRM activities of SAG. Here discussed about SAG's HRM, its acquisition function, HR planning of SAG, its recruitment process and selection policy. Training and development function of SAG. Objectives of training, motivation function and finally the wages structure.
In the chapter six SAG's strength, weakness, opportunity and threat are discussed.
In the chapter seven is my learning points are mention.
Chapter eight and nine describe about findings and Recommendation
And the final chapter here I draw the conclusion.
SAG group is the world leading research based Garments Company with a powerful combination of skills and resources to provide platform for delivering strong growth in today's rapidly changing healthcare environment. SAG Group is the product of a number of mergers and acquisitions. The merger made SAG group the world's number garments company. Mergers also create disputes having redundant employee that is very difficult to drive. Bangladesh did not experience of having redundant employee but had to reconcile the changing in the global market.
SAG's management is fully aware of the important of sound. Human resource and has been consciously pursuing policies for strong manpower with the organization.
I have worked for three months as a requirement of the internship phase of BBA program under the department of business administration of Northern University Bangladesh (NUB). My respected supervisor lecturer Professor Mustafa Kamal has provided me a topic: "HRM Practices" of Shamsul Alamin Group to work on it. This report will give a clear idea about several activities of Human Resource Department of Shamsul Alamin Group in which I was associated.
 The Report
1.1 Introduction
Internship is an important and unavoidable part for completing the graduation, in business studies. Internship can help the students to acquire practical knowledge about his or her particular learning. For the four years BBA program, internship is a major requirement for shearing knowledge. As a requirement for the BBA program I need to do the internship in any business organization that is well reputed in its field. This internship carries good grade, which shows the practical knowledge and skills that the internee carries.
I have chosen ready made garments industry to do my internship and the name of the company is Shamsul Alamin Group (SAG).
Ready made Garments are the fast growing export sector in Bangladesh. The overall impact of the ready made garment exports is certainly one of the most significant social and economic developments in contemporary Bangladesh. In order to stimulate rapid growth of the country, particularly through industrialization, the government has adopted an open door policy to attract foreign investment in Bangladesh. As a result, there are about 2500 export oriented ready made garments in Bangladesh those are clustered over mainly in Dhaka, Gazipur, and Chittagong.
1.2 Origin of the Report:
In today's world only academic education does not make a student perfect to become competitive with the out side world. Internship is highly needed to gain idea, knowledge and experience.
Northern University Bangladesh one of the most reputed private universities in Bangladesh, has been designed the curriculum of the BBA course such a way that the international standard graduates will be produced. After completing 123 credit hours, one student needs to go for further 6 credit hours internship program in a commercial organization.
Shamsul Alamin Group is a place where I could learn the HRM practices. As an intern student I have got the opportunity to work with this organization for three months and acquire idea about real HRM practices in the world.
1.3 Objectives:
We know that, "Human" is the most important input for every organization. Ever organization made up of people in their own environment and also how to acquire their service, developing their skill, motivating them to high level of performance to achieving organizational objective. Objectives can be divided in two parts.
1.3.1 Broad objective:
To know about the HRM practices of Shamsul Alamin Group i.e. SAG how to know the number of vacancy, how to fulfill that vacancy, employee salary structure, increments system, incentive policy, leave policy etc.
1.3.2 Specific objective:
The key objectives of the report are as follows:
To record procedures and practices of staffing, training and developing, motivation, maintenance of the employees of Shamsul Alamin Group.
To identify how to procedure payroll, promotion, transfer, terminate procedure employees activities record.
To record and report of organizational structure with detail of grouping of work.
To understand of business strategy, vision mission of the organization.
Identify the SOWT analysis of Shamsul Alamin Group.rouin the SOWT analysis of Shamgy, vision mision their service ,develo
1.4 Scope of the study:
 The guiding principle of the company is to develop and maintain strong, secure relation with buyers and retailers and to support the customer beyond the buyer-seller relation striving to ensure all concerned can succeed and grow.
The study will also help us to understand the role of Ready Made Garments in socio-economic development of the country.
It will increase obstacles to the existing rile of SAG in exporting the garments products.
1.5 Methodology:
The report has been prepared based on primary and secondary data. Methodology of the internship report is given bellow:
1.4.1 Primary Data Collection Methods:
  By talking with the employees of the organization.
  Observation method will also be used in this study.
            1.4.2 Secondary Data Collection Methods:
  Data collection from the companies' brochures.
  Use the companies' web side to makes the report.
 Data collection from the companies' recruitments and fair reports etc.
1.6 Importance of the report:
As we know that Bangladesh earns maximum part of the foreign revenue from the garments sector. My topic "HRM practices of Shamsul Alamin Group "is considered very important. This term paper will let me know the present summation of garment industry of Bangladesh and also help me to learn about the global demand and trends in garment industry. Finally, this term paper will give me an idea about HRM practices in garments sector in Bangladesh.
1.7 Limitations of the report:
Large-scale research was not possible with in the three months.
Relevant data and document collection were difficult due to the organization confidentiality.
The employees were avoiding disclosing their confidential data.
Most of the workers have lack of knowledge. So they didn't answer properly.
Management is very busy for that reason they couldn't help me to prepare the report.
1.8 Lack of experience:
To complete such kind of report need a lot of experience. But I had very little experience in this work field. So errors are possible in this report.
Profile of Shamsul Alamin  Group
2. About the company:
Shamsul Alamin Group, comprising Sister Concerning 100% manufacturing industries, is specialized in manufacturing all types of Bottom Wears of woven items of reputed for international market. The Group's first manufacturing unit was established in 1955, but now the organization include 20 sister concern.
Customer is their focus. SAG growth and development will be determined by the growth of their customers. To comply with their customers' requirement they have experienced and semi-skilled machine operators. SAG organizes in house training programs for all staffs and workers to achieve quality standards and production efficiency.
2.1 History:
The first manufacturing facility, SAG Garments, was established in 1955 and over the last fifty years nineteen's more units have been added. The Groups headquarter in Motijheel Commercial Area, at Dhaka, with of its 20 sister concerns.
Shamsul Alamin Cotton Mills Ltd. No 1.
Shamsul Alamin Cotton Mills Ltd. No 2
Shamsul Alamin Cotton Mills Ltd. No 3
Abdul Bari Cotton Spinning Mills Ltd.
Jahanara Alamin Spinning Mills Ltd.
Sunny Specialized Spinning Millis Ltd.
Fuad Spinning Mills Ltd.
Shamsul Alamin Fabrics Ltd.
Shamsul Alamin Fashions Ltd.
Shamsul Alamin Oil Refinery Ltd.
Shamsul Almin Pharmaceuticals Ltd.
Shamsul Alamin Real Estate Ltd.
Rana Leather Industries Ltd.
Shamsul Alamin Industries Ltd.
Premier Jute Baling Ltd.
Shahin Traders Co.
2.2 Vision statement:
Developing and promoting the ready-made apparel sector. Creating customers need through manufacturing and supplying quality products.
2.3 Mission Statement:
Our endeavor will continue to ensure quality and high standard in every activity whatever we are engaged with.
2.4 Objectives of SAG:
·    Create a favorable image of world as a high quality garments manufacturer and supplier.
·    Follow The Quality With in Time.
·    To expand its business from one whole seller outlet of European, UK and USA market.
·    Train and develop a motivated and skilled workforce considering the "Quality of life" for the employees.
2.5 Business:
SAG's core business is manufacturing and exporting ready-made garments, especially bottom wears.
2.6 Production Capacity:
Implementing the latest development in manufacturing technology, the Group always thrives to remain at par with world-class standards. The state-of-the-art facilities combined with efficient manpower is their focus. The Group is committed to produce at the highest quantity with quality. The monthly production capacity of the Group:
No. of Employee         : 6,500 (Female 70% & Male 30%)
Production Line          : 20
Work Space                 : 3, 08,000 square feet
Machine                      : 3,957 No.
2.7 Organization:
SAG employs over five thousand skilled workers and around five hundred supervisory managerial staffs in its production facilities and corporate head office. Marketing, production, procurement, finance, shipping, human resources, Administration, and information systems sections are located in Corporate Head Office and are staffed and managed by competent professionals. The production team comprises of skilled labors, and around seventy percent of the workforce in women. The managerial staff consists of a healthy combination of national and international recruits, focused to provide SAG the capability necessary to successfully compete in global manufacturing and export.
Excellent salary structure supplemented with performance incentives motivates workers to achieve the highest level of productivity.
2.8 Organizational Structure of Shamsul Alamin Group: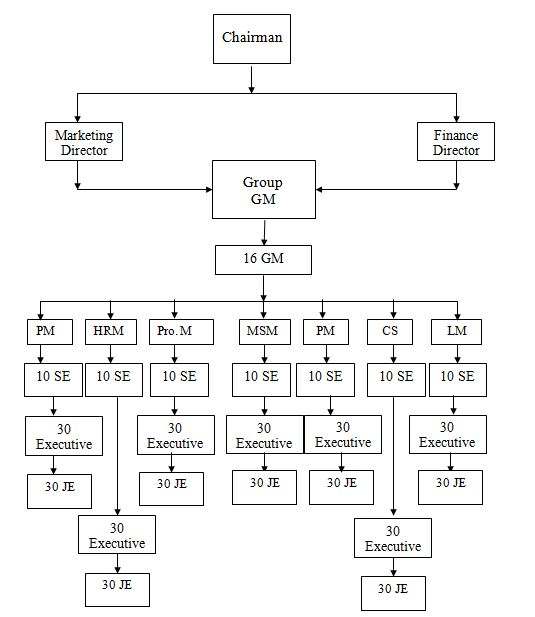 2.9 HR Structure of Shamsul Alamin Group:
Head of the HR: He observes all of activities of the HR division. He plans for recruitment, training program, salary structure, employee transfer etc. Head of the HR also share that information with manager.
Manager: All the tasks of executive are execute in their professional life that's learn from the manger. Manager is train to the executive how to execute their task, and also try to give the update information. Some task of Manager is given below:
Execute the orientation program
Relation build up between employees
Senior Executive of Computer Operator: Senior Executive of Computer Operator completes his task with his subordinate. His task include in:
Maintain the attendance system
Maintain the leave system
Maintain the time schedule of  entry and exit procedure
Senior Executive Trainer: Train all of executive and also train labor and securities. Tasks are given below:
  Preparing training plan and trained the workers.
  Implement and maintain labor law
  Implement of training process
Senior Executive Compensation & Benefits:  Their activities are given below
  Calculate the salary and benefits
  Bonus and wages of labor
  Calculate the movement system and late system of employees
Senior Executive of Complains:  Depend on complains, try to solve the problem and take an action as follows the organizations rules.
2.10 The Group at a Glance:
Management:
Chairman:                     Shahida Alamin
Marketing Director:     Nargis Alamin
Finance Director:         Humaira Alamin
CONTACT PERSONS:
General Manager                 I           Feroz Khabir
02-9564507, 02-9566025, 02-9567838
                                       e-mail: sag@bdmail.net
Sr. Manager                           I           Gazi Ghahidul Islam
+8801730027916
Marketing &  Sales                            e-mail: sag@bdmail.net
Compliance & HR                 I           Alamin
02-9564507, 02-9566025, 02-9567838
Sr. Executive HR & Compliance
                                       e-mail: sag@bdmail.net
Corporate Head Office:
Shamsul Alamin Group
ALAMIN CENTER, 25/A, Dilkusha C/A, Dhaka-1000, Bangladesh
Phone: 9567839-40, 9556429, 7171220, Fax-8802-9564512
e_mail: alamincity@sagbd.com, Web: www.alamin city.com
2.11 Products:
Readymade garment products are the chief export items of Bangladesh. To support the country in its prime venture and to take the opportunity of an already established products market SAG Group has focused on the readymade apparel sector. SAG's product line includes:
1        Casual wears, Sports wear
2        Swimming Trouser, Dress & Formal Pant
3        Dress & Formal Pant
4        Real Estate & Pharmaceutical
2.12 Raw Materials:
Equipment and accessories are acquired from suppliers whose competence regarding product performance, safety and quality is globally recognized.
2.13 Design & Development:
SAG partners its clients in translating designers' sketches, images as well as originals samples for their range presentation meeting. These samples are developed using yarns mainly suggested by customers or, in some cases by SAG, Based on the visit to yarn fairs. Design inputs are acquired from visits to yarn and garment fairs, trade publications as well as from the Internet. A sampling department with some efficient employee enables quick turnaround of sampling request.
CAD (Computer Aided Design) system is used some sphere of the design & development process of the samples as well as the final output.
2.14 Production Process & Technology:
Modernistic apparel manufacturing techniques have been customized to comply with SAG's production process and adopted in its facilities to ensure optimum efficiency. Production monitoring system using bar- cards ensures accurate recording of work in progress and provide management with live production data. This helps operations management to be proactive in correcting potential flaws with in a particular process and provides important records monitor operations efficiently.
2.15 Clients:
The Group is proud to have the reputed names of the apparel market in our products of many famous brands, as follows:
Working with SAG :

Customer / Buyer name

Charles Vogele.

Etam

Okaidi

C&A

Lindex

Stradivarius

Jules & promod.

Matalan & Mother Care

Walt-Mart

Sears-Kmart

Country

Europe

Europe

Europe

Europe

Europe

Europe

Europe

UK

USA

USA
Table2.1: Name of the client and country
2.16 Daily Work Plan:
The office time Start at 9.20 am and come to end 6.00 pm. Launce break start from 1.30 pm to 2.30 pm. Weekly meeting start at 11.00am in Saturday. The Human resource manager allocate job to his subordinate. Clean up procedure also include every day work plan. There is an attendance policy also if one enters the office after 30 minute to due time then he or she will be punished.
2.17 Production Facilities:
Modernistic women apparel manufacturing techniques have been customized to comply with SAG's production process and adopted in its facilities to ensure optimum efficiency.
SAG uses precision machines to ensure its production and well equipped with all required machines of its own. There are also some specialized machines for special products SAG has pocket welt, Blind stitch, Pressing puller, Garments press, Bias and clothing, Metal detector, Setting Machine, (Pant Finishing ),Rhine Stone, Fixing and some other rare and valuable machines.
SAG employs over 5000 skilled workers and around 500 supervisors and managerial staff in its production facilities for its smooth.
2.18 Quality Assurance:
Focus is on quality rather than quantity. They are committed to produce at the highest level & never comprise quality with quantity. They have earned a reputation for being a marker of quality garments in our never ending quest for quality; SAG ensures strict quality control measures where each product has to go through a series of thorough scrutiny. Here they try to make products that not only meet their clients required criteria but also give them recognition to their Quality Management System, they have achieved ISO 9001:2000 Standard Certificate, This has resulted in fundamental change in the way they operate, from top level management reporting to training and development of the machine operators, to being proactive about waste managements for a healthy environment.
HR Activities of Shamsul Alamin Group 
3. Human Resource Management:
The management function deal with recruitment, placement, training and development of organizations member. One of the most important resources of an organization is its people. Employee supplies the talent, skill and creativity and exerts the effort and leadership that contribute of performance of the organization. HR activities of SAG are given below:
3.1 HR Functions of SAG:
3.1.1 Acquisitions:
Acquisition function being HR planning and recruiting of an organization. HR division of Shamsul Alamin group firstly decides how much vacancy creates where we go; what is the procedure of recruitment quality and qualification of a candidate? How much time use to finish the requirement procedure.
3.1.2 Development:
The development function viewed along three dimensions. First is that employee training, it is done by SAG to adjust attitudes among other worker and work environment. Second is Management Development, done by SAG for developing the management skill.  Third is Career Development which effect for long term in the organization.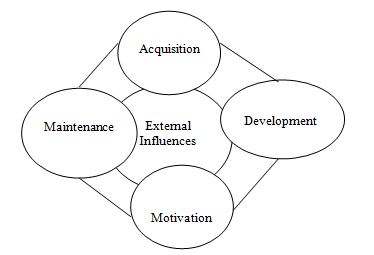 3.1.3 Motivation:
The Motivation function being with rewards, jobs evaluation, compensation and benefits. It is done by SAG for influencing work more.  Normally its done garments sector of production unit and sales department of real estate.
3.1.4 Maintenance:
Maintenance is like that employee is working with some condition, rules, regulation. Also if the employee have problem management try to solve the problem.
*Day by day all functions will be chanced.
3.2 HRM Objectives:
One of the objectives of human resource methods is to select right man in the right place. In recent years, devices to select right man for right position through professional guidance and counseling programs and by various examination and tests have also been innovated as a result of which the scope of proper and maximum utilization of human resources has become easy and wide.
Following objectives are important which can be discussed in short. With the fulfillments of these objectives HRM can become successful.
To develop efficiency and skills of employees:
First objective of firm is to develop efficiency and skills of employees working in the organization.
2.    To ensure effective performance of employees: Effective performance of employees can be ensured by HRM. Effective performance at all levels can help the organization to obtain productivity target.
3.         To change the behavior of Employees: With a view to change behavior of employees firm activities can be performed. Behavior change can ensure to reduce resistance to change.
4.         To Train up subordinates: The fourth objectives of firm is to train up subordinates for effective performance
5.         To increase job satisfaction: Job satisfaction is essential for proper performance and goods, therefore HRM tries to achieve job satisfaction level.
6.         To make effectiveness: To make all organization programs an effective HRM acts restless. And for thus all policies are formulated accurately.
7.         With a view to procure good people: HRM determines its objectives, because without good people organization cannot run.
8.         for proper use of Human Resources: The organization can best try to given them proper assignment and make sure that everything has been done timely.
9.         Co-ordination among different section of the organization: Coordination among different sections of the organization, HRM can set its objective and get objective fulfilled.
10.       To develop working conditions in the organization: Another objective of firm is developing working conditions of the organization.
3.3 Environment:
Environment divided into two is as follows
3.3.1 External Environment of SAG:
External environment being with the political Environment, legal Environment and also with globalization. The political environment of Bangladesh is not stable its rapidly change day by day. For that reason SAG strongly consider the political environment.  The main business of SAG is garments sector. We know garments export oriented business, so that business done under the export rules and regulation, on the other hand SAG consideration globalization, because it world wide product. So consider the all issue of the world.
3.3.2 Internal Environment of SAG:
Change Work Force:  SAG always change work force system try to maintain diverse work group, dealing with conflict among employees, and providing family – friendly benefit.
Changing Skill:  SAG tries to develop the skill of employees by given training program.
Corporate rightsizing: SAG effort toward making the organization more efficient. By the efficiency increase the span of control.
Re-engineering: Changing the technology, using the update information.
Decentralization of Work-Sites: SAG use decentralization work-sites because to fined qualified employees. For example HRM decentralized work sites will require for manager in managing and controlling the work, and establishing pays system to reflect this work arrangement.
Union: Unions are representatives of employees, to improve efficiency and effectiveness of management.
3.4 Human Resource Planning (HRP):
Human Resource Planning means 'manpower planning'. HR planning assembling and utilizing of human resource at right place and in right number capable to performing the job. Some are the cause need of HRP given below,
Reservoir of Talent: SAG include the point in the HRP, because of skill are readily available to carry out the assigned tasks.
Prepare People for the Future: For the HRP employees are more skilled and they can solve any meeting or problem that fully unknown by that employee.
Expand: If the organization expands the business they can easily haired from other department. For example Feroze Kabir now the GM of Shamsul Alamin Real Estate (SARE), but in the he was a manager of Shamsul Alamin Oil Refinery.
Cut Cost: Shamsul Alamin Group use HRP for the reason of cut cost of the organization.
3.5 Strategies of HRP at SAG:
SAG followed under that strategy;
Recruitment Plan: SAG sets a plan before the recruitment. For example 20th December of 2008 SAG was getting a decision take some executive for their real estate business. In 22nd of that month they give a circular for that and get viva end of the month and finally those are selected they were join 14th January of 2009.
| | | |
| --- | --- | --- |
| How many Apply | Call for Interview | Recruit |
| 857 | 53 | 17 |
Table 3.1: Recruitment Plan
 Training Plan: After selecting those employees was given a training program by Shamsul Alamin Real Estate (SARE). The duration of training program on 14.01.09 to 28.02.09.
| | |
| --- | --- |
| No. of Trainer | No. of Employee Attain in the training |
| 2 | 20 (three Exiting employee) |
Table 3.2: Training Plan
  Productivity Plan: Trainer was giving how an executive can improve their knowledge and productivity.
Training Result & Retention: After the training program some are employee fair from the organization and some retain for survive the organization.
| | | |
| --- | --- | --- |
| No. of Trainer | No. of Employee Attain in the training | Finally Recruit |
| 2 | 20 | 7 out of 17 |
Table 3.3: Result and Retention
3.6 Techniques of Designing Job by SAG:
Techniques of designing job divided into four those are job Simplication, Enlargement, Rotation and Enrichment. But SAG use normally two parts out of four. First one job rotation is performed by SAG that an employee continues change one department to other or one unit to other unit. On the other hand job enrichment done by increase his/her benefit also duty and responsibility.
3.7 Recruitment:
Recruiting is the process of attracting qualified persons to apply for the jobs that are open. Effective Recruiting is increasingly important today, for several reasons, first,   the ease of recruiting tends to ebb and flow with economic and unemployment levels. Finding the right inducements for attracting and hiring employees can be a problem.  SAG recruitment divided into two- 1) Internal Recruitment 2) External Recruitment
 3.8.1. Internal Recruitment:
When SAG fill up of vacancy by the exiting employees. SAG it's done by three way, those are promotion, demotion, transfer
3.8.1.1 Promotion: Increase his salary benefit and responsibility by change his position.
3.8.1.2 Demotion: When an employee fails to achieve the targets then s/he carry out system.
3.8.1.3 Transfer: Transfer means an employee one unit to other unit to fill the vacant position.
Internal Recruitment in 2008
| | |
| --- | --- |
| Internal Recruitment | Number of Employee |
| Promotion | 65 |
| Demotion | 13 |
| Transfer | 25 |
| Total | 103 |
Table 3.4: Internal Recruitment System
3.8.2 External Recruitment:
Some time SAG recruit employee from out the organization. They recruit the employee from outside the organization. They recruit the employees by newspaper, internet ads, and employee agencies. Last year most of the employee recruits by newspaper ads. Some time SAG recruit as an intern:
| | |
| --- | --- |
| External Recruitment | Number of Employee |
| Newspaper Ads | 15 (2008) |
| Employee agencies | 5 (2008) |
| Internet Ads | 25 (2007 by bdjobs) |
Table 3.5 External Recruitment System 
*Last year 82 employee Sack from SAG for the poor economical condition.
3.9 Alternative to Recruitment:  SAG some time follow alternative recruitment, those are given below:
3.9.1 Employee Leasing:
Hiring a permanent employee from other organization for a special work that's called employee leasing. It's normally done by Shamsul Alamin Real Estate, when they need to design a project.
Employee Leasing in 2008 in the Shamsul Alamin Real Estate (SARE):
| | | |
| --- | --- | --- |
| No. Employee | Name of Company | Duration |
| 2 | Asset Development & Construction Limited. | For Nine Month |
 Table 3.6: Employee Leasing
3.9.2 Sub Contracting:
SAG may go for sub contract when they need a large number of manpower for a short term project. Garments of Shamsul Alamin Group did its i.e. last month done this type of contract by garments.
| | | |
| --- | --- | --- |
| No. Employee | Name of Company | Duration |
| 235 | Abul Khare Agency | For Two & half Month |
Table 3.7: Employee Sub Contracting
3.10 Selection:
Selection is a process that screening employee from a large number of applicant.
3.10.1 Preparation:
Some preparation get by  interview, such as what type of question asked to the applicant , received, the resume, weakness, strength , properly received and bed into the interview room.
3.10.2 Information exchange:
In these steps, interviewer is exchange information with the applicant and asks some question.
3.10.3 Termination and evaluation:
If the interview cannot happy the interviewer are the interviewer doesn't agree with interviewer. On the other hand an applicant can evaluate when she agree with interviewer also respect with the organization rules, regulation
3.10.4 Orientation:
Orientation program arrange for officer by SAG. Here new employee are know what the rules, regulations, culture and also some member who are hold some vital position of the organization. In the orientation new employee can learn "Do's" and Don't."
3.11 Learning:
Learning is nothing but its rules, regulation of an organization. Shamsul Alamin Group follow procedure that's are given below,
3.11.1 Prearrival Stage:
Prearrival Stage that the stage starts from an application to orientation program. After accept the applicant as an employee s/he invites for the orientation program that arranges by SAG. Here the employee can instill the kind of attitude, who outcomes to expect in a business career etc.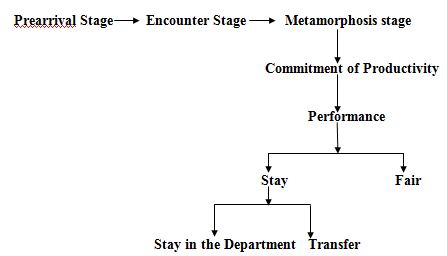 3.11.2 Encounter Stage:
In this stage employee can match their expectation and employee can match their expectation and reality, normally the different large between expectation and reality.
3.11.3 Metamorphosis stage:
It's the last stage that includes commitment of productivity, rule, stay or fair from the organization and also turns over from the organization. After they committed about their performance and their performance evaluated by some one. If the management happy by an employee performance s/he can stay or other wise fair from the organization. If s/he stay can stay in the same position of turnover in the other department.
3.12 Training and Development:
Training is nothing it's a method to increase the skill of an employee for doing a particular job. Development is like the training, but training is present day oriented and development on for future oriented.
3.12.1 Training Method:
Several type of training method has, but SAG follows only method. That method divided into two. One is on-the–job training method and other is off-the job training methods, which are given below:
On-the-job training method: On-the-job training method refers that employee gets the training under the same environment where he has to work.
Coaching: This type method normally practices by supervisor about the knowledge and skill of the job to a subordinate. This type of method SAG doesn't arrange but some of the senior employee done this.
Rotation: SAG follows this method by transfer one unit to other unit of employee.
Special meeting of the staff: Normally this type of meeting arrange by manager with his/her subordinate. Daily, weekly or monthly work schedule significance of the meeting.
Off-the-job training method: Off-the-job training means an employee can get training out side of his/her work station. It is done by SAG for employee can give the fully concentrate on training program. Only two types of "off-the-job training method" follow by SAG.
Vestibule Method: Under this method training is provided in a room where the actual working situation is created. Its normally done in the garments sector of SAG
Conference and Seminars: Conference or seminars done in the head office, it's only for top level officer. In the day of seminar or conference employees are come in the head office to attain the program. In the method also include performing the case study.
3.13 Performance Appraisal (PA):
Procedure of manager use to compare an individual's job performance to the standard or objective establish for his or her job. Some process PA, which are given below: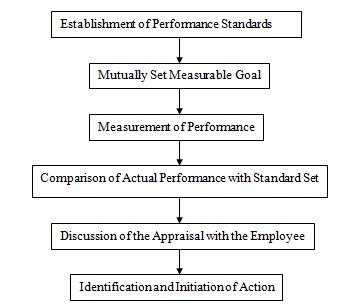 In the SAG at the management level, they decide a performance level, then management talking with employee and mutually set the performance level. After performing of employee, management is compare with the actual and standard level of performance. Finally they take action; if need.
3.14 Method of Performance Appraisal using Relative Standard:
Some time SAG comparison that means relative standard, it's divided into two; which are given below:
3.15.1 Group Ordering Ranking:
Compare between two or more group, which may inter unit or intra unit competition. After every six month that comparison make between sales team and customer care, between production unit and sales team, it also between two unit.
3.15.2 Individual Ranking:
Individual ranking is a process that depends on performance, every month SAG makes a list higher performance to lower performance. That competition between two individual persons with in team or department i.e. sales team, customer care, purchase department, promotion department.
3.16 Motivation Function of SAG:
Motivation is the set of forces that cause people to behave in certain ways. Motivation is not just what employee exhibits, but a collection of environmental issue surrounding the job. It has been proposed that one's performance in an organization is a function of the factors. One is ability and another is willingness to do the job. Motivation is the willingness to do something and is conditioned by this action's to satisfy same need for the individual. According to L.A. Allen "Motivation is the work of manager who performs to inspire, encourage and impel people to take required action."
SAG given motivation by goal-oriented, continuous, and non-monetary.
3.17 Reward:
Organization provides rewards that can serve as positive reinforcement to desired behavior. Organizational rewards can affect attitudes, behaviors and motivation. Thus, it is important for managers to understand and appreciate clearly their importance. SAG also considers reward for positively change attitudes, behavior motivation and also respects rules, regulation. SAG use following reward system for their employees:
3.17.1 Intrinsic Reward:
Intrinsic Rewards are the personal satisfactions one gets from the job itself. These satisfactions are self-imitated rewards. Intrinsic reward include feeling good , about accomplishing an objective, participate in decision making, diversity of activity, greater job freedom and discretion, opportunities for personnel growth or about being able to make job-related decisions without consulting a supervisor.
3.17.2 Extrinsic Reward:
Reward external to the work itself and administered by some one else. Extrinsic reward includes money, promotions, recognition.
3.17.3 Financial Reward: 
Financial Rewards may or not enhance the employee's the financial well being. If they do, they can do this directly through:
1        Wages
2        Bonuses
3        Profit sharing
4        Paid vacation
5        Paid leaves
3.17.4 Non-financial Rewards:
Non-financial reward covers a smorgasbord of desirable extras that are potentially at the disposal of the organization. Their common link is that they do not directly increase the employee's financial position. Non-financial reward includes:
1        Own security.
2       Preferred office furnishing
3.18: Reward System of SAG: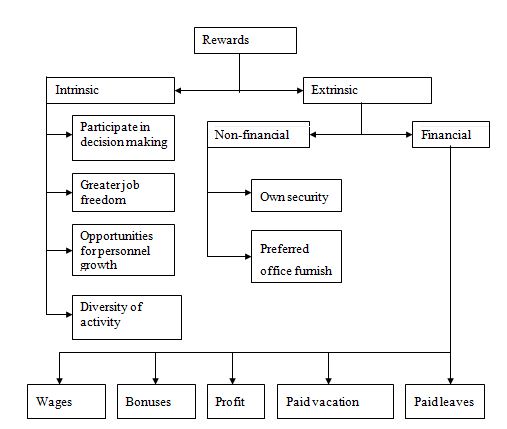 3.19 Payment System: Payment system include in several part their as follows;
            3.19.1 Salary: Salary that payment on monthly its start from Tk 6000.00 to Tk100000.00. Every year it increases Tk 1500.00 to Tk 20000.00.
   Salary Structure:
Basic + House Rent (Basic 30%) + Medical Allowance = Gross Wages.
According to the employee's position they get attendance bonus. It may be 100.00 to 300.00 taka.
This wages structure also applies for administrative worker like security guard, cleaner and loader.
3.19.2 Incentive System:
Incentive that given on sales or on production. That divided into three that are given below;
Piece Work: Piece work is an incentive system that consequence the worker for each unit of output. It's determined the how much effective and efficient. Normally this payment system follows by SAG. Its payment daily or weekly.
| | |
| --- | --- |
| No. of Employee Gets | Total Money |
| 53 | 53*525 = 27,825 |
 Table 3.10: Incentive System on Piece Word
Commission: Shumsul Alamin Real Estate only given the commission on sells. Commission depends on the flat size for commission. Commission star from 10000 up to 100000 per flat sells.
| | |
| --- | --- |
| No. of Employee Gets | Total Money |
| 3 | 5,00,000 |
 Table 3.11: Incentive System on Commission
Production Bonus: Production bonus are incentive paid to worker for exceeding output than goals. When an employee exceeds the target of production then s/he that type of bonus earns. These bonuses also give by only garments.
| | |
| --- | --- |
| No. of Employee Gets | Total Money |
| 83 | 83*1157 = 96,031 |
Table 3.12: Incentive System on Production Bonus
3.19.3 Fringe Benefits: The form fringe benefit refers to the extra benefits provided to employee in addition to the normal compensation paid of wage or salary. The fringe benefits offered by various organizations of various forms. SAG follows two of that are given below.
  Paid Holiday: According to the factories Act. An adult worker shall have weekly paid holiday, preferably Friday. This type of payment given by garments of SAG.
 Shift Premium: Garments of SAG operating second third shift, pay a premium to the workers who are requiring to worker during the odd hours shift. Second and third shift start from 5 p.m. to 9 a.m. For those shift SAG gives (Normal Salary*1.2=Shifting Salary), but the Labour Act 2006 refers (Normal Salary*1.5=Shifting Salary)
   Vocation System: SAG has Vacation system. Worker who are work in manufacturing, mining and plantation worked for240 days, adult are gets 1 day salary for every 20days, children are gets 1 days salary for every 15 days.
3.20 Work Place Environment:
Environment is an important factor to get best performance from all employees. SAG strictly maintains healthy & hygienic provisions as per ILO and Bangladesh labor laws & regulation. SAG ensures required working space for movement for performing operations smoothly; they also provide a safe, well ventilated and healthy environment. There are proper and sufficient arrangements for clean dining room safe drinking water, Hygienic toilets & Personal Safety arrangements.
3.20.1 Safety:
Regarding work place safety, they take maximum precautions against fire, mechanical and chemical hazards. There are clearly remarkable evacuation zones and routes to be used in emergencies along with fire safety equipments like fire hydrants, smoke and fire detectors, Adequate all types fire extinguishers, gas mask, lock cutter, etc.
3.20.2 Medical & Daycare Center:
At SAG, they recognize the importance of physical and mental well being of their workforce, as it's vital for efficiency and productivity. There's adequate arrangement of medical facilities for employees in each of the manufacturing units. Workers get treatment and medicine free of charge. There are adequate number of full-time doctors and professional paramedics to attend to medical emergencies and health complaints of the workers. There's also adequate arrangement of day care centers. They are well equipped with clean, dry bedding and toys. Hygienic food is also provided to the workers children free of charge.
3.21 Attendance System of SAG:
All organization has a system for attendance so SAG also has. The entry time of SAG at 9:20 a.m. every employee must have card punching with in 9.20 a.m.
Leave System of SAG 10 days for Casual Leave (CL), 14 days of Seek Leave (SL), and 12 days of Earn Leave (EL). An employee can gets earn leave after 1 year of joining. Maternity leave with pay 3 months and additional 6 months leave without pay.
3.22 Disciplinary action of SAG:
Discipline generally follows a typical sequence of four steps: oral warning, written warning, suspension and dismissal. Two additional steps follows by SAG determine and pay cuts;
3.22.1 Oral Warning: Oral warning normally given by supervisor. This type of warning completed in private and informal environment.
3.22.2 Written Warning: It is the step after the oral warning it's the warning given by management to an employee as formally i.e. warning with documents.
3.22.3 Suspension: When an employee doesn't respect with the Sag's rules and regulation. Then the SAG fairs the employee. Usually it occurs in garments sector.
3.22.4 Demotion: When an employee can't perform his/her job then SAG decries his/her position.
3.22.5 Dismissal: Punishment is dismissing the problem of employee. Dismissal should be used only for the must serious offenses. A dismissed employee is devoid of all service benefit, fine and also fair from the organization. For this types of employee very tuff to find of any jobs.  For example, an employee of SAG was stolen Tk.75 lac, and then he punished by dismissal rules.
3.23 Relationship between employee, employee-customer:
The relationship between employee- employees is well. But some time little disputes occur that their personal conflict. Also focus as a customer then some problem occur, because of SAG doesn't payment on due time.
3.24 Compliance and Human Recourse Department:
The company is very much aware of the compliance requirements of the buyers. They always give preference to protect the buyer's brand by preventing child labor, abuse, force, employment etc.
Adequate working area.
Well ventilated and lighted.
 Provision of hygienic toilet facilities.
Adequate supply of filtered drinking water.
Adequate fire equipment is provided in all working areas.
Adequate safety exits are provided.
SAG believes that workers are the supreme force to create something so they always pay them the maximum as they can. SAG maintains the Local labor laws, rules and regulations for payment of wages as well as they provide other facilities to prevent labor turnover.
To keep pace with ever-changing global market demand and make the best use of updated technologies, continued training is essential for an organizations competitive existence.
In its plight for achieving highest standard, the group regularly arranges training on skill.
SAG have achieved RMG certificate and maintaining its all principles to uphold the rights of workers. Shamsul Alamin Group, has a meaningful composition of line and stuff level management as well as blue and while collar workers.
Internship Duties and Position
I have already discussed that SAG is a sister concerning and I worked in Fashions Ltd. I have worked there three months as an internee for the requirement of the internship phase of BBA program under the department of Business Administration of NUB. My respective supervisor Professor Mustafa Kamal has provided me a topic "Human Resources Management Practices of Shamsul Alamin Group." In the internship period I have worked under a Human Resource Manager & HR Officer and I observed his different types of activities. I also observed compliance.
In this organization there are four HRD functions. Those are Acquisition function, Development function, Motivation function and Maintenance function of HRD. Actuation function of HRD includes planning, recruiting, selection and socialization. Human resource planning is the process by which an organization ensures that it has the right number and kinds of people, at the right places, at the right time capable of effectively and efficiency completing those tasks that will help the organization to achieve its overall objectives.
SWOT Analysis of SAG:
SWOT analysis is one of the most important steps in formulating strategy. Using the organization's mission as a context, managers assess internal strengths and weaknesses as well as external opportunities that exploit opportunities and strengths, neutralize threats and weaknesses.
Strengths:
Organization Strengths as skills and capabilities that enable an organization to convince of and implement its strategies. Here we discuss strengths of SAG. These are given bellow:
1        Manager and staffs of SAG are experienced.
2        The Company has a strong base of potential customer sustain in the completive market.
3        SAG has independent marketing and merchandising control unit. Each merchandiser is assign to specific customer account to follow up right from the sampling stage of export shipment.
4        SAG ensured the quality of the products and production in time.
5        SAG is very much serious about the shipment of their products.
Weaknesses:
Organizational weaknesses are skills and capabilities that do not enable an organization to choose and important strategies that support its missions. Weaknesses of SAG are given bellow.
1        Employee turnover exists because of the availability of job in garments and buying house.
2        Worker turnover exists because of miss behave from their boss.
Opportunities:
Organizational opportunity is areas in the environment that, if exploited, may generate higher performance. Opportunities of SAG are given bellow:
1        This garment is situated at Tongi which is renowned as a commercial area and this area could be an opportunity for this organization.
2        SAG has emphasized on market segmentation in order son regular basis. Through segmenting market in the existing market share, the company can gain potential market opportunities.
3        Transportation system of Bangladesh is improving and SAG situated near in air port so it is great opportunity for the company.
4        As garment sector earns high amount of foreign currency, the government encourages this sector to explore. So it is also an opportunity.
Threats:
Organizational threats are area in the environment the increase the difficulty of an organization performing at a higher level. Threats of SAG are given bellow:
1        Day by day technologies are changing and to adopt those technologies are big threats because it require s larges amount of investment.
2        Employees are generally afraid of new technologies.
3        Because of Globalization competitors are increasing rapidly worldwide.
4        Foreign buyers get afraid of placing order in Bangladesh because of political environment.
5        Inflation rate is high in our country that caused the economic condition disturb to the country.
Learning points
During my interim period I have learned the following things. In Garment industry they are many things involved which are not easy to understand within three months.
In my internship period I know SAG's recruitment procedure.
In case of fire I know how to motivate the management.
Most of the garments related machine is now familiar to me. Such as; two nidle, Kansi, feed back, threat checker, bar tack, snap button etc.
According to Labour Law Act 2006 I have learn the Earn Leave Policy
I have made idea about Compliance.
 I know how to provide maternity benefits.
 I know what is the difference between Sewing Iron-man and Finishing Iron-man?
I have learned how to make break down of salary.
Major findings of the study
1        According to "Labor Law Act 2006" organization should emphasize    on equal pay opportunity. But they don't maintain this law.
2        According to the literature review orientation is required from joining day of the  workers but they are not maintaining this due to lack of time and huge work load
3        They don't provide off the job training. According to the literature it is essential.
4        No long time training program system in SAG. Long- term training program is always  essential to learn a thing properly
5        Sometime I found the employee come through references and management face new and new problem.
6        The organization hasn't any trade union.
7        They have communication facilities for employees.
8        There are using modem technology for garments factory. Example Korme Software, Warless, CC camera and production related machines.
9        They provide Hajj facilities by lottery.
10    The organization have human resource management department.
11    Eight hours medical service for the worker.
12    . In the floor, worker is safe because their security is strong.
13    Group Insurance policy is followed by SAG.
14    The organization is maintaining factory act 1994.
15    Because of attendance bonus workers are very much sincere about attendance.
16    They recruit technologically sound people for their future projects.
17    The organization has motivated the different personnel and provides different facilities to get best effort from them.
Recommendation
1        Organization should emphasize on equal pay opportunity.
2        They should arrange the orientation program from joining day of the worker it will help worker to know quickly about the organization.
3        They can arrange off the training program because it is essential for more skilled.
4        The employee's job should be secured.
5        There is no long time training program system in SAG. Long- term training program should have in SAG.
6        Theoretically employee referral is acceptable but I think organization. Should judge properly before recruit them
7        SAG can enhance their employee skill & ability by partnership with reputed training institute.
8        More training should have provided for the employees.
9        SAG always tries to uses the best equipment for their garments infrastructure but they have to concentrate to procure better equipment.
10    SAG can proper utilize the intern & rearrange their internship program, So that this fresh graduate can do various role of the company.
11    The company should provide equal employment opportunity.
12    The organization should introduce sufficient computer facilities for every department
Conclusion
Human Resource Management system is gradually developing all over the world. In Bangladesh the HRM concept is also developing and the organizations re-shuffling the existing HRM system. In this perspective the SAG is also trying to follow human resource management and regulate the human resource planning in its operation. At present every organization is trying to setup a separate HRM department in organizations, as buyers and global consumers are concern. In this regard SAG is also trying to follow the HRM system of mentioned famous organizations like HERMAN MILLER, SEARS, QUANTUM, and etc. In the SAG there is no off the job training system, they don't provide equal employment payment and opportunity, sometime they don't provide orientation program for the worker in the first day of work , more over they   have shortage of computer. SAG doesn't provide long term training program and the workers job are not secured. But their maternity benefit policy is strong. Their overall activity is nice but if they follow the Labor Law Act 2006 then they can avoid their lacking and become a real HRM organization.