2.11 FINANCIAL PERFORMANCE OF EBL
2.11.1 Financial Performance of the Bank: (For the year 2007)
Eastern Bank Limited has made a staggering 37.72 percent growth in Operating Profit in 2007 to BDT 1,870.40 million largely backed by a quantum growth (96 percent) of Net Interest Income (NII). Further analysis of Operating Profit 2007 reveals that EBL has been able to arrest the falling trend of Net Interest Income (NII) successfully in 2007 by managing balance sheet properly. This improvement once again reinforces the fact that EBL is clearly on the right track of solidifying its growth potential despite having lower fees income than expected. An usual growth of investment income (By 10.38 percent over 2006) to the tune of BDT 506.85 million and a comfortable growth of other operating income (By 26.59 percent over 2006) to the tune of BDT 365.92 million have outweighed the apparent shrinkage (negative growth) of Brokerage and Commission Income (By 8.13 percent in 2007) and incidental increase of operating expenses. Provision for loans and advances has increased by 161 percent in 2007 (BDT 584.74 M vs. 223.71 M) causing a negative growth of Profit after Tax by 18.33 percent to 419.14 M from 513.20 M in 2006 although Profit before Tax grew by 13.33 percent in 2007. Therefore Earning per Share (EPS) dropped to BDT 40.50 in 2007 against BDT 49.58 in 2006. Return on Assets and Return on Equity were 1.07 percent (1.62 percent in 2006) and 11.93 percent (16.07 percent in 2006) respectively. The bank has already identified the causes of default in payment by some of its major customers that contributed a huge jump in our specific provision expense during 2007. Active measures have been taken to recover the money as well as prevent new classification or downgrading in 2008. In the year ended December 31, 2007 the Board has recommended a stock dividend of 34% as compared to cash dividend @ 20% and a stock dividend @ 25% for the year 2006 and a Rights Issue @ 2:1 at par (One share for two existing shares held).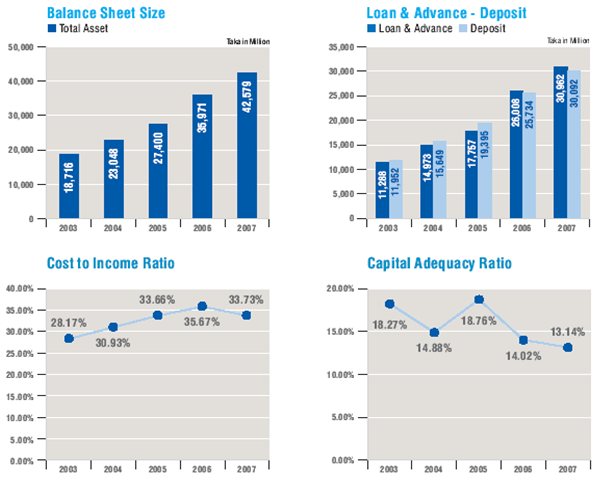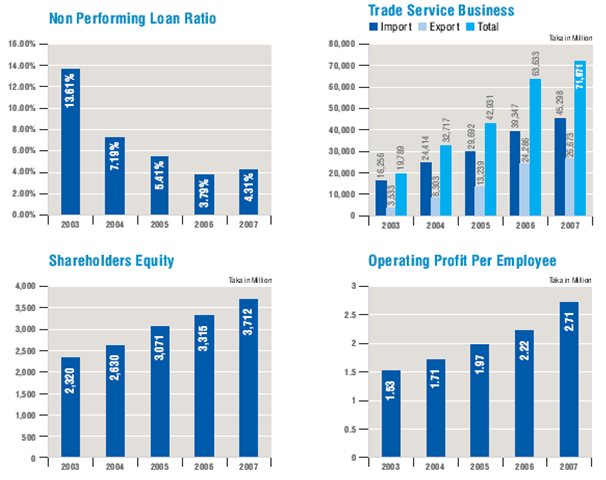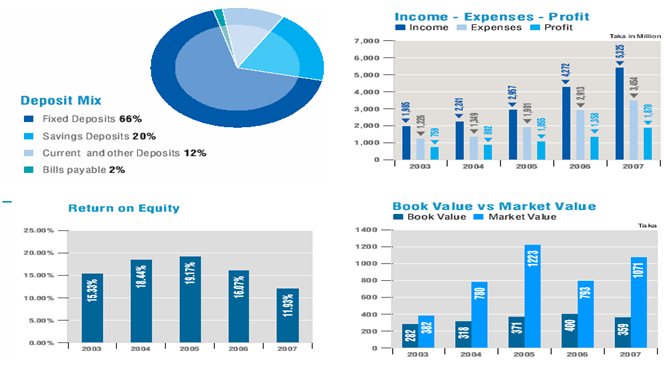 2.11.2 Financial Performance of the Bank: (As on June 2008)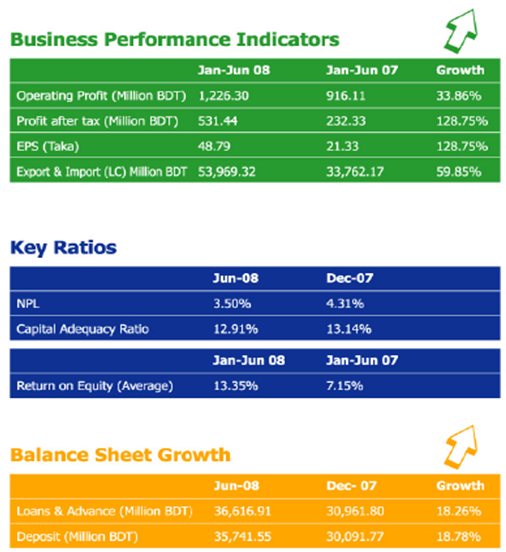 From the above table it is seen that up to June 2008, the operating profit for EBL has increased from the previous year which is 33.86% and the profit after tax for EBL is BDT 531.44 million. In the year 2007 after tax profit was BDT 232.33 million which has increased in a greater extent for the year 2008. Beside Earnings per Share (EPS) has also increased from TK. 21.33 to Tk48.79. This clearly indicates the growing performance of EBL during 2008.
Nonperforming loan of EBL has been decreased from 4.31% to 3.50% which is a very good indication of the financial performance of EBL for the year 2008. The Return on Equity (ROE) has increased from 7.15% to 13.35%.
In the year 2008 (up to June 30), EBL experienced an excellent growth in its balance sheet. The total amount of loans and advances has increased from BDT 30,961.80 million to BDT 36,616.91 million. The total amount of deposit has increased from BDT 30,091.77 million to 35,741.55 million.
2.12 DEPARTMENTS AND DIVISIONS OF EBL
| | | |
| --- | --- | --- |
| Human Resources Division | Internal Control & Compliance Division | IT |
| Corporate Banking | Finance and Accounts | CRM |
| Consumer Banking | Treasury Department | CAD |
| SME Banking | Brand Management Division | Operations |
| International Division | | |
2.13 EXISTING SERVICES RENDERED BY THE BANK
2.13.1 Consumer Banking Products:
2.13.1.1 Loan Products:
EBL Jibandhara Loan: EBL Jibandhara Loan is an unsecured loan facility. Loan amount ranges from BDT 50,000 to BDT 1,000,000 at an attractive interest rate.
EBL Utshab Loan: Utshab Loan is a short-term festival loan facility. Loan amount ranges from BDT 50,000 to BDT 1, 50,000 and repayable in 12-36 installments.
Fast Cash: A secured loan facility against security deposit. It is a revolving credit facility and interest is charged on drawn amount.
Fast Loan: An EMI based loan secured loan facility for any emergency cash need. Any individual having an FD or other securities like Wage Earner's Bond, lCB unit certificate etc. can avail this short term personal loan with 12 – 36 months repayment period.
EBL Executive Loan: Any purpose loan facility for Salaried Executives (both private sector and government service). Loan amount ranging from minimum BDT 50,000 to maximum BDT 1,000,000 and the interest rate is highly competitive.
EBL Auto Loan: EBL Auto Loan is an EMI based loan facility for the purpose of purchasing cars. Loan amount ranges from BDT 350,000 to BDT 2,000,000.
EBL Travel Loan: Available in secured and unsecured versions, EBL Travel Loan offers EMI based loan facility for meeting the travel related financial needs. Loan amount ranges from Tk 50,000 to Tk 500,000.
EBL Education Finance Pack: EBL Education Finance Pack comprises of three unique products – EduLoan Secured, EduLoan Unsecured and EduLine. This pack is designed to meet any type of education financial need of a student. Any creditworthy person can avail the loan for his/her children or for him/herself Loan amount is maximum BDT 10, 00,000 or 95% of the cash security value.
EBL Parseloan: Partial Secured Loan facility for the individuals where one can take loan up to BDT 10, 00,000 by providing 30% or 50% cash security. Loan interest rate is highly competitive and can be repayable in maximum 60 months.
EBL Just Double: At EBL, opportunities are as simple. Hook your possibilities with us and our new deposit scheme, EBL Just Double. The amount of your deposit with us today gets double in just six years.
2.13.1.2 Deposit Products:
EBLInteresting: A savings account where interest is calculated on daily basis and credited to the account on monthly basis.
EBL Campus Account: This is interest bearing savings account for the students.
EBL High Performance Account: Daily interest bearing product with unlimited cash withdrawal facility. Minimum balance requirement Tk 20,000 and interest is credited into account twice a year.
EBL Repeat: Monthly interest payable fixed deposit scheme with 1-3 years tenure.
EBL Confidence: It is an annuity based deposit scheme with monthly installment, not exceeding Tk.20, 000 per month.
2.13.1.3 Card Products:
EBL Simple Credit Card: EBL Simple Credit Card is a complete Credit Card solution. This VISA branded card comes in gold and dual versions with both local and dual currency facility. Other than regular card features, EBL Simple Credit Card offers zero renewal fee, double insurance benefit, free cheque book and balance transfer options.
EBL Lifestyle Card: A VISA branded local currency prepaid card that can be used at any VISA POS or ATM countrywide A very popular product among the student segment.
EBL Cool Card: This is a VISA Electron Debit Card for the student banking accounts.
EBL Hajj Card: This is a VISA Prepaid Card valid only in Saudi Arabia. This card frees one from the hassles of carrying foreign currency during Hajj.
2.13.2 SME Banking Products:
2.13.2.1 Loan Products:
EBL Agrim: This is a short-term unsecured loan facility to meet immediate fund requirement for any business concern.. Loan amount ranges from Tk. 200,000 to Tk 9,50,000 with single shot repayment at the end of 1 to 6 months tenure.
EBL Uddog: EBL Uddog is intended to finance business expansion with 50% of the loan amount in the form of fixed deposit as security. Loan amount ranges from Tk 600,000 to Tk 5,000,000 with monthly installment based repayment within maximum 60 months' tenure
EBL Asha: This loan is intended to meet immediate business fund requirement. Loan amount ranges from Tk 200,000 lo Tk 1,000,000 and monthly installment can be payable within maximum 24 months' tenure'
EBL Puji: It is a long- term loan for capital investment under collateral security. Loan amount ranges from Tk 5, 00,000 to Tk. 50, 00,000 and the loan can be repaid within 36 months.
EBL Bannijyo: Credit facility up to BDT 20,000,000 to any legitimate import business with Nil margin LC facility. 30%-40% of total limit in the form of FD as collateral required. Monthly installment based repayment facility available.
EBL Mukti: This is an unsecured loan facility is for the women entrepreneurs. Loan amount is maximum Tk. 300.000 and can be repaid in 36 installments.
2.13.2.2 Deposit Products
EBL Subidha: A daily interest bearing deposit account for SME entrepreneurs
O2.13.3 Other Services:
Corporate Banking: EBL Corporate Banking is the strongest unit of the Bank where customized corporate banking solution is offered to the local and MNC corporate; highly efficient corporate team backed by cutting-edge technology and determination to serve the customers who are the driving force behind the success of the EBL Corporate banking division.
Internet Banking: EBL Internet banking application addresses the needs of small, individual and corporate account holders of the bank. This application provides a comprehensive range of banking services such as Account Operations and Inquiries, Fund Transfers and Payments, Utility Bill Payment, Deposits, Loans, Inquiries and other services and a Session Summary.
NRB Banking: EBL offers full range money transfer facility through MoneyGram, UAE Exchange and other exchange houses from anywhere in the world
Student Banking: Other than education loans and student accounts – EBL offers students file services for the students who seek to study abroad through its dedicated student centers at Gulshan and Dhanmondi.
Hajj Remittance service: EBL's Hajj Remittance service provides convenient, secure and reliable money transfers during pilgrimage in Mecca, Madina and Jeddah for EBL account holders. Service includes handling Foreign Demand Drafts (FDDs) and Foreign Telegraphic Transfers (FTTS) in Saudi Arabian in local currency.
2.14 SWOT analysis of EBL
2.14.1 Strengths
Open HR Manual: the HR Manual is open for all the employee of EBL which gives them overall understanding of the terms and conditions of the organization. This HR Manual is uploaded in the internal website of EBL.
Strong Bonding and Belongingness: The employees of EBL have a strong sense of commitment towards organization and also feel proud and a sense of belongingness toward EBL.
Duty Doctor: Recently EBL has appointed a duty doctor to ensure the good fitness for all the employees.
Centralized Banking: Centralized banking means the core functions of business coordinated by the head office give an immense effect for reducing the internal conflicts among the branches and Head Office
2.14.2 Weaknesses
Job Description: Job description in EBL has not been yet organized.
HR Accounting: HR Accounting has not yet been established by EBL which is a strong tool for matching the benefits of each new recruitment, calculating turnover, etc.
Compensation and Benefits: Compensation and Benefits is provided by EBL through two different software named EZHR and Flexcube which are rigid to use and have some limitations.
2.14.3 Opportunities
MIS: HRD of EBL has established new MIS and using it in various manpower reporting.
HRIS: Human Resources Information System is going to broaden very soon by EBL.
Salary Survey: EBL is going to conduct a salary survey in the year 2009.
Learning & Development:  EBL is going to utilize its fullest capacity of learning and development program by establishing a library, arranging extensive training module very soon.
2.14.4 Threats
Competitive Salary: The salary package of EBL is not as competitive as the market demands,
Frequent Employee Turnover: so the turnover rate of EBL is increasing day by day.
2.15 POINT OF DIFFERENCE (POD) FOR EBL
2.15.1 Fully Centralized Banking
EBL offers fully centralized banking facility for its customers which are very few in other organizations in the banking industry. Centralized banking means all the core activities of the bank will be performed through the Head Office. This helps EBL to control all the branches swiftly and create transparency in all the activities of it.
2.15.2 Performance Driven Career Development
EBL has an excellent opportunity in terms of career advancement which is totally performance oriented for the employees that distinguishes itself from other organizations. In other banking organizations employees have to wait for a certain period of time for the promotion whereas in EBL anyone can be promoted to the higher level based on his/her outstanding performance.
2.15.3 Open Door Environment
The working environment and the relationship with the colleagues and supervisors in EBL          are very friendly, sound and conducive. There is no relationship gap between the entry level employees to the top level management. Everyone has the opportunity to express their opinion frankly to the top level management event to the Managing Director. This has provided EBL an extra advantage to perform the job in a friendly environment.
3.0 What is Retention Management Program?
A comprehensive retention management program must be built on accurate information about why people are leaving a particular organization. In the absence of such information, wrong conclusions may be drawn about the causes of departure and ineffective means to combat it adopted.
3.1 Why Retention Management Program?
Retention management strategy is quite necessary for any organization with a view to reducing the frequent employee turnover rateand to motivate the existing employees to be more goal-oriented. If the employee turnover rate is very frequent in any organization, it faces some problems as the duties and responsibilities of the departed employees go to the subordinates creating extra work pressure for them. Beside this an organization losses some training amount invested for the departed employee as well as the overall company reputation decreases with employee resignation. To hire and recruit a new employee is time consuming and costs the company money. So, in order to reduce the above problems and motivate the existing employees to achieve their goals, the need of an effective retention management program for any kind of organization is quiet important.
3.2 Features of EFFECTIVE Retention Management Program
Benchmark data on retention performance, retention programs, and other HR practices in the organization and successful firms in the same industry or labor market.
Goal setting for retention-what is the target rate for each job or department? Not all departures are preventable by the organization. Some flow from external events such as the transfer of a spouse, illness, an opportunity too good to pass up, or a decision to change lifestyle.
A means of holding managers accountable for the retention of their staff. In addition to goals, this may include adding retention measures to their performance appraisal criteria and bonus formula.
Many opportunities for challenging works, learning and growth. These can be provided through job rotation, secondments, special projects, lateral transfers, mentoring, career planning, promotions and so forth.
Effective performance-contingent rewards and recognition and frequent and honest performance feedback to satisfy employees' desire for information and appreciation.
An innovative and competitive compensation system. Both fairness and amount of pay are important, though bear in mind that pay is not usually the only reason people leave.
Flexibility in addressing special employee requests for job characteristics as well as work time and mode.
Family-friendly policies such as emergency child care, flextime, leaves of absence, and so on if family responsibilities are salient cause of departures.
3.3 WHAT IS MEANT BY TURNOVER?
Voluntary turnover is a common scenario in any organization now-a-days. Various factors are responsible for frequent turnover in an organization including job satisfaction and dissatisfaction. Higher job satisfaction is associated with lower employee turnover, which is the proportion of the employees leaving an organization during a given time period (usually one year). The more satisfied employees are less likely to go through a progressive process in which they think about quitting or announce their intention to quit. Thus they are more likely to stay with their employer longer. Similarly those employees who have lower satisfaction usually have higher rates of turnover. They may lack self-fulfillment, receive little recognition on the job, or experience continual conflicts with a supervisor or peer, or they may have reached a personal plateau in their career. As a result they are more likely to seek greener pastures elsewhere and leave their employers, while their more satisfied associates remain.
Employee turnover can have several negative consequences, especially if the turnover rate is high. Often it is difficult to replace the departed employees, and the direct and indirect costs to the organization of replacing workers are expensive. The remaining employees may be demoralized from the loss of valued coworkers, and both work and social patterns may be disrupted until replacements are found. Also the organization's reputation in the community may suffer.
However, some benefits may arise from turnover, such as more opportunities for internal promotion and the infusion of expertise from newly hired employees. In other words turnover may have functional effects.
There are different reasons for employee turnover in an organization. An employee may voluntarily resign from his/her current position due to better job offer from other employer in terms of better career advancement opportunity and better compensation packages or an employee may quit because of higher study, leaving for abroad as permanent immigrant, personal reasons etc. Beside this an employee may be terminated, discharged or dismissed from his/her current designation based on different variables.
3.4 Causes of Voluntary Turnover
Because of two classes of variables an employee quit his/her current organization. The variables are:
3.4.1      External Factors
External Factors include the unemployment rate and employee's perceptions of the external job opportunities available to them. Turnover is higher when unemployment in the labor market is low, so that alternative employment appears readily available to job leavers.
3.4.2      Internal Factors
Internal Factors are usually based on the employee's attitudes or perceptions with respect to the current job. The job satisfaction of an employee and organizational commitment are usually significant predictors of a decision to quit, with leavers being less satisfied and less committed than stayers. Employees are also more likely to leave if they believe that the organization treats them unfairly; if they have a poor relationship with their manager; if job requirements are conflicting, unclear or stressful; or if opportunities for growth, skill development, and promotion are lacking. If there is lack of great work environment and flexibility in working hours and dress code. Beside these an employee may leave the organization if they do not find no excitement and challenge to perform the job and think that they are not being recognized for their contributions or not being treated as a part of team. Uncertainty regarding job security and inequality in pay and benefits also lead an employee to left his/her existing organization.
3.5   How do Employees Decide to Quit? / Traditional Model of    Deciding to Quit
Traditionally an employee decides to quit an organization whenever he/she experiences job dissatisfaction with the current job responsibilities or work environment or bad relationship with the supervisor. This feeling of discomfort leads an employee to search for better alternatives in terms of better compensation and better career advancement. After assessing the alternatives if it is found superior against the current job, an employee finally decides to quit from his/her current job. This can be easily understood from the following flow chart: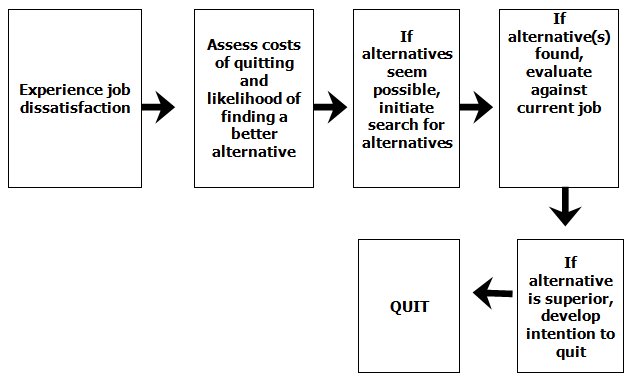 3.6 Costs and Benefits of Voluntary Turnover
3.6.1 Costs of Turnover
3.6.1.1 Exit Costs
Farewell parties on work time
Administrative time to process final pay, close retirement accounts etc.
3.6.1.2 Replacement Costs
Recruitment Advertising
Selection testing, Interviewing, Reference checking
Hiring bonuses, Relocation costs
New employee orientation
Administrative costs to add to payroll enroll in benefits, etc.
Formal training
Informal mentoring and coaching of new employees by supervisors
3.6.1.3 Other Costs:
Lost business due to client loyalty to departing employees
Lost business or poor quality due to short staffing before replacement, or lower skills before new hires are up to speed.
Expenses of hiring temporaries or paying overtime while awaiting replacements.
Reduced morale of those remaining, increased stress on those remaining while short staffed or breaking in replacements.
Reduction in company's reputation as an employer when many staff choose to leave; reduced ability to recruit in the labor market.
Inability to pursue growth or other business opportunities due to lack of staff.
Loss of training amount invested in departing employee.
3.6.2 Benefits of Turnover
Poor performers may choose to leave and can be replaced with better employees.
Leavers are replaced with more junior employees who cost less.
Morale improves following departure of problematic employees.
Leavers are replaced with people with more up-to-date technical skill.
Vacancies are created to allow for internal promotions of other employees, thus increasing their career satisfaction and motivation.
Receptiveness to innovation and change may increase.
Voluntary turnover is less painful than retrenchments. 
3.7 Resignation Process in EBL
A confirmed employee may resign from the services of the bank giving 3 (three) months' notice in writing through a proper channel or 3 (three) months' basic salary in lieu thereof. The Management may also ask to resign an employee giving him/her a 3 (Three) months' notice or 3 months' basic salary in lieu.
Any Partial or full waiver of notice period will be at the discretion of the Managing Director.
4.0 Current Scenario of Employee RETENTION IN EBL (IN 2008)
Eastern Bank Ltd. is a second generation bank providing all kinds of banking services to its customers. The bank has different categories of loan and deposit, cards, SME products and other products and services to serve its huge number of clients. There are different departments and divisions in EBL for which a careful HR planning is needed to recruit the best qualified employee for the job and retain them in the long-run for the constant profitability and growth of the organization. Employee retention is necessary because frequent job switching creates some problems for every organization as well as reduces the company reputation. In the year 2008 EBL experienced a considerable percentage of job switching that grabbed the attention of the Management Committee to focus on the current retention strategy of EBL.
In January 1, 2008 EBL had a total number of 1190 employees. Among the total number of employees 690 employees had been working as permanent employee and 500 employees had been working on contractual basis. The following table shows the total number of employees of EBL as on January 1, 2008:
Table: 1 Total Number of Manpower as on January 1, December 2008
Employee Category

Number

Total

Permanent Employees

690

1190

Employees on Contract

500
During the year 2008, a total number of 273 employees left the EBL due to different reasons. It has been seen that among the total 273 resigned employees 190 employees were on contractual basis and 83 were permanent employees. The following table shows the total manpower left the EBL during 2008:
Table: 2 Total Manpower Left the EBL during 2008
Employee Category

Number

Total

Permanent Employees

83

273

Employees on Contract

190
So, from the above table it is clear that, the trend of employee turnover is quite high among the contractual employees.
From the above resigned employees the numbers of employees left the EBL from October 2008 to January 2009 are as follows:
Table: 3 Numbers of Employees Left the EBL from October 2008 to January 2009
| | |
| --- | --- |
| Employee Category | Number |
| Vice President (VP) | 1 |
| Senior Assistant Vice-President (SAVP) | 1 |
| Assistant Vice-President (AVP) | 3 |
| Senior Principal Officer (SPO) | 8 |
| Principal Officer (PO) | 1 |
| Management Trainee Officer (MTO) | 1 |
| Senior Officer (SO) | 5 |
| Officer | 10 |
| Total | 30 |
From the above table it is seen that, from October 2008 to January 2009 a total number of 30 employees left the EBL due to different reasons. Clearly the above table shows that, the trend of employee turnover in EBL is quite high in the junior or entry levels of jobs such as in officer and senior officer level. Among the total 30 resigned employees 22 resigned from the entry level of EBL.
At present EBL have a total number of 1300 employees. Among them 750 are working as permanent employee and 550 are working on contractual basis. The following table shows the number of manpower in EBL as on December 31, 2008:
Table: 4 Total Number of Manpower as on 31 December 2008
Employee Category

Number

Total

Permanent Employees

750

1300

Employees on Contract

550
4.1Employee Turnover Rate IN ebl (2008)
During the year 2008 EBL recruited a total number of 421 employees. Among the total recruited employees 171 recruited permanently and 250 recruited on contractual basis.
Table: 5 Total Manpower recruited in EBL during 2008
Employee Category

Number

Total

Permanent Employees

171

421

Employees on Contract

250
The total number of employees as on January 1, 2008 was 1190 and the total number of employees as on December 31, 2008 were 1300. So the average number of employees during 2008 in EBL was 1245. This would be clearer from the following table:
Table: 6 Average Employeesin EBL during 2008
Period

Total No. of Employees during 2008

Average Employees during 2008

Jan 1, 2008

1190

1245

Dec 31, 2008

1300
So, from the above it is seen that the turnover rate for the year 200 in EBL was 22% which is somewhat higher compared to other banking organizations. At present this is the prime concern for EBL. So, the employee retention rate in EBL during 2008 was 78%. The Management Committee of EBL is trying to increase the current employee retention ratio in order to establish a steady work environment and to motivate the current employees.
According to the HR Manager of EBL, there are some major reasons for frequent job switching in EBL. The reasons are:
Rapid expansion of the Banking Industry
Remodeling of Banking Industry
Offering higher benefits to EBL employees by other organizations
The HR Manager believes that employee turnover in an organization has both some advantages and disadvantages. But frequent job switching creates some major problems for any organization. So, any organization should implement effective employee retention management strategy in order to reduce the turnover rate and to motivate the existing employees to make them completely goal-oriented.
No. of employees left the EBL during 2008
Turnover Rate =              ______________________________________    
Average Employee in EBL during 2008                                                           
= 273/1245   * 100 
= 22%
According to the HR Manager of EBL, employee turnover creates the following advantages and disadvantages for her organization:
Costs of Turnover perceived by EBL
Lost business opportunities
Loss of amount incurred for employee development
Costs associated with hiring new employees
Loss of company reputation
Benefits of Turnover perceived by
Hiring new talented employees
Replacing with junior employees who costs low
Promotion opportunity for an existing employee. In this regard, sometimes an existing grade of an employee may not be changed for promotion but functional designation can be changed.
At present EBL has some attributes like salary which is included in compensation and other benefits and performance appraisal to motivate and retain its current employees. Beside these, EBL provides attractive End of Service Benefits (EOSB) to its employees which include the following:
Provident Fund (PF)
Gratuity
Encashment Facilities of Annual/Privilege Leave
Super Annuation Fund Scheme
Retirement Gift and
Long Service Awards
EBL also provides attractive compensation packages for its employees to motivate them which include:
Salaries and Increments
Excellent Promotional Benefits
Two types of bonuses including festival bonus and performance bonus
Beside the above issues EBL has an attractive performance appraisal process in order to reduce the turnover rate and to motivate and guide its employees toward the achievement of self as well as organizational goal.
4.2 Reasons for Leaving EBL                    
An employee may resign from his/her existing position due to internal factors or external factors or both of them. For the year 2008, most of the employees leave the EBL because of getting better job in terms of career advancement and higher compensation packages. It has been seen that almost 40% employees leave the EBL because they had managed better job in terms of career advancement and about 30% employees leave the EBL because of getting higher compensation packages.
It has been found that about 87% male and 13% female employees left the EBL during 2008 and 80% of them have secured jobs in other manufacturing and services organizations. The following further clarifies the reasons for leaving the EBL:
Table: 7 Reasons for Leaving EBL
| | |
| --- | --- |
| Reasons | In Percentage (%) |
| Better Jobin terms of career advancement | 39.58% |
| Better Compensationin terms of higher compensation | 29.16% |
| Tired of monotonous job | 2.08% |
| Leaving for higher studies | 4.16% |
| Deprived of | 2.08% |
| Medical/Health reasons | 2.08% |
| Found internal politics | 2.08% |
| Found no scope for career development | 8.33% |
| Other reasons | 10.41% |
From the above table it can be easily understood that the most important and frequent reasons for employee turnover in EBL are getting Better Job in terms of career advancement and higher compensation in other organizations. The other reasons for frequent employee turnover in EBL are:
Retirement
Feelings of uncomforted
Going to abroad as permanent immigrant
Personal reasons etc.