"Recruitment and Selection Process of Accenture"
One of the most important things for an organization is to attract, screen and select qualified persons. Such activities are generally done by the HR department of an organization. HR hires good people so that company succeeds, they provide good benefits so that employee wants to remain in the company as long as possible, and they train to protect company from liability and to ensure that employees are producing at highest level. I wanted to be in such part of an organization where I can impact company's performance every day and at the same get to spend a great deal of my time working one on one with employees at all level That is why I have chosen "Recruitment and Selection process of Accenture" as my topic of this report because I want to gather knowledge about the process and practice that organization uses to allocate the right person at the right time for the right position in the organization.
OBJECTIVE OF THE STUDY
The analysis is on the recruitment & selection process followed by a multinational organization.
Steps they follow in order to make a successful recruitment and selection
HR practices followed by Accenture
SCOPE
This paper is prepared only based on the Accenture's information and their recruitment & recruitment process. This report will allow to learn about Accenture, their activities around the world, there HR practices and their techniques to make recruitment process efficient. Moreover, the report will help to learn and differentiate between the theoretical knowledge and their practical implication in a multinational organization.
Company Overview
Accenture is one of the world's leading professional services companies, with capabilities in consulting, strategy, digital, technology and operations and one of the fortune global 500 companies in world. Accenture, with more than 319,500 people is serving clients more than 200 cities in 120 countries. Combining unparalleled experience, comprehensive capabilities across all industries and business functions, and extensive research on the world's most successful companies, Accenture help organizations to maximize their performance and achieve their vision. Accenture collaborates with clients to help them become high-performance businesses and governments.
Accenture has embarked their business in Bangladesh by taking over GPIT by acquiring 51% of its share. This strategic investment allowed Accenture to tap into a very robust pool of skills and capabilities in the country. Currently, they are outsourcing technology and BPO-Finance & Accounting.
ACCENTURE BUSINESS INCLUDES
Accenture strategy is where they shape their clients' future, combining deep business insight with the understanding of how technology will impact industry and business models. Accenture operates at the intersection of business and technology, bringing together their capabilities in business, technology, operations and function strategy to help their clients envision and execute industry-specific strategies that support enterprise-wide transformation.
Accenture consulting comprises the people who work in five operating groups: Communications, Media & Technology, Financial Services, Health & Public Service, Products and Resources. They are industry experts with the insights and capabilities to help transform the world's leading companies. Accenture Consulting orchestrates and brings together the best of Accenture from across the organization, and has primary responsibility for building and sustaining long-term client relationships.
It combines their capabilities in digital marketing, analytics and mobility to help clients unleash the power of digital to transform their businesses. They help clients use digital technologies to deliver more meaningful and relevant customer experiences across all channels and customer segments, as well as to create new products and business models and to optimize the efficiency and effectiveness of their internal operations.
This harnesses the power of technology to drive innovation, deliver cutting-edge solutions and increase productivity. It comprises two primary areas: Technology Delivery, which includes global delivery capabilities as well as application services—spanning systems integration and application outsourcing—and our portfolio of software solutions; and Technology Innovation & Ecosystem, which includes the R&D activities in our Technology Labs and the management of our alliance relationships across the ecosystem.
This provides business process outsourcing, infrastructure consulting, infrastructure outsourcing, security and cloud services, including the Accenture Cloud Platform. Accenture transform, build and operate IT infrastructure and business processes on behalf of clients to help improve their productivity and performance.
TRUSTED CLIENT RELATIONSHIPS:
Accenture operates at the heart of their clients' businesses, helping address their most complex, mission-critical issues. Accenture serve more than three-quarters of the Fortune Global 500 and 89 of the Fortune Global 100. We are proud that 95 of our top 100 clients have been clients for at least 10 years.
INDUSTRY DIFFERENTIATION:
Accenture is known for the depth of our knowledge across more than 40 industries, and more than half of Accenture people have certified industry skills or are aligned with a specific industry. Accenture provides flexible and scalable end-to-end business services that address the business and performance issues unique to a given industry—or for specific enterprise functions across industries.
Accenture has a broad global footprint aligned around three geographic regions—North America, Europe and Growth Markets—and serve clients in more than 120 countries. Accenture is both extremely global, serving their clients consistently anywhere they operate, and extremely local, bringing local execution and market relevance.
As the largest independent technology services provider, Accenture has a privileged position in the ecosystem and are the #1 partner of many key players, including SAP, Oracle, Microsoft, HP and Salesforce.com. The scale and scope of Accenture's Global Delivery Network are unmatched, with 237,000 people working from more than 50 delivery centers and at client sites around the world.
Accenture run Accenture itself as a high-performance business. Accenture manage its operations with rigor and discipline to increase our efficiency and enhance our competitiveness, so that they can continue to achieve our ultimate goal of delivering sustainable, profitable growth over the long term.
ACCENTURE BANGLADESH'S BUSINESSES AND CLIENTS
Accenture provides a huge range of BPO services to enable high performance. These includes function specific services such as procurement, supply chain, learning, HR, finance and accounting, as well as services geared to needs of specific industry such as utilities, insurance and healthcare. Accenture has more than 20 years of experience in infrastructure outsourcing.
Infrastructure outsourcing provides ongoing management of companies IT infrastructure capabilities or functions. They provide either discrete skills or fully managed service in which they take complete responsibility to manage end-to-end function of one or more of their infrastructure outsourcing services.
Accenture Bangladesh is currently outsourcing BPO- Finance & Accounting and Infrastructure. Accenture Bangladesh's main client is Telenor. They started their outsourcing services in 2013 and their first client was GP Telenor and gradually they expand the client network and providing services to other Telenor around the world
BPO-Finance & Accounting Outsourcing
BPO services that Accenture provide are
P2P (procure to pay)
R2R (Record to Report)
O2C (Order to Cash)
In order to provide these services Accenture Bangladesh have two projects.
Winter
Chicago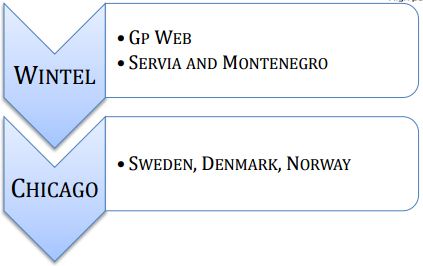 Under these projects Accenture Bangladesh run their BPO outsourcing and from 2013 they started their BPO outsourcing activity in Bangladesh.
INFRASTRUCTURE OUTSOURCING
Accenture Bangladesh run the infrastructure outsourcing activities under the project called "Project Nucleus". Previously this project was named as TITA. Under this project there are 4 business units.
Accenture support their (four business units) activities from Accenture Bangladesh Delivery Centre (ABDC). In order to support to support these activities there are 9 towers.
Monitoring
Storage
Backup
Network
Network Securities
Server ( windows & virtualization)
Linux
Unix
Database Administrator
HR DEPARTMENTS
They discuss about the job openings with the department managers, post job ads, collects and sorts CVs, arrange examinations & interviews, take part in in job fairs, promote the company and prepare recruitment reports.
After selection, total reward team proceeds with the offerings, salary negotiation and agreement signing. They also perform the performance appraisal.
After the agreement signing operation collect all the necessary documents and proceeds with the id creation, certificate verification etc. they also look after payrolls, salary, vacation hours, sickness leaves bonuses etc.
Field HR is the center person. He is the point of contact of all HR activities. All candidates information starting from who got on-boarded and all of their information are send to the field HR. from joining till leaving all the issues and information goes through the field HR.
Training & development team occupy themselves to identify the skills those are needed to be developed in the employees, they also discuss about the training needs with the line managers, prepare internal and external training program, contact with the external trainer and arrange an external training program, contact with the internal trainer to conduct internal training program, taking feedback from the participants, and preparing training reports.
RECRUITMENT & SELECTION PROCESS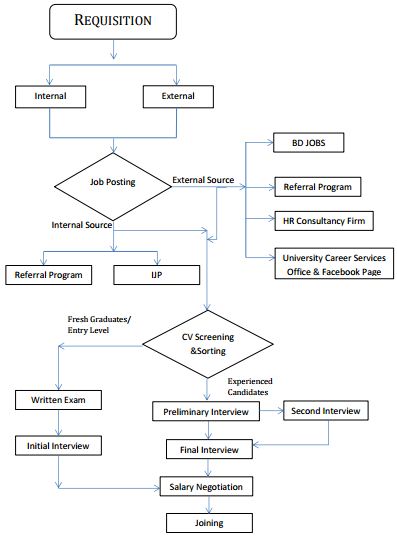 Recruitment process begins with the requisition. When there is demand for new employees in any department, the stakeholders send a requisition to the recruitment department. Then, we determine whether it will be an internal or external recruitment. Based on it we proceed with the recruitment and selection process
STEP 01: JOB POSTING
INTERNAL RECRUITMENT:
In terms of internal recruitment we use two sources
We post a job vacancy post in our internal job portal (IJP). Existing employees who are interested for that position applies there.
Another one is referral program; here the line managers refer someone from the existing candidates.
EXTERNAL RECRUITMENT:
In terms of external we use different sources for CV collection
In case of new and fresh graduates we contact with the career service office of different universities in order to get CVs. Beside that we conduct and participate in the Career Fair Program. Also we post in the Career related Facebook pages of different universities to collect CVs as well as in the BD JOBS.
In case of experienced candidates we give job vacancy post in BD JOBS. We also contact with different 3rd party HR consultancy firm such as Grow N Excel, HR kites etc.
 (** Two Job Description file has been attached in the Appendix)
Referral program; candidates from outside the organization gets referred by company's internal employees
STEP 2: CV SCREENING AND SHORTLISTING
After collecting all the CVs, our next step is CV screening.
In terms of fresher recruitment department do the CV screening and shortlist the CVs according to the requirements.
For the experienced candidates stakeholders (department line manager) sort the CVs and send to recruitment department for the next process.
Requirements to be selected
Entry Level/Fresh Graduates
Educational Requirements:
BSc in CSE/EEE
BBA in Finance/Accounting
Professional Certification is preferred
Experience: N/A
For Experienced Professional (Level 11-06)
Educational Requirements:
BSc/MSc in CSE/EEE
BBA/MBA in Finance/Accounting
Experience: 03-10 years of experience on the required filed (years of experience depends of the job level)
STEP 03: WRITTEN EXAM AND INTERVIEW
We have different recruitment process for the Fresher/entry level position and experienced candidates.
For Fresher/entry level position:
First of all we call the selected candidates and arrange a written examination.
Then, based on the written exam result we call the candidates who did well in the exam for an interview.
For Experienced Professionals: Initially, we call them and arrange an interview with the stakeholders.
Step 04: FINAL SELECTION:
After the interview, interviewers send their assessment sheet to the recruitment department. Based on the assessment sheet, we prepare a holistic which shows which candidates are highly recommended. Than we send the results to the stakeholders. Then, they send us confirmation mail that includes the selected candidates list.
For entry level position, after we get the confirmation mail, we send the selected candidate list to the Rewards team
For the experienced candidates we call the selected candidates (from the preliminary interview) for the final interview which is taken by the whole section head. Than we send the selected candidates list to the Total Rewards team.
Total Rewards team then calls the selected candidates and sits for the salary negotiation. Meanwhile, the BGC POC sends an employee Background Checking (BGC) request to their vendor "Foot Prints". After receiving the initial information checking (candidate name, parent's name, date of birth & criminal record) report, BGC POC than sends the information to the Total
Reward team. If the information are positive than Total Rewards team arrange a meeting with the candidate and do the contract signing. After that, candidate information are send to Operations Team and the ops team do all necessary things which are candidate on-boarding, ID creation, certificate verification.
Recruitment tool
Currently Accenture Bangladesh does not have any recruitment tool such as i-recruitment tool which is used by Grameen phone. All of their employee information are kept in the excel files. As a result their work process gets sluggish, harder and time consuming.
It is good news that Accenture Bangladesh is going deploy a new recruitment tool called 'Abacus" at the end of this month and it will help work process to be more efficient and faster. Abacus has been developed in India on a .NET platform and it provides an integrated HR management functionality. Starting from the forecasting of resource requirements to candidate selection to monitoring efficiencies of resource, the software handles it all. Abacus enables companies to manage its human resources better, right from prospective candidates applying for a job online to employee quitting, even a referral can be tracked through this software.
SWOT ANALYSIS
STRENGTHS OF THE COMPANY:
Strong brand name
Strong network
As previously known as GPIT it has a strong hold in the market
None of the companies outsourcing technology services like Accenture do
WEAKNESSES OF THE COMPANY
Newly established business in the market
Lack of about the company among the people
Growing demand employee for various projects.
Still in the transition phase, not fully Acceturized
OPPORTUNITIES OF THE COMPANY
As people started to know about Accenture, they are willing to join at Accenture
Bangladesh possesses a huge pool of skilled population
THREATS OF THE COMPANY
There are a lot of IT based companies in Bangladesh such BRAC IT, LINK 3, and IT departments of mobile operator company.
FINDINGS
Accenture Bangladesh is still dependent on Accenture India.
Do not have proper coordination among the departments
HR team is overflowed. And the work is not properly distributed.
RECOMMENDATION
Interviews must be held on time. Many of the time interviews get delay which makes a negative impression about the company. As they are new in the market and need a huge set of employees, it is an alarming issue as it is said that first impression is the best impression.
Organize the workforce in a proper way so that there is a proper communication among the departments. This will boost their work flow.
They should provide intern trainings such as excel training, and provide facilities such provide a cisco at their desk as they need to make continuous phone call.
They should pay their intern for their hard work.
HR team needs to keep a proper track of information.
Some of their HR activities has to be more organized for example employee background ground checking is coordinated by 5 HR personnel which is according to my point of view is too much. This situation shows a disorganized BGC process.
Accenture Bangladesh is still the transition phase and depended on Accenture India. They need to boost their work process in order to finish the transition phase and get fully Accenturized. This will help the Accenture Bangladesh to be stable.
CONCLUSION:
Accenture is a global management consulting, technology services and outsourcing company which is providing technology services to Grameen Telenor, along with other Telenor such Pakistan Telenor, Malaysian Telenor, Thailand Telenor etc. They are serving those clients from Accenture Bangladesh Delivery Centre (ABDC). Accenture is currently hiring huge amount of employees which has opened a big door of job opportunities for the skilled labor that we have in our country unused. Accenture has a huge opportunity grow at Bangladesh market but to achieve that management team need to be more efficient and effective. They should speed up their work process to be fully Accenturized as soon as possible. This will help Accenture Bangladesh to stand on their own feet.