Psychosis
Psychosis is an abnormal condition of the mind that results in difficulties determining what is real and what is not. It is an umbrella term; it means that an individual has sensory experiences of things that do not exist and/or beliefs with no basis in reality. When someone becomes ill in this way it is called a psychotic episode. During a period of psychosis, a person's thoughts and perceptions are disturbed and the individual may have difficulty understanding what is real and what is not.
Psychosis is classically associated with schizophrenia spectrum disorders, and, although there are other symptoms, one of the defining criteria for schizophrenia is the presence of psychosis.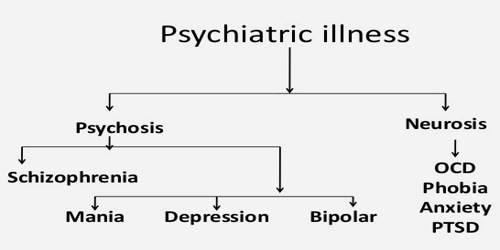 Causes and Symptoms of Psychosis – Psychosis has many different causes. These include mental illness, such as schizophrenia or bipolar disorder, sleep deprivation, some medical conditions, certain medications, and drugs such as alcohol or cannabis.
The exact causes of psychosis are not well understood but might involve:
Genetics – research shows that schizophrenia and bipolar disorder may share a common genetic cause.
Brain changes – alterations in brain structure and changes in certain chemicals are found in people who have psychosis. Brain scans have revealed reduced gray matter in the brains of some individuals who have a history of psychosis, which may explain effects on thought processing.
Hormones/sleep – postpartum psychosis occurs very soon after giving birth (normally within 2 weeks). The exact causes are not known, but some researchers believe it might be due to changes in hormone levels and disrupted sleep patterns.
Symptoms of psychosis include delusions (false beliefs) and hallucinations (seeing or hearing things that others do not see or hear). Other symptoms include incoherent or nonsense speech, and behavior that is inappropriate for the situation.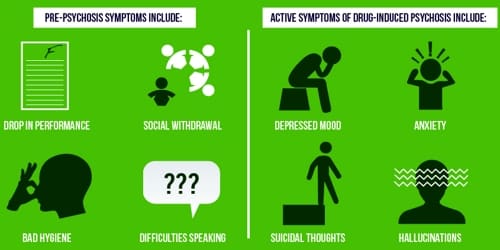 Symptoms of psychosis include:
difficulty concentrating
depressed mood
sleeping too much or not enough
anxiety
suspiciousness
withdrawal from family and friends
delusions
hallucinations
disorganized speech, such as switching topics erratically
depression
suicidal thoughts or actions
Diagnosis and Treatment of Psychosis –
Psychosis is diagnosed through a psychiatric evaluation. That means a doctor will watch the person's behavior and ask questions about what they're experiencing. Medical tests and X-rays may be used to determine whether there is an underlying illness causing the symptoms.
Factor analysis of symptoms generally regarded as psychosis frequently yields a five-factor solution, albeit five factors that are distinct from the five domains defined by the DSM-5 to encompass psychotic or schizophrenia spectrum disorders. The five factors are frequently labeled as hallucinations, delusions, disorganization, excitement, and emotional distress. The DSM-5 emphasizes a psychotic spectrum, wherein the low end is characterized by schizoid personality disorder, and the high end is characterized by schizophrenia.
Treatment with a class of drugs known as antipsychotics is the most common therapy for people with a psychotic illness. Antipsychotics are effective in reducing psychosis symptoms in psychiatric disorders such as schizophrenia, but they do not themselves treat or cure underlying psychotic illnesses.
Antipsychotic treatment of schizophrenia is in two phases – the acute phase to treat initial psychotic episodes and a lifelong phase of maintenance therapy.
Psychotherapy can also be useful in treating cognitive and residual symptoms of schizophrenia and other psychotic disorders. Early treatment appears to improve outcomes. Medications appear to have a moderate effect.
Information Source: