PHC, or primary health care, is "essential health care" that is based on scientifically sound and socially acceptable procedures and technology. This ensures that all individuals and families in a community have access to universal health care. PHC programs enable community members to fully participate in implementation and decision making. In the spirit of self-reliance and self-determination, services are supplied at a cost that the community and the country can afford at each stage of development.
Primary healthcare refers to the initial point of contact a person has with the health system when they have a non-emergency health condition or issue. It is the most commonly used component of the health-care system and may be supplied by a general practitioner (GP), physiotherapist, or pharmacist, among others. It is delivered in a community environment, such as a general practice or dental clinic. Primary healthcare practitioners may work in medical clinics, community health centers, and allied health services such as physiotherapy and podiatry.
In other words, PHC is a health approach that goes beyond the standard health care system and focuses on health equity-producing social policy. PHC encompasses all aspects of health, such as access to health services, the environment, and lifestyle. Thus, primary healthcare and public health initiatives can be viewed as the foundations of universal health systems.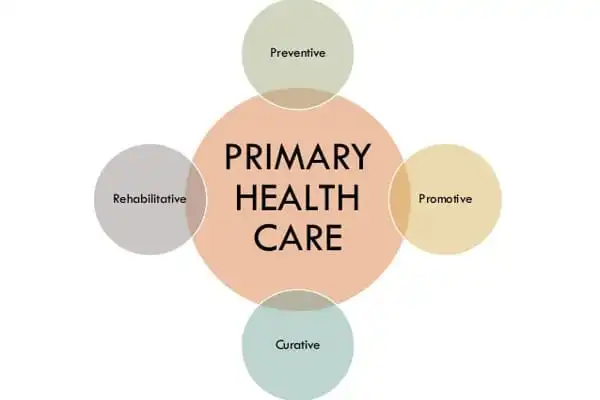 Within their area of specialization, a basic healthcare service may diagnose and treat common health disorders. They can also assess the seriousness of your medical concerns and point you in the right direction for treatment. They may also be able to refer you to other medical professionals if necessary. PHC addresses not only individual and family health requirements, but also the broader issue of public health and the needs of designated populations, by delivering care in the community as well as care via the community.
The World Health Organization, or WHO, elaborates on the goals of PHC as described by three broad categories: "empowering individuals and communities, multisectoral policy and action; and primary care and vital public health functions as the basis of integrated health services." Based on these definitions, PHC can not only assist an individual who has been diagnosed with a sickness or disorder, but can also actively avoid such disorders by comprehending the individual as a whole.
Since 1978, the idea of PHC has been continuously reinterpreted and modified, creating misunderstanding about the word and its application. PHC is founded on a dedication to social justice, equity, solidarity, and participation. It is based on the recognition that the enjoyment of the highest attainable standard of health is one of the fundamental rights of every human being without distinction.
This ideal model of healthcare was accepted in the statement of the International Conference on Primary Health Care held in Alma Ata, Kazakhstan in 1978 (known as the "Alma Ata Declaration"), and became a basic notion of the World Health Organization's goal of Health for All.