Definition –
Petrified Wood (from the Latin root petro meaning "rock" or "stone"; literally "wood turned into stone") is a fossil formed by the invasion of minerals into cavities between and within cells of natural wood, usually by silica (silicon dioxide, SiO2) or calcite (calcium carbonate, CaCO3). Also known as Fossilized Wood, Agatized Wood or Silicified Wood, it comes in quite a few colors, but most are brownish and closely resemble wood.
It forms when plant material is buried by sediment and protected from decay due to oxygen and organisms. Then, groundwater rich in dissolved solids flows through the sediment, replacing the original plant material with silica, calcite, pyrite, or another inorganic material such as opal. The result is a fossil of the original woody material that often exhibits preserved details of the bark, wood, and cellular structures.
The petrified forests of the western United States are silicified wood, the tree tissues having been replaced by chalcedony (cryptocrystalline quartz). Often this replacement is so accurate that the internal structure as well as the external shape is faithfully represented; sometimes even the cell structure may be determined.
Some specimens of petrified wood are such accurate preservations that people do not realize they are fossils until they pick them up and are shocked by their weight. These specimens with near-perfect preservation are unusual; however, specimens that exhibit clearly recognizable bark and woody structures are very common.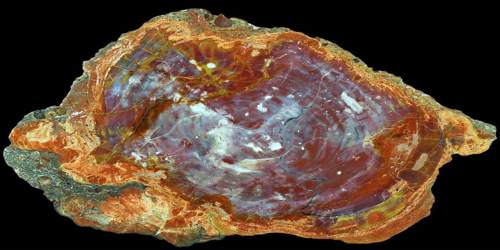 Elements & History of Petrified Wood –
Elements such as manganese, iron, and copper in the water/mud during the petrification process give petrified wood a variety of color ranges. Pure quartz crystals are colorless, but when contaminants are added to the process the crystals take on a yellow, red, or another tint.
Following is a list of contaminating elements and related color hues:
carbon – black
chromium – green/blue
cobalt – green/blue
copper – green/blue
iron oxides – red, brown, and yellow
manganese – pink/orange
manganese oxides – blackish/yellow
silicon dioxide – clear/white/grey
Petrified wood can preserve the original structure of the stem in all its detail, down to the microscopic level. Structures such as tree rings and the various tissues are often observed features.
History: In Greek mythology, merely glancing at the ugly head of Medusa could turn the looker into stone. For wood, the process is not so fast.
Petrified wood forms when fallen trees get washed down a river and buried under layers of mud, ash from volcanoes and other materials. Sealed beneath this muck deprives the rotting wood from oxygen the necessary ingredient for decay. As the wood's organic tissues slowly break down, the resulting voids in the tree are filled with minerals such as silica the stuff of rocks.
Over millions of years, these minerals crystallize within the wood's cellular structure forming the stone-like material known as petrified wood. The wood, no longer wood at this point, takes on the hues of the minerals that fill its pores. Minerals such as copper, cobalt, and chromium give off a green-blue color, while manganese presents a pink hue.
"Petrified Wood" is a fossil in which the organic remains have been replaced by minerals in the slow process of being replaced with stone. This petrification process generally results in a quartz chalcedony mineralization. Special rare conditions must be met in order for the fallen stem to be transformed into fossil wood or petrified wood. In general, the fallen plants get buried in an environment free of oxygen (anaerobic environment), which preserves the original plant structure and general appearance. The other conditions include regular access to mineral-rich water in contact with the tissues, replacing the organic plant structure with inorganic minerals. The end result is petrified wood, a plant, with its original basic structure in place, replaced by stone.
Petrified Forest National Park –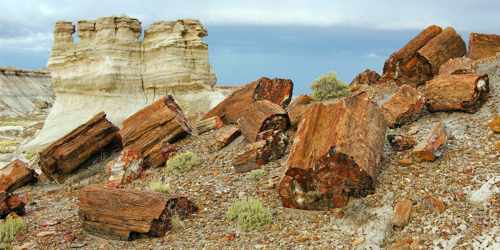 Petrified Forest National Park, desert area containing plant and animal fossils and archaeological sites in eastern Arizona, U.S., 19 miles (30 km) east of Holbrook. It was established as a national monument in 1906 and as a national park in 1962. The area within the park proper is 146 square miles (378 square km), but, since 2005, additional land parcels have been acquired and placed under park administration, so that the entire protected area now totals 346 square miles (896 square km).
About 225 million years ago, this area (Arizona) was a lowland with a tropical climate and covered by a dense forest. Rivers flooded by tropical rainstorms washed mud and other sediments into the lowlands. Enormous coniferous trees up to 9 feet in diameter and 200 feet tall lived and died in these lowlands. Fallen trees and broken branches were often buried by the river sediments. Nearby volcanoes erupted numerous times. These eruptions blanketed the area in volcanic ash with high silica content.
Rapid burial allowed the plant debris to escape destruction by oxygen and insects. The soluble ash was dissolved by groundwater flowing through the sediments. The dissolved ash served as a source of silica that replaced the plant debris, creating petrified wood. Trace amounts of iron, manganese and other minerals were included in the silica and gave the petrified wood a variety of colors. These sediments, plant debris, and volcanic ash became part of a rock unit known today as the Chinle Formation.
Among the park's archaeological features are petroglyphs (e.g., Newspaper Rock) and the ruins of ancient Ancestral Pueblo (Anasazi) pueblos, notably the Puerco Indian Ruin just south of the Painted Desert. Other attractions include the Painted Desert Inn National Historic Landmark near the north entrance and the Rainbow Forest Museum near the south entrance. Today, visitors to the park can observe the petrified wood and photograph it; however, collecting petrified wood in the park is prohibited.
Locations of Other Petrified Wood –
Petrified wood is not rare. It is found in volcanic deposits and sedimentary rocks at many of locations worldwide. It is sometimes found where volcanic activity covered plant material with ash, mudflows or pyroclastic debris. It is found where wood in sedimentary deposits was replaced by minerals precipitated from groundwater. It is especially abundant around coal seams, although many of the wood specimens in these locations are casts and molds rather than petrifications. One almost unbelievable material from Western Australia is known as "peanut wood" because of its ovoid markings, but those markings are actually boreholes drilled by a clam!
Uses and Benefits of Petrified Wood –
Following the Great Depression in the 1930s, people began flocking to the mountains and deserts hoping to discover any sort of rock, stone or gem that could be turned into jewelry as a source of income. An assortment of rock were discovered which included petrified woods. "Rockhounding", as hobbyists would call it, became very popular. Many rock clubs began to establish throughout the United States.
Soon after collectors started setting up rock shops where they were able to sell their merchandise to the public. As years went by rockhounders would perfect their craft at making jewelry using all sorts of different techniques, equipment, and molds. Having experience with their craft, first-generation rockhounders would soon teach fellow amateurs their skills.
'Petrified Wood' can assist anyone who is feeling stuck or experiencing being frozen in time. It helps to create balance and offers a foundation from which to launch new goals or undertake a different path. Petrified wood is also a wonderful grounding stone. It helps to calm scattered energies. It helps people to feel all will be all right. It connects one to their spirit in such a way that they know that time is not really what it appears for there is no such thing, there is only forever.
Information Sources: