Overview about Hepatitis B
Hepatitis B is a virus that infects the liver. Most adults who get it have it for a short time and then get better. This is called acute hepatitis B. It is a major global health problem. It can cause chronic infection and puts people at high risk of death from cirrhosis and liver cancer.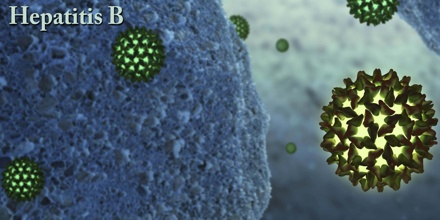 Sometimes the virus causes a long-term infection, called chronic hepatitis B. Over time, it can damage your liver. Babies and young children infected with the virus are more likely to get chronic hepatitis B. The virus is transmitted by exposure to infectious blood or body fluids. Infection around the time of birth or from contact with other people's blood during childhood is the most frequent method by which hepatitis B is acquired in areas where the disease is common. In areas where the disease is rare, intravenous drug use and sexual intercourse are the most frequent routes of infection. Tattooing and acupuncture led to a significant number of cases in the 1980s; however, this has become less common with improved sterility. The hepatitis B viruses cannot be spread by holding hands, sharing eating utensils, kissing, hugging, coughing, sneezing, or breastfeeding. The infection can be diagnosed 30 to 60 days after exposure. The diagnosis is usually confirmed by testing the blood for parts of the virus and for antibodies against the virus. It is one of five known hepatitis viruses: A, B, C, D, and E.
The disease is now only common in East Asia and sub-Saharan Africa where between 5 and 10% of adults are chronically infected. Rates in Europe and North America are less than 1%. It was originally known as "serum hepatitis". Research is looking to create foods that contain HBV vaccine. The disease may affect other great apes as well.
Hepatitis B Virus
The hepatitis B virus is a DNA virus, meaning that its genetic material is made up of deoxyribonucleic acids. It belongs to a family of viruses known as Hepadnaviridae. The virus is primarily found in the liver but is also present in the blood and certain body fluids.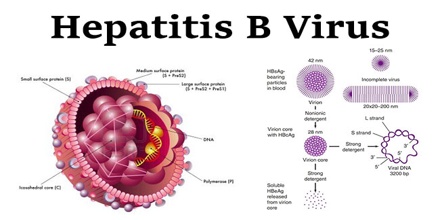 Hepatitis B virus consists of a core particle (central portion) and a surrounding envelope (outer coat). The core is made up of DNA and the core antigen (HBcAg). The envelope contains the surface antigen (HBsAg). These antigens are present in the blood and are markers that are used in the diagnosis and evaluation of patients with suspected viral hepatitis. The hepatitis B virus reproduces in liver cells, but the virus itself is not the direct cause of damage to the liver. Rather, the presence of the virus triggers an immune response from the body as the body tries to eliminate the virus and recover from the infection. This immune response causes inflammation and may seriously injure liver calls. Therefore, there is a balance between the protective and destructive effects of the immune response to the hepatitis B virus.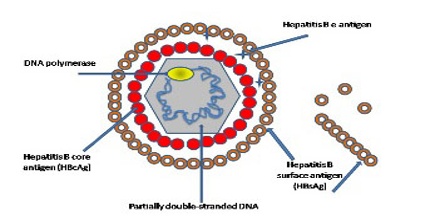 Key Facts of Hepatitis B
Hepatitis B is a viral infection that attacks the liver and can cause both acute and chronic disease.
The virus is transmitted through contact with the blood or other body fluids of an infected person.
An estimated 240 million people are chronically infected with hepatitis B (defined as hepatitis B surface antigen positive for at least 6 months).
More than 686 000 people die every year due to complications of hepatitis B, including cirrhosis and liver cancer 1.
Hepatitis B is an important occupational hazard for health workers.
However, it can be prevented by currently available safe and effective vaccine.
Symptoms and Diagnosis of Hepatitis B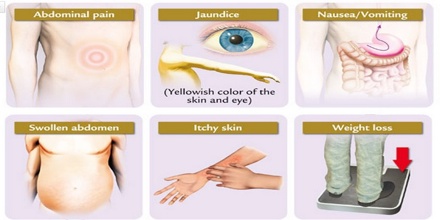 Many people with hepatitis B don't know they have it, because they don't have symptoms. If you do have symptoms, you may just feel like you have the flu. Symptoms include:
Feeling very tired.
Mild fever.
Headache.
Not wanting to eat.
Feeling sick to your stomach or vomiting.
Belly pain.
Tan-colored bowel movements (stools).
Dark urine.
Yellowish eyes and skin (jaundice). Jaundice usually appears only after other symptoms have started to go away.
Most people with chronic hepatitis B have no symptoms.
It is not possible, on clinical grounds, to differentiate hepatitis B from hepatitis caused by other viral agents and, hence, laboratory confirmation of the diagnosis is essential. A number of blood tests are available to diagnose and monitor people with hepatitis B. They can be used to distinguish acute and chronic infections.
Laboratory diagnosis of hepatitis B infection focuses on the detection of the hepatitis B surface antigen HBsAg. WHO recommends that all blood donations be tested for hepatitis B to ensure blood safety and avoid accidental transmission to people who receive blood products.
Treatment and Prevention
There is no specific treatment for acute hepatitis B. Therefore, care is aimed at maintaining comfort and adequate nutritional balance, including replacement of fluids lost from vomiting and diarrhoea.
Chronic hepatitis B infection can be treated with drugs, including oral antiviral agents. Treatment can slow the progression of cirrhosis, reduce incidence of liver cancer and improve long term survival.
However, the treatment does not cure hepatitis B infection, but only suppresses the replication of the virus. Therefore, most people who start hepatitis B treatment must continue it for life.
Treatment using interferon injections may be considered in some people in certain high-income settings, as this may shorten treatment duration, but its use is less feasible in low-resource settings due to high cost and significant adverse effects requiring careful monitoring.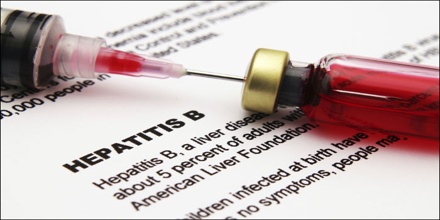 The hepatitis B vaccine is the mainstay of hepatitis B prevention. WHO recommends that all infants receive the hepatitis B vaccine as soon as possible after birth, preferably within 24 hours. The birth dose should be followed by 2 or 3 doses to complete the primary series. In most cases, 1 of the following 2 options is considered appropriate:
a 3-dose schedule of hepatitis B vaccine, with the first dose (monovalent) being given at birth and the second and third (monovalent or combined vaccine) given at the same time as the first and third doses of diphtheria, pertussis (whooping cough), and tetanus – (DTP) vaccine; or
a 4-dose schedule, where a monovalent birth dose is followed by three monovalent or combined vaccine doses, usually given with other routine infant vaccines.
In May 2016, The World Health Assembly adopted the first "Global Health Sector Strategy on Viral Hepatitis, 2016-2021". The strategy highlights the critical role of Universal Health Coverage and the targets of the strategy are aligned with those of the Sustainable Development Goals. The strategy has a vision of eliminating viral hepatitis as a public health problem and this is encapsulated in the global targets of reducing new viral hepatitis infections by 90% and reducing deaths due to viral hepatitis by 65% by 2030. Actions to be taken by countries and WHO Secretariat to reach these targets are outlined in the strategy.