My Favourite Author
Of all the great men who were born in the 19th and 20th centuries, Rabindranath Tagore is the most famous them. He is known as a world poet. He was born at Jorasanko in Kolkata on the 7th of May 1861 in the famous Tagore family. He is not only eminent in the Indo Pak sub-continent but also in the whole world. I am really proud of him. To speak the truth, his writings have enriched the field of Bengali literature in a variety of ways. He was also an educationalist, a social reformer, a musician and a religious preacher. His name will continue to shine in the annals of history.
Actually, he was the voice of this subcontinent. Many of his writings have been translated into different languages. He was a versatile genius. Consequently, the civilized world came in touch with Bengali literature and culture. He wrote poems, novels, short stories, dramas essays, etc. He was honored with 'knighthood' in 1914 by the then British Government. But as a patriot, he disowned the same in protest of the atrocious massacre of Jalianwala Bagh at Punjab.
His early life was an interesting one. He had no regular school education. But his education was not neglected. Tagore's father was a landlord and a social reformer. From his very boyhood, he began to write poems of great merit and charm. He was the youngest son of Maharishi Davendra Nath and grandson of prince Dwarka Nath Tagore. Under the personal care of his father Debendranath Tagore, he gained a deep knowledge of Bengali, Sanskrit, and English by the different private tutors. A few years later, he was sent to England. He spent a few months with Prof. Henry Morley at the University of London studying English literature. In a short time, he returned home.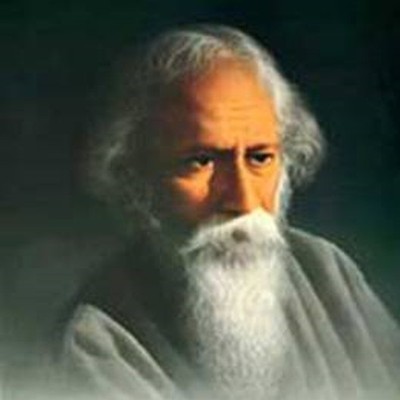 His novels have brought about a great change in Bengali literature. From the very early stage of his life, he began to compose poems. When he was a boy of fifteen, he wrote the first novel named Banaphool. Indeed, he was a man of uncommon literary achievement and versatile genius. That is, he was a poet, a dramatist, a story writer, a novelist, a critic, and an essayist. Some of his best poems. are found in the 'Gitanjali', 'Sonar Tari', 'Kheya', 'Kalpana', 'Balaka' etc. For this 'Gitanjali' he got the 'Nobel Prize,' in literature in 1913. His novels and plays are of high quality. Naukadubi, Ghare Baire, Shesher Kabita, Jogajog, Chaturanga, etc. are his famous novels. His songs are now very popular in our country. He also wrote a number of dramas such as Chira Kumar Sabha, Rakta Karabi, Raja-O-Rani, Bisarjon, etc. He was a great educationist. He wrote many short stories too. He established a school at Shantiniketan and afterward founded the University of Viswa Bharati. His best works have been translated into too many foreign languages.
In short, he was such a great writer as is born in a country only once in many centuries. I admire him because he was a great poet as well as a great thinker of international repute. He will be remembered from generation to generation for his Bengali literary activities. He died on the 7th of August in 1941 and his death anniversary was full of glory and honor.