Nutri Rich Diabetic Biscuits: Evaluating Launching
Communication Activities
Partex Star Group is one of the largest business conglomerate of Bangladesh. They have more than 20 companies. Danish Foods Limited is an independent business unit of Partex Star Group. Danish Foods Limited is one of the largest food producers, marketers and exporters of Bangladesh. Different types and brands of biscuits are the main product of Danish Foods Limited along with Chanachur, Candy, Spice etc. Danish have a large factory situated at Narayangonj with machineries imported from abroad to produce biscuits. Whole Bangladesh is a good market for biscuit products. People prefer biscuits for different small family occasions, gatherings, meetings etc.
There is a market gap in the biscuit industry and the gap is related to diabetic patients. According to Bangladesh Diabetic Association, currently there is more than 8 million diabetic patients in Bangladesh. And the diabetic patients cannot eat normal biscuits as the sugar of biscuit will increase the sugar level of diabetic patients. So, they need biscuits specially made for them. There is some sugar free biscuits is available in the market for them, but Danish developed a special biscuit called Nutri Rich for diabetic patients which is not just sugar free but a complete nutritious biscuit. After testing the biscuit at their laboratory Bangladesh Institute of Research & Rehabilitation in Diabetes, Endocrine and Metabolic Disorders (BIRDEM) certified Nutri Rich as very healthy for diabetic patients.Nutri Rich has been launched in Bangladesh's on 14th October, 2014. Several launching activities and marketing communications have been done by Danish to make Nutri Rich a successful brand, create retailers and consumers awareness and generate good sales. And it is necessary to analyze the launching marketing communications and measure their effectiveness at both retailers and consumers end to evaluate if the taken marketing actions are helping to create retailers and consumers awareness. This report is the outcome of this necessity.
For Evaluating the launching activities and marketing communications with the objective to gather information from the field level and generate useful suggestions and recommendations about future brand planning of Nutri Rich, both primary and secondary data has been used. For primary data both retailer and consumer survey have been conducted using structured questionnaire. Secondary was collected from Danish's data resources, websites etc. Using all the collected data the analysis has been done to understand how successful the brand launching of Nutri Rich is.Launching communications have been found successful at the retailers end and seventy eight percent retailers already know about Nutri Rich. But further communications are needed to clarify the brand offerings to the retailers. But at the consumers end, marketing communications have not been found successful. Only twenty three percent consumers know about this biscuit. So, lots of above the line and below the line marketing activities should be taken to make the consumers aware about this brand.
Without creating brand awareness and generating large base of brand loyal consumers a product cannot be established as a recognizable brand.
Background of the Study    
According to the 1st edition of Diabetic Newsletter published by Diabetic Association of Bangladesh, currently there are more than 8 million diabetic patients in Bangladesh. As Danish Foods Limited is doing business in the biscuit industry, it is a good opportunity to enter in the diabetic biscuits market as competition is low in this segment comparing other market segments of biscuit market.
Considering great opportunities, Danish Foods Limited decided to launch a biscuit specially researched and developed for diabetic patients and make this biscuit a recognized brand in Bangladesh through vigorous marketing communications and brand building activities. And the brand name of the diabetic biscuit is "Nutri Rich".
Effective launching marketing communication is one of the most important parts of developing a product and creating a sustainable brand. A Soft Launch Program for Nutri Rich was arranged at the conference room of Sales Office at 13th October, 2014. High officials of Partex Star Group including
CEO was present and delivered their speech in front of the sales force to motivate them about launching of Nutri Rich. Brand offerings, features, marketing plan etc. was presented and branded TShirts, Caps and leaflets were distributed among the sales force. And Nutri Rich was made available in Dhaka's market on the next day, 14th October, 2014. Though Nutri Rich's launching marketing plan is very detailed and consists of 360 degree ATL and BTL activities, total plan had not been executed. And it is very important to analyze and measure the effectiveness of the launching communications. It is important to know from the retailers and consumers what they know about this brand so that we can evaluate the launching activities. And evaluating the launching plans is also important to prepare future plans more effectively to develop strong brands. Keeping these facts in mind, this study was initiated to analyze the launching communication activities of Nutri Rich and suggest some key points to improve future marketing communications to make Nutri Rich a strong brand.
Objectives      
Primary Objective:
The primary objective of this report is to analyze the launching marketing communication activities of Nutri Rich at both the retailers end and consumers end.
Secondary Objectives:
Identifying market opportunities of diabetic biscuit industry as well as overall biscuit industry of Bangladesh.
Identifying retailers and consumers current perception about Nutri Rich and other diabetic biscuits.
Documenting actions taken by the marketing team to make the launching communications successful.
Identifying key factors for successful marketing communications targeting the diabetic patients of Bangladesh.
Collecting information to make the future marketing campaigns of Nutri Rich more effective.
Generating strong suggestions and recommendations to make Nutri Rich a strong brand in the biscuit industry of Bangladesh.
Expected Outcomes:
Retailers have positive attitude towards Nutri Rich as they have long term relation with Danish Foods Limited.
Another reason for the positive attitude of the retailers towards Nutri Rich is the good profit margin of 25%.
Effectiveness of launching communication at the retailers end is expected to be good because of the strong sales force.
Effectiveness of launching communications at the consumers end is expected to be low as there is very little ATL communications.
Consumers' valuable suggestion to reach more of the target market and deliver brand offerings properly.
Methodology 
Approach:
I have monitored and analyzed the ongoing launching programs and marketing communications of Nutri Rich. To measure the effectiveness more accurately I have done retailer and consumer surveys. I have also collected data from annual brand plan, sales information etc. I have interviewed brand manager of Nutri Rich for accurate information. Finally I have combined all the data generated and collected from these activities to prepare my report.
Data Collection Method:
The data needed to prepare this report has been collected from both primary sources and secondary sources. Convenience sampling technique was used.
Primary Sources:
I have collected primary information by several ways. Main primary data sources were-
Retailer survey using structured questioner.
Consumer survey using structured questioner.
Interviews and discussions with retailers and consumers.
Direct observations.
Face to face interviews with the officials including brand managers and sales persons.
Market Visits at several areas of Dhaka region.
Secondary Sources:
I have explored and included some secondary data to have a better understanding. The secondary data have been collected from both internal and external sources. Main secondary data sources were-
Brand data digital archive of Danish Foods Limited.
Website of Partex Star Group.
Research data about industry of AC Nielson Bangladesh.
Different websites, books, magazines etc.
Partex Star Group – An Overview 
Partex Star Group is one of the largest Bangladeshi diversified private sector enterprises. The group started its journey in 1962 as Partex Group, with the torchbearer, Mr. M.A. Hashem, the founder Chairman of the then Partex Group, an eminent industrialist of the country and a former member of Bangladesh Parliament.
The enormous growth and fulfillment of anticipated success caused eventually a natural exodus from patrimonial management system while using the Partex as a springboard that has been held in high respect both at home and abroad for last 50 years for our adherence to values, quality products and business ethics.
With the passage of time and advent of business, the pioneering spirit of Partex has been showcased by family generation comprising Mr. Aziz Al-Kaiser, Mr. Aziz Al-Mahmood, Mr. Aziz Al-Masud, Mr. Showkat Aziz Russell & Mr. Rubel Aziz.
Subsequently it was split in two part (Partex Group & Partex Star Group) for better business management ensuring quality in every aspects. Partex Star Group hold two complexes, was a result of further business expansions, under the supervision of Mrs. Sultana Hashem, Chairperson of Partex
Star Group.
Partex Star Group owns and successfully operates twenty manufacturing, service and trading concerns delivering best values to customers through its products and services. The business primarily exists in two different areas – consumer durables like different types of boards (particle board, veneer board, melamine faced chip board, plywood, PVC sheet etc.), doors and door frames & furniture to FMCG like dairy products, cookies, spices, etc.
Partex Star Group is committed to conduct the business in such a way that demonstrates the highest ethical standards. The company believes that integrity is the imperative utility to succeed. Danish Foods Ltd. is serving the best for the consumers to uphold the superiority in the market. It also believes that success depends on customers. This is the primary criteria to fulfillment of customer's needs.
A motivated work force, management and committed board members led by the Partex Star Group Chairperson and backed by a market oriented corporate strategy has been the cornerstone of the group's success.
The group has created an enormous employment opportunity of over 25,000 employees as a collective work force.
Danish Foods Limited – An Overview       
Danish Foods Limited, a sister concern of Partex Star Group has been established with the goal to create satisfaction towards customers and consumers by supplying healthy, delicious and best quality foods. Danish Foods Limited formally started biscuits producing and marketing with a colorful inaugural ceremony in factory premises in presence of sales and marketing teams in 2005.
Danish Foods Limited takes a comprehensive approach to all kinds of agro processed food products, considering all of the ways their lives can be enriched through ensuring hygienic and quality food products. Being HACCP compliance and ISO 9001:2008 certified company; we ensure best quality products for our consumers. Danish Foods Limited places great importance on hygienic manufacturing processes. This encompasses everything from choosing quality materials to the use of storage facilities and careful monitoring of products using electronic sorting. Skilled and experienced personnel select finished products which are then examined in a laboratory to verify their quality and to check for residual substances both before and after the production process. Furthermore, company's computer systems offer continuous monitoring of all manufacturing process to ensure the highest levels of quality.
The consumer oriented management team at Danish consists of trained professionals who are seamlessly working together to satisfy consumers' expectations of quality, price, delivery and services.
The team is committed to maintain the highest quality throughout every aspect of the business. This assures the consumers to purchase our best quality foods without worries at a very competitive price.
Distribution Network           
Danish Foods Limited has strong distribution channel all over Bangladesh to cover the whole country. It has more than 450 distributors throughout Bangladesh to make the products available at our consumers nearest purchase point. We value our distributors as our importantly valued clients as they are our key partners to make our products available everywhere in Bangladesh from our factory situated at Simrail, Siddirgonj, Narayanganj. We have 10 depositories located at different places throughout Bangladesh. Finished products from the factory are stored at the depositories for delivering to our distributors easily and swiftly. Then we deliver our products to wholesalers/retailers with the assistance of our grass root sales force containing more than thousand Sales Representatives, Sales Officers, and Mobile Sales Assistances etc.
Product Portfolio
Danish Foods Limited produces various types of food products in different categories. And there are several brands, products and packaging sizes in the categories we are involved. The categories are:
 Biscuits
Chanachur
Tea
Candy
Semai
Snacks
Spice
There are several products with various packaging sizes available under these product categories. Some of the products information with pictures are given below: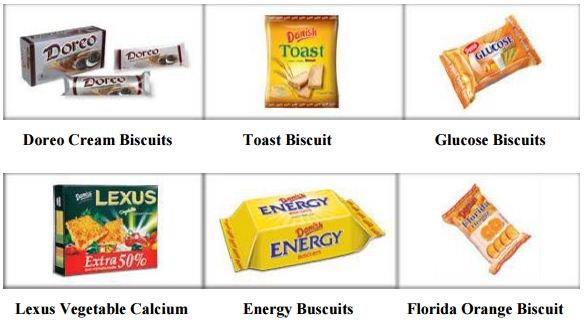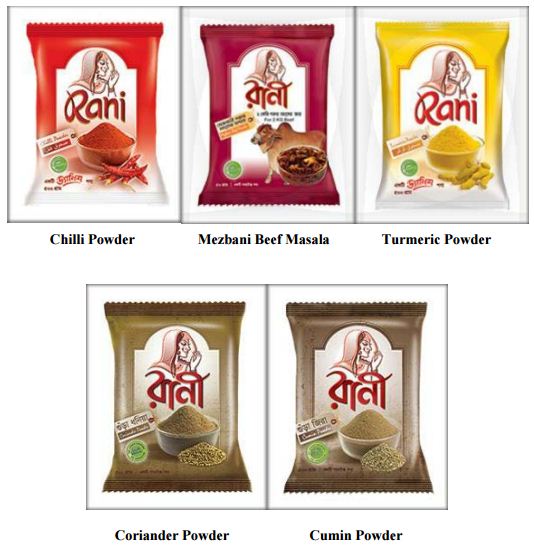 Project Part
Biscuit Industry of Bangladesh – An Overview     
Bangladesh is a compactly populated country and the eating habit of Bangladeshi people varies region to region. But overall the consumption of snacks, tea and biscuits is very high. According to Bangladesh Bureau of Statistics' data, bread and cookie ("biscuit") production was 100,305 metric tons in 2010-11. Over 100 manufacturers and 4,500 traditional factories produce bread and cookies in Bangladesh. Market size of the automated bread and cookie processing industry is estimated at over BDT 150 crores per month, excluding traditional bakery products. According to the president of the Bangladesh Bread and Biscuit Manufacturing Association (BABMA), this industry is growing at an annual rate of over 15 percent. (Hussain, S. S. & Leishman, D, 2013). Nabisco first came up with big investments and proper brands rather than generic biscuits made in local bakeries. Al-Amin came along with Nabisco to grab a huge share of the market. These two companies dominated for a long time until some new competitors came up in the market. Bangas, Haque and Olympic were pretty strong among them. Currently Olympic holds the crown of the biscuit market with some of their grand brands including Olympic Energy Plus, Olympic Tip Biscuits etc.
Nutri Rich Diabetic Biscuit – An Overview           
Market Gap – The Idea behind Nutri Rich:
Before the launching of Nutri Rich there was no specialized biscuits available for the millions of diabetic patients of Bangladesh. Nutri Rich is the first ever biscuit for diabetic patients which is tested at Bangladesh Institute of Research & Rehabilitation in Diabetes, Endocrine and Metabolic Disorders (BIRDEM). According to Diabetic Newsletter 1st Edition, currently there are more than 8 million diabetic patients in Bangladesh. Diabetic patients generally consume Lexus or some sugar free biscuits for the unviability of specialized diabetic biscuits. Considering this huge market gap, Danish Foods Limited researched and developed this new biscuit brand – Nutri Rich. Nutri Rich is made of high quality imported ingredients that includes poly-dextrose which is suitable for the diabetic patients.
Brand Profile of Nutri Rich:

Brand Name :              Nutri Rich Diabetic Biscuits
Product Category :      Diabetic Biscuits
Brand Personality :     Health Conscious
Availability :               Grocery Shops, Super shops, Pharmacy, Hospitals shop/canteen
Target Group :             Diabetic Patients
Target Segments :       Above 18 years old people all over Bangladesh who have diabetic
Pack Size :                   35gm X 6 sachets X 12 box
Packing Type :            Box (inside 6 Foil pack), Master carton (retailers)
Brand Launch :           October 2014
MRP :                          100.00 TK
Weight :                      210 gram
Pay-off Line :              Life e Chai Balance
SWOT Analysis:
The SWOT analysis of Nutri Rich is given below:
Strengths:
Only BIRDEM tested biscuit brand in Bangladesh.
Usage of BIRDEM logo.
Strong relationship with Diabetic Association of Bangladesh and BIRDEM.
First ever specialized biscuit for diabetic patients.
Strong distribution network allover Bangladesh of Danish.
Positive corporate image of Danish and Partex.
Weaknesses:
Raw materials (Some ingredients) are not locally available.
Inconsistent product quality of factory.
High price in terms of the packet size.
Low budget for marketing activities.
Danish uses very few marketing channels for promotional activities.
Very little opportunity for product modification if future.
Opportunities:
Large amount diabetic patients who are potential consumers.
Large number of people in the consumer market is still untouched.
Suitable for health conscious people.
Cardiac friendly biscuits.
3600 Branding would be effective for Nutri Rich's promotion.
Threats:
Increased competition in course of time.
Lots of foreign diabetic biscuits are being available now.
Foreign products have a positive image as "foreign product".
Foreign products are quickly gaining market share
Stronger sales force of competitors.
Critical Success factors:
Overall biscuit industry is very challenging and tough to survive. Nabisco dominated this industry for a long time but they are almost out of the picture now. This portrays how critical is this industry nowadays. The food processing industry in Bangladesh faces acute problems of low capacity utilization, technological oldness and marketing shortfalls. Quality of the finished product is generally very poor due to the high fluctuations in raw material quality and lack of efficient technologies and trained manpower. Due to the high cost of energy and critical power supply problems, uncertainty in the availability of adequate quantities of raw produce for processing purposes, inadequate and expensive cold chain facilities and varying requirements for processing conditions from one raw material to another, the industry is struggling. Having these strong challenges in this industry, the brand specific critical success factors to overcome the challenges for Nutri Rich are as follows:
Reaching the Target Group (diabetic patient) and make them loyal to Nutri Rich.
Sustaining the consumers by creating an emotional attachment with this brand.
Market activations to increase the brand awareness.
Ensuring product visibility through dedicated preferential shelve presence.
Consistent presence of ATL and BTL marketing activities (e.g. TV & Mass media).
Product sampling (trial).
Keeping the product quality good and at a consistent level.
Ensuring continuous innovation to meet consumers' expectancy.
Giving proper profit to the retailers to keep them happy and hopeful.
Evaluating Launching Communication Activities   
Soft Launch Program:
A Soft Launch Program for Nutri Rich was arranged at the conference room of Sales Office at 13th October, 2014. High officials of Partex Star Group including CEO was present and delivered their speech in front of the Area Sales Managers to motivate them about launching of Nutri Rich. Brand offerings, features, marketing plan etc. was presented. Branded T-Shirts, Caps and leaflets for retailers were distributed among the sales force. Delivery orders (DO) were taken that day for Nutri Rich from the dealers. There was DO for 2100 cartoons at that single day. And Nutri Rich was made available in Dhaka's market on the next day, 14th October, 2014. A grand launching program at the auditorium of BIRDEM is planned for Nutri Rich but the date is to be fixed yet upon receiving approval from BIRDEM.
Planed Communication Activities to Reach Target Group:
Several activities was planned to make the launching very successful by assisting it with marketing communications. The planned activities are:
Activation at all Diabetic Centers.
Park Activation.
Super Shop Activation.
Pharmacy Branding.
Special Pack for trial.
Billboard.
Sponsoring Movie.
Branded Health Show on TV.
Special Focus on DAB Shops.
Audio Visual (AV).
Doctors' Letter.
Press Release
Sales Kiosk.
POSM:
Bunting
Dangler
Trade Letter
Media Coverage:
TVC on Satellite Channels
RDC on fm Radio
Press Ad
Magazine Ad
Ad on Diabetic Journal
Special Media Coverage on Launching Program
Gift for Doctors:
Branded Table Watch.
Branded Docket
Branded Slip Pad
Branded Pen
Branded Bag
Nutri Rich Biscuits
Gift for SR to DSM:
Branded Polo Shirt
Branded Cap
Diabetic Centre Activation:
Diabetic Centre activation is planned to be done by venue branding, raising awareness about the brand, free diabetes test. Sampling and spot sales. There are total 32 BIRDEM diabetic centers at Bangladesh. Out of the 32, 28 are in Dhaka and the other 4 are outside Dhaka.
POSM:
Point of Sale materials are used for executing advertising campaigns, exhibitions and presentations.
As an effective marketing tool, well thought out and properly presented POS materials attract consumer attention and promote the brand. Due to their appealing and informative nature, POS materials are capable of stimulating purchases directly at the point of sale. POSM includes Buntings/Streamers, Posters, Dangler, Dummy Pack (enlarged, reduces), Shelf Branding, Shelf Talker, Leaflets & Leaflets Dispenser, Wobblers etc.
Retailers Awareness:
Among the diabetic biscuit selling shops surveys, 78% retailers know about Nutri Rich and 22% do not know about this biscuit. Though 78% is a high percentage, at the retailers end this number must be higher. Because, getting retailers awareness is very important at the biscuit market as consumers are not very brand loyal. They try new biscuits if suggested by the retailers. So, more activities should be taken to achive 100% retailers awareness.
Communicating with the Retailers:
Communication with the retailers is mostly done by the Sales Representatives (SR) of Danish all over the country. Besides the SRs, Danish has Brand Promoters for Dhaka city. Brand Promoters work at different markets to create customer and consumer awareness about the products. As expected, most of the communication is done by SRs. 69.23% retailers are communicated by the SRs alone, 20.52% by both SR and BP, 6.41% by BP and 2.56% by others.
Trade  Letter:
Trade letter is a very important part of launching communication. Trade letters are one kind of formal letter from company end to the retailer end to let retailers know about new products, product features, new offers or price details about any product. As this is a completely new product and the retailers are completely unaware about the product features so Danish decided to give away a trade letter about Nutri Rich. According to this survey, 41% retailers claimed that they get and read the trade letter and 59% said that they did not. This is a weakness of the launching communications of Nutri Rich. SRs should work in this regard. They must try to ensure that retailers read trade letters.
Retailers Opinion about Price:
Retailers understanding about the price is very important. At the time of launching a product, price must be communicated very precisely with the reasons behind the price. When a costly product is marketed to fulfill a similar purpose as less expensive items, it may be more acceptable to consumers.
Without even knowing it, customers might equate costly items with their less expensive counterparts simply because of the way the items are marketed and placed in a retail outlet. Subsequently, consumers might be more inclined to pay more for an item simply as a result of price perception. As long as customers understand a price to be acceptable, even if it is a result of strategic marketing efforts by a retailer or manufacturer, they may be convinced to make a higher-priced purchase that would otherwise be ignored. But to use this strategy successfully, proper communication needed to be done. 26.92% retailers think the MRP 100 BDT is very high and 44.87% thiks it is high. The reasons behind thinking the price is very high is the packet size is smaller compared to the competitors. 24.36% retailers think the price is normal, 3.85% thinks it is low and none thinks it is very low. So, clarifications why the price is high is needed at the retailers end.
Other Findings from the Retailers Survey:
The packet size is needed to be enlarged as the competitors' are offering large packets.
If it is not possible to make the packet large then price is needed to be reduced.
Most of the retailers think the price is higher than it should be.
Retailers are hopeful about Nutri Rich because of the BIRDEM logo.
Retailers have little complain about profit margin, they think they are getting enough profit.
Foreign products are getting large market share day by day.
Foreign Products have a positive image inspite of being very costly.
Different SKUs should be introduced to cover more segments.
Marketing activities should be increased.
TVC is needed to be telecasted as soon as possible to make consumers aware.
Some extra benefits and gifts for the retailers to make strong relationship with Danish.
Trade letter should be circulated among the retailers at a large scale.
Sales representatives should inform the retailers about the trade offer clearly.
Retailers suggested advertising in ATL media such as TVC, Billboard, Newspaper ad etc.
More point of sale merchandising items are needed to be displayed to attract the consumers to create consumer pull.
Analysis of Consumer Survey:
I have contacted a consumer survey on 60 persons who are diabetic patients and usually consume diabetic biscuits. I have conducted this survey at BIRDEM and branches of BIRDEM to easily find diabetic patients. 100% of the customers I surveyed usually consume diabetic biscuit. The outcomes of the survey are explained and shown graphically below.
Influencing Attributes to Select which Biscuit to Buy:
What are the influencing attributes and how much they influence consumers in the buying process must be indentified to design marketing communications properly. According to this consumer survey, 36.67% consumers consider about the quality of the product. It was expected that highest number of consumers would influenced by quality. Then, 20% consider price, 13.33% consider brand.
It is an major finding that consumers are not brand loyal about diabetic biscuit yet. So, there ia an great opportunity to create a strong diabetic biscuit brand and a loyal consumer base. Surprisingly, 25% consumers consider packet size ar a buying decision.
Market Share at Consumer Market:
Like the retailers survey, this survey also shows Kishwan Sugar Free Biscuit as the leader. 43.33% of the respondents of this survey said they usually consume Kishwan Sugar Free biscuit. Nutri Rich is consumed by 15% respondents, a very small amout. As a newly launched product with little marketing this result was expected. Nabisco Sugar Free is consumed by 6.67% of the respontents and IKO by 11.67%. And 23.33% answered they consume other biscuits. Many of the consumers consider Lexus biscuit as a diabetic biscuit and mainly they answered others.
Other Findings from the Consumers Survey:
Advertising in ATL media such as TVC, Billboard, Newspaper ad needed along with BTL media to create awareness.
Large amount of consumers think Lexus biscuit is a diabetic biscuit.
The packet size is needed to be enlarged as small packet is giving a wrong percetion about this biscuit's price.
If it is not possible to make the packet large then price is needed to be reduced.
Foreign products are getting large market share day by day.
Foreign Products have a positive image inspite of being very costly.
Marketing activities should be increased.
Continuous TVC and press advertisings needed to be increased as soon as possible.
Recommendations    
Most of the findings of this report are from retailers and consumers survey along with own observations of the launching marketing communications. Recommendations based on the findings are as follows:
TVC airing of Nutri Rich should be started with maximum spots as soon as possible to increase consumer awareness and generate inspiration among retailers..
Along with TVC, other marketing activities such as billboard, newspaper and magazine ad, digital campaigns should be started.
Danish should try to make Nutri Rich a strong brand by implementing 360 ˚ marketing communication activities.
Park and BIRDEM activations are helping Nutri Rich to reach the target group, Danish should continue these activation programs.
Instead of just focusing on sales amount, Danish should consider the long term opportunity of developing a successful brand as Nutri Rich is the only certified diabetic biscuit by BIRDEM in our country.
Price and/or packet size should be reconsiders as both retailers and consumers think the price is high.
New pack size in lower price station should introduce to capture bigger segment.
Market gaps and demands should be identified correctly.
Effectiveness of marketing activities at both retailers and consumers end should be measured and evaluated at a regular basis.
Conclusion
This report is an outcome of getting attached with Danish Foods Limited for four years, an independent business unit of Partex Star Group. Firsthand experience and learning as an intern in this period was the key inspiration in forming this report. Evaluating the launching plan and launching marketing communication activities of the product Nutri Rich was linked thoroughly to identify future marketing opportunities, evaluate effectiveness of taken launching initiatives, findings successes and shortcomings of taken activities and finally recommending some key points to make Nutri Rich a strong brand. Great initiatives have been taken by the consumer marketing team of Danish to make the launching of Nutri Rich successful. Further actions should be taken to continue the process of creating Nutri Rich a brand. Findings and recommendations of this report will definitely help the management of Danish to understand the qualities of the launching activities of Nutri Rich so that they can take relevant and better actions in future.