Introduction:
Merchandising is an important work in garments sector. So that merchandiser job is essential for every garment. In this job the employer must have need hard working mind, convincing power, instant intelligence, powerful observation, patience etc. Without merchandiser no garments can run smoothly.
Without buyer no garments company can exists. For this reason buyer satisfaction is very important. Buyer means that buy the products from any organization. In garments sector buyer means especially foreign buyer who come to our country and buy products from our garments. At this time of giving order if buyer satisfied with the help of merchandiser then the buyer will come again. Buyers another condition is delivery the products in due time. Merchandiser take care this condition seriously. Because if buyers do not get products due time then they will not come again that garments. So merchandisers are handling and caring all kinds of work from taking order to delivery products to buyers and always wants to satisfy them because garments or garments sector's welfare depends on buyer's satisfaction.
I have chosen ready made garments industry to do my internship and the name of the company is Lyric Garments Ltd. It is a private limited company.
Ready made garments are fast growing export sector in Bangladesh. The overall impact of readymade garments export is certainly one of the most significant social and economic developments in contemporary Bangladesh. In order to simulate rapid of the country, particularly through industrialization, the government has adopted an open door policy to attract foreign investment in Bangladesh. As a result there are about 2500 export oriented readymade garments in Bangladesh.
 Scope of the Study:
During my internship program I tried to gather as much as information as possible to illustrate a clear-cut image abut the importance of the merchandising and marketing section for the export oriented garments and the value of the merchandiser for the garments industry. The guiding principle of the company is to develop and maintain strong, secure relation with buyers and suppliers.
To read the report we will able to know clear image about the importance of the merchandising and marketing section for the export oriented garments and the responsibilities of a production coordinator.
The study will also help us to understand the roll of readymade garments in socio economic development of the country.
The overall production process of a garment and about the machineries, accessories and the work forced that is required for a particular garment
Objective of the Report:
Broad Objective:
To find out the merchandising activities of the Garments of Bangladesh.
Specific Objectives:
To know the merchandising activities of Lyric Garments Ltd.
To know the overall internal and external environment of this garments.
Identify the major opportunity and threat of Lyric Garments Ltd.
To know buyers satisfaction level of Lyric Garments Ltd.
To make up proper guideline to remove all the problems.
 Methodology:
This report has been prepared on the basis of experience gathered during the period of internship. For preparing the report, I have also got the information from annual report, and catalogue from the Lyric Garments Ltd.
Population:
The study will be conducted on merchandising activities and buyer satisfaction level of Lyric Garments Ltd. There are eight buyers in Lyric Garments Ltd. Therefore for the purpose of the study buyers satisfaction level of Lyric Garments Ltd. would be constraints of the study.
Sample of the Study:
For buyers here consider as sample of the study. The author assumes that these four buyers will represent the total buyers of Lyric Garments Ltd.
| | | |
| --- | --- | --- |
| Buyers name | Country | Local Address |
| At last sports wear inc. | USA | Gulshan-2, Rangs arcade plaza |
| Bells outlet stores inc. | USA | Uttara mascot plaza |
| JD Williams and Company ltd. | UK | Gulshan-1, UdayTower |
| Peacocks stores ltd. | UK | DOHS Baridhara |
Sampling Unit:
Only Lyric Garments Ltd. would be the sampling unit for the study.
Sampling Technique
A justified sampling method is used for the purpose of the study.
 Sources of Data
Primary Source
Questionnaire method (structured questionnaire).
Time to time discussion with the officials of Lyric Garments Ltd.
Practical work experience
Secondary Sources
The secondary sources are:
Monthly report of Lyric Garments Ltd.
Catalogue and annual report of Lyric Garments Ltd.
 Rationality of the Study:
The export oriented ready-made garments sector in Bangladesh plays important in economic development. Now a day million of people are working in this sector. At present the market share of this sector is large among the total export oriented product.
The total number of garments industry is increasing day by day. And the workers of this sector are increasing rapidly. At present the number of garments worker is increasing day by day. Most of the employees are illiterate. But this garments sector is flourishing day by day, because the buyers are satisfied with our garments product. For more development of this sector need more learned people. For this reason I have chosen garments sector.
1.7 Limitations of the Report
During my internship I have faced some limitations to accomplish my report. I could not get much information from the Lyric Garments due to their limitations as well.
Most of the data are primary data that are difficult to collect.
Data sources are so limited.
Language scale of research was not possible due to time constraint.
The Buyers are very busy.
The Exporters are also busy with their duties and responsibilities.
Most of the organizations key personnel were too busy. So they did not give me enough time regarding this matter.
Due to long distance between the factory and university campus it was very difficult to communicate and meet with the supervisor.
2.1 Background of Lyric Garments
 Lyric Garments is a renowned enterprise since 1991 with import & export right that specializes for deployment of design & production of knitwear &sweeter.
Lyric Garments is equipped with all modern machineries for knitting, fabric dying, yarn dyeing, sewing, embroidery, woven label, printing & packaging at the same premises.
Lyric Garments head office is located in Mailbag  one of the industrial cities of Bangladesh. Having an area of about 3, 30,000 sft, with an employment of over 4500 people. 100% of the products are exported to the European market.
Aiming at continuous and steady development, Lyric Garments has established the development philosophy of deserving the market and development of the company. It seeks co-operation based on credit standing, better service and mutual benefit.
Lyric Garments dedicated to exploring the wide international clothing market and seeking more international partners for the glory in the 21st century.
Overview of Lyric Garments:
Lyric Garments is the sister concern of Lyric Garments of Companies. Lyric Garments has been working with reputation and goodwill since 1991. As the sister concern of Lyric Garments Group, Lyric Garments launched its activities in 1995. And it is playing intensive role in garments sector till now.
However, Lyric Garments and Garments is specialized in garment manufacturing. The unit has all modern, high speed garment stitching machines. The knit has been designed to maintain an un-interrupted and smooth flow of work and creative working environment.
Product Quality:
In the export market supply of quality product is considered to be prime determinant for successful marketing of the product. It is generally believed that the buyers do not sacrifice quality for the sake of price. As such, quality of the product must be ensured to compete in the export market. The sponsors of the company to remain always conscious about the quality, design etc. of fabrics. To produce quality fabrics they are required to use proper imported and local raw materials, right –type machinery and to employ experienced and skilled personnel. The quality control section of the project must be equipped with the required and necessary quality control equipment so that at every stage of production quality of the product may be ensured; otherwise, it may difficult for the project to penetrate their product successfully in the international market unless quality is maintained properly.
The project purposes and designs:
Lyric Garments Group setting up a Composite Textile Industries consists of Knitting unit, Fabric Dyeing Finishing unit and Garments unit. The project will produce Knitted Fabric, beached dyed finished Fabrics and Knitwear apparels like as T-Shirt and Polo-Shirt in Garments section.
The project has most modern and sophisticated machinery in the section of knitting for producing quality fabrics, Most modern and sophisticated machinery also included in the dyeing finishing unit to produce quality product. Finally, the fabrics will be using in the garments unit to produce T-Shirt, Polo-shirt and high value knit wear.
Product Mix and Production Capacity:
The annual attainable capacity of the proposed project based on three shift operation for Knitting section & Dyeing and Finishing section and one shift operation for Garments section per day and working for 300 days in a year.
The annual salable product of the proposed project based on three-shift operation per day of 8(eight) hours each shift and working for 300 days in a year both for Knitting and Dyeing & Finishing unit and Garments section is 10 hours per day at 100% capacity.
Its Mission:
The mission of Lyric Garments of Companies Ltd is to earn foreign exchange for the country through manufacturing and export of high quality apparel. Besides this, each of the company's activities must benefit and add value to the common wealth of the society. The company firmly believes that in the final   analysis   it   should   be   accountable   to   each   of the constituents with   whom   it   interacts, namely: the   company's employees, its   business   associates, its   fellow   citizens   and   its shareholders.
Its Vision:
The company has established itself as a fabric & garments manufacturer off repute with a customer profile that includes some of the best names in business. The company sees itself not merely as a supplier of fabric and garments but as an integral business partner in the value chain of eminent buyers and retailers worldwide. It is well known to the company that in the volatile world of quote free access, winners would be decided based on their international competitiveness.
This company would continue to innovate with new and better varieties of fabrics and garments, upgrade the quality of its product and thereby widen its potential range of end users and customers, offer goods within the lowest lead time for enhanced customer satisfaction.
To ceaselessly pursue manufacturing efficiency and rationalization of costs and nature as well as develop talent of its people.
Raw materials:
The project will be a Composite unit consisting Knitting unit, Fabric dyeing & finishing unit and Garments unit. The product of spinning unit i.e. 24/1, 26/1 & 30/1&40/1 combed or card yang material for knitting unit, Various kinds of Dyes and Chemicals like as Reactive Dyes, Salt, Caustic Soda, Soda ash, Wax, Hydrogen Per-Oxide, Detergent, Softener agent etc will be the basic raw material for its fabric dyeing and Finishing unit, which will be imported. The Dyed and Bleached fabrics are the basic raw materials of its Garments unit, which will be received from its dyeing and finishing unit.
Conclusion & Recommendation:
From the detail analysis, it seems that the Lyric Garments technically feasible, economically & commercially rewarding and financially viable. After implementation of the project will generate direct employment of .25 & persons. All the above measures of investment feasibility of the project indicate that it will be able to generate sufficient revenue from its operation to pay back debt obligation and annual operational expenses. The project is financially desirable & suitable for Bank Financing.
Commitment:
Hard work, sincerity, honesty, integrity and devotion of its proud                                     members to its purpose have rewarded the company a reputation of being a    largest quality manufacturer in the field of garments sector. This was   possible due to the company's coordinated management and decade's potential expertise in the manufacturing technology.
Identifying about some Instrument and some information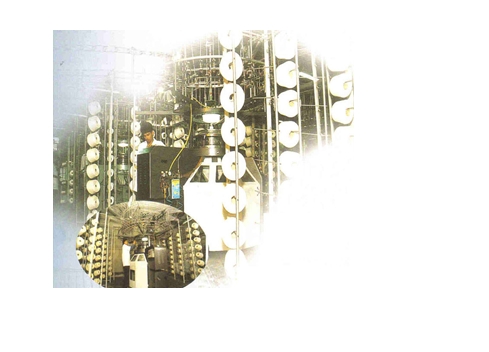 | | |
| --- | --- |
| Mayer & Cie ( Germany ) | 26 nos |
| Fukuhara ( Japan ) | 02 nos |
| Shima Seki ( Japan ) Computerized Flat Knit Machines 14 Gauge | 12 nos |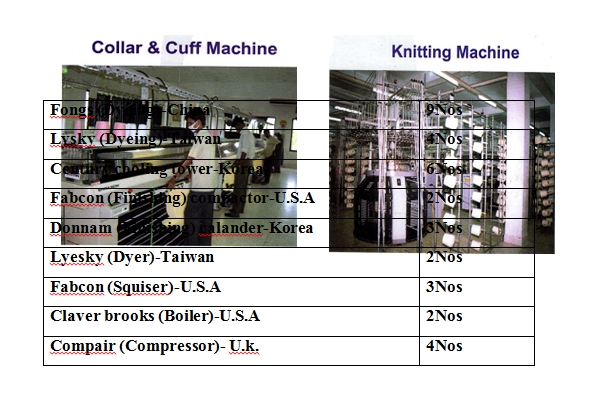 Dyeing & Finishing:
| | |
| --- | --- |
| Fongs (Dyeing)-China | 9Nos |
| Lysky (Dyeing)-Taiwan | 4Nos |
| Century cooling tower-Korea | 6Nos |
| Fabcon (Finishing) compactor-U.S.A | 2Nos |
| Donnam (Finishing) calander-Korea | 3Nos |
| Lyesky (Dyer)-Taiwan | 2Nos |
| Fabcon (Squiser)-U.S.A | 3Nos |
| Claver brooks (Boiler)-U.S.A | 2Nos |
| Compair (Compressor)- U.k. | 4Nos |
| Water treatment Plant (Lon exchange)-India | 1Nos |
| Generator (Diesel)-Japan | 2Nos |
| Generator (Gas) Waukesha-U.S.A | 2Nos |
Figure: Per Day Finished Fabrics Production – 15,000KGS
Garments:
| | | |
| --- | --- | --- |
| Sl. No. | Description | Total Set |
| 01. | PLAIN MACHINE | 500 SET |
| 02. | DOUBLE NEEDLE MACHINE | 04 SET |
| O3. | OVER LOOK 3 THREAD | 19 SET |
| 04. | OVER LOOK 4 THREAD | 300 SET |
| 05. | OVER LOOK 5 THREAD | 65 SET |
| 06. | FLAT LOOK MACHINE | 118 SET |
| 07. | BLACK TAPE MACHINE | 03 SET |
| 08. | FEED OF THE ARM | 01 SET |
| 09. | BUTTON HOLE MACHINE | 11 SET |
| 10. | BUTTON STITCH MACHINE | 10 SET |
| 11. | PIPING CUTTER MACHINE | 04 SET |
| 12. | PMD MACHINE | 02 SET |
| 13. | CUTTING MACHINE | 22 SET |
| 14. | IRON | 28 SET |
| 15. | THREAD CLEANING MACHINE | 03 SET |
| 16. | SHELL-SHAPE EDGING MACHINE | 01 SET |
 Cutting Section    Sewing Floor:
Factory & Head Office: Chowdhurypara, Malibag, Dhaka, Bangladesh.
Tel: +88-02-9752383, 7631416, 7616111                                  
Fax: +88-02-7631491, 7631496
Dhaka Office: City Heart, suit#14/5(13th Floor), 67 Nayapalton, Dhaka-1000
Bangladesh.
Tel: +88-02-9355643, 9347657, 9359941
Fax: +88-02-9336667
In corporation: 4th January 1991
Product Range: T-shirt, Polo shirt, Roll neck T-shirt, Cut&Swean T-shirt, Tank Top, Knitted night dress, Sweater etc, for men, ladies& children's.    
Byers Name: SHIPLIC, KIk, 
GRAVILLE, CTM, A.B.FILIP, WIBRA, PROMOSIA, ZEEMAN.
Monthly Capacity: 1.5 million pcs.
Employees: 4500
Origin of machineries: U.S.A. JAPAN, TAIWAN, KOREA, CHINA, GERMANY.
Sister Concern: Lyric Garments (pvt) Ltd.
Iqbal Tex ware Limited.
Taufiq Sweater Limited.
Lyric Embroidery.
Lyric Zipper.
Lyric Thread Limited.
Lyric Printing.
Lyric Packing& Accessories Limited.                                                     
Management & Organization:
The over all management of the company will be vested with the Board 4f Directors. The Board of Directors will be formulated company's policies & guide lines for its day to day business operations. The Managing Director will be the executive head who will look after the business affairs and other logistic supports of the economy. However Managing Director will be assisted by the managerial and technical personnel who will be the directors of the company.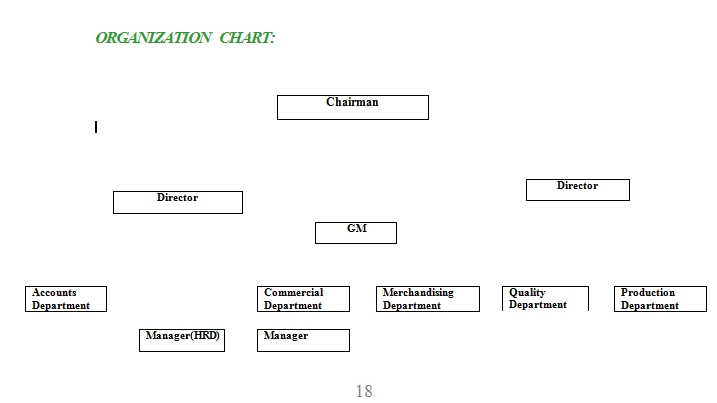 Overview of Head Office of Lyric Garments where I Worked:
The most busiest and important branch of all branches of Lyric Garments is its Head Office which is situated in Chowdhurypara, Malibag, Dhaka. All types of important works are done by here. This Branch is a renowned enterprise since 1991 with import & export right that specializes for deployment of design & production of knitwear &sweeter. It is equipped with all modern machineries for knitting, fabric dying, yarn dyeing, sewing, embroidery, woven label, printing & packaging at the same premises. All types of buyers are handled from this branch.

Organization Profile of Head Office:
Nature of Business       :  Garments manufacturer and exporter.
Employees                   :  900 employees
Product type                 :  All types of woven and knit, top and bottom.
Key Personnel of Head Office:
Chairman                                              Gazi  Majharul Anwar
Managing Director                              Md. Imrul Anwar
Director of Buying                             Mahedi Shorforaz Anwar
General Manager                                J.M. Monir Hossain
Production Manager                           Sadan Kumar Dev
Senior Merchandiser                          Mahmudul Hasan Rasel
Department of Head Office of Lyric Garments:
There are five departments exist in Head office of Lyric Garments. These are
Accounts
Marketing and Merchandising
HRM
Production
Commercial
Every department of this Branch maintained by the functional manager. But the Chairman personally looks after every sector of this branch. In its factory there are some other departments are exists.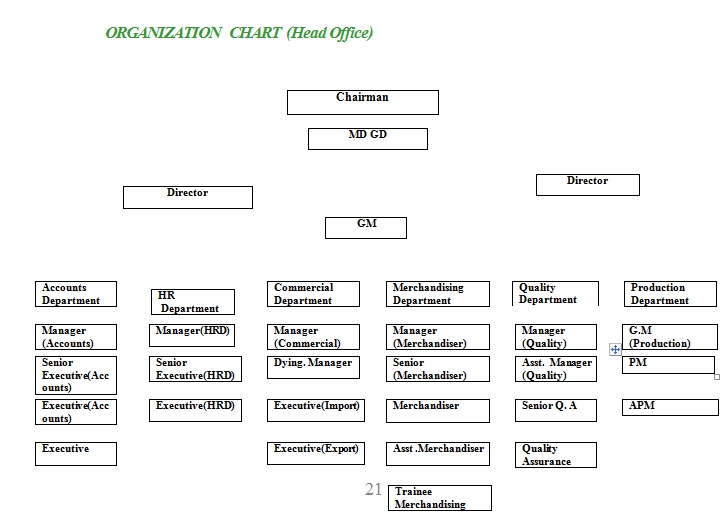 Internship Position and Duties:
As an internee I worked various sectors of this organization. Basically I worded in its merchandising sector as an internee merchandiser. This factory is situated at Malibag Chowdhuripara in Dhaka. There are nine hundred employees work in one shift a day of eight hours each and overtime system exists when need. The production manager checks out all of the equipments of factory. During the internee period I always worked along with senior merchandiser as like a shadow. I also always follow him carefully about his activities. In addition sometimes I also supervise the workers as an internship employee. I have done different types of functions with the merchandiser. Some functions are as follows.
Mail Checking:
In several times I have to check buyers' e-mail. By this time I acquired knowledge about how to send and to check e-mail of the buyer.
 Prepare Swatch Card:
After final negotiation when the buyer makes order for sample design then I have to make swatch card with the merchandiser. In a swatch card the accessories of garments like fabrics, thread, button and zipper must be shown. During my internship program I have prepared different buyers swatch card like- At least sports wear, Bells outlet stores, JD Williams and Company, Peacocks stores.
Observe Sample Design:
At the time of internship I have observe the sample design and try remove the sample problem. Sample design is the most important work of merchandiser. During the sample design measurement must be accurate.
Store Management Function:
At the time of my internship sometimes I have to go storekeeper to adjust inventory. I have gather knowledge about inventory management. The store manager prepares inventory in two times after receiving the accessories and after sewing operations.
Finishing:
In every step of production I helped the merchandiser and finishing is also important function of production.
Accessories Collection:
Accessories Collection is another important function of a merchandiser. In several times I have to collect different accessories from market such as zipper, button, ribbon, thread, elastic etc.
Quality Control:
Merchandising function and quality control are closely related in the RMG sector. Quality control is the most important function in the ready made industry. It controlled by the merchandiser directly or indirectly. I have take take part directly in quality function. I have to observe the quality and remove the problem of sewing. Sometimes I worked with the operator and try to understand their problem.
Learning Points:
Many things I have learned from this organization and I enjoyed everything because it was my first working experience. These are given below
What are the activities of merchandiser?
How to deal with buyer?
The organizational behavior.
How to supervise the workers.
The factory management and how it runs.
Problem solving process at the work place.
How the production process work?
Learn about garments oriented raw materials and merchandisers.
As I am a student of MBA and working in garments sector, as a merchandiser job experience will help in future. From this internship I have found that merchandiser job is more challenging and difficult from any other jobs. This internship period helps me better understanding about garments sector and if I develop my carrier in this sector then this experience helps me lot than any other fresh candidates.
4.1 Merchandising Process of Lyric Garments
The merchandising process with correspondence of buyers and merchandiser. In the very fast there is e-mail communication with the buyer. The buyers send a mail with the design specification to the merchandiser to prepare the sample and costing. Then the prepared sample and costing of the sample is sending to the buyer through mail. If the sample is approved by the buyer then it is the turn for negotiate the costing. After settle the price, the buyer sends contract and order sheet to the Lyric Garments and confirm the delivery time and way. During the time of confirming the order, the buyer opens L/C. The sample development and other important tasks of Lyric Garments are elaborately describe below-
Sample Development:
In merchandising process at first a mail is received from the buyer with a sketch, details of design are mentioned in this sketch. With the sketch the buyer send the measurement chart. The buyer mentions the fabric details, washing instructions, trims details etc. in the mail.
If the buyer required any special type of fabric which is not available with the garment merchandiser, they swatch for the merchandiser's convenience. After receiving the sketch and measurement chart from the buyer, merchandiser develops the sample according to the buyer's requirement and sends it to the buyer.
Receive L/C document from buyer:
After pricing negotiation finally gets the order from buyer it receive an LC also. Both the parties must be open a LC where various terms and conditions must be issued like name of buyer, country name, negotiable buyer bank, payment system, production system, delivery period, quantity, name of the port address, details bout shipping etc.
Transfer Master L/C on the name of selected suppler:
After receiving the LC the merchandiser open a LC on his own company. Once the company is confirmed that the supplier has the ability to do the work properly then they negotiate the price. When the price is set with the suppler the commercial department immediately transfers the master LC in the name of supplier.
Sheet:
Buyers confirm the order sending a signed contract sheet by mail. When the sample, pricing, quality, delivery, time, and schedule etc. can satisfy the buyers then they confirm by sending this type of signed contract sheet.
Place order to suppliers for production:
After receiving the contract sheet the merchandiser takes all the preparation for production. Sometimes few buyers provide production accessories. If the buyer instructs to collect different accessories then the merchandiser negotiate with the supplier. When the enter requirements are ready then the merchandiser of Lyric Garments start production according to the sample and other  mention in the contract sheet.
Quality Control:
Quality control that's mean production control is the most important function of garment production. It is highly related to satisfy the buyer. Lyric Garments is very popular in this prospective. To control the quality of the merchandiser gives the authority to the production manager. A line chief and few supervisors control each line and provide instructions. Here the quality controller supervises the manufacturing process to maintain the quality. Under the QC there is some quality inspector to check the production within each line. After washing the garments are checked in the finishing department. In this garments every process are checked part by part. If there find any problem then the garments repair again in this way the quality of the garments are maintain in Lyric Garments. The production team of the Lyric Garments is very much strong for quality production.
 Monitor the SGS test:
Finished products are washed a per buyer's instruction. Sometimes different types of chemical are used in garments washing. There is a high possibility that the washed garments may contain some kinds of harmful germs for the skin especially for the child's skin. For this reason the garments are sends for SGS test to make sure that weather the garments contain any kind of harmful germs or not. Lyric Garments strictly handle the SGS test.
Packing the garments:
The garments are packed after washing and final checking in the finishing line. Before packing their need some accessories like price ticket, hand take, poky bag, cotton sticker etc. During packing buyer instructions must be followed. The packing must be prepared according to the ratio and style number.
Final Inspection:
After washing and packing the product are finally inspected by the senior quality controller of buying house or buyer. At this time all responsibility pressured on merchandiser. If they satisfied after inspection then the product is as ok for shipment.
Liaison with the shipping lines:
This is the final step of merchandising. In this step commercial manager helps the merchandiser to maintain liaison with shipping lines. The supplier performs all the functions of shipment. There are different functions are done by the commercial manager like UD collection, CNF for shipping.
Analysis:
5.1 Market Position
Target Market
The company is a hundred percent export oriented company. Sales are done through buying house.
Market Share
Lyric Garments has already been established as a strong brand of garments manufacturer among the Bangladesh RMG sector. However at present there is tremendous competition in the market and among this tough competition the company is performing well. The company has remarkable market share in the garments sector.
Achievement of this Organization
Lyric Garments achieved the ISO Certification 9001
2000 for their quality management system.
They have adopted eight quality management principles to gain this:
Customers focus leadership
Involvement of people.
Process approach.
System approach to management.
Continual improvement.
Fact based decision making.
Mutual Beneficial supplier relationships.
Production Performance of Lyric Garments:
the production Performance of Lyric Garments is acceptable. Over the past year the company has achieved its run their business smoothly. Four months production function of Lyric Garments is given below-
| | | | | |
| --- | --- | --- | --- | --- |
| Month | Byers name | Style no. | Quantity produce | Total quantity |
| February | At last sports wear inc. | NT07C | 40000pcs | 50000pcs |
| March | Peacocks stores ltd. | SP09 | 35000pcs | 35000pcs |
| April |  Bealls outlet stores inc. | M7202 | 25000pcs | 45000pcs |
| May | JD William and Company ltd. | M7016 | 29000pcs | 32000pcs |
Production is a continuous process and it may increase or decrease any time. In here we see that the production performance is increasing year to year. Though it is increasing day by day but it has some weakness. I have tried to clear about this matter in analysis.
5.4 Buyer's Satisfaction:
5.4.1 Sample of Production
Production sample is very much important requirement for RMG business. It is the preliminary requirement for buyer. Through attractive production sample the company may able to focus their activities on foreign buyers. Here Lyric Garments have strong production sample capacity.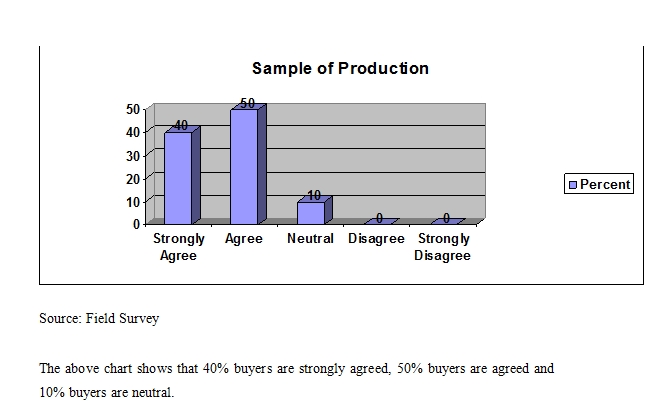 L/C Transfer:
The merchandiser of the company should transfer LC in just time. On the basis of LC they take next step he or her order. In Lyric Garments the merchandiser transfer LC in due time except some uncertain reasons. So the buyers are satisfied of the company.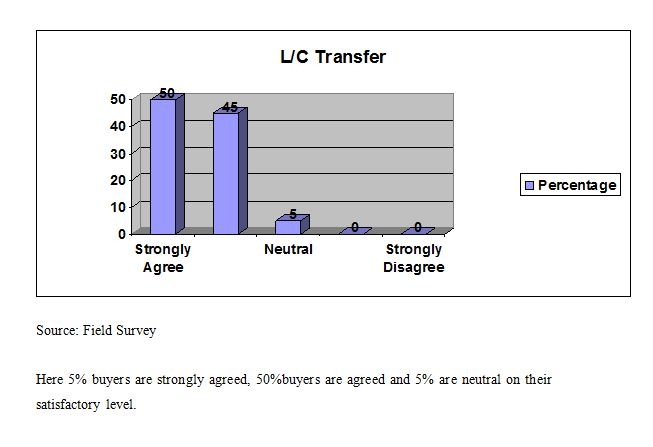 Sewing Quality:
Sewing quality of Lyric Garments is standard. The following chart shows the satisfactory of buyers. Here 50% buyers sere strongly agree, 47% buyers are agreed and 3% buyers are neutral of sewing quality.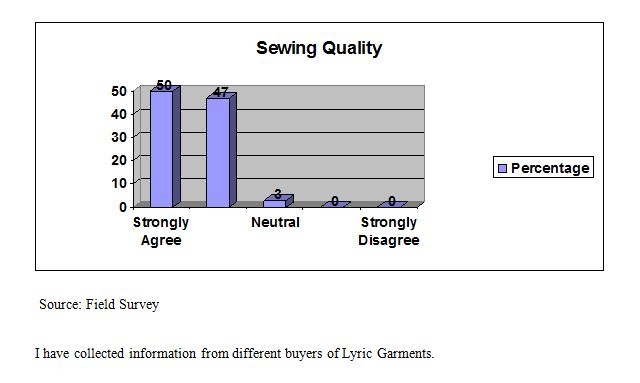 Packing:
Beside sewing quality Lyric Garments maintain standard packing procedure. Without well packing the product cannot reach at the buyer's hand. So buyers are satisfied on packing. Here 48% buyer's sere strongly agreed, 51% buyers are agreed and 1% buyers are neutral on better packing. I have collected information from different buyers of Lyric Garments.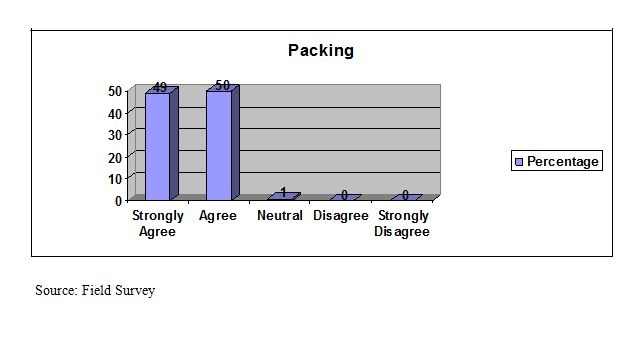 Negotiation Skill:
There is problem in negotiation or communication with buyers of the merchandiser. Buyer's satisfaction highly depends on negotiation skill. For this reason 50% buyers are strongly agreed, 45% are agreed and 5% neutral.

5.4.6 Product Delivery
Product delivery in due time is very important function of a merchandiser. A buyer satisfaction is highly depends on it. In my questionnaire it is clear that all buyers are not satisfied on Lyric Garments for their product delivery. Here 2 Percent buyers are disagree on delivery product in due time, 60% buyers are strongly agree, 30% are agree and 8% neutral.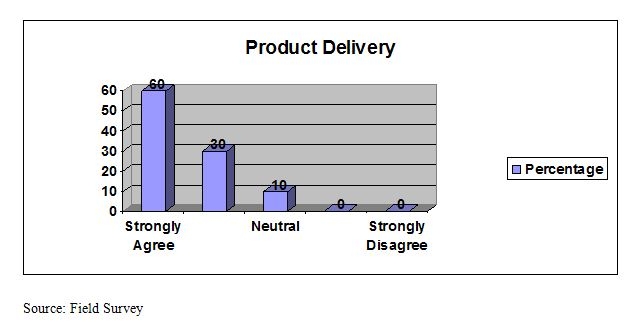 Working Situation:
Working situation is very much important to continue to work. It depends on the strong machineries, clean and silent environment. In here 50% buyers are strongly agree, 40% agree and 10% neutral.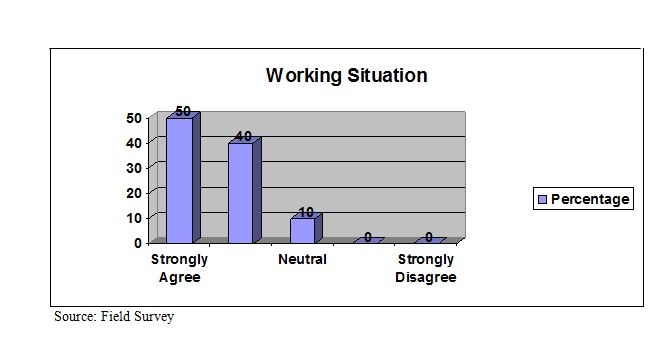 Total System:
The total system of Lyric Garments is better. In here 70% buyers are strongly agree and 30 percent buyers are agree.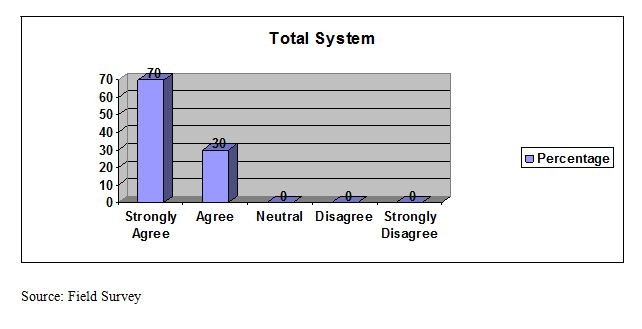 SWOT Analysis:
Strength:
Production capacity of Lyric Garments is in average woven top 1.5 million per month, woven bottom- 0.45 million per month, knit-0.5 million per month.
 The company has its own plant and manufacturer A-Z of products.
Factory location is in Dhaka, so it can provide better service to its customers or buyer.
Weakness:
Eight percent of raw materials are imported from countries like China, Taiwan and Korea. So inventory has maintained very strictly and product costs rises due to problems in the customs and releasing of goods from the port.
Lack of skill labor is a serious problem. Whenever any machine gets out of order it has to be fixed by bringing technicians and for this result costs are high.
Opportunity:
Domestic annual ready made garments demand has an increasing tend. More orders are coming from buyers and so its demand is increasing and so price is also increasing.
Lyric Garments has an established market throughout the country and so it enjoys good order quantity through the year.
Company had bonded warehouse so can take advantage of export facility and don't have to pay tax for its important of raw materials.
Operational efficiency and cost efficiency can be improved further by building more skilled labor and setup of new automated machines.
Threats:
Recently the price of raw materials has increased dramatically specially fabrics, dying etc. this put an adverse affect on the cost of production and moreover stock raw materials become difficult, as too much working capital is needed.
Overall profitability decreases as a whole after the quota system was taken away in 2010.
Intense competition within industry becomes another threat for Lyric Garments. Price was takes place in market. For a small difference in price buyer change their suppliers.
Findings;
On the basis of analysis and practical experience of internship period the following findings are observed:
Lyric Garments has not own pattern designer. For this reason they depend on the buying house. It is time consuming matter.
Production performance is not always very good. Sometimes they produce low production.
Sometimes they delay to transfer the L/C to the buyer. Sometimes it takes more time.
Sewing quality is not very good.
Training and development program is needed here.
Packing quality is not high qualified in all time. Sometimes its may create problem buyers, satisfaction.
HRM division is weak in this garments company.
Sometimes merchandisers fail to negotiate .It is create problem sometimes .
Sometimes environment have not found in Lyric garments Ltd.
Conclusion:
As an employee merchandiser's job is vital and risky. Because buyers satisfaction depends on merchandiser's handling power. If garments deliver the products according to the buyers due time, responsible price and their demand able style then the buyers will come again, because they are satisfied. For this satisfaction of buyers, the responsible person is the merchandiser.
The Lyric garment has been taken all kinds of satisfactory work for buyers in all order. As a result their number of buyers is increasing year after year. From establishment to till today they are successful. Mainly their buyers are USA, UK, Italy, France, Germany and New Zealand, based organization. So Lyric Garments satisfied their customers or buyers by the help of their merchandiser and merchandising work for long run profit. Lyric Garments main goal is profit maximization in long run. It will hope that Lyric Garments satisfied their buyers in future by the help of more efficient merchandiser.
Recommendations:
The merchandising policy and practice should be increase in better way at Lyric Garments Ltd. The merchandiser should more intellectual and hard working.
Product delivery should be maintained in time to time.
Proper communication is very much important with buyer in garments industry. It must be maintain both before place and order and after place of order.
They have some unskilled people in the factory level. So here Lyric Garments ltd must be recruit high skilled people with giving respective salary.
Lyric Garments ltd has no website. So must be open a company website where people get information this garments company.
T&D of this garment is much strong. The company should provide appropriate training to the workers so the workers can work more efficiently.
The management power of this company should be decentralized as a result the lower lever manager could be able take decision quickly.
The HRM division of this company is weak. So the company should take initiate stapes to strong the HRM division for the welfare of the company.
Production anger should be educated and hard working. Manager must be leading the production channel through pre production planning.
Quality controller may able to control standard production. So the quality controller of this company should be experienced person.
Bibliography
Kotler, Philip, (1994) Marketing Management, 8th edition, New Delhi prentice hall of India Pvt. Ltd.
Zikmund William G (2000) Business Research Methods, 6th edition, Philadelphia: The Dryden press Harcourt College Publishers.
Questionnaires
Buyer satisfaction
Lyric Garments
Sample of Production:
The production sample design of Lyric Garments ltd. is very good
Strongly agree
Agree
Neutral
Disagree
Strongly disagree
 L/C Transfer
The company transfer of L/C in due time
a.   Strongly agree
b. Agree
c. Neutral
d. Disagree
e. Strongly disagree
 Sewing Quality:
The sewing quality is standard
a.   Strongly agree
b. Agree
c. Neutral
d. Disagree
e. Strongly disagree
Packing:
The company ensures better packing for shipment
a.   Strongly agree
b. Agree
c. Neutral
d. Disagree
e. Strongly disagre
Negotiation Skill:
The negotiation skill of merchandising department is better
a.   Strongly agree
b. Agree
c. Neutral
d. Disagree
e. Strongly disagree
Product Delivery:
Product delivery of this garments happen in due time
a.   Strongly agree
b. Agree
c. Neutral
d. Disagree
e. Strongly disagree
Working Situation:
The working environment of this garment is comfortable
a.   Strongly agree
b. Agree
c. Neutral
d. Disagree
e. Strongly disagree
Total System:
The total system is satisfactory
a.   Strongly agree
b. Agree
c. Neutral
d. Disagree
e. Strongly disagree