Chapter 1: The Organization
1.1. OVERVIEW OF STANDARD CHARTERED BANK
Standard Chartered Bank is a British bank headquartered in London with operations in more than seventy countries. It operates a network of over 1,700 branches and outlets (including subsidiaries, associates and joint ventures) and employs 73,000 people.
Despite its British base, it has few customers in the United Kingdom and 90% of its profits come from Asia, Africa, and the Middle East. Because the bank's history is entwined with the development of the British Empire its operations lie predominantly in former British colonies, though over the past two decades it has expanded into countries that have historically had little British influence. It aims to provide a safe regulatory bridge between these developing economies.
It now focuses on consumer, corporate, and institutional banking, and on the provision of treasury services—areas in which the Group had particular strength and expertise.
Standard Chartered is listed on the London Stock Exchange and the Hong Kong Stock Exchange and is a constituent of the FTSE 100 Index. Its largest shareholder is Temasek Holdings.
1.2. BRIEF HISTORY OF STANDARD CHARTERED BANK
1.2.1 History
Standard Chartered was formed in 1969 through a merger of two banks: The Standard Bank of British South Africa, founded in 1863, and the Chartered Bank of India, Australia and China, founded in 1853.
Both companies were keen to capitalise on the huge expansion of trade and to earn the handsome profits to be made from financing the movement of goods between Europe, Asia and Africa.
The Chartered Bank
Founded by James Wilson following the grant of a Royal Charter by Queen Victoria in 1853.
Chartered opened its first branches in Mumbai (Bombay), Kolkata and Shanghai in 1858, followed by Hong Kong and Singapore in 1859.
Traditional trade was in cotton from Mumbai (Bombay), indigo and tea from Kolkata, rice from Burma, sugar from Java, tobacco from Sumatra, hemp from Manila and silk from Yokohama.
Played a major role in the development of trade with the East which followed the opening of the Suez Canal in 1869 and the extension of the telegraph to China in 1871.
In 1957 Chartered Bank bought the Eastern Bank together with the Ionian Bank's Cyprus Branches. This established a presence in the Gulf.
The Standard Bank
Founded in the Cape Province of South Africa in 1862 by John Paterson. Commenced business in Port Elizabeth, in January 1863.
Was prominent in financing the development of the diamond fields of Kimberley from 1867 and later extended its network further north to the new town of Johannesburg when gold was discovered there in 1885.
Expanded in Southern, Central and Eastern Africa and, by 1953, had 600 offices.
In 1965, it merged with the Bank of West Africa, expanding its operations into Cameroon, Gambia, Ghana, Nigeria and Sierra Leone.
From the early 1990s, Standard Chartered has focused on developing its strong franchises in Asia, Africa and the Middle East. It has concentrated on consumer, corporate and institutional banking and on the provision of treasury services – areas in which the Group had particular strength and expertise.
Since 2000 the Bank has achieved several milestones with a number of strategic alliances and acquisitions, which have extended the customer and geographic reach and broadened the product range that Standard Chartered offers.
1.3 BUSINESS OVERVIEW
Date
Location
 Events
Feb 2009
Asia
Standard Chartered completes acquisition of Casenove Asia
Dec 2008
India
Standard Chartered increases its investment in UTI Securities to 74.9%
Dec 2008
Taiwan
Standard Chartered acquires the 'good bank' portion of Asia Trust and Investment Corporation
Nov 2008
Brazil
Standard Chartered announces plans to acquire Lehman Brothers team in Brazil
May 2008
Vietnam
Standard Chartered announces raising strategic stake in Vietnam's Asia Commercial Bank to 15%
Feb 2008
South Korea
Standard Chartered to acquires South Korea's Yeahreum Mutual Savings Bank
Feb 2008
Global
Standard Chartered completes acquisition of American Express Bank, a wholly owned subsidiary of American Express Company, with operations in 47 countries
Jan 2008
South Korea
Standard Chartered First Bank Korea Ltd acquires an 80% stake in South Korea's A Brain, a funds administration company
Jan 2008
India
Standard Chartered acquires a 49% strategic stake in India's UTI Securities, a leading local broking firm.

Dec 2007

Global

Standard Chartered completes acquisition of Harrison Lovegrove, a leading global oil and gas M&A advisory boutique
Oct 2007
Global
Standard Chartered acquires Pembroke, an aircraft leasing, financing and management firm
End 2006
Taiwan
Launched tender offer for 100% in Hsinchu International Bank (USD1.2bn)
Sep 2006
Pakistan
Acquisition of 95.37% Union Bank (USD487m)
Sep 2006
Indonesia
Acquisition of 26% stake in PermataBank by the consortium of Standard Chartered Bank & PT Astra International Tbk (USD193m). Total stake held in PermataBank by consortium today is 89%.
Jun 2006
Africa
Acquisition of 25% in First Africa Group Holdings Ltd
Dec 2005
N/A
Acquisition of 20% stake in Fleming Family & Partners (USD78m)
Sep 2005
China
Acquisition of 19.99% of China Bohai Bank (USD123m)
Aug 2005
Bangladesh
Acquisition of Amex Bank's Bangladesh business (USD25m)
Jun 2005
Vietnam
Acquisition of 8.56% stake in Asia Commercial Bank (USD22m)
Apr 2005
Global
Acquisition of a minority stake (6%) in Travelex as part of Apax led consortium
Jan 2005
South Korea
Acquisition of Korea First Bank (USD3.3bn)

Dec 2004

Global

Acquisition of ANZ's Project Finance business with assets (USD15m)

Nov 2004
Indonesia
Acquisition of 63% stake in PermataBank by the consortium of Standard Chartered Bank & PT Astra International Tbk (USD355m)
Jun 2004
Hong Kong
Acquisition of PrimeCredit
Sep 2000
Hong Kong
Acquisition of Chase Manhattan Card Company (USD1.32bn)
Jul 2000
Global
Acquisition of ANZ Grindlays (USD1.34bn)
1.4 BUSINESS & STRATEGY
1.4.1 Our business
Standard Chartered PLC, Listed on both the London Stock Exchange and the Hong Kong Stock Exchange, ranks among the top 25 companies in the FTSE-100 by market capitalization. The London-headquartered Group has operated for over 150 years in some of the world's most dynamic markets, leading the way in Asia, Africa and the Middle East. Its income and profits have more than doubled over the last few years primarily as a result of organic growth, supplemented by acquisitions.
Consumer Banking
Consumer Banking offers a broad range of products and services to meet the borrowing, wealth management and transaction needs of individuals.
Wholesale Banking
Wholesale Banking has a client-focused strategy, providing trade finance, cash management, securities services, foreign exchange and risk management, capital raising and corporate finance solutions.
SME Banking
Our SME Banking division offers products and services to help small and medium enterprises manage the demands of a growing business, including the support of our international network and trade expertise.
Islamic Banking
Standard Chartered Saadiq's dedicated team provides comprehensive international banking services and a wide range of Shariah-compliant financial products based on Islamic values.
The Standard Chartered Private Bank
Our Private Bank advisors and investment specialists provide customised solutions to meet the unique needs and aspirations of high net worth clients.
1.4.2 Global Network
Standard Chartered has a network of over 1,600 branches and outlets and 5,500 ATMs in more than 70 countries and territories across the globe, making us one of the world's most international banks.
Asia
1.4.3   PERFORMANCE
The comparative performance (holding market share) of Standard Chartered Bank in terms of deposit and advance are presented separately in the following figures:
Figure 1- Source: Scheduled Bank Statistics, Bangladesh Bank, Oct-Dec 2005
From the above figure we see that of the 9% held by foreign banks in total deposits, SCB alone commands 40% of the deposits.


Figure 2-Source: Scheduled Bank Statistics, Bangladesh Bank, Oct- Dec 2005
In terms of advances made, Standard Chartered Bank holds the leading position among the foreign banks with a market share of approximately 35%.
1.5 PRINCIPLES & VALUES
1.5.1 Our Principles
Leading by example to be the right partner for its stakeholders, the Group is committed to building a sustainable business over the long term that is trusted worldwide for uploading high standards of corporate governance, social responsibility, environmental protection and employee diversity. It employs over 70,000 people, nearly half of whom are women, The Group's employees are of 125 nationalities, of which 68 are represented among senior management.
Strategic Alliances and Acquisitions in 2005
2005 ushered in a historic year for SCB as it achieved several milestones with a number of strategic alliances and acquisitions that will extend the Bank's customer or geographic reach and broaden the product range.
Completed, rebranded and successfully integrated SC First Bank in Korea, which to date is the biggest acquisition in SCB's history Completed full integration between Standard Chartered Bank Thailand and Standard Chartered Nakornthon Bank in October, 2005
Formed strategic alliances with Fleming Family & Partners to expand private wealth management in Asia and the Middle East
Acquired stakes in ACB Vietnam and Travelex
Acquired the business operations of American Express Bank in Bangladesh
Acquired a stake in Bohai Bank in Tianjin, China, making SCB the first foreign bank to be allowed a stake in a local bank in China.
1.5.2 What we stand for
Strategic intent
To be the world's best international bank
Leading the way in Asia, Africa and the Middle East
Brand promise
Leading by Example to be The Right Partner
Values
• Courageous
• Responsive
• International
• Creative
• Trustworthy
Approach
• Participation
Focusing on attractive, growing markets where we can leverage our relationships and expertise
• Competitive positioning
Combining global capability, deep local knowledge and creativity to outperform our competitors
• Management Discipline
Continuously improving the way we work, balancing the pursuit of growth with firm control of costs and risks
Commitment to stakeholders
• Customers
Passionate about our customers' success, delighting them with the quality of our service
• Our People
Helping our people to grow, enabling individuals to make a difference and teams to win
• Communities
Trusted and caring, dedicated to making a difference
• Investors
A distinctive investment delivering outstanding performance and superior returns
• Regulators
Exemplary governance and ethics wherever we are
1.5.3 People
Our people, our values
With 125 nationalities represented among over 70,000 employees, nearly half of whom are women, we have an international diverse workforce. We believe this enables us to better serve our customers and maintain competitive advantage.
Our board of directors
Our leaders reflect the diversity that drives Standard Chartered's success and makes us one of the world's most international banks.
Our global team
Our employees have more than doubled in number over the past five years. Nearly half the number of employees is women and 68 nationalities are represented among our senior management, reflecting the Bank's policy towards providing equal opportunity for all. We are committed to creating an engaging, inclusive work environment, where people can make a difference, as individuals and as part of a team. The Bank places great emphasis on continuous improvement to increase productivity, enhance customer service
and reduce administrative tasks, so that employees can spend more time in rewarding activities that add value to the Group.
1.6. CORPORATE IMAGE & BRAND IDENTITY
Standard Chartered Bank is a forward looking, and modern bank with a long record of sound performance. It is discarding its erstwhile conservative mould and in response to the current dynamic trends in worldwide financial activities, adopting an aggressive customer focused banking system. The effort that Standard Chartered Bank makes in order to portray the Bank as a brand image is very strong and successful.
The bank strives to portray in its brand image their five core values:
o Trustworthy
o Responsive
o International
o Courageous
o Creative
The bank rejuvenated its 150-year-old logo in 2003 by bringing in colors of green and blue. The logo shows the letters 'S' in blue and 'C' in green, twisted and curled with one another. The logo of the bank depicts the merger of two banks.
1.7. BUSINESS HIGHLIGHTS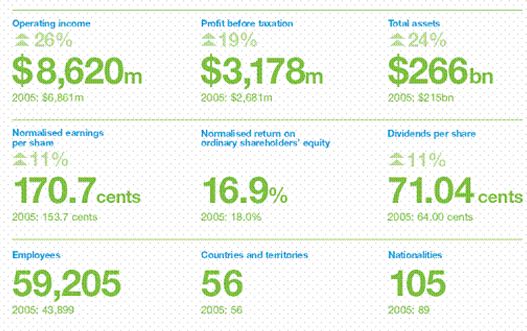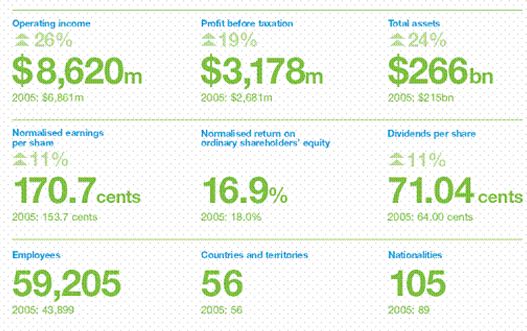 1.8. SCB IN BANGLADESH
The Chartered Bank opened its operation in Chittagong in 1947 that was, at that time the eastern region of the newly created Pakistan. The branch opened mainly to facilitate the post war re-establishment and expansion in South East Asia. However, considering the Grindlays experience, SCB has a 100 year history in Bangladesh since Grindlays entered in to the then Bengal in 1905.
SCB opened its first branch in Dhaka in 1966 and shifted its headquarter from Chittagong to Dhaka after the birth of the Republic of Bangladesh in 1971. SCB is the only foreign bank that did not close its door during the liberation war and it helped to reestablish Bangladesh Bank's files and database which was damaged during the war. The bank increasingly invested in people, technology and premises as its business grew in relation to the country's thriving economy.
1.8.1. Acquisition of ANZ Grindlays
SCB has taken advantage of the expansion opportunities. Buying Grindlays from ANZ now propels it to the number one position amongst the foreign banks in Bangladesh. SCB had also climbed from number five to number one among international banks in India. At 1.34 billion U.S dollars, it is hard to complaint that SCB has overpaid. The financial ease is less compelling for ANZ shareholders, as there are advantages to getting out of a strategically peripheral business. This acquisition of Grindlays Bank has added 6000 employees and 4 countries to SCB's existing network of 27,000 employees and 570 offices in 50 countries. The end result is that Standard Chartered, which went into the 1997 Asian Crisis with strong business in Hong Kong, Singapore and Malaysia, emerges with additional core markets in India and Thailand.
The deal has made Standard Chartered the largest foreign bank by assets in India, Pakistan and Bangladesh and the second largest in Sri Lanka and the United Arab Emirates. The bank had been seeking to expand in the region since the end of the Asian economic crisis, and has finally become successful in its expansion. The primary goal of the integration is to combine the best of both companies, and put right people in the right jobs on the basis of fairness and equitability.
1.8.2. Acquisition of American Express
Standard Chartered Bank successfully completed the purchase of American Express Bank Ltd's business and branches in Bangladesh on 31st July 2005. Over a three month transition period ended on 31st October, 2005, and all the assets and liabilities of American Express, including customers' deposits and loans had been transferred to Standard Chartered. American Express had ceased to operate as a commercial bank in Bangladesh from 1st November, 2005 and all its branches and cash booths had been converted to the SCB brand and operating platform as on such date.
BANGLADESH (BD)

Currency

Bangladesh Taka (BDT)

Main offices/branches

Address: SCB House, 67 Gulshan Avenue,

Dhaka.

Main tele: (+880 2 ) 9550181

Total number of branches: 18

In Country Partner Banks

Uttara Bank Ltd., National Bank Ltd., IFIC Bank Ltd.,                                                 Sonali Bank & Agrani Bank
Country business coverage
Standard Chartered Bangladesh covers business throughout six major cities including Major Presence in Capital Dhaka & Port City Chittagong.

Contact numbers

Standard Chartered Sales:Tele: (+880 2) 9563907, 9560132                                         Fax: (+880 2) 9562329 , 9571975

Product :  Tele: (+880 2) 9563911, 7169157

Fax: (+880 2) 9562329 , 9571975

Solutions Delivery: Tele: (+880 2) 7169157

Fax: (+880 2) 9562329 , 9571975
1.9. BUSINESS & SUPPORT FUNCTIONS OF SCB
The functional areas of SCB are broadly divided in to two major heads – Business Functions and Support Functions, details of which have been furnished below –
1.9.1. Business Functions
SCB has divided its business in to two main functions in order to better manage customer service and also better revenue chasing. The two main functions are –
o Consumer bank
o Wholesale Bank
Consumer Bank
Consumer bank offers banking solutions to individual clients. The wide range of services include wealth management solutions (Savings deposit, Current deposit, Fixed Deposit etc), Personal loan, Mortgage and Auto Loans, Unsecured Loans (Credit Cards etc.) and also SME banking solutions.
Wholesale Bank
Wholesale bank offers banking solutions to corporate / institutional clients. Wholesale bank is divided into two further business lines – Client Relationships and Global Markets.
1.9.2. Support Functions
The support functions do not directly contribute to revenue generation of the bank, rather these functions supports the smooth functioning of the business functions. The support functions of SCB are –
o Service Delivery
o Credit
o Finance and Administration
o Human Resources
o Information Technology
o Legal and Compliance
o Corporate Affairs
o Group Special Assets Management
Service Delivery
The Service Delivery function resembles the operations function of other banks. This is the largest function in SCB in terms of employment with about 60% of the bank's employee population working in it. The administrative tasks of regular business activities (for example account opening, loan disbursement, limit loading & monitoring, SWIFT messaging, etc.) are handled by the Service Delivery function.
Credit
Credit function reviews and approves credit facilities proposed by the business functions for their clients. Credit is responsible for deciding on how much risk exposure to take on any customer. There are separate Credit chains for Consumer Banking and Wholesale Banking.
Finance and Administration
The main responsibility of the Finance and Administration function is to ensure proper financial reporting. Administrative wing of this function takes care of acquisition, maintenance and disposal of SCB's physical assets.
Human Resources
Human Resources, as the title well explains, takes care of the employees of the bank. Alongside its regular responsibilities of hiring, transferring and releasing employees it also undertakes initiatives and training programs to develop SCB's human resources.
Information Technology
Information Technology (IT) function is responsible for smooth operation of SCB's information network and ensuring maximum information security.
Legal and Compliance
Legal and Compliance function monitors SCB's legal environment and acts to ensure full compliance with the laws set by regulatory bodies. They also maintain close liaison with the central banks.
Corporate Affairs
The Corporate Affairs function is accountable for undertaking tasks of building and maintaining the SCB brand. Corporate Affairs also looks after the corporate social responsibility (CSR).
Group Special Assets Management
Group Special Assets Management (GSAM) is a specialized function which undertakes the responsibilities of managing SCB's assets that are considered 'special' according to set criteria. Most of GSAMs portfolio consists of loan assets of SCB, especially loans that have gone bad. GSAM takes necessary steps to recover the loans to the maximum possible extent.
1.10. SWOT ANALYSIS
Following table analyzes the strengths, weaknesses, opportunities & threats for SCB Bangladesh.
SWOT Analysis
SWOT Analysis
Strengths

o Capital adequacy
o Brand image
o Well trained human resource with international exposure
o Competitive products & services

Weaknesses

o By policy, the Bank takes a conservative approach when it comes to expansion and product promotion, while its competitors take a more aggressive approach

Opportunities

o Improve service quality
o Ability to enter strategic alliance with local private banks to expand network

Threats

o Expanding network by the local private banks
o Human resource poaching
1.11. Services provided by SCB, City Centre Branch
SCB City Centre branch has started its journey from September 2, 2006, from then it is providing below services successfully to the customers of SCB.
1.11.1Accounts related Service
a. Balance inquiries
Customers are always concern to know their available balance in their account to continue their transaction or any work related to the trade settlement.
b. Statement and certificate requisition
Customers request for their bank statement and solvency certificate for different purpose, such that visa purpose, taking loans from SCB or from another bank, for knowing about their transaction and so on.
c. Changes of address, phone no., signature, nominee, etc.
Sometimes customers have to change their mailing address, or office address, or contact number or even signature. For that purpose they consult with the personal financial consultants (PFCs) and go for further procedures.
d. Close accounts
If the customers do not need the existing account anymore or if they are not satisfied, then they close their existing account with the help of PFCs.
e. Debit card issue, replace, stop etc.
Any account holder of SCB can enjoy a debit card as an extra feature with their account, but sometime the debit card holders have to replace the existing card and apply for another new ATM card or Debit card for future uses. Sometimes the customers do not feel comfortable in using debit cards; as a result they want to stop their debit card.
f. Stop payment request
Customers sometimes lost their cheque leaves and apply to stop the payment for the particular number of cheque.
g. New account open
Any person can have the demand for opening a new account with SCB, so they go to the branches and have a conversation with the PFCs and make the decision to open or do not open account with SCB.
h. Apply for loan and mortgage
Customers always have the demand for leans and sometimes even for mortgages. Of the customer want to start a new business, or continue the existing business, he may ask for loans and mortgages. Not only for business purpose, but also for personal uses, customers ask for loans.
i. Cash and cheque deposit and withdraw of cash, balance transfer from one a/c to another a/c
This is the main service provided by bank. Customers are having their accounts with different banks due to continue their daily transactions or general payments. SCB customers are not different from them. In the cash area, customers are making crowd to transfer their money from one account to another account, or deposit cheque or withdraw their money if needed.
j. Happy hour
This is completely a new service provided by SCB from 16th August, 2009. This service is helping the customers by providing statements or certificates without charges, only the VAT is applicable. This service is provided to the customers from 9am to 10am in the weekdays of SCB.
k. Know Your Customers (KYC)
It's a special requirement from Bangladesh Bank that every bank must fulfill this form to calculate the estimated risk of a customer in case of opening a new account. The full form of KYC is "Know Your Customer". In case of opening business or personal account, the PFCs have to fill out the form and analyze their customers risk level and finally they come to the result, whether the customer is EDD or SDD.
1.11.2. Credit Card related services
a. Balance inquiries
This service is almost like the account service. The credit card holders are always concern to know their available balance or dues in their credit card to continue their transaction or other uses by credit card.
b. Changes of address
Sometimes credit card holders want to change their mailing address, where they get statements about their uses of credit cards or other necessary papers related to the credit card. So they come to the branches or send their bearer to request this service or collect the necessary papers if possible.
c. Limit increase
If the credit card holders' income increases and if he wishes to increase the limit of his credit card, then he applies for such service. He has to submit his one year bank statement in case of service holder, and/ or tin certificate in case of business person, including an application.
d. Dollar endorsement
If the customer needs to go in foreign country, then he can use the credit card in that country as well, but he has to process it with the help of the bank. For SARC countries, he can get the permission of using $1000 and for Non-SARC countries; he can get the permission of using maximum $3000. In outside of Bangladesh, the customer can use this money for transaction purpose and even if he wants to punch his card in ATM machine and collect some liquid cash, he can do this and he will get the money of that country's currency, for example, Canadian Dollar for Canada.
e. Issue new card
This is basically applying for new Credit card, or supplementary card, for which there must be a primary card holder who will apply for supplementary card. Sometimes the primary card holder applies for picture card or gift card.
f. Replacement of card
If the credit card damages, or breaks or expired, then customers need to apply for replacement of the existing credit card.
g. Card closure request
If the customers do not want to continue their credit cards for different purpose, maximum do not want to continue for higher charges, then they apply for card closure request.
h. Issue of Card cheque
If the credit card holders have account with SCB, then they can apply for Card Cheque, which helps them use their credit cards as accounts.
i. Auto bills pay
Customers use their credit cards to pay their bills by using ATM booth.
j. Standing instructions
If the credit card holder has account with SCB, then he sometimes declare that the bills for using credit card will be cut down from his/her accounts.
k. Travel card
For travel purpose in foreign countries, customers can apply for travel card, of they have credit card with SCB.
1.11.3. Debit card service
a. Replace and issue debit card
If the customer did not accept or apply for debit card before with his/her account, then customer can apply for issue of new debit card. Besides, if the card breaks by several uses of them in the ATM booth, then customers apply for replacement of existing debit cards.
b. Debit card closure request
Some customers do not want to use debit card due to complicating use procedure and huge charges for holding it that is why they apply for closing the debit card.
1.11.4. Remittance
a. Pay order/ draft
Sometime customers need to pay order to another bank, though he do not have account with SCB, then this type of services are provided to them by SCB remittance counter.
b. Issue of Foreign currencies
SCB account holders, who have dollar account with SCB, sometimes apply for foreign currencies in Bangladesh.
c. Debit card delivery
Remittance counter is responsible to deliver the debit cards to the account holders.
d. Foreign exchange statement
Remittance counter is responsible to deliver foreign exchange statement to the dollar account holders.
e. Student remittance
Students, who have account with SCB, with the purpose of studying in foreign countries but not in Bangladesh, then remittance counter helps those students for their remittance in foreign countries.
f. Monitoring of foreign exchange remittance
This is very important task of remittance counter as they are accountable to Bangladesh Bank for any single foreign exchange remittance.
1.11.5. Services provided by Service Ambassador
a. Collect the cheque book requisition
Cheque book is very important for the account holders for their transaction purpose, so they need cheque books in a urgent manner and this important task of collecting the requisition for cheque books is done by Service Ambassador of SCB.
b. Deliver cheque books, i-banking password, capture cards, TIN, hold-mail statement, SP, etc.
Not only collecting the requisition for cheque books, but the Service Ambassador also delivers the cheque books. Besides, s/he also delivers i-banking password, capture cards, TIN, hold-mail statement, SP, etc. to the customers according to their needs.
1.12. My JOB RESPONSIBILITIES
Standard Chartered Bank City Centre Branch is a very good place to learn about the general banking services. From here me, Md. Kamrul Bari learned a lot about banking services as an intern there. My job responsibilities are given below:
Facilitate the PFCs and SA
In the initial stage, my main task was to learn the general banking activities from the Service Ambassador and from PFCs. After learning from them I applied my learning by facilitating them in their works, which helped them to do their work faster and it helped me to apply my learning practically.
Provide forms or other accessories to then PFCs when needed
To make the service quality of SCB better and quicker, I helped the PFCs by providing the required forms and photocopies when the customers or even the PFCs and Managers needed them.
Handling customers
Sometimes I handled some customers when PFCs were completely packed and were not able to move for crowd of customers. I helped some customers in filling up their forms for new account opening, changes of addresses, requisition for Bank Statement and Certificates, debit card replacement or close etc. and so on. Besides some accounts related forms, I also helped the customers in filling up some requisition for credit card
services. In rush hours of bank, I sometime helped customers by connecting them directly to the Contact Centre of SCB.
Analyzing the risk of customers by KYC
KYC is required by Bangladesh Bank and every bank has to attach this form while opening an account. As an Intern in SCB, I had to fill up this form to analyze the risk of the customers either to be SDD or EDD.
Collect requisition for Bank statement and Solvency certificate
I have collected the requisition for Bank solvency certificate and bank statement from the customers. I have also prepared them sometime with the permission of my Supervisor and delivered them to the customers.
Documentation
I gave entry to the PC by using excel or spread sheet of provided statement and certificates. Besides I gave entry of the courier sheets which were used for sending the request of accounts services and card services.
Checking
Sometimes I checked the balance of the cash transaction for CSOs.
Directing and guiding customers
Maximum times customers were confused about with whom they should talk about their quires or problems. I helped those types of customers by directing them to the right person, who can solve their problems.
Chapter 2: Introduction to the Report
2.1. INTRODUCTION
Internship program is the practical aspect of our theoretical learning. It makes a bridge between the gap of classroom learning and practical learning. In this view, Internship plays a pivotal role for each professional degree like BBA. The study will help formulate suitable policies taking into consideration different ideas, suggestions and feelings of the customers and bankers. Further more, it may note that Standard Chartered Bank executives who are really executing the policies undertaken by the top management will have a chance to communicate their interaction and provide necessary feedback.
Financial institutions are very much essential for the overall development of a country. Especially banks play an important role in the field of promotion of capital, encouragement of entrepreneurship, generation of employment opportunities etc. Market economy or free economy is widely used-concept about the present economy of Bangladesh. The country adopted the concept in the late seventies with the privatization of significant number of enterprises. The practices of free market economy started from the eighties with the changing of the world economy. A number of initiatives were taken from the nineties to increase the competition and efficiency in money market, relaxation of unwanted rules and regulations, improvement of loan related law and other situations and improve the financial base of the banks of the country.
2.2. ORIGIN
This report has been prepared as a requirement of the internship program, after the completion of the BBA program of school of Business, American International University-Bangladesh. The main objective of the internship program is to initialize the students with the actual working experience and an exposure to the world outside the theoretical explanation.
This report is based upon the Standard Chartered Bank where, I, Talukder Abdulla Al Faruque was placed for the internship program under the guidance of my faculty advisor Md. Kamrul Bari and organization supervisor Mr. Asim Reza Chowdhury.
2.3. RATIONALE OF THE STUDY
Knowledge and learning become perfect when it is associated with theory and practice. Theoretical knowledge gets its perfection with practical application. As our educational system predominantly text based, inclusion practical orientation program, as an academic component is as exception to the norm. That is, students can train and prepare themselves for the job market. A poor country like Bangladesh has an overwhelming number of unemployed educated graduates. As they have no internship experience they have not been able to gain normal professional experience of establish networking system, which is important in getting a job. That's why practical orientation is a positive development in professional area. In such state of affairs the present aiming at analyzing the experience of practical orientation related to an appraisal of Standard Chartered Bank at City Centre branch..
2.4. STATEMENT OF THE PROBLEMS
This report will focus on mainly the financial activities to reducing expenses, earning more ROA & emphasis of the efficiency ratio of the bank. Besides this I highlighted the problems of earning interest income & interest expenses.
2.5. SCOPE
2.5.1. Project
The scope of this project is limited to make an analysis of the general banking service and Savings Accounts of SCB and to study the comprehensive process of Consumer Banking Service provided by SCB City Centre Branch.
This report is going to be a crucial one for my future life. As, the report is a combination of both practical work & theoretical knowledge. The scope of this report will confined the financial aspects of performance evaluation. The scope or span of this report is to highlight the overall performance with related subject matter of the bank. The scope of this report is limited to the overall descriptions of the bank, its services, its position in the industry. The scope is also defined by the organizational set-up, functions, and performances. It also presents a brief scenario of Standard Chartered Bank.
2.5.2. Information
The models and methods used in this project, unless otherwise stated, has been based on the data obtained from the internal sources, which has been included in the report with the permission of the supervisor, the use of such data being restricted to academic purposes only.
2.6. OBJECTIVES
2.6.1. General Objective
This study is intended for providing me invaluable practical knowledge about banking operation system in Bangladesh. The prime objective of the study is to examine the performance of Standard Chartered Bank & the core strength of the bank.
2.6.2. Specific Objectives
The internship project aspired to attain the following specific objectives –
To accomplish the partial requisite of BBA Program and to achieve of good judgment with theoretical base.
To have a revelation on the banking environment of Bangladesh.
To review the consumer banking services and operating system of Standard Chartered Bank.
To evaluate the factors affecting performance of the bank.
To suggest the better ways of enhancing the performance of the bank.
To analyze the financing system of the bank.
2.7. LIMITATIONS
Although best efforts have been made for the preparation of this internship project and the report of the highest standard, some constraints, as described below, may not have allowed the report to be as proximate to perfection.
2.7.1. Information Constraints
It was very difficult for me to get the information and obtain some practical ideas regarding this report is Bank's policy of not disclosing some data and information for obvious reason, which could be very much useful.
In case of performance analysis secondary data are used.
This study completely depended on official records and annual reports.
To prepare an analytical report need financial assistance. The financial assistance provided by the department is insufficient. In perspective of lack sufficient money, various types of analysis did not become possible.
2.7.2. Confidentiality Constraints
On a few occasions, the learning from the internship project could not be shared in this report due to confidentiality considerations, especially the bank authority was very busy, so they could not give me enough time for discussion about various problem.
Chapter 3: Methodology
3.1. METHODOLOGY
The study requires a systematic procedure from selection of the topic to final report preparation. To perform the study data sources are to be identified and collected, they are to be classified, analyzed, interpreted and presented in a systematic manner and key points are to be found out. This overall process of methodology is given in the following page in the form of flowchart that has been followed in the study.
Selection of the topic: The Standard Chartered Bank official assigned the topic selected for the study. Before assigning the job it was discussed with me so that I can prepare a well-organized internship report.
Identifying data sources: Essential data sources both primary and secondary are identified which will be needed to complete and workout the study. To meet up the need of data, primary data are used and the study also requires interviewing the officials and staffs where necessary.
Classification, analysis, interpretation and presentation of data: To classify, analyze, interpret and presentation of data I used some arithmetic and graphical tools to understand them clearly.
Findings of the study: After scrutinizing the data problems of the study are pointed out and they are shown under concerned heads. Recommendations are suggested thereafter to overcome the problems.
Final report preparation: On the basis of the suggestions of my honorable advisor faculty some deductions and additions are made and final report is prepared thereafter.
3.2. SOURCES OF DATA
The present study is going to be both theoretical and empirical. In the organization part, much information has been collected from different published articles, journals, brochures, web sites and previous internship report. All the information incorporated in this report has been collected both from the primary sources and as well as from the secondary source In order to collect primary data and information.
This report is prepared on the basis of Information gathered mainly from two different sources.
3.2.1. Primary Sources
Discussion with officials of SCB.
Data from the company's documents and SCB's computerized information system.
3.2. Secondary Sources
Previous reports and journals relevant to the banking industry.
Other published documents of Bangladesh Bank.
Relevant SCB paper and published documents.
Chapter 4: Analysis & Interpretation of the Data
4.1. INTEREST INCOME
An interest income is a summary of the earnning direct revenues of a business over a period.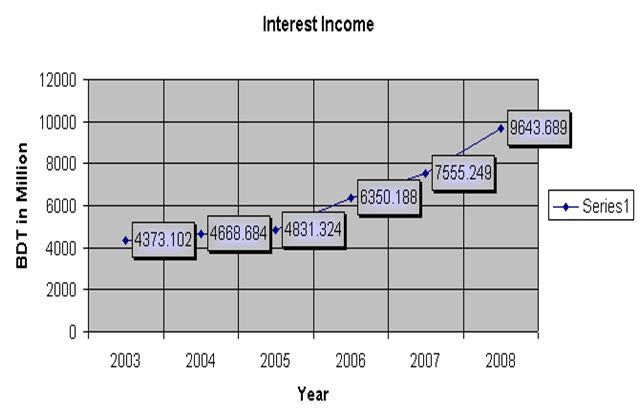 Interpretation: The scenario of the interest income is better because it is increasing mode from 2003 which is BDT 4373.102 in millon to BDT 4668.684 million in 2004 ,BDT 4831.324 million in 2005, BDT 6350.188 million in 2006,BDT 7555.249 million in 2007,BDT 9643.689 millon in 2008.
4.2. NON INTEREST INCOME
Non- interest income includes commission & brokerage, interest on loans and advances & interest on Treasury and T&T Bond & interest on Treasury Line & interest on deposits with other Banks& interest on Treasury Bills and other interest income.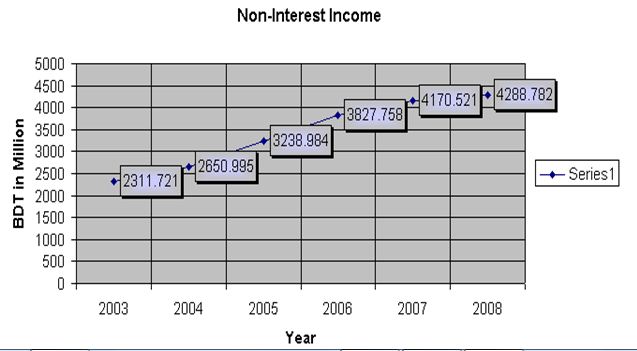 Interpretation: Non-interest income increased from BDT 2311.72 million in 2003 to BDT 2650.995 million in 2004, BDT 3238.984 million in 2005, BDT 3827.758 millon in2006, BDT 4170.521 millon in 2007 & BDT 4288.782 million in 2008. Non-interest income was 39.58% of the total income in 2008 as compared to 47.34% in 2003.
4.3 INTEREST EXPENSE
Interest expense is the price that a lender charges a borrower for the use of the lender's money. It relates to the capital structure of a company. Interest on deposits under schemes was the largest component of interest expenses.Interest expense also includes Interest on FDR,interest on savings deposits, interest on short-term deposits,interest on call deposits and other interest expenses.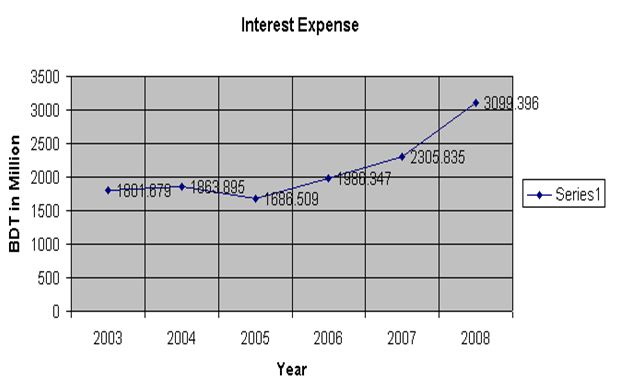 Interpretation: Interest expenses moved up from BDT 1801.679 million in 2003 to BDT 1863.895 million in 2004, BDT 1686.509 million in 2005, BDT 1986.347 millon in 2006, BDT 2305.835 millon in 2007 & BDT 3099.396 million in 2008.
4.4. NON INTEREST EXPENSE
For a bank, the non interest expense not associated with attracting and keeping depositor's funds.
Interpretation: Non-interest expenses moved up from BDT 1358.282 million in 2003 to BDT 3353.043 million in 2008.The scenario of the non interest expense is gradually increasing. Non-interest expenses were 52% of the total expenses in 2008 as compared to 43% in 2003. Salaries and allownaces 22.48%, rent, taxes etc 3.82%, depreciation and repairs 7.81%, stationary, printing and advertisements 2.24%, postage, stamp and telecommunication 2.18%, and other expenses 12.94% of total expenses in 2008 as against 15.51%, 2.34%, 7.50%, 4.40%, 2.91%, and 9.74% respectively in 2003.
4.5. TOTAL ASSETS
The sum of current and long-term assets owned by a person, company, or other entity. It computed as: Total Assets= Total Current Assets + Total Long Term Assets.
Interpretation: The Bank's total assets outstanding as of December 31, 2008 amounted to BDT 105271.5390 million as compared to BDT 93017.920 million at the end of December 2007. In 2003 to 2008 the total assets of the bank is increasing rapidly. Within six years the bank achieve almost double volume from 2003 which is BDT 57376.039 million and now it is showing BDT 105271.538 million in 2008.
4.6.NET INTEREST MARGIN (NIM)
Bank's net interest margin, which is derived from net interest income divided by average earning assets,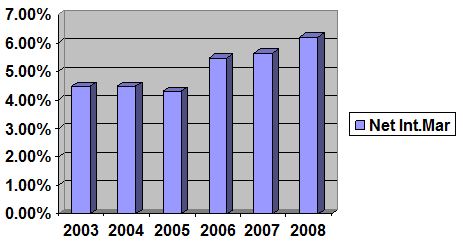 Interpretation: In 2003 & 2004 it was 4.48% and 2005 it was decreasing which is 4.30% after that it was 6.21% in 2008 as compared to 5.64% in 2007 & 5.47% in 2006.
4.7. PERCENTAGE OF NON INTEREST EXPENSE TO NET INTEREST INCOME
It mean's percentage of net interest income which computed as : non interest expense divided by net interest income
Interpretation: Most of the period the percentage of net interest income situated in a stable position but in 2005 it was increasing in62.97% after that it was moved from 51% to 52% in next three years. Before 2005 it was also within 52% from 2003.
4.8. RETURN ON ASSETS
ROA is based on the total asset definition of capital. Computed as : net income/average total asset. It is a measure of the productivity of a bank;s total resources. Each of the foregoing ratios looks at a slightly different aspect of profitability.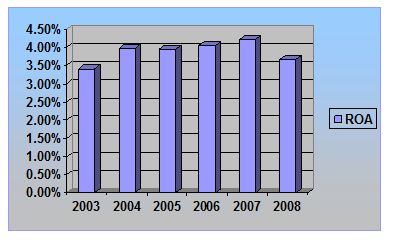 Interpretation: The above scenerio of ROA it's a ups & down position. In 2003 it was3.41% and it is increasing in 2004 which was 3.97% and after that it was fluctuated in 2005 3.94% and then it was increasing in 2007 which was 4.22% and last year it was falling 3.68% in 2008. It indicate that the total assets of the bank are not utilizing in a proper way & it earned more fixed asset to reducing liquidity and the net income of the bank was going down from 2007 to 2008.
4.9.EFFICIENCY RATIO
Efficiency ratio are ratios that come off the balance sheet and the income statement and therefore incorporate one dynamic statement. It measure as non interest expense divided by total operating revenue, is a popular measure used by stock analysis based on operating revenue rather than asset.
Interpretation: The scenario of the ratios are ups and down position. In 2003 the ratio was almost 28% but the next year it was falling 27% in 2004 after that it was increasing in 2005 which was 31% and then it was declining 28% in 2006 but now it moved up 29% in 2007 to 31% in 2008.
Chapter 5: Findings of Study
5.1. FINDINGS
From the analysis of interest income we can see that it is increasing because the Bank earns more sales revenue by their trained employees in consumer banking division.
From the analysis of non interest income we can see that it is also increasing because the SCB management adopt new policy to earn more non interest income which is implemented. That mean's the bank reducing their fee based income from the total income.
The scenerio of interest expense is not better in position because in 2003 to 2004 it was in up mode but in2005 it was fluctuated which is better for bank to reducing expense after that in 2006 to 2008 it was increased and indicates more expanse against it's total expense.
Net Interest Margin (NIM) increased as the higher spread is being resulted from the lower deposit rate and higher yields on risk assets. This indicates a reasonable spread between interest income and interest expenses.
It has the positive trend in gaining Net Profit. So, we can say that it is financially sound bank.
The bank consolidates its deposits day by day in an increasing fashion. So, we can say that it is financially a strong bank.
Return on Assets (ROA) is primarily an indicator of managerial efficiency; it indicates how capable on management has been in converting Assets into Net Earnings.
The efficiency ratio measures how effectively a bank is operating and how profitable it is.
If the bank minimize their operating expense the percentage of net interest income also going down.
Standard Chartered Bank follows the policy guidelines as instructed by Bangladesh Bank in different circulars at different times.
Documentation is being practiced carefully to avoid legal complication that may arise any facility provided by Standard Chartered Bank.
The core strength of Standard Chartered Bank is its strong and reliable client base. Here in appraisal foremost importance is attached to the capability, earnestness, and financial conduct past, present and expected future. KYC (Know Your Customer) is the motto of this Bank.
Compliance culture in Standard Chartered Bank is very good. This is another core area of the bank why the amount of default loan is significantly low.
Standard Chartered Bank is practicing the concept of "Project based lending rather traditional security based lending approach". Consequently, Innovative projects and projects having both domestic and export market shall get preferences.
The Bank realizes the importance of Relationship Manager. It has been observed that some loan becomes problematic due to supervision and monitoring deficiency at the Branch level.
Chapter 6: Suggestions
6.1. SUGGESTIONS
From personal observation in Branch level banking, loans are deteriorating due to lack monitoring and supervision activities. There should be a separate unit in Loans and advances section named as "Monitoring and Supervision Unit". Exclusive job responsibilities should be delegated to RM and feed back from his activities should be communicated on daily basis to the Branch Manager. As a matter of fact, he/she is the Relationship Manager who oversees disbursement of credit to Monitoring and Follow up.
Chapter 7: Conclusion
7.1. CONCLUSION
The Standard Chartered Bank is unique in terms of constitution, its mandate, its objectives and modus operandi. Through this the Bank has in the mean time found its own special position in the sector at the higher rack of the self. Bank is expected to continue to maintain strong competitive edge in banking sector in Bangladesh in the years ahead. Through Bank's specialization and integrated approach, The Bank aims to build a strong position in the industrial development of Bangladesh. The Bank also plans to maintain its focus on managing capital and costs to maximize shareholders' value. In this environment, The Bank expects to make further gains in revenue, income and return on capital.
Recent Bank's performance in different arena of banking strongly suggests that Standard Chartered Bank is one of the soundest banks operating in the country. Continual improvement in different segment with a proactive attitude can make a difference in the banking business.
The Standard Chartered Bank is redefining the traditional banking concepts and transforming it into relationship banking. The Standard Chartered Bank considers the borrower as clients. The mutual relationship is the essence of long-term success in the banking industry. The ever-increasing competitive nature of banking business determines the direction of the bank. Sustainability in better performance is the prime focus in Standard Chartered Bank.