INTRODUCTION
By means of the practical knowledge it's possible to apply the theoretical knowledge in the practical field. For any technical education practical experience is almost equally important in association with the theoretical knowledge. The training minimizes the gap between theoretical and practical knowledge and makes us familiar with the industrial environment, we got an opportunity to complete 6 weeks (42 days) long industrial training and I did it in Asian specialized textile mills limited which is consists of Fabric manufacturing  (yarn twisting, warping, sizing  and weaving) units. It has well planned & equipped. It also has a sister spinning factory.
The industrial attachment is the process which builds understanding skill & attitude of the performer, which improves his knowledge in boosting productivity & services. College education provides us vast theoretical knowledge as well as more practical attachment, despite all these industrial attachment help us to be familiar with the technical support of modern machinery, Knowledge about various operation stages.
It also provides us sufficient practical knowledge about production management, Productivity evaluation, work study, efficiency, industrial management, production planning & control, production cost analysis, inventory management, purchasing, utility & maintenance of machinery and their operation techniques etc. the above mentioned cannot be achieved successfully by means of theoretical knowledge only. This is why it should be accomplished with practical knowledge in which it is based on industrial attachment makes us reliable to be accustomed with the industrial atmosphere & improve courage & inspiration to take self responsibility.
COMPANY NAME
Asian specialized textile mills limited
Corporate Headquarters
Dilkusha centre
28 Dilkusha C/A, 4th floor, Motijheel, Dhaka-1000 Bangladesh
Tel : +880-2-9558534, +88-2-9566052
Local office
28, Kmartuli lane,Islampur, Dhaka-1000
Tel: +880-2-7393678, +088-2-7393240
Factory
West muktarpur, Munsigaung, Dhaka, Bangladesh.
Coverage area of total factory 2,87,496 sft
Date of Establishment
January 1993
Commercial Production
1994.
Owner
MD: Harun- ur – rashid
Business line
Manufacturing and Marketing of high Quality Fabrics.
Listing status
Private Textile mills.
Authorized capital in taka 3000 million.
Paid up capital 10 millions.
Main Market
Local market, Europe.
Company Vision
Quality is always the combination of the highest intent, sincerest effort with an accurate execution
Product/Service:
Courser plain fabric, Shirting fabric, Twill (2/2, 3/2, 3/1)
Production capacity
20000 yd/day
Major buyer:
C&A
Zara
Matalan
All star
A to Z
Protile
Army tender
Human resource &organization structure:
Organizational structure:
Management system:
Intercom telephone
Fax
E-mail
Written letters
Raw materials:
Types of raw materials processed here,
Cotton 100% combed or carded.
Polyester-cotton bland (P/C or T/C); P=65% and C=35%
Viscose cotton (CVC); P=40% and C=60%
Sources of raw material:
Ashik knit composite
RK spinning
Keya cotton mill
Jamuna spinning mill
Pakiza cotton mill
Al razi textile
Asian cotton mill
Nahid cotton mill
Shamim cotton mill
Ajij twisting
Hosain twisting
Loyal spinning
Ginni spinning
Machine and equipment:
warping
The parallel winding of a set of warp yarns from many yarn packages (cone/cheese) on a flanged bobbin (warping beam) at uniform specific tension and length is called Warping.
Objects:
Wind the warp yarns on the warping beam to make it suitable for sizing.
In case of designable fabric wind the yarns section wise by sectional warping.
Requirement of Warping:
The yarns in the sheet should be in uniform spacing.
The yarns in the sheet should be in uniform tension.
The yarns in the sheet should be of a predetermined length.
The sheet should be containing a predetermined number of ends.
There should be no broken ends in the beam.
Types of Warping:
DIRECT OR HIGH SPEED OR BEAM WARPING:
Direct warping is used for single color warping. Yarns are directly wound on the wrapers beam so it's called direct warping.
SECTIONAL OR PATTERN OR DRUM WARPING:
Sectional warping is used for complex color patterns. Sections are made sequentially according to warp pattern.
Raw Material:
Cone (different count yarn) from Hard Winding Section.
Type-1
                 Brand: gusken
                 Model: 16332
                 Country: German
                 Creel capacity: 512
                 Speed: 150rpm
                 No of machine: 02
                 Type of warping: sectional warping
Type -2
                  Brand: beninger
                  Model: 10587
                  Country: Germany
                  Creel capacity: 512
                  Speed: 120rpm
                  No of m/c: 02
                  Type of warping: sectional warping
High speed directs warping: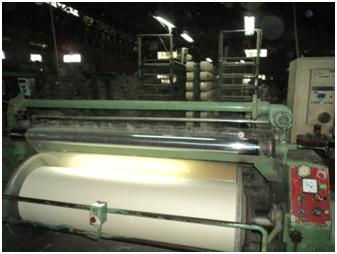 Brand: fchlafhorft
Model: 05813
Country: Italy
Creel capacity: 810
Speed: 220 rpm
No of m/c: 01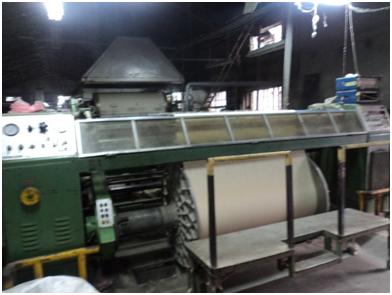 Sizing:
Sizing is the process of giving a protective coating on the warp yarn to minimize yarn breakage during weaving.
Sizing is the most important operation in preparing warp yarn for weaving especially with cotton yarn. The smallest error in sizing process may be very harmful. This may increase warp breakage rate on the looms and consequently reduce weaving production and quality. Therefore sizing is termed as the "mother of Weaving".
Objects:
To increase the smoothness of the warp yarn.
To reduce hairiness of warp yarn.
To increase the strength of warp yarn.
In some cases sizing is now done to modify the character of the warp yarn. i.e. to have an effect on fabric weight on fabric weight, stiffness, handle properties etc.
Requirement of sizing:
Sized warp must be strong and elastic.
Yarn strength and loss in elongation should be within admitted limits.
The process must ensure the applications of required amount of size on the yarn.
The tension of warp yarn must be constant all the time.
The weavers beam must have a cylindrical shape, necessary winding density and the yarn length.
The sizing process must be efficient, economical and must ensure the production of high quality size warps.
Machine description
Brand: ramallumin
Model: 085521
Country: Italy
Back beam: 16
Speed: 280 rpm
Size bath: 02
Heating r/r: 09
No of m/c: 02
Types of sizing:
Sizing may be classified into four types on the basis of size% on the yarn.
1.      Light Sizing    : 10% to 15%.
2.      Pure Sizing     : 16% to 25%.
3.      Medium Sizing           : 26% to 50%.
4.      Heavy Sizing  : 50% to 100%.
Sizing Recipe:
Sizing recipe depends on yarn type, total ends.
Typical sizing recipe-
In 500 Liter Water
Starch         : 10-20%          of water.
Binder        : 2-4%              of water.
Softener      : 0.5-1%           of water.
SIZING RECIPE FOR A SPECIFIC FABRIC CONSTRUCTION USED IN ASIAN TEXTILE-
Fabric construction                 : 20×20/128×90.
Fabric type                              : Solid dyed.
Total ends                               : 7552.
Avetex-K                                : 25 Kg.
Kollotex-5                               : 25 Kg.
Quicksolan-SPR                      : 25 Kg.
Trisize                                      : 12 Kg.
Sol-wax                                   : 05 Kg.
Water                                      : 430 Liters.
Fabric construction                 : 45×342/108×52 cvc.
Fabric type                              : Yarn dyed.
Total ends                               : 7050.
Avetex-K                                : 25 Kg.
Kollotex-5                               : 25 Kg.
Quicksolan-SPR                      : 25 Kg.
Trisize-SY 300H                     : 15 Kg.
Glissofil Extra Soft (wax        : 05 Kg.
Water                                      : 400 Liters.
Fabric construction                 : 402x402/82×46.
Fabric type                              : Solid dyed.
Total ends                               : 5074.
            Amisol                                     : 25 Kgs.
Penetrose                                 : 25 Kgs.
PVA                                        : 16 Kgs.
Acrylic Polymarin Primer Form:10 Liters.
Artificial wax                          : 04 Kgs.
Water                                      : 460 Liters.
Weaving:
Weaving is the process of manufacturing woven fabric by interlacing at two sets of yarns (warp & weft) at right angle (90°) according to design.
 Objects:
To produce woven fabric.
To give the final product.
Requirement of Weaving:
Proper sized warp yarn.
Required length of warp yarns.
Accurate drawing & denting.
Machine setting must be accurate.
Weaving Process Involves: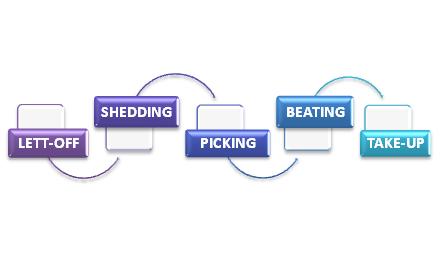 Machine specification: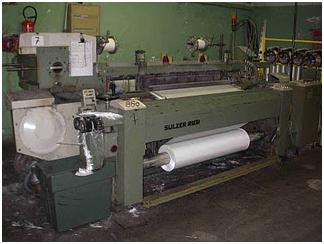 Loom type -01
Sulzer-ruti
F-2001
FK-1N-140G
Sulzer Brothers Ltd.
Winterthur Switzerland
Shedding type: tappet(cam)
Shed type: open
Weft insertion: by rapier (flexible, tip transfer)
Cam position: left side top position
Loom width: 63 inch
Held frame capacity: 06
Loom R.P.M.: 245
Weavers beam leangth: 140 cm
Total no of m/c: 44
Shed no: 01
Loom type 02
Sulzer ruti
Projectile weaving machine
PS 7100
Sulzer brothers Ltd.
Winterthur Switzerland
Shedding type: cam shedding
Shed type: open shed
Weft insertion: by projectile
Loom width: 65*2 inch (Double beam)
Heald frame: 10
Loom R.P.M.:350
Weavers beam length: 170*2 cm
Total no of m/c: 48
Shed: 02
Loom type 03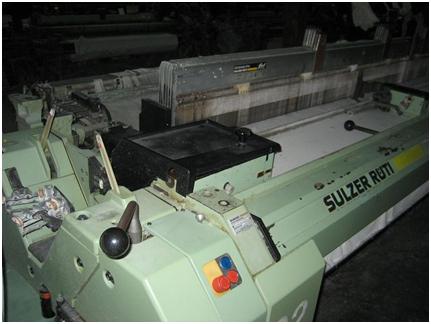 Sulzer ruti
Rapier weaving machine
G6100
Sulzer brothers Ltd.
Winterthur Switzerland
Shedding type: cam shedding
Shed type: open shed
Weft insertion: by rapier
Loom width: 65 inch
Heald frame: 10
Loom R.P.M.:400
Weavers beam length: 170 cm
Total no of m/c: 25
Shed: 03
Loom type 04
Sulzer ruti
Projectile weaving machine P.U
143 VSD S-110 KR D1
Sulzer brothers Ltd.
Winterthur Switzerland
Shedding type: Dobby shedding
Dobby type: Double lift single jack (positive)
Shed type: open shed
Weft insertion: by projectile
Dobby position: left side top position
Loom width: 65*2 inch (Double beam)
Heald frame: 20
Loom R.P.M.:280
Weavers beam length: 170*2 cm
Total no of m/c: 21
Shed no: 04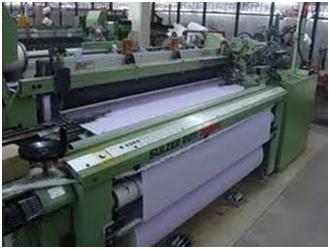 Operation Procedure:
As a new beam is set to a loom either by drawing cam getting or tying, it is the task of loom technician to check & set all necessary setting, gauging & operating values through loom function panel & mechanical means. After all setting has been done, the loom function is checked by slow running or inching. The first meter of fabric is made normal running & cut off from the loom & checked over an inspection box against light.
The fabric is checked visually for-
        Any wrong pattern setting.
        Any wrong drawing & denting.
        Fabric width, warp & weft density.
        Any other cloth defect.
Any fault found in the fabric is corrected over the loom & it is handed over to the operator for normal running.
Production department:
 Description of production process:
In every mill, there maintains a sequences in production processing. It is also followed in this mill where we were in industrial attachment. The process sequences are in list below:
1) Firstly, weaving manager gets a production shit from the merchandiser as accordance as consumer requirements then he informs or orders production officer about it.
2) Production officer informs technical in charge and knows about machine in which the production will be running.
3) Technical in charge calls for leader of mechanical fitter troops, they two take decision about machine for production considering machine condition, production capacity, maintenance complexity, etc.
4) Production officer with experienced mechanical fitter adjusts required design and cam setting for required fabric.
5) Supervisor checks daily production regularity and make operator conscious about finishing tin due time.
6) Operators operate machine in high attention as if there were no faults in the fabrics. If he thinks or sure about any fabric fault, then he calls for the mechanical fitters in duty. Mechanical fitter then fixes it if he can or he informs technical in charge. Then he comes in spot.
7) After required production and final inspection in 4-point system, they sent in dyeing factory.
Production Parameters in weaving
This section plans for woven production. Following parameters are important for the planning of weaving the fabric-
        Order quantity (required amount of fabric)
        Type of fabric to be knitted (plain, twill, canvas, shirting)
        No of machine to be used
        Type of yarn used
        Sources of yarn
        Fabric width
Types of Fabrics Produce in Asian:
        Plain
        Twill
        Canvas
        Rib stop
        Shirting
The products which are available in weaving floor are given below:
| | | |
| --- | --- | --- |
| Fabric construction          |   Design | Sample |
| 40/2*40/2/120*60 | 3/1 twill | |
| | | |
| --- | --- | --- |
| Fabric construction | design | sample |
| 20*20/100*50 | Canvas 1/1 | |
| 16*10/100*50 | 3/1 twill | |
| 150/2*150/2/110*72 | 2/2 twill | |
| 150/2*150/2/110*72 | 2/1 twill | |
| 45/2*45/2/120*75 | 3/1 twill | |
Production calculation:
Production:
 Efficiency
Calculation:
Fabric construction:  20*20/110*56
Loom speed           : 330 rpm
Efficiency              : 88%
No of loom            : 22
Time                      : 1 shift (12 hr)
So,
      Production=
                        =2086 meter/shift
Inspection and checking:
Type of fabric defects:
Fabric defects can be classified into three groups:
        Avoidable and unavoidable
        Major and minor
        Mend able and emendable
Table of classification of major and minor defect:
| | | |
| --- | --- | --- |
| Types of defects | minor | major |
| stains | | At more than one place |
| Missing ends | 1-3 cm | More than 3cm |
| cracks | 1-2 cm | More than 2 picks |
| Thick place | Up to packs for lighter variety | More than 3 picks |
| Broken picks | Less than half the width of fabric | More than half the width of fabric |
| Floats/stitches | Less than 1 cm | 1-5 cm |
| slabs | 2 slab in weft of size Less than 1cm | More than 2 slab in weft of size 1 cm or more |
| Filament rupture | | More than one place |
| Double pick | Occurring less frequently | Occurring more frequently |
Causes of faulty fabric:
Uneven shedding
Rough surface of slay race
Too early or too late Picking
Damage reed
Jerky movement of heald frame
Poor yarn quality
Faulty preparation of beam
Improper atmosphere condition
Improper functioning of weft stop motion
Quality management
Quality assurance system of knitting division:
The quality assurance department is assigned to maintain consistently uniform quality of the material in process and various stages of its manufacturing. After collecting fabric rolls from different machines, these fabrics need to inspect thoroughly by the quality inspectors to assure required quality before dying. Quality assurance of woven grey fabric is described here.
Object Quality control:
For research
2.      Selection of new materials for process control
For process development
Process development
Product testing
Specification test
Product listing
On- line:
Grey GSM of the fabric
Grey inspection
Stitch length
In coming good quality check
Off-line tests are:
All off-line tests for finished fabric can be grouped as follow:
Shrinkage test
Pilling test stretch ability & growth recovery
Smoothness appearance.
Utility Services:
Utility Section
Generator
Boiler
Air Compressor
An electrical generator is a machine that converts mechanical energy of power into electrical energy or power.
Machine No: 01

Brand Name: Waukesha
Capacity: 1125 KVA
Machine No: 02

Brand Name: Cater Pillar
Capacity: 390 KVA
Boiler
Brand Name: Cleaver Brooks
Origin: USA
Capacity: 10000 Kg/hr
Specification:

Feed Water Temperature: 60°C
Feed Water Hardness: 2
Steam Pressure: 500 PSI
Types of Steam: Wet System
Steam Temperature: 150°C
Fuel Used: Natural Gas
Air Compressor
An air compressor is a m/c to compress the air and to raise its pressure. The air compressor sucks air from the atmosphere, compresses it and delivers the same under in high pressure to a storage vessel. From a storage vessel, it may be conveyed by the pipeline to a place where the supply of compressed air required.
Machine Parts
        Motor & Piston
        Compressed Air
        Oil Drain Plug
Air compressor
                  Brand: jukai
                  Origin: china
                  Company: shenzhue jukai CO. LTD.
Maintenance
Maintenance:
 The act which is done to Keep the factory plan equipments machine tools etc. in an optimum working condition, minimize the breakdown of m/c's to improve Productivity of existing m/c tools and avoid sinking of additional capacity and to Prolong the useful life of the factory plant & machinery is called Maintenance.
 Objectives of Maintenance:
To Keep the factory Plants, equipments, Machine tools in an optimum working condition.
To ensure specified accuracy to product and time schedule of delivery to customer.
To keep the downtime of Machines to the minimum thus to have control over the production Program.
To Keep the Production cycle within the stipulated range.
Classification of maintenance: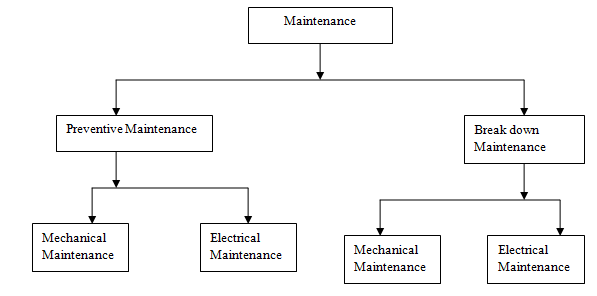 Daily Maintenance Test List:
Checking the left & right selvedge for looseness due to wrong denting of leno selvedge.
Fault checking in the woven fabric & working sure that there are no fabric fault like-

Double pick.
Miss pick.
Stop mark.
Weft loose.
Temple mark.
Reed mark.
Checking the feeler eyes cable, make sure that there is no fluff over the feeler eye & the cable is not loose.
Checking the warp sheet opening & closing, make sure that the cycle it is following is of the required specific degree (0⁰-90⁰-170⁰-290⁰).
Checking for abnormal noise, also any loose nut & bolt.
Checking of warp & weft stop. Remove the cause if those are above the standard. The standard stops are 25, 20, 15 for weft feeler 1, warp, and weft feeler 2 respectively.
Checking oils leakage from cam box, dobby, gear box & let-off box.
Maintenance Tools & Equipments and their functions:
1. Combination tools (Spanner)
Function: Tightening & Loosening of Nuts & bolts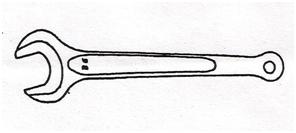 2. Socket Ratchet set
Function: Tightening of Nuts & bolts
3.  Wrench
Function: Tightening & Loosening of Nuts & bolts
4. Pliers
Function: Tightening & Loosening of Nuts & bolts
5. Pipe Cutting Tools
Function: For Pipe Cutting.
 6. Divider
Function: For circle marking on metal & wood
7. Oil Can
Function: Oiling of moving Parts.
8. Drill M/C and Drill bit.
Function: For Drilling.
9. Grease Gum.
Function: For greasing of moving Parts of M/C
10. Girding M/C
Function: For grinding & Cutting of mild steel.
11. Welding M/C
Function: For welding & Cutting.
12. File
Function: For Smoothing the Surface.
13. Hammer
Function: For Scaling & right angling.
14. Hacksaw blade.
Discussion:
Asian specialized textile LTD. is the largest and most versatile business conglomerate in the private sector in BANGLADESH. Asian textile is committed to the best human workplace practices. Their goal is to continuously improve their Human Resource policies and procedures through education, training, communication and employees involvement. Right from inception the policy of the company has been to provide total customer satisfaction by offering quality woven in time. Working on new concepts in styling & content of the woven garment is a continuous activity in Asian textile. with an objective to up the quality & the value of merchandise. To meet the commitments of quality & prompt delivery Asian textile Ltd. decided to integrate the manufacturing process in a planned manner. Over the year the entire process has been integrated by importing sophisticated machinery from world-renowned manufacturers. For achieving their goal, Asian textile. Has recruited a high profiled human resource team. The production is controlled by technical persons. All of the decision makers of production sector in Asian textile Ltd. are textile graduates. According to their capacity they have an enriched production team which is very rare in other factories of BANGLADESH. The working environment of Asian textile Ltd. is very cordially & friendly. All of the executives & employees of Asian textile Ltd. Are very much cordial & they always appreciating the learners.
LIMITATIONS:
In our industrial attachment program contents some secret of factory is included. To collect this information like history of project development, costing of products, marketing strategy etc. every student face a great problem as it is a secret. So our proposal for our University authority to exclude these topics from the contents.
We had a very limited time. In spite of my willing to study more details it was not possible to do so.
This while process is not possible to bind such a small frame as this report, hence our effort spent on summarizing them.
Conclusion
Industrial attachment program send us to the expected destiny of practical life. The completion of tow month industrial attachment at Asian textile Ltd I have got the impression that the factory is one of the most modern woven project in Bangladesh. It has earned very good reputation for its best performance over any other woven project.
 During my industrial attachment program I had tried to my best to done my duty. My supervising officer also satisfied to me & offer co-operation in every steps. It is completely a new experience in my life, which will be very effective in my service life. During my training period I realized that practical experience is more valuable for service life.