Even though it was just a friendly hug from an old buddy, it ended up being really traumatic. I had returned to Iceland the day before, and now, armed with a Covid-19 test result that had come back negative at the airport, here I was in a busy cafe in Reykjavik.
"Hello you, long time no see!" I was greeted by two friends, one of whom offered me a nice embrace, but I instinctively moved away from them because it was difficult to talk when I was so near to them. Their natural ease, which had seemed so typical six months earlier, suddenly seemed uneasy and strained. I felt tongue-tied, and my manners and chutzpah seemed to have deserted me.
I muttered something to my old buddies before heading to a cup of tea to find solace. At that point, I collected my thoughts, got myself together, and returned for more chitchat. And it felt liberating to have normal conversations again.
As I walked from the cafe I reflected on my last few months at home in London where it's been months of lockdown, sky-high infection rates and tens of thousands of deaths. My new routine consisted of working from home, with just the immediate family and video chats as company. I also got very little exercise each day and only sometimes caught up with close friends, always from a safe distance of two meters away.
Following a sudden increase in cases in February, Iceland has received plaudits for how it handled the situation. The government then adopted a new strategy, began testing and tracking, shut down the borders, and imposed limitations. I suppose you could argue the chances of success are far higher on an island with a population of around 360,000 people. There's been less than 2,000 cases and 10 deaths recorded.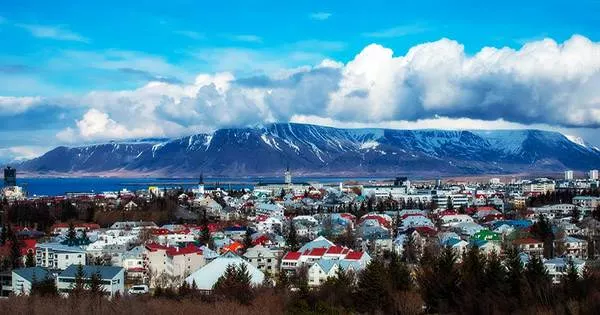 It also helps that Icelanders had a high level of trust in the government and listened intently to media briefings given by chief scientists and police instead of politicians, acting on their every recommendation.
I've joined most of the country in downloading an app that traces your movement. It is intended to assist law enforcement in finding and informing anyone who may have come into touch with or been harmed by the virus. What follows is testing and possibly quarantine.
The individuals living here are now able to live their lives quite normally as a result of everything that has happened. I've been a regular at our popular swimming pools, attended soccer matches, dined with friends and been to parties where the conversation has been dominated more by the recent Will Ferrell Eurovision movie about Iceland than Covid-19.
The bars and restaurants in Reykjavik are full too and there's not a mask in sight. Only the ubiquitous hand sanitizers and the early closing hour of 11 p.m., when Icelanders are often just getting the party started, serve as a reminder that things are not quite normal.
The biggest economic casualty of the coronavirus has been tourism. The number of visitors has dropped to a trickle from around 2 million last year, but the locals have responded by taking advantage of staycations. Friends traveling around the island have been posting amazing photos to social media, and hotels and campgrounds around the nation are completely booked.
The government is also encouraging this trend by providing every resident with a 5,000 IKR ($37) voucher to spend in restaurants, hotels and attractions.
The fact that this year is unlike any other will be brought to everyone's attention as the busiest travel weekend of the summer draws near. Due to restrictions on gatherings of more than 500 people, the nation's major events that were scheduled for this final long weekend of the summer break have all been canceled.
Big events like the Westman Island Þjóðhátíð party are off, the first time it has been canceled since WWI. Not even the big volcanic eruption in 1974 stood in the way of that celebration. But, with typical Icelandic optimism, they are already selling tickets for 2021.
Nobody is complacent and there is still a fair amount of anxiety in the air. Many people are concerned that people are becoming too calm and that this will just cause another spike, especially as border controls are being lifted and more tourists are entering the country. It demonstrates that locals are conscious of their status and are committed to preserving their way of life.
It hasn't taken me long to adapt to the freedom here, so when I bumped into my cousin who had just arrived from Miami I went in for a hug but much like my first reaction a couple of weeks earlier he stepped back.
He had to wait at least five days and obtain two negative test results before he can give anyone here a hug because he traveled from the US, whose residents are still prohibited from visiting Iceland, and he also faces tighter constraints because of this.
Listening to friends here I'm reminded not only of the ability of this country to cope with adversity but also of Iceland's unofficial slogan: "Þetta reddast" which roughly translates to "It will all be OK in the end." It has aided us in getting through a financial crisis on a worldwide scale, a volcanic eruption that grounded planes all over the world, and maybe it will hold true once more in the case of the coronavirus.