Iguazú Falls or Iguaçu Falls (Guarani: Chororõ Yguasu (ɕoɾo'ɾõ ɨɣʷa'su), Spanish: Cataratas del Iguazú (kataˈɾataz ðel iɣwaˈsu); Portuguese: Cataratas do Iguaçu (kɐtɐˈɾatɐs du iɡwɐˈsu)), are a series of cataracts on the Iguaçu River, 14 miles (23 km) above its confluence with the Alto (Upper) Paraná River, at the Argentina-Brazil border.  The falls are 1.7 miles (2.7 km) long and form an extended horseshoe. They are substantially broader than Victoria Falls in Africa and nearly three times as wide as Niagara Falls in North America.
It would be pointless to attempt to describe the Iguazu Falls without using gushy adjectives. The Iguazu Falls are a shock to the system with water cascading as far as the eye can see, some huge and forceful, some small and exquisite.
Even the late U.S. first lady Eleanor Roosevelt was reportedly so impressed when she saw them that she purportedly said "Poor Niagara."
"Iguazu Falls always catches you by surprise," says Martin Ruffo, Intrepid Travel's regional product manager for Latin America. "They're truly a magnificent display of nature. Their size and scale are unlike any other waterfall on Earth."
The river flows through Brazil for the majority of its length, although the majority of the falls are on the Argentine side. The Iguazu River divides Argentina and Brazil below its fusion with the San Antonio River. The Iguaçu Falls are divided into around 275 individual waterfalls or cataracts, each varying in height from 200 to 269 feet (60 to 82 meters), by a number of rocky and wooded islands on the brink of the escarpment over which the Iguaçu River plunges. The name of the falls, like that of the river, is derived from a Guaraní word meaning "great water."
By any measure, Iguazu Falls is a monster. The actual number of its 275 waterfalls or cataracts varies depending on the season. It covers a 2.7 kilometer wide region. The Devil's Throat, the tallest of these waterfalls, plunges more than 80 meters into a milky abyss, producing a perpetual cloud of mist.
Iguazu Falls is almost twice as tall as Niagara Falls and is only outdone in height by Victoria Falls in Zambia and Zimbabwe, which stand at 108 meters. It is substantially wider than Victoria Falls and nearly three times as broad as Niagara Falls. The first European to record the existence of the falls was the Spanish Conquistador Álvar Núñez Cabeza de Vaca in 1541.
The rate of flow of the falls may rise to a maximum of 450,000 cubic feet (12,750 cubic metres) per second during the rainy season from November to March. The dry season, which lasts from August through October, has the lowest flow.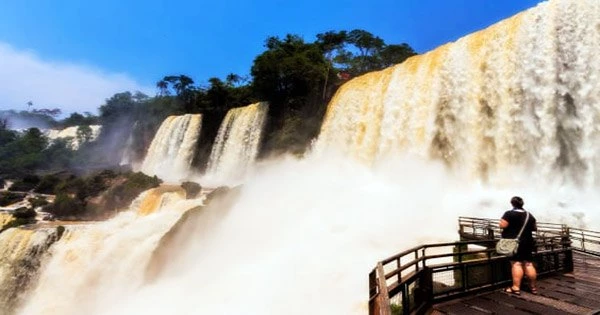 A little over 62,000 cubic feet (1,756 cubic meters) per second flow on average each year. Therefore, it should come as no surprise that both the river into which the water flows and the waterfalls are named Iguazu, which literally translates to "big water" in Guarani.
Endless superlatives
Straddling the border of Argentina and Brazil, Iguazu Falls became a UNESCO World Heritage Site in 1984.
In 2011, it was selected as one of the winners of the New Seven Wonders of Nature competition. It's easy to see why it's piling up awards and accolades.
The Atlantic rainforest, one of South America's few surviving inland rainforests, has been wisely conserved by both Argentina and Brazil. It is surrounded by lush, subtropical national parks that are teaming with animals. More than 2,000 plant species, over 400 bird species, 80 different kinds of animals, and numerous insect and invertebrate species call this place home.
Francis Almeida Barros, a local tour guide, claims that it's typical to run into jaguars, colorful toucans, and even monkeys when traveling to the waterfalls.
This jungle experience, albeit briefly, sets Iguazu Falls apart from its more popular global rival. Unlike Niagara Falls, which is surrounded by development such as casinos, a revolving restaurant and Starbucks, Iguazu Falls is pure nature.
Devil's Throat: The largest water curtain
For many visitors, the first glimpse of Iguazu Falls is an emotional experience. But it pales in comparison to getting up close to the falls.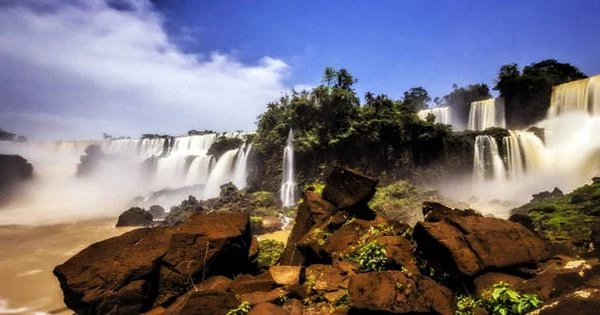 This experience is available on the Argentinean side, where a walking path takes visitors along a network of boardwalks that have a rustic appearance. Due to the location of about two-thirds of the waterfalls, there are several opportunities to get close to the falls and get soaked while doing so.
Most people head straight to the main attraction, that being the Devil's Throat (Garganta del Diablo in Spanish). The Devil's Throat, which is shaped like a horseshoe and has 14 waterfalls, is the greatest water curtain in the entire system.
Speedboats can carry you directly under the falls, so be prepared to be drenched if you choose to do this. Without even realizing it, you might easily spend the entire day exploring this side of the waterfalls.
The Brazilian side of the falls offer a more subdued but still enjoyable vista after being soaked.
Even though you can't get as near to the falls from the Brazilian side, the great panoramic views make you appreciate their magnificence even more.
Distribution of the falls between Argentina and Brazil
The Iguazu Falls are arranged in a way that resembles a reversed letter "J". The Argentina Brazil border runs through the Devil's Throat. Over 95% of the Iguazu River basin is located in Brazil, but only a little more than 20% of the falls' jumps are located there. The remaining jumps, which make up over 80% of the falls on the left bank, are located in Argentina.
The region's vegetation is abundant and diverse, ranging from semi-deciduous to tropical, and has garnered attention from botanists. A family of aquatic plants called the Podostemaceae can only be found on the ledges of waterfalls and only thrives in fast-moving water. There are many contrasts as well, like bamboos growing next to palm trees, mosses next to lianas, and colorful begonias growing next to orchids growing next to pine trees.
Although similarly diverse and plentiful, animal life has received significantly less research. Iguanas are frequently seen. Numerous cats (including ocelots and jaguars), deer, tapirs, and numerous other small species are among the mammals. There are also toucans and a wide variety of other birds. Fish species include mandi, cascudo, and dorado (golden salmon).
Iguazu's remote location makes flying the most practical way of getting here. From Buenos Aires, it's a 90-minute flight to Puerto Iguazu in the Argentinean side. From Rio de Janeiro, it takes two hours to fly to the Brazilian town of Foz de Iguacu.
Most tourists stay in either town when visiting Iguazu Falls. Both provide a wide variety of food and lodging alternatives for all kinds of travelers. In addition, the falls are only 12 kilometers distant from them.