Santa Cruz Island (Spanish pronunciation: ˈsanta ˈkɾus), also known as Indefatigable Island or Chaves Island, is a Galápagos Island with a surface area of 986 km2 (381 sq mi) and the highest elevation of 864 meters (2,835 ft). It's essentially circular in shape, with a central volcanic crater rising to 2,300 feet (700 meters) and a 389-square-mile surface area (1,007 square km).
According to the Course of the Tortoise, this island is the most developed in terms of the human population, which began when one man was abandoned and survived in an old scientific town. Because the Santa Cruz highlands are one of the archipelago's largest green areas, agricultural activity began in the early 1940s and spread fast from there.
Santa Cruz, the archipelago's second-largest island after Isabela, is located in the heart of the archipelago. Puerto Ayora, the most populous city on the islands, serves as its capital. uerto Ayora, on the southern coast, was founded by Scandinavians and Germans and boasts a boat-friendly harbor. In 1959, the Charles Darwin Study Station was built in town, allowing scientific research and conservation programs to move on.
The tortoise breeding center is located in between the buildings, with the goal of resurrecting a nearly extinct population on Espaola Island, where just six tortoises remain. There are a few small communities in Santa Cruz whose residents work in agriculture and livestock husbandry.
The island is an oval-shaped shield volcano with a length of 32 kilometers (20 miles) and a width of 40 kilometers (25 miles). A shallow caldera has been mainly buried by youthful pit craters and cinder cones with well-preserved craters at the summit. The basic economic activities include subsistence farming, fruit and sugarcane crops, and cattle husbandry, with tourism playing a key role.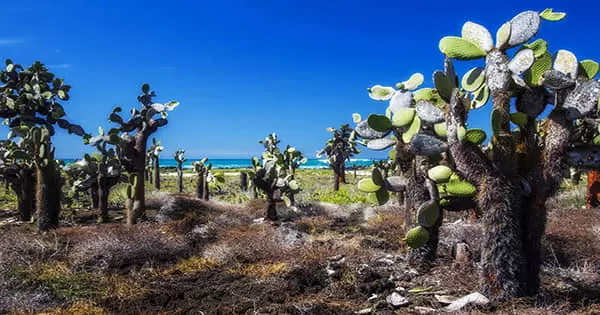 On the island, a massive lava tube extending over 2,000 meters (6,600 feet) in length is a popular tourist attraction. Los Gemelos, or "The Twins," are two large holes caused by the collapse of a magma chamber that bear witness to the island's volcanic history.
Santa Cruz Islands visitor sites:
Puerto Ayora – Puerto Ayora is Galapagos' economic hub, featuring a plethora of restaurants, souvenir shops, discotheques, pubs, internet cafes, and other businesses. Brown pelicans, golden rays, marine iguanas, herons, lava gulls, frigate birds, Galapagos sea lions, and enormous numbers of blue-footed boobies can all be seen in the bay.
The biggest tortoises in accessible visitor sites – The wild population of Tortoises in the Santa Cruz highlands is large, and they freely roam the private and National Park grounds. During our tour to this location, we noticed a difference in size between these creatures and others we saw at other spots. The Galapagos Islands have 15 subspecies of land tortoises, four of which are extinct. They display two separate tortoise shell shapes, the Saddleback and Dome. Santa Cruz features tree tortoise subspecies with both types of shells, allowing visitors to identify the differences and learn about the evolutionary process that molded them into these massive prehistoric-looking creatures.
Carrion Point – Carrion Point forms a secluded lagoon with stunning turquoise water. Visitors can snorkel and witness a variety of fish, rays, and possibly the harmless white-tip reef sharks during this visit. The point is located on the north coast of Santa Cruz Island, at the mouth of the Itabaca Channel.
Charles Darwin Station / Fausto Llerena Breeding Center – Turtles ranging in size from 3-inches (fresh hatchlings) to 4-feet long live at the Charles Darwin Research Station. Turtle subspecies communicate with one another, and many of the elder turtles are used to humans stretching their necks out for photos. The babies are held until they are roughly four years old and capable of self-sufficiency.
Garrapatero Beach – El Garrapatero is a beautiful sandy beach bordered by mangroves on the northern side of Santa Cruz. Flamingos, herons, stilts, and other shorebirds live in a freshwater lake behind the beach. Swimming and snorkeling are both possible in the gorgeous blue seas.
Lava Tunnels – The lava tunnels on Santa Cruz were constructed when the molten lava's exterior skin solidified, but the liquid magma inside continued to flow, leaving a network of empty tubes behind. Visitors can take a tour through these underground canals, which are often more than a kilometer long, and may see barn owls.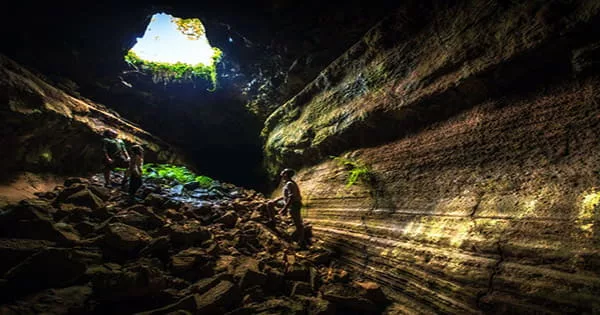 Tortuga Bay – Tortuga Bay's white sand beach is named after the black sea turtles that lay their eggs there. White-tip sharks and marine iguanas are among the other animals to be observed, while flamingos frequent the salt lagoon behind the mangroves. The location is ideal for bird watching and taking a leisurely dip.
Whale Bay – Whale Bay is home to one of Santa Cruz Island's oldest whaling camps. The huge tortoises were hauled here and to other similar camps before being placed onboard whalers and pirate ships. Because of the abundance of olivine crystals, the semicircle beach is green in hue. The Galapagos hawk, a strange creature, may also be seen here.
Gordon's Rock – This diving site, which is located within a volcanic crater, is not for beginners. The varied currents can make this dive a hard one, with several pinnacles of rock and often incredibly powerful currents blowing between them. Other fantastic life may be found here, including stingrays, manta rays, turtles, and moray eels, which are known for their hammerhead sightings. Because of its powerful currents, this half-submerged volcanic tuff cone has been dubbed "The Washing Machine." Divers must frequently grasp hold of the rocky bottom or slope and cling on, or crawl in the direction of the dive plan "front crawl style."
Bachas Beach – Las Bachas is a swimming beach located on Santa Cruz's north shore. A floating pier, one of the few remaining remains of the US presence in the Galapagos during WWII, may be seen here. Flamingos, Sally Lightfoot crabs, hermit crabs, black-necked stilts, and whimbrels are among the animals that can be seen. Sea turtles also lay their eggs on the shore.
Black Turtle Cove – Santa Cruz's Black Turtle Cove is located in the northern section of the city. This inlet is only accessible by dinghy and is bordered by mangroves. For young marine life, the shallow cove is a secure haven. Here you can see black-tip and white-tip reef sharks, sea turtles, and a variety of rays.
Cerro Mesa – Cerro Mesa, at 490 meters above sea level, offers a spectacular perspective of the archipelago. It's a great place to see a variety of rare flora, as well as up to seven different finch species and the vermillion flycatcher. Throughout 8 months of the year, the area is characterized by a constant drizzle ('la garúa') that falls horizontally. The largest crater on Santa Cruz is located on the west side.
Dragon Hill – Dragon Hill, located on Santa Cruz Island, is one of the newest tourist attractions in the Galapagos Islands. Visitors can stroll along a beach and up a route to a lagoon lookout where they can see brilliant flamingos, pintail ducks, and land iguanas on one of the longer Galapagos walking trails.
Eden Islet – Eden Islet, located off the western coast of Santa Cruz Island, provides tourists with a great opportunity to witness a variety of Galapagos animals both on land and underwater during a dinghy ride.
Highlands – The mountains of Santa Cruz, which can be reached by bus from Puerto Ayora, are a lush green that contrasts well with the dry, lower islands. The forest of Scalesia trees, which creates the beautiful green color on the highlands, is the major vegetation. The underground lava tubes are nearly half a mile long, and walking through them is a one-of-a-kind, bizarre experience.
Twin Craters – The Twin Craters, also known as Los Gemelos, are located on both sides of the road connecting Puerto Ayora and Baltra. The collapse of surface material formed these structures, which are not genuine craters, in subsurface fissures and chambers; the vista is magnificent.
During a ceremony at Seabrook City Hall on June 19, 2002, the communities of Seabrook, Texas, and Santa Cruz Island formalized their sister city status.