An inland road drive through picturesque mountain valleys and small hillside communities is sometimes the ideal way to start a winter break. Our mountain ranges in the Pacific Northwest provide an exciting playground for downhill skiing and tubing, stunning walks through snowcapped woods, and simply spending quality time with family around a fireplace in a secluded cabin.
You don't have to travel far to enjoy the best of Washington state's mountain resorts, whether you choose high-adrenaline adventures or leisure and luxury. Review the unique health and safety rules for each destination as you plan your next vacation.
Take a look at these top mountain resorts for making the most of Washington's winter months when you're ready to get away.
Snoqualmie, Washington
It's no secret that The Summit at Snoqualmie is one of Washington's most popular winter recreation locations. While the recreational resort does not have its own lodging, the adjacent Salish Lodge & Spa is only 30 minutes away and provides a comfortable respite between slope sessions.
Salish Lodge provides a comfortable basecamp for outdoor adventurers, with interactive culinary experiences and relaxing massage treatments at the spa. Salish Lodge guests can enjoy spectacular vistas during a winter stroll on the Snoqualmie Falls route or travel out into the Cascade Mountain Range for even more scenic hikes, in addition to nearby tubing and skiing at The Summit.
Take in the native wildflowers that are home to resident Salish honeybees at Salish Lodge, then relax with a refreshing honey-based treatment at the spa. In the dining area, seek for honey-infused menu items to complement with a Snoqualmie Brewery honey lager. You'll feel completely immersed in the Pacific Northwest after the entire trip.
Winthrop, Washington
Start your winter trip along the North Cascades with a warm stay at Sun Mountain Lodge, which is only 10 miles from Winthrop. Explore the Okanogan-Wenatchee National Forest, Methow Valley, and adjacent mountain range for serene natural views and exciting activities. You'll pass through the country's first National Scenic Highway, known as the Cascade Loop, while driving along Highway 20.
Sun Mountain Lodge's guestrooms, which range from main lodge suites to family-sized cabins, provide stunning vistas. Wine and dine in the comfort of your guestroom with onsite takeout eating options, or go out with the family to Winthrop cideries and independent eateries.
Enjoy a leisurely family trek to the Falls Creek Waterfall, cross-country skiing, or snowshoeing on the trails surrounding Sun Mountain Lodge. Bring your own gear or rent all you need at Sun Mountain Lodge's activity shop.
Enjoy hot chocolate and cider on a family sleigh ride through the picturesque countryside for a low-key outing. Spend a romantic weekend at the spa and indulge in a frosted sugar body scrub or a relaxing massage.
Greenwater, Washington
Alta Crystal Resort is an exquisite mountain vacation for families of all sizes, located on the edge of Mount Rainier National Park and just 15 minutes from Crystal Mountain's ski slopes.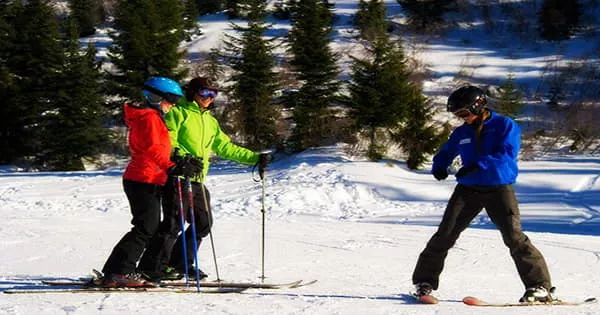 Cabin rentals have a private hot tub on the outdoor deck, while loft accommodations include two separate sleeping quarters. Dog-friendly suites are also available at the resort, allowing your family pet to join them on your vacation.
After a relaxing day of sledding on the resort's hillside, relax with a low-key evening around the bonfire. Alternatively, go cross-country skiing, snowshoeing, or hiking on the nearby trails. The onsite year-round heated pool is ideal for family swims, and the movie rental collection has over 700 titles to choose from for a relaxing night in your cabin.
Crystal Mountain offers ski and snowboard training, with slopes ranging from beginner to advanced. Want to see the sights without doing any exercise? Enjoy a ride on the Mt. Rainier Gondola to the summit for a breathtaking panorama of the Cascade Range.
Leavenworth, Washington
Sleeping Lady Mountain Resort features a suite package for every size family, with bedrooms and stand-alone cabin options aplenty. All accommodations are steeped in a natural setting suitable for restful sleep just a few minutes from the attractions of downtown Leavenworth, from family-sized cabins with bunk beds to romantic lodging for couples with a whirlpool bath in The Eyrie cabin.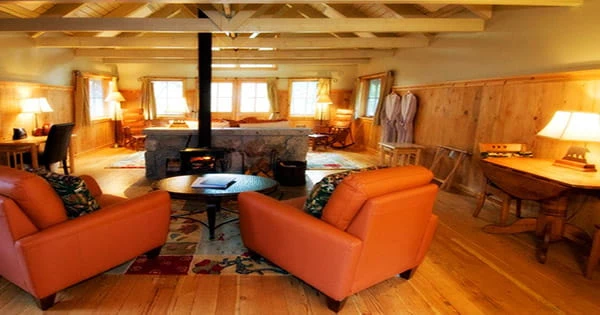 Guests of Sleeping Lady can unwind at Aspen Leaf Spa with a dry sauna or body massage, or explore the neighborhood with a bicycle rental or a stroll around the organic garden.
Tubing, downhill skiing, and Nordic skiing are all popular sports in the area, and there are three ski slopes nearby. Along Icicle Creek and near the Leavenworth National Fish Hatchery, a self-guided bird viewing stroll may reveal osprey and woodpeckers.
Take a stroll through Leavenworth's independent boutiques and outdoor eating, then warm your hands with a hot chocolate or espresso from J5 Coffee. Enjoy a picturesque wine tasting tour or a wide selection of local craft beer and whiskey at Sleeping Lady's onsite bar, The Grotto Bar.
Cle Elum, Washington
Cle Elum's The Lodge at Suncadia Resort, located 32 miles from The Summit at Snoqualmie, offers 6,000 acres of picturesque terrain suited for outdoor enjoyment. Suncadia Resort, in addition to neighboring tubing and skiing slopes, offers more than 40 miles of hiking and cycling routes of varied degrees of difficulty, allowing the entire family to select their own path.
Suncadia Resort's Lodge is positioned above the Cle Elum River, with panoramic valley and mountain vistas. Kitchens and laundry facilities are available in most guestrooms, making extended visits with the family feel like a home away from home. Resort cuisine blends together regional delicacies and magnificent vistas, while fireplace suites are great for pleasant nights with wine.
The on-site Glade Spring Spa combines external natural elements such as running creeks and gardens with indoor luxury, offering distinctly Pacific Northwest-inspired treatments such as detoxifying mud wraps and restful soaks in the hot outdoor mineral bath.