The FIFA World Cup Football is a quadrennial worldwide football tournament contested by the men's national teams of the member associations of FIFA; 211 are national associations are member of FIFA. 2018 FIFA World Cup will be the 21st FIFA World Cup.
The final tournament will entail 32 national teams, which include 31 teams determined through qualifying competitions and the automatically qualified host team. A total of 64 matches will be played in 12 venues located in 11 cities. The final will take place on 15 July in Moscow at the Luzhniki Stadium.
Summary:
Teams: 32
Playing venues: 12
Matches: 65
Opening match: Luzhniki Stadium
Final 2018 World Cup: Luzhniki Stadium
Average venue capacity: 49,300 seats
Largest venue: Luzhniki Stadium (81,000 seats)
Smallest venue: Spartak Stadium (42,000 seats)
Venue
On September 28 2012, the final numbers were announced. The 2018 World Cup will include 11 host cities and 12 stadiums. The cities Krasnodar and Yaroslavl and their particular stadiums were dropped from the list. Many of these stadiums will be constructed principally for World Cup 2018 and others will be renovated in order to meet FIFA's requirements.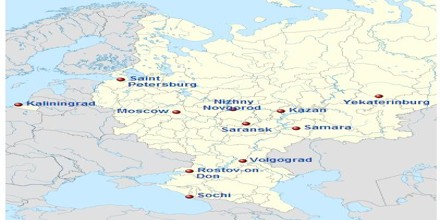 Moscow: Luzhniki Stadium (81,000 seats)
Petersburg: Zenit Arena (68,000 seats)
Sochi: Fisht Olympic Stadium (47,700 seats)
Ekaterinburg: Ekaterinburg Arena (45,000 seats)
Kazan: Kazan Arena (45,000 seats)
Nizhny Novgorod: Nizhny Novgorod Stadium (45,000 seats)
Rostov-on-Don: Rostov Arena (45,000 seats)
Samara: Samara Arena (45,000 seats)
Saransk: Mordovia Arena (45,000 seats)
Volgograd: Volgograd Arena (45,000 seats)
Strelka Stadium – Nizhny Novgorod
Kaliningrad Stadium – Kaliningrad
Logo
Russian Sports Minister Vitaly Mutko said that the logo was enthused by "Russia's rich artistic tradition and its history of bold achievement and innovation". FIFA President Sepp Blatter stated that it reflected the "heart and soul" of the country.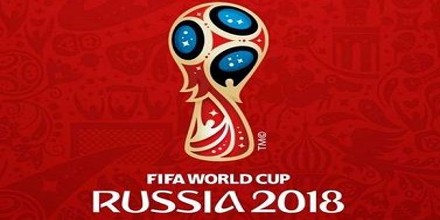 Sponsors:
Fifa partners: Adidas; Coca-Cola; Gazprom; Hyundai–Kia; VISA and Wanda Group.
FIFA World Cup sponsors: Anheuser-Busch InBev and McDonald's
Regional partners: Alfa bank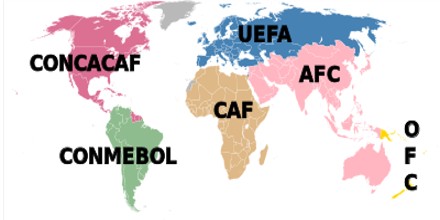 Qualify Teams will be:
There are 31 places up for grabs, joining hosts Russia; total 32.
Europe: 13 places;
Russia qualifies as hosts. Group winners qualify automatically, with the eight best runners-up facing a two-legged playoff.
Africa: 5 places
South America (Conmebol): 4.5 places;
As in recent qualifying competitions, all teams play each other home and away. The top four nations will qualify directly to the finals. The fifth-placed team will take the 0.5 place and play an intercontinental playoff against the winner of the Oceania region.
Oceania: 0.5 places
Two groups of three teams playing on a home and away basis. Round to begin in November 2016 and finish in June 2017. Group winners then playoff to advance to an intercontinental tie (0.5 place) against the fifth-placed team from Conmebol.
Concacaf: 3.5 places;
The six winners from the fourth round form one group of six teams. Top three teams qualify with the fourth placed team in an intercontinental playoff (0.5 place) against a team from Asia.
Asis: 4.5 places
Group A: China, Iran, Qatar, South Korea, Syria, Uzbekistan
Group B: Australia, Iraq, Japan, Saudi Arabia, Thailand, United Arab Emirates
Round Four: The teams finishing third in round three will play a two-legged playoff. The winner (0.5 place) will then advance to the intercontinental playoff against a team from Concacaf for a place at the World Cup.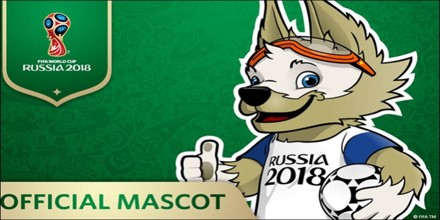 Official Mascot
Zabivaka, the Official Mascot for the 2018 FIFA World Cup Russia. Zabivaka means "the one who scores" in Russian, a very suitable name for this wolf who radiates fun, charm and confidence. The Official Mascot will play a very important role in the upcoming 2018 FIFA World Cup Russia.
Conclusion: It will take months before the 2018 World Cup kick-off takes place, on June 14 to be exact. The Final will be played on July 15. The world will be a very different place when the tournament is about to commence! But still, the 2018 World Cup qualifications have already started in March 2015!  Yes, the 2014 World Cup may be over, but the 2018 World Cup hosted in Russia is in full preparation, let's not even mention the 2022 World Cup which is discussed even more….But although it does seem unlikely, it is really Russia that will host the tournament first, and not Qatar. We mentioned many facts about the 2014 World Cup on worldcupbrazil.net, so now we continue with the facts of the 2018 edition!