The Ballon d'Or is an award that is given out every year to the footballer measured to have performed best in the earlier 12 months. It was started in 1956 by the magazine France Football when chief writer Gabriel Hanot came up with the proposal.
In 2010, the award merged with FIFA's World Player of the Year and Lionel Messi won the first three editions of the new prize before Cristiano Ronaldo claimed the next two.
Messi won the Ballon d'Or again last year but France Football and FIFA ended their relationship in September and the magazine will return to their sovereign format in 2016.
Voting
The winners of the FIFA Ballon d'Or were chosen by international journalists and the coaches and captains of the national teams under FIFA's authority. In an arrangement based on positional voting, each voter was allotted three votes, worth five points, three points and one point, and the three finalists were ordered based on total number of points. Voters were provided with a shortlist of 23 players from which they could select the three players they deemed to have performed the best in the previous calendar year.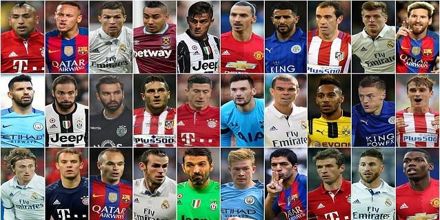 Short List of Ballon d'Or 2016
This is the time of the year when discussion about who will win "Ballon d'Or" begins and FranceFootball has already revealed the shortlist of 30 men who will be contesting for this year's title. The 2016 Ballon Dor award will revert back to the original Ballon d'Or after they terminated their contract with FIFA and from now on it will only be known as Ballon d'Or. Unlike the previous 5 years where the winner was decided with the help of votes from national team coaches and captain, from now on only respected pool of football journalists will vote for this prestigious award.
Top Thirty Nominees of Ballon d'Or 2016 are:
Sergio Aguero (Manchester City),
Pierre-Emerick Aubameyang (Borussia Dortmund),
Gareth Bale (Real Madrid),
Gianluigi Buffon (Juventus),
Cristiano Ronaldo (Real Madrid),
Kevin De Bruyne (Manchester City),
Paulo Dybala (Juventus),
Diego Godin (Atletico Madrid),
Antoine Griezmann (Atletico Madrid),
Gonzalo Higuain (Juventus),
Zlatan Ibrahimovic (Manchester United),
Andres Iniesta (Barcelona),
Koke (Atletico Madrid),
Toni Kroos (Real Madrid),
Robert Lewandowski (Bayern Munich),
Thomas Muller (Bayern Munich),
Luka Modric (Real Madrid),
Riyad Mahrez (Leicester),
Lionel Messi (Barcelona),
Hugo Lloris (Tottenham),
Dimitri Payet (West Ham),
Paul Pogba (Manchester United),
Manuel Neuer (Bayern Munich),
Pepe (Real Madrid),
Neymar (Barcelona),
Rui Patricio (Sporting Lisbon),
Sergio Ramos (Real Madrid),
Luis Suarez (Barcelona),
Jamie Vardy (Leicester),
Arturo Vidal (Bayern Munich).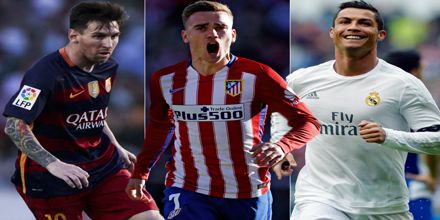 Top Five are
Cristiano Ronaldo. Country: Portugal; Club: Real Madrid; Points: 745
Lionel Messi. Country: Argentina; Club: Barcelona; Pint: 316
Antoine Griezmann. Country: France; Club: Atlético Madrid; Point: 198
Luis Suárez. Country: Uruguay; Club: Barcelona; Point: 91
Neymar. Country: Brazil; Club: Barcelona; Point: 68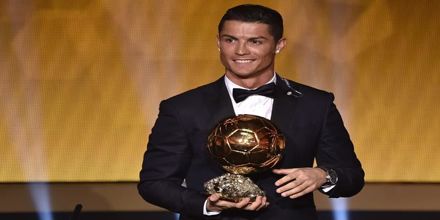 Award
Cristiano Ronaldo has won the 2016 Ballon D'OR award. France Football confirmed his as the winner of this year's award ahead of Lionel Messi and Antoine Griezmann. 200 respected football journalists voted their top three players from 30-man shortlist where Ronaldo came on top with preponderance vote as number 1 pick.
Ronaldo complete top of the voting while Lionel Messi and Antoine Griezmann makes the top three correspondingly. Luis Suarez and Neymar make the top 5. Gareth Bale, Riyad Mahrez, Jamie Vardy, Pepe and Gianluigi Buffon make the top 10 list.