Introduction –
Novel Coronaviruses (nCov) are a group of viruses that cause diseases in mammals and birds. In humans, coronaviruses cause respiratory tract infections that are typically mild, such as some cases of the common cold (among other possible causes, predominantly rhinoviruses), though rarer forms can be lethal, such as SARS, MERS, and COVID-19 (that started in China). Symptoms vary in other species: in chickens, they cause an upper respiratory tract disease, while in cows and pigs they cause diarrhea. There are yet to be vaccines or antiviral drugs to prevent or treat human coronavirus infections.
The disease caused by the novel coronavirus first identified in Wuhan, China, has been named coronavirus disease 2019 (COVID-19) 'CO' stands for corona, 'VI' for the virus, and 'D' for the disease. Formerly, this disease was referred to as '2019 novel coronavirus' or '2019-nCoV.'
The COVID-19 virus is a new virus linked to the same family of viruses as Severe Acute Respiratory Syndrome (SARS) and some types of common cold.
Coronaviruses constitute the subfamily Orthocoronavirinae, in the family Coronaviridae, order Nidovirales, and realm Riboviria. They are enveloped viruses with a positive-sense single-stranded RNA genome and a nucleocapsid of helical symmetry. The genome size of coronaviruses ranges from approximately 27 to 34 kilobases, the largest among known RNA viruses. The name coronavirus is derived from the Latin corona, meaning "crown" or "halo", which refers to the characteristic appearance reminiscent of a crown or a solar corona around the virions (virus particles) when viewed under two-dimensional transmission electron microscopy, due to the surface covering in club-shaped protein spikes.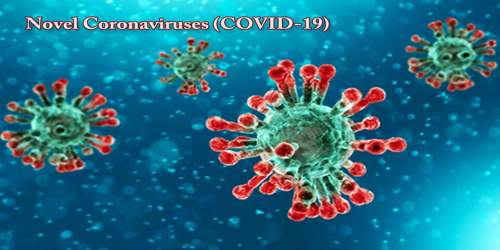 The outbreak spread across China to other countries around the world, infecting many more people than SARS-CoV did. By the end of January, the new coronavirus had been declared a public health emergency of international concern by the WHO.
How does the COVID-19 virus spread?
The virus is thought to spread mainly from person-to-person.
Between people who are in close contact with one another (within about 6 feet).
Respiratory droplets produced when an infected person coughs or sneezes.
These droplets can land in the mouths or noses of people who are nearby or possibly be inhaled into the lungs. The COVID-19 virus may survive on surfaces for several hours, but simple disinfectants can kill it.
In early December 2019, cases of an illness similar to SARS and MERS were reported in Wuhan, China. The cases could all be traced back to a large seafood and animal market in Wuhan. The virus was soon identified as a new coronavirus and the illness it causes has since been named Covid-19 – coronavirus disease 2019.
The outbreak spread across China to other countries around the world, infecting many more people than SARS-CoV did. By the end of January, the new coronavirus had been declared a public health emergency of international concern by the WHO.
A study that came out on Jan. 25, 2020, notes that the individual with the first reported case became ill on Dec. 1, 2019, and had no link to the seafood market. Investigations are ongoing as to how this virus originated and spread.
Some spread might be possible before people show symptoms; there have been reports of this occurring with this new coronavirus, but this is not thought to be the main way the virus spreads. It may be possible that a person can get COVID-19 by touching a surface or object that has the virus on it and then touching their own mouth, nose, or possibly their eyes, but this is not thought to be the main way the virus spreads.
Discovery: Coronaviruses were first discovered in the 1960s. The earliest ones discovered were infectious bronchitis virus in chickens and two viruses from the nasal cavities of human patients with the common cold that were subsequently named human coronavirus 229E and human coronavirus OC43. Other members of this family have since been identified, including SARS-CoV in 2003, HCoV NL63 in 2004, HKU1 in 2005, MERS-CoV in 2012, and SARS-CoV-2 (formerly known as 2019-nCoV) in 2019. Most of these have involved serious respiratory tract infections.
Replication: Coronaviruses (COVID-19) replicate their RNA genomes using enzymes called RNA-dependent RNA polymerases, which are prone to errors, but genomic analysis so far suggests that covid-19 is mutating slowly, reducing the chance of it changing to become more deadly.
There are currently no vaccines or specific drug treatments for coronaviruses, but efforts to develop a vaccine are underway and HIV and Ebola drugs are being tested in people with covid-19.
Human Coronaviruses –
Coronaviruses vary significantly in risk factor. Some can kill more than 30% of those infected (such as MERS-CoV), and some are relatively harmless, such as the common cold. Coronaviruses cause colds with major symptoms, such as fever and sore throat from swollen adenoids, primarily in the winter and early spring seasons. Coronaviruses can cause pneumonia either direct viral pneumonia or a secondary bacterial pneumonia and may cause bronchitis either direct viral bronchitis or a secondary bacterial bronchitis. The much publicized human coronavirus discovered in 2003, SARS-CoV, which causes severe acute respiratory syndrome (SARS), has a unique pathogenesis because it causes both upper and lower respiratory tract infections.
Seven strains of human coronaviruses are known:
Human coronavirus 229E (HCoV-229E)
Human coronavirus OC43 (HCoV-OC43)
Severe acute respiratory syndrome coronavirus (SARS-CoV)
Human coronavirus NL63 (HCoV-NL63, New Haven coronavirus)
Human coronavirus HKU1
Middle East respiratory syndrome-related coronavirus (MERS-CoV), previously known as novel coronavirus 2012 and HCoV-EMC
Severe acute respiratory syndrome coronavirus 2 (SARS-CoV-2), previously known as 2019-nCoV or "novel coronavirus 2019"
The coronaviruses HCoV-229E, -NL63, -OC43, and -HKU1 continually circulate in the human population and cause respiratory infections in adults and children worldwide.
Symptoms of COVID-19
Reported illnesses have ranged from mild symptoms to severe illness and death for confirmed coronavirus disease 2019 (COVID-19) cases. The following symptoms may appear 2-14 days after exposure.
Fever
Cough
Shortness of breath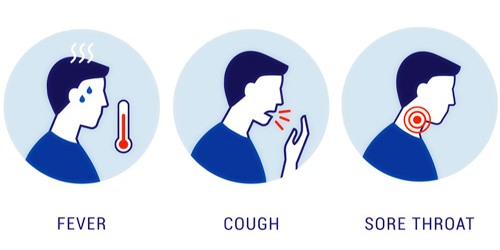 These symptoms are similar to the flu (influenza) or the common cold, which are a lot more common than COVID-19. This is why testing is required to confirm if someone has COVID-19. It's important to remember that key prevention measures are the same frequent hand washing, and respiratory hygiene (cover your cough or sneeze with a flexed elbow or tissue, then throw away the tissue into a closed bin). Also, there is a vaccine for the flu so remember to keep yourself and your child up to date with vaccinations.
In rare cases, COVID-19 can lead to severe respiratory problems, kidney failure or death.
Preventions of COVID-19
There is currently no vaccine to prevent coronavirus disease 2019 (COVID-19). The best way to prevent illness is to avoid being exposed to this virus. Most people who become infected experience mild illness and recover, but it can be more severe for others.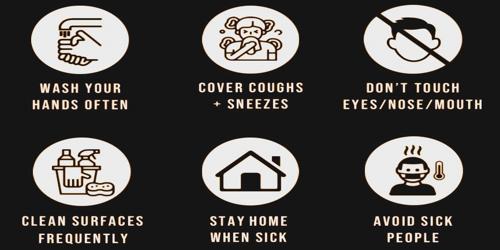 Take care of your health and protect others by doing the following:
Wash your hands frequently – Regularly and thoroughly clean your hands with an alcohol-based hand rub or wash them with soap and water at least 20 seconds, especially after going to the bathroom; before eating; and after blowing your nose, coughing, or sneezing.
Maintain social distancing – Maintain at least 1 metre (3 feet) distance between yourself and anyone who is coughing or sneezing.
Avoid touching eyes, nose and mouth – Hands touch many surfaces and can pick up viruses. Once contaminated, hands can transfer the virus to your eyes, nose or mouth. From there, the virus can enter your body and can make you sick.
Practice respiratory hygiene – Make sure you, and the people around you, follow good respiratory hygiene. This means covering your mouth and nose with your bent elbow or tissue when you cough or sneeze. Then dispose of the used tissue immediately.
If you have fever, cough and difficulty breathing seek medical care early – Stay home if you feel unwell. If you have a fever, cough and difficulty breathing, seek medical attention and call in advance. Follow the directions of your local health authority.
Stay informed and follow advice given by your healthcare provider – Stay informed on the latest developments about COVID-19. Follow advice given by your healthcare provider, your national and local public health authority or your employer on how to protect yourself and others from COVID-19.
The use of a medical mask is advised if you have respiratory symptoms (coughing or sneezing) to protect others. If you don't have any symptoms, then there is no need to wear a mask. If masks are worn, they must be used and disposed of properly to ensure their effectiveness and to avoid any increased risk of transmitting the virus. The use of a mask alone is not enough to stop infections and must be combined with frequent hand washing, covering sneezes and coughs, and avoiding close contact with anyone with cold or flu-like symptoms (coughing, sneezing, fever).
There is no specific antiviral treatment recommended for COVID-19. People with COVID-19 should receive supportive care to help relieve symptoms.
Several health agencies in China and other countries, including the Centers for Disease Control (CDC) in the United States and the World Health Organization (WHO), are keeping a careful eye on this illness and taking steps to prevent it from spreading.
Information Sources: