China's Zhurong rover returned the first batch of scientific images since its historic landing on May 15, when China became the second country to successfully land a rover on Mars. From an epic figure to the topography of Mars and details of some fascinating-spectacular wheels by a rover, the images make a great contribution to our understanding of the Red Planet. But he took our heart?
Pictures of an adorable group of Jhurang and its lander sent to the camera timer just like any tourist returning home. According to the China National Space Administration (CNSA), "Turing group photos" were taken using a small wireless camera. It traveled 10 meters south of the landing platform, placed the camera (which was stored under the rover) on the ground, and then turned back to stand next to the landing platform, displaying the Chinese flag.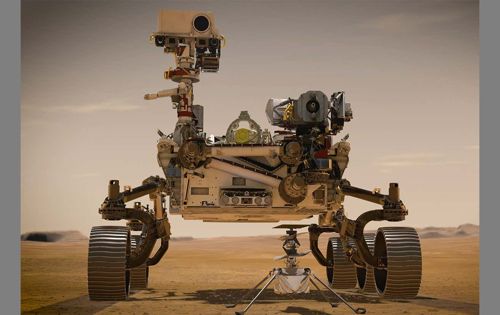 Other incredible images include this panorama of Utopia Planetia, where the rover landed. Not only can you see the horizon, the rover and the lander, but you can see where the landing was disrupted as a result of the landing and how the regolith spread. Here you will see the landing platform displaying the Chinese flag as well as the Beijing Winter Olympics mascots with the yellow flag on the left. You can also see the driver's tracks when you first land off the landing platform and then orient yourself.
Zhang Kejian, director of CNSA, said the mission would "advance rigorous, careful and vigorously coordinated work, organize and implement various scientific research missions and receive high-quality scientific information; openly share the concept of mutually beneficial cooperation, scientific data products like time." So that all mankind can share the success of China's space development." Scientists hope to get at least 90 Mars Day services from Jhurang.
The robot looks a lot like the spirit and opportunity vehicle of the American space agency (NASA) of the 2000s. It weighs about 240 kg. A long mast carries the camera on pictures and support; Five additional instruments will investigate the mineralogy of local rocks and the general nature of the environment, including the weather.