Orbex, a private space firm based in the United Kingdom, has unveiled the first full-scale prototype of Orbex Prime, the world's most ecologically friendly rocket. The rocket is fully integrated on its launch pad, where it will be tested to ensure that it is ready to launch. Orbex Prime is a two-stage rocket with a diameter of 19 meters (62 feet) that is designed to launch small satellites into low-Earth orbit. It is fueled by bio-propane and, although not totally carbon-neutral, emits 96 percent less carbon than rockets of comparable size.
The rocket is also intended to leave no trash in orbit and is reusable. Not only that, but the rocket also has the world's biggest 3D-printed rocket engine. "This is a significant milestone for Orbex and demonstrates how far we've come in our development." It may appear to be an average rocket from the outside, but Prime is unlike anything other on the inside. Orbex CEO Chris Larmour said in a statement to IFLScience that "to deliver the performance and environmental sustainability we wanted from a 21st-century rocket, we had to innovate in a wide range of areas–low-carbon fuels, fully 3D-printed rocket engines, very lightweight fuel tanks, and a novel, low-mass reusability technology."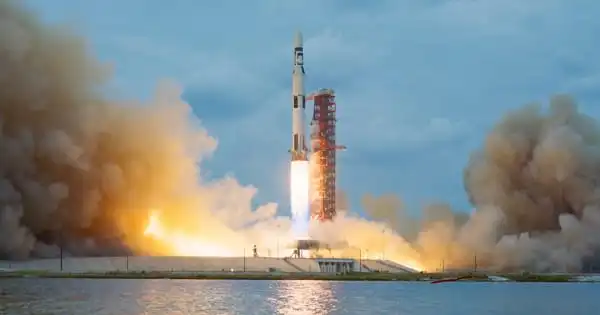 The rocket will launch from Space Hub Sutherland, a spaceport on Scotland's north coast that is the first European spaceport and the first carbon-neutral spaceport in the world. "The speed with which the Orbex Prime rocket was built astounds me." It is Europe's first complete orbital micro-launcher. However, I am equally amazed by the low-carbon technologies used. "I would like to express my heartfelt congratulations to the whole Orbex team for this outstanding achievement," stated Josef Aschbacher, Director General of the European Space Agency. The spaceport is anticipated to open for business in late 2022.
Prime is a 19-meter-long, two-stage rocket with seven engines that were designed and built in the United Kingdom and Denmark. The first stage of the rocket's six rocket engines will blast the craft through the atmosphere to an altitude of roughly 80 kilometers. The rocket's single-engine will finish the voyage to Low Earth Orbit (LEO), allowing the payload of tiny commercial satellites to be released into Earth's orbit. Orbex Prime is fueled by bio-propane, a renewable biofuel supplied by Calor UK. 
When compared to other similar-sized rockets being built throughout the world, this fuel permits the rocket to emit much less carbon. According to research conducted by the University of Exeter, a single launch of the Orbex Prime rocket will emit 96% less carbon than equivalent fossil-fueled space launch vehicles. Prime is also a reusable rocket that has been designed to leave no wreckage on the ground or in space.