INTRODUCTION
An Overview of the Organization
BRAC Bank Limited is a full service scheduled commercial bank. It has both local and International Institutional shareholder. The bank is primarily driven with a view of creating opportunities and pursuing market niches not traditionally meet by conventional banks. BRAC Bank has been motivated to provide "best-in-the-class" services to its diverse assortment of customers spread across the country under an on-line banking dais.
At present, BRAC Bank is one of the fastest growing banks in the country. In order to support the planned growth of its distribution, network and its various business segments, BRAC Bank is currently looking for impressive goal oriented, enthusiastic, individuals for various business operations. The bank wants to build a profitable and socially responsible financial institution. It carefully listen to the market and business potentials, It is also assisting BRAC and stakeholders to build a progressive, healthy, democratic and poverty free Bangladesh. It helps make communities and economy of the country stronger and to help people achieve their financial goals. The bank maintains a high level of standards in everything for our customers, our shareholders, our acquaintances and our communities upon, which the future affluence of our company rests. According to the Half-Yearly Financial Statement of 2010- the number of Employees including contractual engaged for the whole year or part there of (who received a total yearly remuneration of Tk. 36,000 or above) were 6,306 where as the total number of employees were 7,075 as the same period of pervious year.
Objective of the report
 The broad objective is to analyze the customer satisfaction on BBL's credit card services on the basis of primary data collected through a survey.
To provide an overview of the unique features and convenience offered by BRAC Bank's Credit Card Services.
To demonstrate briefly the operational structure of the BRAC Bank Limited.
The significance between the relationship of credit card income and profit of BBL.
To locate out the market position of BBL credit card, which also help to understand the customer satisfactions?
Get introduced with the idea of "Customer Service Quality" in BRAC Bank Ltd.
To know the expectations of customers of BRAC Bank
 Scope of the Report
Human Resources are essential and foundational to the growth and development of any organization and hence the ability to satisfy and retain quality and trained employee is vital. It must be therefore very crucial to identify if there is an underlying dissatisfaction amongst the existing employees of the organization. Therefore, the bank is the largest beneficiary because through this report we can identify how to confront the challenges.
This report will give a clear idea about 'Human Resources Department in the BRAC Bank Ltd." How efficiently they utilize their resources? What types to benefits they offer to their employees to motivate their work? Does the training program that they organized is effective or not? What are the aims to develop training program? To have answers of all these questions, it is tried to go through the BBL HR policies; with three months working experience in HR and had discussions with officials of different wings.
Methodology
In order to attain the objectives, collection of primary data is necessary. This data will be used to analyze the problem statement. The largest part of the analysis however would obviously be conducted by carrying out the employee satisfaction survey. The intention is to obtain a randomly selected unbiased sample of 100 employees across the bank and to question them on various HR Grounds to assess the employee satisfaction level. Therefore the methodology would include relevant information is collected from interviews, Surveys, observation and annual reports of the bank. The relevant information is collected from the primary sources and also uses the secondary sources of information.
 Primary data are collected through:
• Observation for the total internee period
• Open ended and close ended questions
• Conducted discussions with Officers of HRD
Secondary data are collected through:
• Manuals and Annual Report of BRAC Bank Limited
• Website browsing.
Limitations of the Report
The sources of the report are collected from different desks, various documents of BRAC Bank Limited (BBL). Though the entire staff member remains busy all the time for their desk work they helped a lot to manage and collect the data & information. But it was very difficult to collect information on the client as it is very sensitive and secret issue for the Bank. Every task has some limitations. So, there have also some limitations of the study. These are as follows-
 a) Shortage of time period: This report is written within a shorter period of time since many days have passed during the training session. So the time constraint of the study
 hindering the course of vast area and time for preparing a report within the mentioned period is really difficult.
 b) Busy working environment: The officials had some times been unable to provide information because of their huge routine work. That is why we do not gather vast knowledge about the critical issues.
 c) Secrecy of Management: There some information which are confidential for collecting the data. So, some data could not been collected for confidentiality or secrecy of management.
 d) Uneven Sample Distribution: The sample distribution may not be even, there may be a majority of people coming from a fixed range of income level.
PART B
COMPANY PROFILE
COMPANY PROFILE
 History of BRAC Bank Limited
 BRAC Bank Limited, one of the latest generation of commercial banks started its journey on July 04, 2001. It is an affiliate of BRAC (Bangladesh Rural Advancement Committee), one of the world's largest non-governmental development organizations founded by Fazle Hasan Abed in 1972. It has been the fastest growing Bank in 2004 and 2005. The Bank operates under a "double bottom line" agenda where profit and social responsibility go hand in hand as it strives towards a poverty-free, enlightened Bangladesh.
BRAC Bank Limited, with institutional shareholdings by BRAC, International Finance Corporation (IFC) and Shore Cap International, has been the fastest growing Bank in Bangladesh for the last three consecutive years. In the recent past the bank has gone public with price of shares reaching impressive heights, further showing promising future.
BRAC Bank, a fully operational Commercial Bank, focuses on pursuing unexplored market niches in the Small and Medium Enterprise Business, which hitherto has remained largely untapped within the country. In the last five years of operation, the Bank has disbursed over BDT 2200 crore in loans to nearly 50,000 small and medium entrepreneurs in 2007. And this year Bank's disbursement plan is BDT 4100 crore. The management of the Bank believes that this sector of the economy can contribute the most to the rapid generation of employment in Bangladesh. Since inception in July 2001, the Bank's footprint has grown to 36 branches, more than 400 SME unit offices and 38 ATM sites across the country, and the customer base has expanded to 200,000 deposit and 45,000 advance accounts through 2006. In 2005, BRAC Bank had a $178 million portfolio consisting of around 21,000 loans with an average loan size of $8,000. It has around 400 regionally-placed loan processing units offering services in the heart of rural and urban communities and employs over 700 business loan officers – around 60% of total staff.
In addition to small business lending, BRAC Bank has fast growing remittance, savings mobilization and consumer lending businesses. In the years ahead BRAC Bank expects to introduce many more services and products as well as add a wider network of SME unit offices, Retail Branches and ATMs across the country.
The shareholding structure of BRAC Bank Limited:
| | |
| --- | --- |
| BRAC | 31.74% |
| IFC | 9.50% |
| Shore Cap International | 8.76% |
| General Public through IPO | 40% |
| Non-Residents Bangladeshis | 5% |
| Mutual funds through IPO | 5% |
| Total | 100% |
 International Finance Corporation:
 BBL has important international shareholdings apart from BRAC: IFC and ShoreCap. International Finance Corporation (IFC) is the commercial wing of World Bank. Using certain channels and overseas representatives, IFC helps local financial institutions find profitable ways to target small and medium sized companies. Funding comes from the Asian Development Bank, Canada, the European Commission, the Netherlands, Norway, the United Kingdom and IFC itself. IFC is a 9.5% shareholder in BBL. A new assistance program signed in August 2005 aims to double the bank's number of small and medium enterprise clients in 18 months through campaigns to target women entrepreneurs and rural clients, introduce new products and train branch managers.
 Shore Cap International Ltd
Another international institutional investor Shore Cap International Ltd. is an international private non-profit, equity company seeking to invest in small business banks and regulated micro finance institutions in countries with developing and transitional economies. Shore Cap typically invests between $500,000 and $2 million for an ownership position of 10-25% of a company. As a minority shareholder, Shore Cap seeks financial institutions with a strong, experienced management team and a committed set of local development-minded investors. Shore Cap currently owns 8.75% of BBL's shareholdings.
 Product & Service of BRAC Bank
 BRAC Bank Ltd. is currently focusing on four different areas of business activities. These are:
 SME Banking
 Retail Banking
Corporate Banking
Probashi Banking
SME BANKING
 BRAC Bank considers the population of Bangladesh the most valuable resource of the country. According to BRAC Bank, after achieving liberation, the attainment of economic uplift should be our most important goal. Micro lenders are working here in the financial field, providing very small amount and on the other hand regular commercial banks have been providing bigger amount of loans to larger industries and trading organizations. But the small and medium entrepreneurs were overlooked. This missing middle group is the small but striving entrepreneurs, who because of lack of fund cannot pursue their financial uplift, as they have no property to provide as equity to the commercial banks. With this end in view-BRAC Bank was opened to serve these small but hard working entrepreneurs with double bottom line vision. As a socially responsible bank, BRAC Bank wants to see the emancipation of grass-roots level to their economic height and also to make profit by serving the interest of missing middle groups. 50% of BRAC Bank's total portfolio usually collected from urban areas, are channeled to support these entrepreneurs who in future will become the potential strength of our economy. The Bank currently is the market leader in giving loans to Small and Medium Entrepreneurs. It has been doing this for the last five years. Showing SME network coverage in the figure below:
 SME Products
 Currently BRAC Bank is offering 13 SME packages. There are listed and briefly explained below:
Anonno Rin – "Anonno Rin" is a business loan designed to finance small scale trading, manufacturing and service ventures, especially to help small and medium entrepreneurs to meet their short –term cash flow shortages and bridge the fund-flow gaps.
 Apurbo Rin – Apurbo is a loan facility for Small and Medium business. Apurbo loan has been designed and targeted for relatively bigger business units requiring loan above taka 8 lacs to 30 lacs.
Pathshala Rin – "Pathshala Rin" is a loan designed to meet the needs of small and medium sized private educational institutions, such as kindergartens, schools and colleges etc.
Aroggo Rin – "Aroggo" is a loan allowed to various Health service Provider like private clinics, diagnostics centers and doctors' chambers. The product offers fixed assets purchase financing under equated Monthly Installments.
 Digoon Rin – This is a double loan on clients' deposits. With this, clients do not need to encash their savings rather they can take double amount of loan on their deposit for their business expansion.
Supplier Finance – SUPPLIER FINANCE is a loan facility for the enlisted Suppliers of various large retailers, marketing companies, distributors, exporters etc. This product's main objective is to help various Suppliers to meet their short-term cash flow shortages or bridge the fund-flow gaps. Amount is minimum BDT 3 lac up to maximum BDT 30 lac.
 Prothoma Rin – "PROTHOMA RIN" is a loan facility for small and medium sized business, which is operated by women entrepreneur. The product offers terminating loan facilities for the purpose of working capital finance and/or fixed assets purchase. Loan limit is from minimum BDT 3 lac up to maximum of BDT 9.5 lac.
 BIZNESS Account – "Bizness Account" is an interest bearing current account for sole proprietorship business Entrepreneur. Opening balance required is only BDT-10, 000.00
 Cash Secured Loan – "Cash Secured Loan" is a loan facility for small and medium sized business. There are two types of loan facility in the product i.e. Secured Loan and Secured Overdraft. These facilities are fully secured by fixed deposit of BRAC Bank. Amount is minimum BDT 3 lac up to maximum BDT 30 lac.
 BIZNESS Loan – Bizness loan is an equated monthly loan facility for all types of business who have healthy bank transactions for the purpose of working capital finance and/or fixed assets purchase. Loan limit is minimum BDT 10 lac to maximum of BDT 50 lac.
 Proshar – "Proshar" is a loan facility for small & medium sized manufacturing business. The product offers loan facilities for working capital finance and/or fixed assets purchase.
 Trade Plus – Trade plus is a composite facility for small & medium sized import-oriented businesses to meet their trade finance requirements.
 Super Supply Loan – Super Supply Loan is a loan facility for Suppliers of various large retailers, marketing companies, manufacturing companies and various corporate houses. This product's main objective is to help various Suppliers to meet their financial requirements.
RETAIL BANKING
 There are retail banking products of three categories. One is Loan Products, second is Deposit Products and the other is Cards. In Loan Products category there are eleven services/products facilitating clients' demands. These are: Salary Loan, NoW Loan, Car Loan, Teacher's Loan, Study Loan, Travel Loan, Credit Card Loan, Top Up Loan, HighFlyer Loan, Secured Loan/ OD and Doctor's Loan. Under Deposit Products category currently there are ten services/products in total. These are: Fixed Deposit, Interest First, Abiram Account, DPS, EZee Account, Savings Account, Short Term Deposit, Current Account, Salary Account and Step Up Fixed Deposit. Under Cards category there are two types of cards products active. One is ATM Debit Cards and the other is Co-Branded Cards. ATM Debit Cards facilitates money withdrawal of upto BDT 20,000.00 per day. Also checking balance statements of ATM and POS (Point Of Sale) transactions. The Cards Department provides 24 hour customer support hotline to resolve queries and problems.
 The Co-Branded Cards are from Aarong, ALICO and DIA Gold. The BRAC Bank Aarong ATM Card gives users 5% cash back facility from shopping in any Aarong outlets. The holder of BRAC Bank ALICO ATM Card can enjoy a special life insurance facility with insurance coverage of upto BDT 200,000.00. And BRAC Bank DIA Gold ATM card holder will enjoy a special cash back and cash discount feature. This feature is 10% discount from any diamond product bought and 8% discount on making charge of any gold products bought from DIA Gold.
CORPORATE BANKING
Corporate Banking section has three types of coverage currently. These are:
 A. Corporate Loan Products
B. Trade Financing
C. Corporate Cash Management
 Corporate Loan Products is offering six services at the moment. The services are listed and described in the following section:
 A: Corporate Loan Products
 Overdraft – This is an on-demand credit facility designed to meet day-to-day operational activities of the business, including purchase of raw materials and expenses.
 Term Loan – Short Term Loan/Revolving Loan: This scheme is to meet different short-term fund requirements of the client. Payment of duty, Tax, VAT and other expenses related to the release of goods from customs through pay orders in the name of customs authority or Bangladesh Bank cheque is payable through this scheme.
 Lease Finance – One of the more convenient long-term sources of acquiring capital machinery and equipment. The client is given an opportunity to have exclusive rights to use an asset, for an agreed period of time, against payment of rent.
 Loan Against Trust Receipt (LATR) – This is advancement against a Trust Receipt provided to the client when the documents covering an import shipment are given without payment. Under this system, the client will hold the goods of their sale proceeds in trust for the bank, until the loan allowed against the Trust Receipt is fully paid.
Work Order Finance – BRAC Bank provides Work Order finance facility for its valued clients. Through this arrangement, clients can avail loan facilities against valid Work Orders up to a certain proportion.
 Medium Enterprise – The products offered under this sort of financing are versatile in nature and each product is tailored according to the need of the borrower, under certain parameters. The range of organizations this sort of financing caters to include proprietorship concerns, private limited companies, educational institutions as well as NGOs. The purpose of this unit is to serve medium enterprises having facility requirements like a large corporate in nature, but smaller in volumes. The facilities may range from a single-funded or non-funded limit to a composite credit facility that includes various corporate products. The Bank believes that the emerging medium enterprise of today is tomorrow's large corporate that will facilitate the true growth of the nation.
 B: Trade Finance
Letter of Credit (LC):
This facility is related to import or local purchase of different items. It is also provided for the import and export of goods (such as raw materials, machinery, equipment, any trading item).
Letter of Guarantee (LG):
To meet different contractual requirement such as participating in Bid, Performance Guarantee and Advance Payment guarantee for different contractual requirements.
C: Corporate Cash Management
NCS – BRAC Bank will collect clients' bills through their Bills Pay Machines in the strategic locations of the city and also at the correspondent branches, where the BRAC Bank branches are not available and at the booths.
PTS – PTS will allow clients to disburse all kinds of payments anywhere in the country through BRAC Bank's own branch network in Dhaka, Chittagong, Sylhet, Savar, Feni and the partner bank branches all over the country.
 Advantages to Employers – BRAC Bank provides services such as Salary Upload, Multi-Location Salary, payroll management, MIS on payroll etc. Salary Upload facility requires a consolidated cheque of the total salary amount and a break-up of the disbursements to the employees in soft and hard copy format, BRAC Bank will do the rest. Multi-Location Salary features salary disbursal in multiple locations within BRAC Bank network. Payroll MIS creates standard reports for corporate clients with neatness and conciseness.
Advantages to Employees – Along with all other Retail Banking services, employees can avail 24 Hour Banking through ATMs, Online Banking, Extended Banking Hours till 8:00 PM except for Thursdays and Fridays and Payday Overdraft on request for emergency situations (this is adjusted with the employee's following month's salary).
Cash Management Services – BRAC Bank's national Collection Services (NCS) is designed to assist corporate with nationwide collection requirements by providing faster funds availability in a cost- effective manner.
Cash Collection Services: Through BRAC Bank Cash Collection Services they collect cash directly from clients offices/business premises. The whole process is arranged with executive logistic services.
Drop Box Facility: On request, BRAC Bank can install Drop Box at customer's office which can be used for depositing cheques or any instruction. Their representative will visit client's office and clear the box every day.
PROBSSHI  BANKING
Our nation's workforce who are away from their families, relatives, friend and above all, from breathing the air of our country, working abroad for the prosperity of their lives and the nation in the long run while sacrificing a lot. BRAC Bank, through Probashi Banking services, is facilitating the banking needs of remitters. Currently BRAC Bank is providing six services for remitters under Probashi Banking. These products/services are described below:
 Probashi Current Account – It is ideal for Probashi Bangladeshis who do not wish to earn interest due to religious reasons. This account also comes with cheque book and ATM card and is ideal for regular transaction.
 Probashi Savings Account – This account provides interest which is paid in June and December of each year. This account comes with a cheque book and ATM Card and is ideal for Probashi Bangladeshis who want to save. Accounts are maintained in Taka.
Probashi DPS – Is a savings scheme specially designed for the Probashi clients. This service requires monthly installment of minimum Tk. 500.00 and any multiples. Provides a savings account with a personalized cheque book, earnings remitted to savings account will be automatically transferred on the due dates and loans are provided against 90% of deposited amount.
Probashi Fixed Deposit – A fixed deposit account allows remitters to deposit their money for a set-period of time, thereby earning them a higher rate of interest in return. Fixed Deposits can be made from 3 months to 3 years. Interest is paid on the maturity at a very attractive rate. Accounts are maintained in Taka.
Probashi Abiram – Probashi Abiram is a Fixed Deposit which is ideal for Probashies who want to get a return every month. If one has sufficient funds, this can be made into a fixed deposit from 1 year to 3 years and interest will be paid every month on their Savings Account automatically. This is ideal for customers who want to pay their DPS installments. Accounts are maintained in Taka.
Probashi Shubidha (NRB Beneficiary) Account – This is a specialized account for Non-Resident Bangladeshis where the remitter can open an account for the Beneficiary. The beneficiary can then avail all the services offered by BRAC Bank such as: SMS Banking, Phone Banking, Internet Banking etc. When the beneficiary's account is setup, the Remitter just requires the account number, and amount of money to be sent to make a safe, fast and efficient transaction. Transaction is completed within 6 hours of receiving instructions.
ORGANOGRAM
Board of director
Chairman
Vice Chairman
Directors
Managing Director
Executives
Senior Executive Vice President
Executive Vice President
Senior Vice President
Vice President
Senior Assistant Vice President
First Assistant Vice President
Assistant Vice President
Officer  & Staff
Senior Principal officer
Principal Officer
Senior officer
Probationary officer
Assistant officer/ Assistant cash officer
Vision & Mission of BRAC Bank Ltd.
Vision
Before stating the vision of BRAC Bank Limited, Bangladesh, let us first have the idea about the Bank's plan of action and goals in Bangladesh. BRAC Bank will promote broad-based participation in the Bangladesh economy through the provision of high quality banking services. The Bank plans to achieve this by increasing access to economic opportunities for all individuals and businesses in Bangladesh with a special focus on currently under-served enterprises and households across the rural-urban spectrum. BRAC Bank believes in mutual benefits, the Bank's and its clients' benefit will depend on each other. So the pursuit of profit and developmental goals is mutually reinforcing. The target is to increase the ability of under-served individuals and enterprises to build their asset base and access market opportunities so that it increases the economic well-being for all Bangladeshis at the same time, and this will contribute significantly to the profitability of the bank.
 BRAC Bank intends to set standards as the market leader in Bangladesh. It will demonstrate that a locally owned institution can provide efficient, friendly and modern full-service banking on a profitable basis. It will produce earnings and pay out dividends that can support the activities of BRAC, the Bank's major shareholder. Development and poverty alleviation on a countrywide basis needs mass production, mass consumption and mass financing. BRAC Bank's goal is to provide mass financing to enable mass production and mass consumption and thereby contribute to the development of Bangladesh. The Bank's goals are thus aligned with those of BRAC.
The Vision Statement
We know that a vision statement should be one, long sentence with specific details about where an organization wants to be in future. In the long run a business or an organization has to meet a certain target or goal, which is what, comes into the vision statement. So the above plan of BRAC Bank is summarized as follows:
 "Building a profitable and socially responsible financial institution focused on Markets and Business with growth potential, thereby assisting BRAC and stakeholders build a "just, enlightened, healthy, democratic and poverty free Bangladesh".
 B   Mission
BRAC Bank will adhere to highly professional and ethical business principles and internationally acceptable banking and accounting standards. Every BRAC Bank professional will need first of all a commitment to excellence in all that he/she does, a keen desire for success, a determination to excel and a drive to be the best. BRAC Bank Ltd. will individually and jointly learn continuously from customers and professional colleagues around the globe to improve the way of doing business so that the Bank remains the best in market. The Bank is willing to walk that extra mile with enthusiasm and empathy to serve their customers and to solve problems together so that their customers succeed in their business and remain loyal to the Bank. BRAC Bank will set up goals for themselves and then exceed the goals that they have set up. The Bank shall not accept failure.
 The Mission Statement
Here also we know that the mission statement for any business or organization must be in line with its long term plan or vision. The mission statement should clearly state 'what is the short term plan of the organization to achieve its long term goal', which is the vision, or 'doing what exactly now as well as in near future will ensure our goal in distant future'. But BRAC Bank has multiple mission statements, each important and specific to its vision. The following lines will show the mission statements of BRAC Bank Ltd:
Sustained growth in 'Small & Medium Enterprise' sector.
Continuous low cost deposit growth with controlled growth in Retail Assets.
Corporate Assets to be funded through self-liability mobilization.
Growth in Assets through Syndications and Investment in faster growing sectors.
 Continuous endeavor to increase fee based income.
Keep our Debt Charges at 2% to maintain a steady profitable growth.
 Achieve efficient synergies between the bank's Branches, SME Unit Offices and BRAC field offices for delivery of Remittance and Bank's other products and services.
Manage various lines of business in a fully controlled environment with no compromise on service quality.
 Keep a diverse, far flung team fully motivated and driven towards materializing the bank's vision into reality.
PART  C
JOB  PART
JOB DESCRIPTION
In order to achieve best service quality BRAC bank has separate department called "SERVICE QUALITY DEPARTMENT", which is responsible of maintaining over all services of the bank to satisfy customers. To establish world class guest experience in all its operations it mainly focusing on people, infrastructure, technology, products and process. To illustrate the fact, Brac Bank now uses the word "Guest" instead of "Customer". In order to ensure such experience Brac Bank always looks for enthusiastic people as employee and interns as well. I was doing the job from 02 August to 31 October.
KEY RESPONSIBILITIES
Ensuring first hand services to the guest
Keep observing the service activities during the service hour
Guiding lost clients to have proper services
Having guest suggestion and complains and reporting to BM
Ensuring clients solutions and quality services
ENSURING FIRST HAND SERVICES TO THE GUEST
Bank is a financial institution so it is very tuff for a guest to know each service point. They sometimes come up with such problems for which they need not to talk to customer service manager or Branch manager. Like – how to write a deposit slip or how to use ATM card in booth etc. in that situation my primary duty was to greet them so that they rely upon me to have on the spot service. On the other hand my primary duties are understanding guest's problem and guide him or her to talk with the right person on the right desk.
KEEP OBSERVING THE SERVICE ACTIVITIES DURING THE SERVICE HOURS
During the service hour, many unusual situations may arise. So my another duty was to keep looking into those situations and make instant solutions like keep looking whether staff behaving the way they should behave or not. To look after whether any staff is ignoring any customers or not, was my another job duty.
GUIDING LOST GUESTS TO HAVE PROPER SERVICES
It is usual situation that different professions people come to bank every day. Some profession people come to bank for the first time and doesn't know overall service arrangement of the bank. They enter into the branch and starts wondering around within the bank. They get completely lost. So, my responsibility was to listen and guide them in a proper way.
 HAVING CUSTOMER SUGGESTIONS & COMPLAINTS
 Since each branch is a touch point for the bank so it's the better option for SQ department to have better guest experience. Another duty is to collect such suggestions and complain from guests and reporting to the Branch Manager.
 ENSURING CUSTOMER SOLLUTIONS & QUALITY SERVICES
 A guest should have a complete solution of a problem from branch. If it is not possible for customer service officer then take him/her to customer service manager even if it is not possible for the CSM then take him/her to BM. In the meanwhile I have to ensure the quality service to the guest.
DIFFERENT ASPECTS OF JOB
 There are five essential areas to excellence in guest experience. BRAC Bank guest experience standard will apply it the five aspects for excellence in guest experience listed below—
 1)         People     2) Premises   3) Papers   4) Processes and 5) Practices
People: The team who serves the guests
Premises: The location or place where we serve the guests
 Papers: The documents we use to provide and receive information and to
 communicate with our guest and colleagues
Process: the processes that enable us to delight our guests
 Practices: the way we interact and talk with our guests.
For keep concentrating on service issues, Brac bank has prepared guest experience fundamentals for its entire team member. Brac Bank's guest standards are—
 BOLD: All team members are will be bold and on behalf of their guests and colleagues. They will be first to greet, first to listen and first to make any suggestions. They are the persons who satisfy the demands of the guests even if they are unexpressed
RELIABLE: The team member will take full ownership in serving their guests to their complete satisfaction.
APPEALING: The team members have to ensure that all guest touch points are
appealing and inviting.
 CONSISTENT: The team members will ensure that their guests experience quality is consistent in all aspects across all guest service point all the time.
My major job purpose & principle accountabilities in the banks are as follows:
•           Ensure account opening, modification, closing, and ATM card & Check book
            requisition and remittance activities.
•           Implement client service strategies to achieve BRAC Banks objective and plans
•           Ensure quick resoling of client quires and issues
•           Efficiently handle customer complains
•           Properly maintain FDR, ATM, Account and other registers
•           Receiving checks, issue cheque book, Fund transfer
•           Verifying check book register, Customer Signature verification
•           Writing pay order, Statement inquire
•           Checking balance as per individual customer request
•           Providing all kinds of general banking information to the customers
•           Issuing check books and posting them into the system.
CRITICAL OBSERVATIONS & RECOMMENDATION
BRAC Bank is now mainly focusing on the service quality issue because it believes in long term relationship with its guest. Bank believes that if every guest has a positive image about the bank then they will wholeheartedly refer BRAC Bank to others. My observation shows that positive word of mouth has more power than the promotion, products and price. To do so it needs more priority on customer services than any other thing. Due to huge customer base and cross cultural differences it seems very difficult for the team to properly manage customer satisfaction. So from my point of view the team member should have more cross cultural training in order to understand guest best.
PART  D
PROJECT PART
 CUSTOMER SERVICE QUALITY
Let's see what business Guru's thinks:
"Customer Service is an organization's ability to supply their customers' wants and needs"
 "Customer Service is any contact between a customer & a company, that cause a +ve /-ve perception by a customer"
At first BRAC Bank introduce the concept of customer service quality at banking sector in Bangladesh. BRAC Bank is always careful to provide their customer the best service and always try to make them happy. That's why in every branch has a customer service department that consisting two level of employee.
BSSO (Branch sales and service officer): They give all the service to the
            customer except cash transaction.
Seek information about products /service
Get more Clarity on something
Solving Problems
Lodge complaint & seek Solution
Multiple affaires: FDR Receipt order and delivery, PO etc.
 BSSO are responsible to solve this problem of customer.
Timing: They give the customer Token and Serial Number.
Correct Placement: Sometimes new or uneducated customer come to ranch   and they not know about where they go for which service. Floor Supervisor places them in correct department.
Information: Floor Supervisor also gives necessary information to the customer.
Normally customers are come to branch in some specific reason .BRAC Bank thinks that is the opportunity for bank to make them satisfied, loyal and ambassador. That's why BRAC bank is tried to provide excellent customer service to their customer instead of only customer service. In this purpose all the Bank staff makes the promise to make customer satisfied or even delighting. Customers which means excellent customer service to them.
IMPORTANCE OF GOOD CUSTOMER SERVICE
Good customer service always has to play some rule. BRAC Bank customer service is always tried to provide certain service to their customer. Those are:
Customer Satisfaction: Customer satisfaction is the main purpose of customer service. All the branch staff is always try to give the best service to their customer.
Building Relationship: BRAC Bank treat customer as their guest. That's why floor supervisor always cordially invited the customer when they enter into the branch and serve them until they lave the branch. That's help customer to make loyal to the Bank.
Customer Expectation: As a service organization BRAC Bank always try to provide the
best service that expected by its customer. Higher Service Charge – Expectation of better service.
Positive & Negative Word of Mouth: BRAC Bank is always following the motto      'Customer is always right' and also behaves softly with the customer.
Customer Loyalty: BSSO and CSM always show sympathy in the any sad news of the customer or share a Share a happy moment with their existing customer. Ex: Send Eid card, Calendar, Inform about new facility.
Increasing market Competition: BRAC Bank introduces new strategy day by day to make their potential client as their loyal customer.
 SERVICE QUALITY IN THE EYE OF BRAC BANK
Service quality is service check points for customer service or any other issues in      branches and backward linkage departments.
Service Auditing and Monitoring
SQ works with process & people part of customer Service
PURPOSE OF SERVICE QUALITY
Access & Monitoring the performance of CSO & OCCS on Regular basis.
Process Designing and Reengineering
Complaint handling
Launching different service related campaign
Design new customer service
Asses and monitor customer Service standard in branches
CUSTOMER SERVICE QUALITY RULES OF BRAC BANK
Know your customer (KYC): When a client comes to open an account, try to get a clear idea about that person prior to open an account. Common facts required to be noticed are:
Social Position: Take prior permission from Head office and be careful in case of opening account for people who are Politicians, Customs, Technocrats, Judicial, Defense personnel, law enforcing agency, Income tax, Vat authority etc.
Occupation: Type & nature of Business job nature and duration. Check the Trade License / employment documents. Take Prior permission from Head office and be careful
when the occupation is in jewelry, Exchange House, Manpower, Courier Company, Hotel
& Restaurant, Machine parts.
Income Level: Check whether the level of income complies with the average industry income level for the sector and position where the customer belongs.
Address Level: At least one of the addresses (permanent / present / work) mentioned in the account opening from should be verified by personal visitation of DSE or other
officer of the Bank.
Purpose of opening the account
CUSTOMER SATISFACTION
The success of any product is largely dependent on customer's satisfaction and acceptance. Selling a product or a service is just the beginning of a relationship, which is to be built and maintained over the year. Only this way the sense of loyalty is established in customer's mind. BRAC Bank Limited with the commitment to provide Excellence service in Banking always tries to offer better product to the customers as well as keeping in mind about the volatility of the market. Here in this part I have shown demand of customer satisfaction is related with its customers' financial position and demand(by their occupation) and are they satisfied with BBL or not.
A SURVEY OF CUSTOMER SATISFACTION
RESEARCH APPROACH
I have conducted a survey on the people of different occupation. Today the demand of Deposit and loan is rapidly increasing. At the preliminary stage, only rich people were interested to take service from BRAC Bank. Now middle class segments are also interested to this sector. So I have surveyed on both high and middle class people. So I have tried my best to go through most of the places.
 CONTACT METHOD
I have contacted to the persons individually with a questionnaires. Then I gave them both close-ended questions and open-ended questions. Most of the person gave answer of my entire question. Some did not because of their busyness and lacking of knowledge about loan procedure.
Sample Design
Sample design consists of three parts-
a. Sample size
b. Sampling frame
c. Sample technique
a. Sample size: for this research (the survey on customer satisfaction) the determined sample size is 100.
 b. Sampling frame: Opening an account is depending on the occupation of the family. He may be a company owner of related to any other type of business and he may be service holder. So the survey is conducted on these persons – businessmen & service holders.
 c. Sampling technique: For this research the researcher follow the convenience sampling. As here the main objective was to gather knowledge about the customer satisfaction.
 OVERVIEW OF CREDIT CARD
Credit Card
The credit card though a new phenomenon in business and transaction arena which had already won the hearts of millions across the globe, has set its foot in this part of the world with its magical power and becoming a way of life here by offering its handy feature and usefulness. Credit card is:-
A piece of plastic, which is an alternate to cash
An unsecured credit, i.e. credit without collateral
A revolving credit facility
It allows purchase of goods and services
It allows cash withdrawals
It offers security vs. Cash
 Physical features of credit card
Credit card is rectangular and looks like phone card.
It is a layered piece of hard plastic with holograms and security features.
It also carries a strip of magnetic tape on the back, which is located with electronic data including the cardholder details.
Specialized machines called point of sale (POS) read the strip electronically.
Terminals at merchants or automated teller machines (ATM).
Importance & limitations of credit card
Importance:
A credit card is a great financial tool. It can be more convenient to use and carry than cash, and they offer valuable consumer protections.
A card can be attributed a huge amount of money. So, it offers the largest portability.
The credit can be used to pay after all sorts of shopping.
International card can help in traveling to various countries. With this card one can travel around the world.
Credit card increases the purchasing power of the customers. As the transaction process through it is much easier and fund is available all time.
Limitations:
All shopping centers may not be equipped with the card facilities.
Many restaurants and shopping centers having card facilities do not accept a small amount of bill.
Thirdly, because of ceiling – touch income bracket along with other criteria, only a small number of people in Bangladesh can practically qualify for holding cards and enjoy its fantastic facilities.
BBL Credit Cards offer to the Cardholders:
Annual fee is your choice: 
Now payment of Annual fee for your Credit Card is totally your choice. BRAC Bank allows you to pay no Annual fee as long as you transact at least 18 times (including 10 POS transactions) in a physical year. It's your Card, your choice.
Card cheque Facility:
With BRAC Bank Credit Card now you can enjoy cheque facility against your credit card limit. You can make payment (account payee only) to any person or organization where Credit Card facility is not available. You can use your 100% limit through Card cheque with a minimum processing fee. You will get your first cheque book absolutely for free.
  FAST Rewards Program:
A special loyalty program that allows you to earn some points every time whenever you spend your money through POS with your Credit Card in Bangladesh only. For every Tk. 50 spent through POS on your credit Card, you get the opportunity to earn 1 Reward point. The accumulated Reward Points can be redeemed against exciting gift items from our Reward Catalogue. The enrollment of this program is free.
 E-Statement Service:
BRAC Bank brings more convenience for you through e-statement that will enable you to receive your monthly Credit Card statement via e-mail and this is absolutely free. No doubt nowadays e-statement is the fastest, reliable and efficient service, which ultimately minimizes your paper work and maximizes your convenience. E-Statement will be sent maximum up to 3 (Three) e-mail addresses. For enrollment you have to fill up the enrollment form and send /drop it to any branch of BRAC Bank.
 Balance Transfer:
BRAC Bank brings Balance Transfer facility for its Cardholders; if you have other bank Credit Card then you have the option to transfer your current outstanding balance at a much cheaper rate of 22% to your BBL Credit Card. The processing fee for Balance transfer is 2% or 150 + VAT whichever is higher.
  Credit Shield Facility:
Credit shield facility is a triple benefits Insurance Plan for the BBL Cardholders. The entire dues on the Credit Card, in the event of death or permanent total disability of BBL credit Cardholder, will be waived and the cardholder or his/her family will receive equal amount to meet immediate expenses. For any kind of accidental death, gold card holder is covered up to BDT 2-lacs and Classic Cardholder up to BDT 1 lac – under Credit Shield. A very nominal charge of 0.35 paisa for every TK.100/- of your Credit Card outstanding balance will be applicable for this coverage.
 Extensive SMS Service & Transaction Alert:
BBL SMS Service is the simplest way to find out your Credit Card details through your mobile. This includes Push & Pull service which you can avail free of cost. Through Pull Service you can access to your Credit Card information from anywhere anytime within Bangladesh. Through Push service BBL provides you with information on your BBL Card even when you are on the move. Now you would no longer miss a payment or exhaust your Credit limit without any warning. For the first time in Bangladesh, BRAC Bank brings you an extensive Transaction Alert Service for its Cardholders. BRAC Bank Transaction Alert – a service that allows you to stay updated on your Credit Card transactions. For each predefined transaction an alert will be generated and sent to your mobile instantly. At a nominal monthly fee of BDT 5 + VAT, you can enroll to the service.
 Real Time Payment Update:
Now you can avail your limit within a short time after making payment. Through IVR & ATM you can instantly refresh your limit upon making payment. As for cash payment, limit will be refreshed within 2 hours during weekdays and end of the day during weekends.
PayFlex:
This is an installment program that allows BBL Credit Cardholders to convert any retail transaction of BDT 3000 and above into an easy and convenient repayment schedule only @ 16.95%. You can also purchase your items of choice from some of our selected PayFlex partner outlets for 0% interest and payback in easy monthly installment.
Immediate Cash Advance Facility:
You don't need to worry about carrying cash anywhere – not even on a foreign trip where there is no one to give you hard cash at times of your need. You can withdraw cash up to 50% of your Credit Limit from any of our branches or any ATMs with VISA/Master Logo across the country and outside the country.
 Worldwide Acceptance:
Our Credit Card is accepted at over 5,000 outlets across the country and over 24 million VISA/Master outlets worldwide. Use your Credit Card for everyday purchases as well as high valued transactions with wide range of products and services including hotels, restaurants, airlines, travel agents, shopping malls, department stores, hospitals, diagnostic centers, jewelers, electronics, computer shops and many more! This number is increasing rapidly to cater your growing needs. So, no matter where you are in the world BBL Credit Card gives you the power to purchase whatever you desire for.
 Global Emergency Assistance Facility:
When you travel abroad, please remember that you have the option of using the Global Emergency Assistance Service provided by the VISA/Master for our cardholders. These can be availed for: 1. Reporting Lost/ Stolen Credit Cards 2. Requesting for emergency card replacement 3. Emergency Cash Advance and 4. Miscellaneous enquiries. The toll free telephone numbers for accessing these emergency assistance Help line are available in local telephone directories/yellow pages and other local listings in each country.
Supplementary Card:
With BBL credit Card you can share the exclusive benefits with your dearest and nearest one through providing supplementary card. As a primary cardholder you can also set spending limits for each of your supplementary cards. For your convenience all transactions on your Supplementary Card will be shown separately on your monthly Credit Card statement.
Convenient Payment option:
When you receive your bill, you need not pay the entire bill amount. You have the flexibility of selecting any of the following payment options:
 Pay the total amount due:
 Pay the minimum amount due (5% of your total outstanding or BDT 500 whichever is higher of local card and for Dual card 5% of your outstanding or USD 10 whichever is higher) and the balance is carried forward to subsequent statements. You can pay your payment conveniently, without creating any extra pressure on your finances.
Auto debit option:
If you have an account with any BRAC Bank branch, you have the option of making the payment of your monthly credit statement (either minimum amount due or total due amount) directly through your bank account.
 Self set limit:
BRAC Bank Credit Card allows you to set your own card limit .You can request for a limit lower than what you are eligible for. You can even preset the monthly spending limits on the supplementary card. Any transaction above that specific spending limit will be declined.
BBL 24-hours Call Center:
We offer Customer Services 24-hours a day, 7 days a week through our State-of–the Art Call Center and experienced customer service staffs. BRAC Bank Call Center facility provides you one stop solution for your banking needs.
 Alternative Payment channels:
BRAC Bank provides you different payment channels. Now you don't need to wait in queue to pay your credit card bill. You can easily pay your credit card bill through Cash Deposit Machine, ATM or through IVR (interactive voice recorder) and even through Internet Banking. For IVR, ATM & Internet Banking you need to have an account with BRAC Bank.
 CREDIT CARD
 Universal Cards
This is a Visa/Master dual currency credit card with worldwide acceptability. Its USD credit limit will be within approved BDT limit assigned for the cardholder. A secured dual card's limit will be maximum USD 30,000 against lien on RFCD or ERQ account.
 Dual Cards can be issued against different entitlements:
Travel Quota
RFCD /FC
ERQ
 As per customer request, dual card will be offered to customers against his/her Travel Quota, Residence Foreign Currency Deposit (RFCD) account and Export Retention Quota (ERQ) account. Dual card can be used in local currency within the country and foreign currency outside the country.
Travel Quota limit is USD 1500 for SAARC Countries (India, Pakistan, Sri Lanka, Nepal, Afghanistan, Bhutan, Maldives & Myanmar) and USD 5000 for Non SAARC Countries.
Universal VISA/Master Classic
Universal VISA/Master Gold
Universal VISA/Master Classic
Dual Visa/Master Credit Card is valid not only in Bangladesh but abroad as well. It can be used in local currency (BDT) within the country and foreign currency outside the country. This type of credit card has a limit ranging from BDT 10,000 to BDT 75,000.
Universal VISA/Master Gold
 This is a Dual Visa/Master credit card which is valid both in Bangladesh as well as abroad. It can be used in local currency (BDT) within the country and foreign currency outside the country. The basic difference between Classic & Gold cards is that the Gold card has higher credit limit than that of classic card. Credit limit of Visa/Master Gold Card ranges from BDT 75,001 to BDT 500,000.
 Survey on Customer Satisfaction of BBL Credit Card services
 To find the customer's perception about their level of satisfaction and performance of the credit card of BBL a questionnaire survey has done while preparing the report. Ten questions were asked to the cardholders of BBL. Due to limitation, 50 clients were asked and Random sampling method is used for this survey. As BBL is one of the fastest growing banks in credit card sector of Bangladesh with huge number of cardholder, the issue of customer satisfaction is very prominent here and it differs man to man. The results of this survey and analysis are sequentially presented below.
  Cardholder's priority to types of credit card
 BBL provides mainly three types of credit card. All of they are different mainly from the perspective of credit limit and charges. About this, customers were asked the question- "what is your type of credit card?" Responses of this question are presented below:
| | | |
| --- | --- | --- |
| Class | Respondents | % |
| Universal card | 8 | 16 |
| Visa Gold card | 30 | 60 |
| Visa Classic card | 12 | 24 |
1:- Perception about type of card
1:- Priority to types of credit card
Analysis:
From the result of survey, its found that the Visa Gold Card (60-%) is the most attractive product to the customers. In second position there are Visa Classic Card (24-%) and in third position there is universal card (16-%). The factors that make Visa Gold Card most attractive are its comparatively lower fees and charges. Rather in our country income level of most of the people matches with its credit limit. So they have much confusion and fear to maintain a higher credit limit.
Another Bank's card customer carries beside BBL card
Many customers may carry card of more than institutions along to enjoy diversified facilities. So clients are asked in the survey to mention the name of another bank's card of clients if he/she has any.
The results are as below
| | | |
| --- | --- | --- |
| Class | Respondents | % |
| BBL | 25 | 50 |
| DBBL | 16 | 32 |
| HSBC | 6 | 12 |
| UCB | 2 | 4 |
| SCBL | 1 | 2 |
| Total | 50 | 100 |
Another bank's card along with BBL
 Another bank's card along with BBL
Analysis
Now many other institutions are providing card facility. Rivalry is getting more competitive in the credit card market in the country. For various purposes clients are now carrying another bank's supportive card for their easy facilities. This is 50% that is remarkable. But still BBL holds its market satisfactory position in the credit card industry.
 Time duration of using credit card
To find out the longevity of any cardholder's card usage period, they are asked – "how long you are using the card?" From their answers their level of satisfaction are found out. The long the duration, the high is their satisfaction to credit card of BBL.
| | | |
| --- | --- | --- |
| Class | Respondents | % |
| Less than 1 year | 9 | 18 |
| 1-3 years | 23 | 46 |
| 4-6 years | 14 | 28 |
| More than 6 years | 4 | 8 |
| Total | 50 | 100 |
Time duration of using Credit Card
3: Time duration of using Credit Card
Analysis
From the survey results it's found that 46% clients are using credit card for 1-3 years, which is the higher class. Clients who are using it for 4-6 years are 14%, which is mark able. And using for less than 1 year is 9 % and more than 6 years is 4%. It is a satisfactory response as credit card is comparatively a new product in Bangladesh.
 Frequency of using credit card in a month
Necessity of credit card varies man to man. Some of them use it frequently and some of them at rare. To measure this frequency, customers are asked the question- "how many times you are using the card in a month?" The responses are presented below:
| | | |
| --- | --- | --- |
| Class | Respondents | % |
| 1-5 times | 18 | 36 |
| 6-10 times | 11 | 22 |
| 11-15 times | 15 | 30 |
| More than 15 times | 6 | 12 |
| Total | 50 | 100 |
4: Frequency of using card in a month
4: Frequency of using card in a month
Analysis
Result shows that 36% clients use the credit card for 1-5 times on monthly basis. So, this is the higher class. The nearest outcome is 30% clients, who use their card for 11-15 times. 22% use for 6-10 times and 12% for more than 15 times.
Effects of 3 % tax on used balance of credit card
Bangladesh government has improved 3% monthly tax on the balance due on credit card. The clients who use a huge amount on credit card have to bear a mark ably large tax burden for this usage. So it is also a significant factor. To get the customer's reaction the question asked was- "After imposing 3% tax on used balances, is it become expensive to carry your card?" Customer reaction is presented below:
| | | |
| --- | --- | --- |
| Class | Respondents | % |
| Yes | 45 | 90 |
| No | 5 | 10 |
| Total | 50 | 100 |
5: Tax Effect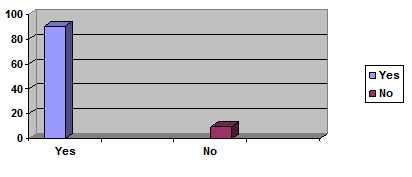 5: Tax Effect
Analysis
90% cardholders think that it is an unbearable tax amount. And only this factor reduces the rate of using credit card day by day. Many of prior customers have surrendered their card after imposing this tax. The customers who use credit card frequently have to face a large amount of monthly tax. But he /she, who use it less, not face so much of problem. It is reflected on the survey result that 10% of clients think that this tax is bearable.
Branch's cooperativeness while changing any terms of credit card
Many times customers may want to change the terms of his/her credit card. In that case what is the performance of branch is also in justification of this report. In the questionnaire, question related to this is- "Whenever you want to change any terms of your card, is the branch cooperative?"
| | | |
| --- | --- | --- |
| Class | Respondents | % |
| Co-operative | 43 | 86 |
| Non Co-operative | 7 | 14 |
| Total | 50 | 100 |
6: Branch Cooperativeness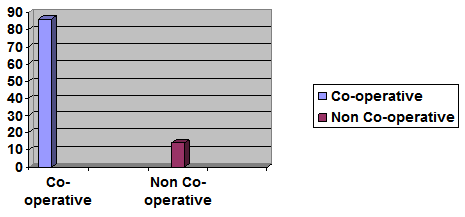 6: Branch Cooperativeness
 Analysis
"Branch is co-operative"- this is the statement of 86% of clients. Clients are sometimes in need of changing – mail address, phone number etc. again they are willing to increase or decrease the credit limit according to their performance and ability. Branch is the intermediary, which make it inform to the head office where the change is conducted. Sometimes officers of branch may not co-operate, or weak courier service makes delay of function and dissatisfaction arises. From the survey it is located that most of the clients are satisfied.
Overall rating of the Automated Teller Machine (ATM)
Automated Teller Machine is capable of dispensing cash, taking deposits and providing other services to customers. The ATM is a fast, easy and convenient way for customers to withdraw and deposit cash and also avail other services offered by ATM, without having to step into a branch. Moreover it's absolutely free of cost. Customer's rating about ATM is as follows:
| | | |
| --- | --- | --- |
| Class | Respondents | % |
| Excellent | 26 | 52 |
| Very good | 10 | 20 |
| Good | 12 | 24 |
| Poor | 2 | 4 |
| Total | 50 | 100 |
7: Overall rating of ATM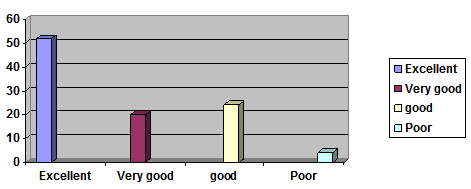 7: Overall rating of ATM
Analysis
The survey result shows that most of thte clients are satisfied with the service of ATM of BBL. So 52% evaluates excellent where only 4% evaluates its performance poor. 20% said very well and 24% said well. BBL has 6 of its own ATMs in different cities of Bangladesh and the credit card holders of BBL can use other banks ATM booth SCBL SBL etc. So, the services of ATMs of BBL served a wide range of acceptability.
 Frequency of problems faced with ATM
As ATM is an electrical machine some problems may occur at the time of service. Though the rating of ATM has already shown, the frequency of problem will help to measure the willingness of ATM to serve the customer. Some common problems facing by ATM are:
Card captured by machine
Forgotten of pin number
Technical problem
Long queue
Related question to clients was "how many times have you faced problem with ATM". Results are present below:
| | | |
| --- | --- | --- |
| Class | Respondents | % |
| 1-5 times | 29 | 58 |
| 6-10 times | 14 | 28 |
| 11-15 times | 6 | 12 |
| More than 15 times | 1 | 2 |
| Total | 50 | 100 |
 8: Frequency of facing problem with ATM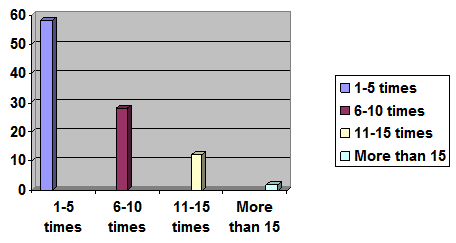 8: Frequency of facing problem with ATM
Analysis
Feedback of the clients reveals that 58% clients faced problem with ATM for 1-5 times, which is the heights. The nearest outcome is 28% clients, who face problem for 6-10 times. 12% were in trouble for 11-15 times and only 2% for more than 15 times.
Overall rating of call center services
A call center is a central place where customer and non-customer calls are handled by an organization, usually some amount of computer automation. Customers make their inquiry or inform their complains through call center. Clients may call here to know their outstanding balance. So it's another factor related to their credit card, which also influence the satisfaction level of credit card.
Overall survey rating of call center is given below:
| | | |
| --- | --- | --- |
| Class | Respondents | % |
| Excellent | 2 | 4 |
| Very good | 4 | 8 |
| Good | 11 | 22 |
| Poor | 33 | 66 |
| Total | 50 | 100 |
9: Overall rating of Call Center Services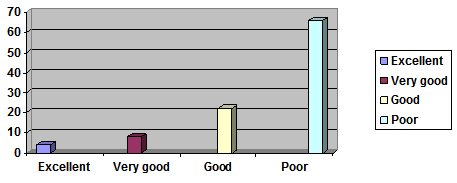 9: Overall rating of Call Center Services
Analysis

Call center is the factor where the client's responses are inverse than other factors. Here most of the clients are dissatisfied. 66% said the performance of call center is poor. 22% customers thought that the performance is good. And only 4% customers thought that performance of call center is excellent. According to the survey result, performance of call center is "poor". This result noticeably shows that call center operation is not properly serving customers. And so customer's satisfaction level is remarkably low about it.
Overall rating of credit card services of BBL
Finally the rating of the performance of overall credit card services of BBL is collected. So the ratings are as follows-
| | | |
| --- | --- | --- |
| Class | Respondents | % |
| Excellent | 23 | 46 |
| Very good | 16 | 32 |
| Good | 8 | 16 |
| Poor | 3 | 6 |
| Total | 50 | 100 |
10: Overall rating of Credit Card services of BBL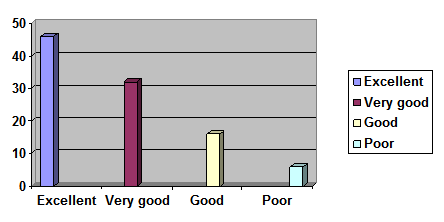 10: Overall rating of Credit Card services of BBL
Analysis
46% of total sample size said that the overall rating of BBL credit card is excellent. 32% said it is very good, 16% said it is good and only 6% said that performance is poor. So most of the people appreciated the performance. The result of this rating viewed that customer's satisfaction about the overall credit card services of BBL is much high and it is reflecting the results of other factors rating call center.
Whole the analysis reviews the high level of customer satisfaction on credit card service of BBL. Some problems are also identifies. Experience, technology, and image can only bring in customer to the bank but are not sufficient to retain them. To maintain this level of satisfaction as well as to improve it BBL has to much attentive about their lacking and strongly keeping up its currently appreciated services.
SWOT Analysis
STRENGTHS
Company reputation
BRAC bank has already established a favorable reputation in the banking industry of the country particularly among the new comers. Within a period of 8 years, BBL has already established a firm footing in the banking sector having tremendous growth in the profits and deposits. All these have lead them to earn a reputation in the banking field
 NGO name (BRAC) 
BRAC is one of the largest NGO of the world and it is operating its activities in Bangladesh. BRAC bank is not a NGO bank but many people of them country consider it as a NGO bank like Grameen Bank which is not correct.
 Sponsors 
BBL has been founded by a group of eminent entrepreneurs of the country having adequate financial strength. The sponsor directors belong to prominent resources persons of the country. The Board of Directors headed by its Chairman. Therefore, BBL has a strong financial strength and it built upon a strong foundation.
Top Management 
The top management of the bank is also major strength for the BBL has contributed heavily towards the growth and development of the bank. The top management officials have all worked in reputed banks and their years of banking experience, skills, expertise will continue to contribute towards further expansion of the bank. At BBL, the top management is the driving force and the think tank of the organization where policies are crafted and often cascaded down.
Facilities and equipment
 BBL has adequate physical facilities and equipments to provide better services to the customers. The bank has computerized and online banking operations under the software called Finacle banking operations. Counting machines in the teller counters have been installed for speedy service ant the cash counters. Computerized statements for the customers as well as for the internal use of the banks are also available.
 Impressive branches
 This creates a positive image in the minds of the potential customers and many people get attracted to the bank. This is also an indirect marketing campaign for the bank for attracting customers. 56 branches of the bank are impressive and are compatible to foreign banks.
 Interactive corporate culture
 BBL has an interactive corporate culture. Unlike other local organization, BBL's work environment is very friendly, interactive and informal. There are no hidden barriers or boundaries while interacting among the superior or the subordinate. The environment is also lively and since the nature of the banking job itself is monotonous and routine, BBL's likely work environment boosts up the spirit and motivation of the employees.
Team work at mid level and lower level

At BBL's mid level and lower level management, there are often team works. Many jobs are performed in groups of two or three in order to reduce the burden of the workload and enhance the process of completion of the job. People are eager to help each other and people in general are devoted to work.
WEAKNESSES
Advertising and promotion of SME loan
This is a major setback for BBL and one of its weakest areas. BBL's advertising and promotional activities are satisfactory but it SME loan is not advertised well. It does not expose its SME product to general public and are not in lime light. BBL does not have neon sign or any advertisement for SME loan in the city. As a result people are not aware of the existence of this bank.
Low remuneration package

The remuneration package for the entry and the mid level management is considerably low. The compensation package for BBL entry level positions is even lower than the contemporary banks.  Under the existing low payment structure, it will be very difficult to attract and retain higher educated employees in BBL. Specially CRO's are not satisfied with compensation package provided to them.
OPPORTUNITIES
Diversification

BBL can pursue a diversification strategy in expanding its current line of business. The management can consider options of starting merchant banking or diversify in to leasing and insurance. By expanding their business portfolio, BBL can reduce their business risk.
Product line proliferation

In this competitive environment BBL must expand its product line to enhance its sustainable competitive advantage. As a part of its product line proliferation, BBL can introduce the following products.
ATM

This is the fastest growing modern banking concept. BBL should grab this opportunity and take preparation for launching ATM. Since BBL is a local bank, they can form an alliance with other contemporary banks in launching the ATM.
THREATS
Multinational banks

The emergence of multinational banks and their rapid expansion poses a potential threat to the new growing private banks. Due to the booming energy sector, more foreign banks are expected to arrive in Bangladesh. Moreover, the already existing foreign banks such as Standard Chartered are now pursuing an aggressive branch expansion strategy. This bank is establishing more branches countrywide and already launched is SME operation. Since the foreign banks have tremendous financial strength, it will pose a threat to local banks.
 Upcoming banks 
The upcoming private local banks can also pose a threat to the existing private commercial banks  like BBL. It is expected that in the next few years more local private banks may emerge. If that happens the intensity of competition will rise further and banks will have to develop strategies to compete against an on slaughter of foreign banks.
Contemporary banks

The contemporary banks of BBL such as Dhaka bank, prime bank and Dutch Bangla are its major rivals. Prime bank and other banks are carrying out aggressive campaign to attract lucrative clients as well as big time depositors.
OBSERVATION & RECOMMENDATIONS
 Recommendations
BBL is a well established Bank in Bangladesh. It is providing maximum services to the customer then other Bank. But it has some limitation that is mentioned above. I want to give some suggestion to remove these problems or reduce these problems BBL should increase manpower. Not only Gulshan but also other branches need more employees to provide maximum service. At least general banking department and cash department the Bank should provide sufficient employee. The concluding remarks on the above mentioned topic, its discussions, analysis and evaluation are as follows with recommendation:
         Setting proper planning for each and every work as well as for the whole
            department. Managerial supervision is also wanted to increase.
         Reduce the service charge for account and other service charge. Because most of
            the customer complaint about over charging ex: Statement issue charge.
         Proper maintenance of files and necessary files and documents on daily basis.
         Separating Card department and concern operation because in most of the
            department BSSO doing all types of customer related works.
         Ensure that every one working in Software knows it properly and giving them
            personal ID.
         Changes in banking policies will not be sufficient the purposes unless it is
            followed by a change in the attitude and outlook of both the customers and the
            bankers.
         BRAC Bank Limited should be enforced to expand its activities and loan
            programs in the rural areas to serve the national interest.
         Diversification of the loan portfolio is, of course, the key to lowering overall
           credit risk. Default risk can be lowered through diversification of credit programs
           at each and every corner of the economy as best as possible. So the BBL should
           diversify the loan portfolio to reduce risk.
        BBL should introduce prime rate for the best customers which will attract the
           good customers. It is observed that irregular borrowers are given facilities like
           loan
           rescheduling, time extension etc. But a regular customer does not get any facility.
        For motivating the employees to perform their activities efficiently and effectively
           BBL should restructure the remuneration structure of the employees.
         Since the lending rate of BBL is comparatively high, it can attract more customers
           by lowering the rate of lending
         If the bank wants to provide services to the customer easily and comfortably it
           should increase the number of branch and should it place in a suitable situation
           when the client come and parks their cars easily.
         Introducer is an important factor for open an account most of people do not have
            introduce but they wants to deposit money to the bank so for increasing deposit
           the employee should do their function.
         To reduce the bad character of employee the bank should provide physical
           training.
 According to SWOT analysis some decision can be taken.
Efficiently distribute the number of employee in required position.
Make the salary structure attractive to the employee.
Make succession planning.
Reduce the extra workload of the employee.
They should increase the manpower of HRD specially in recruitment wing.
The Human Resource Division's control must be structured.
Arrange co-curricular activities for employee's refreshment.
Managerial control should be implemented perfectly.
Arrange proper training for the employee.
They should provide that much of information in orientation training that will ensure them to do their work their job smoothly.
The training should be motivational.
For better training they can go for professional trainers.
Supply more training materials during training.
After training, it is very much important to take evaluation about training program. They should evaluate the trainees properly.
Online recruitment system is not upgraded. They should upgrade it.
Better MIS support is needed for smoother operation.
There is not any specific place for intern where they can work. Interns have to roam around and search for a place so this should be improved and a fix place should be given to the interns so that they can work comfortably
CONCLUSION:
BRAC Bank intends to set standards as the market leader in Bangladesh. It demonstrates that a locally owned institution can provide efficient, friendly and modern banking service on a profitable basis. Human Resource Department is the most confidential department for any organization as well as Human Resources Division in BRAC Bank Limited. Here as an intern, limited information was collected for preparing this report because of too much confidentiality. It was an honor to work as an intern in a reputed organization like BRAC Bank Limited. The BRAC Bank Limited is a bank that confirms the best service to the customers as well as to the employees by Human Resource Division. BRAC bank Limited is the fastest growing Bank in Bangladesh. By working in HR Division the knowledge was learnt would be helpful enough to sustain with the real organizational environment.
Bibliography
Armstrong Gray, kotler Philip (2004). "Principles of Marketing" (Tenth Edition). India: pearson education.
Kotler Philip. (2005-2006) "Marketing Management" (Eleventh Edition). New Jersey: pearson education.
Malhotra K. Naresh, "Marketing Research" (fifth edition).
Steven, j. skinner, "Business for the 21st century" (edition 2004).
Matin Nurul, "Ethics in Banking" (edition 1998)
Saha, Dr. Bandana "Customer Services and Marketing of Financial Products" (2001).
Palmer, Adrian. (2001). "Principles of Service Marketing", 3rd Edition. UK: McGraw-hill.
Louden, David L. & Albert J. Della Bitta.(2000). "Customer Behavior Concept and application", 4th Edition.UK: McGraw-Hill Inc.
Kothari, C.R. (2005). "Research Methodology Methods and Techniques", 2nd Edition. new Delhi: New Age International Publisher.
Lind, Douglas & William G. Marchal & Robert D. Mason. (2000). "Statistical techniques in Business & Economics", 11th Edition. New York: McGraw-Hill.
Rahman, Amin. (1999). "A service Strategic Planning Process for Firms Wishing to be competitive in the Global Market", Bank Parikrama. Vol. XXIV, No. 3&4, Sept-dec.Pp.81-99.
Rahman, A.(1986), "Demand and Marketing Aspects of Grameen Bank" A Closer Look, UPL, Dhaka
http://bracbank.com/financialstatement/BRAC Bank Annual Report 2009.pdf
http://bracbank.com/company_profile.php
www.bracbank.com/php/include_gen
Human Resource Manual of BRAC Bank Limited.
Some information about HR from Md. Sanjidul Bari; HR Relationship Manager.
Several Booklets & Newspapers from BRAC Bank Limited.