Paul Brown – Coach, Athlete, Football Player (1908–1991)
Full name: Paul Eugene Brown
Date of birth: September 7, 1908
Place of birth: Norwalk, Ohio
Date of death: August 5, 1991 (aged 82)
Place of death: Cincinnati
Position: Head coach
Early Life
Paul Brown, in full Paul Eugene Brown was born on September 7, 1908, in Norwalk, Ohio, U.S. He was an American gridiron football coach known for his cerebral approach, innovative methods, iron rule, and cool demeanour. Brown coached winning teams in high school, college, armed forces, and professional football.
He had a long and successful career as a football team owner, head coach and general manager.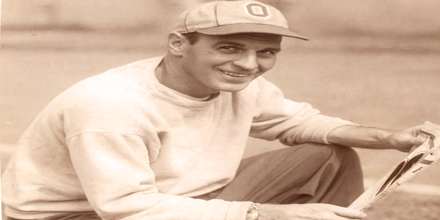 Brown was both the co-founder and first coach of the Cleveland Browns and later played a role in founding the Cincinnati Bengals. His teams won seven league championships in a professional coaching career spanning 25 seasons. He is the only NFL coach ever to have an NFL team named after him.
He started his career coaching at The Ohio State University, but became known as an innovator in football when he started working with the Cleveland Browns. Many of his former players went on to become successful coaches in the NFL.
Brown began his coaching career at Severn School in 1931 before becoming the head football coach at Massillon Washington High School in Massillon, Ohio, where he grew up. His high school teams lost only 10 games in 11 seasons. He was then hired at Ohio State University and coached the school to its first national football championship in 1942. After World War II, he became head coach of the Browns, who won four AAFC championships before joining the NFL in 1950.
Brown coached the Browns to three NFL championships – in 1950, 1954 and 1955 – but was fired in January 1963 amid a power struggle with team owner Art Modell. Brown in 1968 co-founded and was the first coach of the Bengals.
Brown is credited with a number of American football innovations. He was the first coach to use game film to scout opponents, hire a full-time staff of assistants, and test players on their knowledge of a playbook. He invented the modern face mask, the taxi squad and the draw play. He also played a role in breaking professional football's color barrier, bringing some of the first African-Americans to play pro football in the modern era onto his teams.
He retired from coaching in 1975 but remained the Bengals' team president until his death in 1991.
Educational Career
Brown entered Massillon Washington High School in 1922.
Brown graduated in 1925 and enrolled at Ohio State University.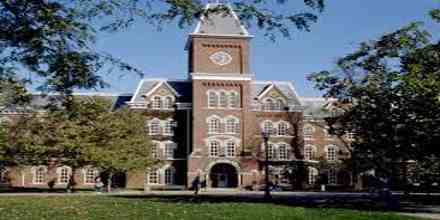 (Ohio State University)
Brown had taken pre-law at Miami and considered studying history on a Rhodes Scholarship.
Playing and Coaching Career
Brown was played football as a child; Brown was undersized for the game at less than 150 pounds and at first focused his athletic energies on the pole vault. Harry Stuhldreher, who went on to be one of Notre Dame's legendary Four Horsemen, was then the high school quarterback. But Massillon coach Dave Stewart saw Brown's determination to be a good vaulter despite his small size and brought him onto the football team; as a junior in 1924, he took over as the starting quarterback. Massillon posted a win-loss record of 15–3 in Brown's junior and senior years as the starter.
Under Coach Chester Pittser, Brown was named to the All-Ohio small-college second team by the Associated Press at the end of 1928. In two seasons at Miami, Brown guided the team to a 14–3 record.
Brown spent two successful years at Severn. The team was undefeated in his first season and won the Maryland state championship. In 1931, the team's win-loss-tie record was 5–2–1. Brown's overall record was 12–2–1. After his second year, Massillon's head coaching job became available, and Brown took the position.
Brown returned to Massillon in 1932, when he was 24 years old and barely two years out of college. His assignment was to turn around a Tigers team that had fallen into mediocrity over the six seasons since the departure of Stewart, Brown's old coach. In 1931, the year before Brown arrived, the Tigers finished with a 2–6-2 record.
In his first season at Massillon, Brown's team posted a 5–4–1 record, better than the previous year but far from Brown's exacting standards. The Tigers improved again in 1933, ending with an 8–2 record but losing to their chief rivals, the Canton McKinley High School Bulldogs. In 1934, Massillon won all of its games until a 21–6 defeat to Canton in the final game of the season.
Brown's success at Massillon raised his profile in Ohio considerably; people started calling him the "Miracle Man of Massillon." When Ohio State was looking for a new coach in 1940 – Francis Schmidt left after losing to the rival Michigan Wolverines three times in a row – Brown was a candidate for the job.
Ohio State offered Brown a $6,500 salary ($105,838 in 2017 dollars), about $1,500 above his Massillon pay. He accepted in January 1941 and immediately began to institute his rigorous system.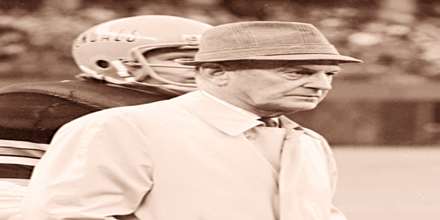 Brown's first year at Ohio State was a success. The Buckeyes won all but one of eight games in 1941; the only loss was to Northwestern University and its star tailback, Otto Graham.
In the first AP Poll of the season, Ohio State was ranked best in the nation, the first time the school had achieved that mark. The 1942 team was the first composed mainly of players hand-picked by Brown, including Bill Willis, Dante Lavelli and star halfback Les Horvath. In the middle of the season, the Buckeyes lost to the University of Wisconsin after numerous players drank bad water and got sick.
The 1943 season was a disaster for Brown and the Buckeyes. Depleted by the military draft and facing tough competition from teams on Army and Navy bases, Brown was forced to play 17-year-old recruits who had not yet enlisted. Ohio State had affiliated itself with the Army Specialized Training Program, which did not allow its trainees to participate in varsity sports, while schools such as Michigan and Purdue became part of the Navy's V-12 training program, which did. The Buckeyes ended with a 3–6 record. In three seasons at Ohio State, Brown amassed an 18–8–1 record.
Brown was classified 1-A in 1944 and commissioned as a lieutenant in the U.S. Navy. He served at the Great Lakes Naval Training Station outside Chicago as head coach of its Bluejacket football team, which competed against other service teams and college programs.
In September 1944, Arch Ward, the influential sports editor of the Chicago Tribune, proposed a new eight-team professional football league called the All-America Football Conference (AAFC) to compete against the more established National Football League (NFL) once the war was over.
As Brown was preparing for the 1945 Bluejackets season, Ward came on McBride's behalf to ask Brown if he wanted to coach the new team. McBride offered $17,500 a year ($232,805 in today's dollars) – more than any coach at any level – plus a stake in the team and a stipend while he was still in the military.
On February 8, 1945, Brown accepted the job, saying he was sad to leave Ohio State, but he "couldn't turn down this deal in fairness to my family."
After a training camp at Bowling Green State University, the Browns played their first game in September 1946 at Cleveland Stadium. A crowd of 60,135 people showed up to see the Browns beat the Miami Seahawks 44–0, then a record attendance mark for professional football. That touched off a string of wins; the team ended the season with a 12–2 record and the top spot in the AAFC's western division. The Browns then beat the AAFC's New York Yankees in the championship.
The Browns' first game in the NFL in 1950 was against the two-time defending champion Philadelphia Eagles in Philadelphia. They won the game 35–10, the first of 10 victories that year.
In 16 seasons, Brown had led his teams to 12 championships. He was the first head coach to win both a college and NFL championship, a feat not repeated until Jimmy Johnson and later Barry Switzer did it with the Dallas Cowboys in the 1990s, and Pete Carroll who accomplished the feat with USC in 2004 and the Seattle Seahawks in 2013.
Although Brown coached dozens of successful teams at the high school, college and professional levels, his controlling personality and sharp criticisms made him unpopular with many players. Brown was a methodical and disciplined coach who tolerated no deviation from his system. His professional teams' planes did not wait for players who were late; anyone who missed the flight was forced to find one on his own and pay a fine to Brown.
Brown was also a tough negotiator over salaries, often refusing to give players raises despite strong performance.
Although he was criticized for his autocratic coaching style and strained relationships, Brown played a significant role in the evolution and modernization of football. The draw play he invented – a formation in which the quarterback drops back to pass but then hands off the ball to a running back – is still in wide use.
Personal Life
Paul Brown, in full Paul Eugene Brown was born on September 7, 1908, in Norwalk, Ohio, U.S. Brown grew up in Massillon, Ohio, where he moved with his family from Norwalk when he was nine years of age. His father, Lester, was a dispatcher for the Wheeling and Lake Erie Railroad.
He married his high school sweetheart Katie Kester in 1928. He and Katie had three sons: Robin, Mike and Pete. Following Katie's death of a heart attack in 1969, he married his former secretary Mary Rightsell in 1973. His son Robin died of cancer in 1978.
Brown was succeeded by his son Mike as Bengals' team president.
Death
He died on August 5, 1991 at home of complications from pneumonia. Brown is buried at Rose Hill Cemetery in Massillon.
Honours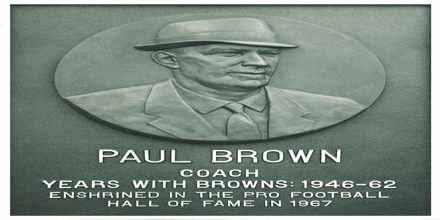 The Bengals named their home stadium Paul Brown Stadium in honour of Brown.
Brown was inducted into the Pro Football Hall of Fame in 1967.
Three time UPI NFL Coach of the Year (1957, 1969, and 1970).
NFL Alumni Order of the Leather Helmet in 1979.
Walter Camp Man of the Year in 1989.