Astove Atoll is a large atoll that is stunningly gorgeous; it is a colorful world. It is part of the Aldabra Group and is located in Seychelles' Outer Islands, 1,041 kilometers (647 miles) southwest of Mahé Island's capital, Victoria. Astove provides a once-in-a-lifetime opportunity to stare into a world that has altered relatively little throughout the years. Astove is said to be derived from the Portuguese As Doze Island, which means "twelve islands," and may have been Farquhar's original Portuguese name. Between 1000 and 1500 AD, Arab mariners and traders visited most of the region in which Astove is located, but there is no evidence of human settlement on the island before to 1760.
Astove is part of the isolated Aldabra group of atolls, located 1055 kilometers southwest of Mahé. It's a tiny, one-of-a-kind atoll that stretches 6 kilometers (3.7 miles) north to south and just under 4 kilometers (2.5 miles) east to west at its widest points. Looking down into an underwater Grand Canyon is how the Astove Wall is described. It is made up of huge flats and reefs that descend vertically from ankle-deep water to water over a kilometer deep. This distinguishes it as an ideal diving location.
Throughout the nineteenth century, human activity at Astove was sporadic and concentrated mostly on harvesting operations that were underway at the time. Astove was intensively mined for guano and phosphates, and sea turtles were hunted, but owing to its remoteness and distance from typical shipping channels, it was rarely visited. The tiny lagoon has just one small entrance, and because of its height, the tide descends like a river for ten hours of the 12-hour tidal cycle before flooding the whole lagoon in under two hours.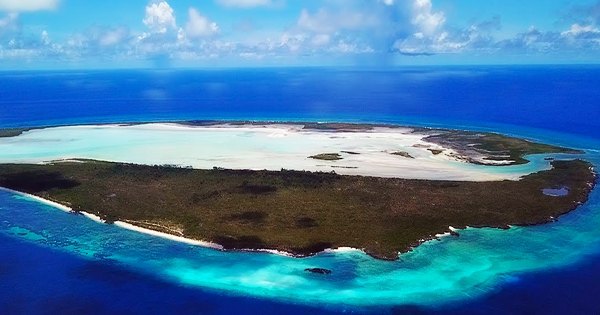 The atoll is also known for Jacques Cousteau's renowned underwater documentary "The Silent World," which was partly shot on the Astove Wall. In 1968, British adventurer and businessman Mark Veevers-Carter and his American wife, Wendy (Day) Veevers-Carter, the daughter of American author Clarence Day (Life With Father), took up residence on Astove atoll. The couple had built, run, and sold a profitable copra plantation on the Seychelles island of Remire, and they wanted to do the same on Astove, which was considerably larger.
Astove is a nature lover's dream come true, with unrivaled experiences. The fishing and diving opportunities are outstanding, and the variety of snorkeling tours is as amazing. Astove was designated as a wildlife reserve in 2014. On the island, a fishing resort and lodge have been constructed. It is the place for catching the largest flats-caught Giant Trevallies in the Indian Ocean as well as many other species. The experience is unusual due to the small lagoon surrounded by steep drop-offs.
The atoll is an elevated coral island with an unusual shape: a single stretch of land, 1.4 kilometers (0.9 miles) broad at its widest point, almost completely encloses a shallow lagoon. The lagoon has a maximum depth of 3 meters (9.8 feet), and the only way out is through the Gueule Bras Channel, a meandering route to the south. Within the lagoon are various sandbanks and islets. The shallow white sand flats of this lagoon provide a safe haven for both juvenile and trophy-sized fish. Aside with large GTs, Astove has a plethora of Bonefish, Permit, Bluefin Trevally, Triggerfish, Barracuda, and Milkfish possibilities.
Anglers may try their abilities against Yellowfin Tuna, Dogtooth Tuna, Wahoo, and Sailfish offshore, which begins just meters from the flats' edge. The natural vegetation and population gradually returned to the island after it was abandoned. In the shallows of Astove's rough terrains, coconut trees and mangrove forests thrive. The land area is 7.9 square kilometers (3.1 square miles), with a total size of 21.2 square kilometers (including the lagoon and reef) (8.2 square miles).
Various bird species such as the Crab Plover and the Caspian Tern, as well as other migratory waders and breeding seabirds, have returned to the untouched landscapes. The ICS Teams are also keeping an eye on the island's robust population of Giant Aldabra Tortoises. Astove, which has been uninhabited since 1969, is a unique experience. Astove Atoll Coral House only accepts 6 visitors each week to guarantee that the atoll remains pure. The recently refurbished Coral House is quite pleasant, with single and double air-conditioned and en-suite rooms encircling the central courtyard.
In the evenings, guests may unwind in the Coral House's spacious lounge, which also has an indoor and outdoor eating space. The formation of Astove has been questioned due to its unusual structure. It has been argued that Astove is a reef flat rather than a genuinely elevated atoll, with the lagoon washed away afterward. Rainwater, acidic from the soil's humic acids, dissolves the lagoon's carbonate rock bottom, gradually deepening the lagoon. The lagoon's waters have a unique milky-white hue as a result of this.
The topography ranges from windward side dangerous shore breakers to calm coral flats on the outer and snow-white sand flats inside the lagoon. A variety of fascinating and remarkable marine creatures may be seen in the surrounding seas and the beautiful coral reefs. This, along with "The Wall's" high drop-offs and the inner lagoon's dramatic oscillations, creates nutrient-rich currents that attract a variety of sought-after fish species.
The windswept eastern border of the island is lined with dunes as high as 18 meters (59 feet), and the eastern section of the lagoon is particularly shallow owing to inblown dune sand. The surrounding reef of Astove Island is just around 180 meters wide. "The Wall" is one of the premier dive sites in Seychelles, dropping vertically from 1 or 2 meters to over 50m. Due to the close proximity to the open ocean, sharks and rays, as well as huge grouper, snapper, and tuna, may be seen in the soft coral-covered walls and crevices.
In season, Astove serves as a rest point for migratory Humpback Whales and is home to resident Spinner Dolphins. Faring tour tourists/visitors may have unexpected encounters with various animals like as jumping tuna or flying fish, as well as seagulls, while on this ocean. The southeast trade winds dominate the climate, which are strongest between April and November. During that time, the temperature is roughly 28 °C (82 °F) in the shade, and slightly higher during the northwest monsoon season. Tropical storms with copious rains occasionally struck the island during that period, although the island remains dry generally.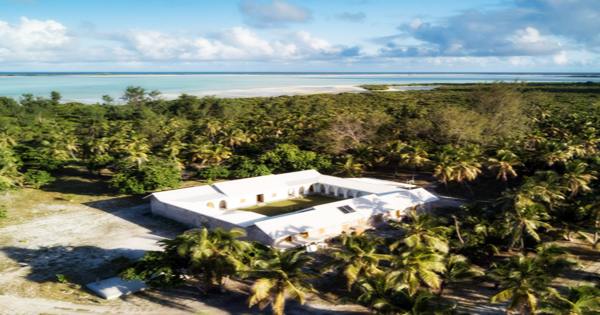 Anglers may fish at Astove from early November to late April, with a break for the holidays. This eliminates the inconsistencies in weather patterns that might occur outside of this time frame. The three Seychellois employees abandoned the sole hamlet on the western shore in 1972, and it was resettled in 2014. The ruins of a previous coconut and sisal plantation are still visible, and efforts are being made to preserve them. Offshore fishing begins just meters from the flats' edge, where tourists and visitors may put their equipment to the test against species such as yellowfin tuna, dogtooth tuna, wahoo, and sailfish.
The variety of grouper and snapper that may be captured while dredging adds to the number of species that tourists and visitors can add to their bucket lists. The island is part of the District of the Outer Islands. There are no government buildings or services on this tiny island with a small population. People must go to Victoria for numerous services, which is a challenging effort. There are four 20-foot mini-Mahé tender boats dedicated to fly fishing the outer atolls and blue sea. In addition, two Mitzi skiffs are moored within the lagoon.
Information Sources: