Executive Summary
The report contains the Square textiles profile and data about the markets, products, and company history. The report also outlines financial highlights & product analyzing company's long-term solvency. The report provides relevant news, an analysis of and HR Management activities. The latter are correlated with pertinent news and press releases, and annual and quarterly forecasts are given by a variety of experts and market research firms. The future plans of the company are discussed which fills a strong positive attitude. This report also contain objectives, values, business strategies, Infrastructural Development, segmentation, recruitment, strategic group map & SWOT analysis of squire textile.
The strategic Goals and Objectives of Square textile are to strive hard to optimize profit though conduction and transparent business operations and to create more competitive in the internal and external market.
The export sells increased by 19% in 2003 over the previous year.
Competition level is increasing both in local and abroad market. Competition will be stiffer after 2005 when multifiber agreement will be phased out. Among the other foreign competitors Srilanka, China Pakistan and India are prominent.
Square is one of the biggest employees in Bangladesh. It has a personnel and administrative department . The total numbers of employees are 1223. For the employees there are systematic in house training in home and abroad .
The managing director, the CEO is the head of the executive management team . Below in there are directors , executive directors and general manager. Under the direct super vision of the general manager a number of departments are controlled.
Introduction
Square Textile is a subsidiary company of Square Group. The Company was incorporated as a public limited company in the year of 1994. . The operation was started in 1997. It was enlisted in Dhaka Stock Exchange & Chittagong Stock Exchange in 2002. Within a very short time of span the company achieved some significance success. Square Textile receives Oeko-Tex standard 100 and ISO-9002 certificates in the year 2000. Authorized capital of the company is tk. 1000 million. It's paid- up capital is tk. 251.90 million. 1,223 employees are working in this organization. The business lines of Square Textiles Limited are manufacturing and marketing of yarn. The Net Profit after Tax is 207.29 Million BDT of Square Textile in March 2011.
Objectives
To strive hard to optimize profit through conduction of transparent business
operations within the  legal  &  Social  framework with malice  to  none  and
justice  for  all  in  respective  of  gender disparity,  caste,  creed or religion
or region.
To Increase productivity.
To create more jobs with minimum investments.
To be competitive in the internal as well as external markets.
To maximize export earning with minimum imported in-puts.
To reduce the income gap between top & bottom categories of employees.
Values
Square Textile Ltd is a private limited company belonging to a leading industrial group based in Bangladesh. It offers a wide range of textile products. Being a well-known textile company in the Asia pacific region Square Textile  has always kept its promise of delivering value to its customers. Over the past fourteen years, we have offered superior quality products to our demanding and quality conscious customers across the globe. As a result we have developed an unmatched product range and earned the reputation of being (considered) market leaders.
Business Strategy
 The strategic Goals and Objectives of the Company are to strive hard to optimize profit though conduction and transparent business operations and to create more competitive in the internal and external market.
Infrastructural Development
Lastly, it was seen from one of the case studies that Square Textile Ltd. is contributing in the infrastructural development of the country also by investing in the development of ports and construction of roads in rural areas. Definitely this kind of initiative will help in the overall economy of the country.
Segmentation  of Square Textile
The Global Segment
In RMG sector it is a huge market for global market. Rise of China as economic power is a issue in textile sector, cause China has a great market of textile industry. Rising global trade and WTO can open doors for doing trade globally in smooth ways. Intellectual property protection is a big issue for doing business and keep business safe from competitors. Important political events like war can put some impact on this sector, but overall clothing is very necessary for people and it'll never be abolished. On the other hand low cost suppliers can be potential for marketers.
Economic Segment
Size and change in gross domestic product, Per capita income levels, Inflation rate, Interest rates, Foreign trade deficit or surplus, Unemployment and Rates of saving and investment all together makes mass impact on textile industry. Per capita income level can increase of decrease the purchase level and it can be good for the textile industry. But after all clothing's can be consider as a basic need of human being. That's why it'll never lose its value if the price and quality can be in controlled.
Demographic Segment
Size of population and growth rate is pretty good in this industry. Age distribution of population also related and can make good impact. Cause target market of this industry can be the any aged group. Education levels and income distribution also mass up with life style. Income distribution and Ethnic diversity can be potential for this industry. Geographic distribution may potential for this industry.
Political/Legal Forces
In Bangladesh, Political and legal forces are flexible in RMG sectors. Government policies toward business is very necessary for any industry. Tax free export makes good opportunity for investors. Business regulation:  labor, environment is also flexible in Bangladesh. It makes low cost for producing products in Bangladesh. On the other hand in developed countries unemployment rate is very low, and for that reason they prefer import rather than production for large level of labor cost. So it is also a great opportunity for Bangladesh develop in textile industry.
Socio-Cultural Segment
Socio-cultural segment is also very important for any industry. It can control the purchase behavior of the buyer group. Family relationships can put impact on purchase behavior of an individual  or group as a whole. Attitudes about work and Living arrangements also fact for purchase behavior. Lower living arrangement cannot be the high purchase condition. Developed countries are the main importer of RGM products, and it is also the great opportunities for Bangladesh. Styles of entertainment and changing life style also makes variation for purchasing habits and creates new position for this sector. Attitudes toward health makes impact in both ways positively and negatively in this sector. Companies need to rethink about health care as well as they can also introduce new organic clothing in the potential market.
Technological Segment
Technologies make the world closer and easier for everybody. Telecommunications and Internet is the biggest issue for better communication. It also reduce cost of communication and the list time consuming process. On-line training also the latest conceopt of trade in globally. R&D can be very rich with new and innovative product and process become easier to innovations.
Recruitment and Selection process in Square Textile
Square Textile recruit there through every organization seeks applicants for potential employment. Selection refers to the process by which it attempts to identify applicants with the necessary knowledge, skills, abilities and other characteristics that will help the company achieve its goals, companies engaging in different strategies need different types and numbers of employees. The strategy a company is pursuing will have a direct impact on the types of employees that it seeks to recruit and selection.
Source of recruitment
There are two kinds of source SQUARE uses for recruitment .They are
External source
            1 Walk-ins and Write-ins:
            2 Advertising
            3 Employee referrals:
           4 Internet
Internal source
       1Job-posting programs
       2 Departing Employees
Primary Markets
The target market for products produced in Square Textiles Ltd. and Square Spinning Ltd. is Export Oriented Readymade Garments Industry. Readymade Garments exporter that is Knit Fabrics, Sweater and Denim manufacturer. In Bangladesh Beximco Knitting, Grameen Knitwear, Shasha Denim, Knit Concern etc are the customers. Target market for products produced in Square Fashion Ltd. is Europe and U.S.A. Square Textiles does not direct sales in overseas market but sometimes India, Pakistan & other countries take their yarn.
Major Customers (current)
Square  Partners with Major Retailers & International Brand. ARROW, JCPENNEY, H&M, DECREE are some of the recognized brands to whom square supply their products. They are the major customers of square. Square also export their products to the renowned buyers of UK , USA and some of the European countries.
Company Current Position
The  turnover  increased  by  14.50%  during  2010  over  2009  when  it  rose  by  27.19%  over  2008. However,   The  gross  margin  increased  by  66.25%  during  the  year  2010  as  against  increased  by  15.18% during  the previous year.  As  the operating expenditure  increased by 3.06% over previous year,  the operating income   increased by 125% only over the previous year.  The EPS is increased by 116.82% in the previous year. The net profit of Tk.   564,769,143  earned during  the  year  2010.
| | | |
| --- | --- | --- |
| Financial Statement | March 31, 2011 | Dec. 31,2010 |
| Asset Per Share | 51.16 | 48.54 |
| Earnings Per Share | 2.55 | 2.08 |
| Net Operating Cash flow per Share | 2.91 | 4.45 |
Market Share and Position
Square Textiles Ltd has approved cash dividend at the rate of 16pc and Stock Dividend (Bonus Share) at the rate of 20pc to its shareholders for the year ended December 31, 2010.
The approval came at the 16th Annual General Meeting of the company held at the Factory Premises, Sardaganj, Kashimpur, Gazipur Thursday.
The gross profit, net profit (Before Tax) and net profit (After Tax) for the year 2010 were Tk. 886.75 million, Tk. 676.17 million and Tk. 564.76 million respectively.
Some Major Player of this Industry (Bangladesh)
Bextex
Malek Spinning
Makson Spinning
Square Textile
Prime Textile
Saiham Textile
Delta Spinning
Al-Haj Textile
Rahim Textile
Apex Spinning
Safko Spinning
Competitor Analysis
Only in few years back textile sector in Bangladesh was left behind but current scenarios is different.  In recent years a mentionable figure of money has been invested in this industry. Government is also encouraging this sector. Government is making some favorable policies and minimizing the regulations, so that this sector can be grown up.
Among the domestic companies Square is one of the leading one. The other potential competitors are Padma Textiles, Shamim Textile etc. Competition is now severed after 2005, that is, during the post multifiber agreement period. World market is now Quota free at this current time. So Bangladesh is now competing with countries like Srilanka, China, Pakistan, Vietnam etc.
SWOT Analysis of Square Textile Ltd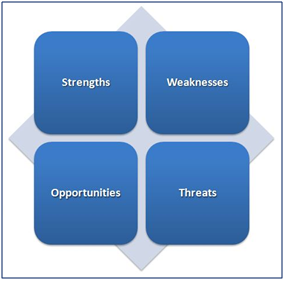 Strength
Square Textiles Ltd. is a rapidly expanding Company. After starting its journey in 1998 it has already doubled the net turnover by the year of 2006. All the units of the factory enjoy higher use of machinery that is imported from Germany, Switzerland, Italy & Japan. As a result it can maintain a smooth rate of production. Well trained human recourses are strengths of the company. They train up their key personal within the country and in abroad. In this way the company can get some competitive advantages over the competitions. The HRM practice is also remarkable in Square Textiles Ltd.
Weakness
Square Textiles Ltd. is highly dependent on Cotton. And raw materials of cotton are becoming expensive. Sometimes transaction time at Ports and transportation time create many problems there. And the higher taxes, power and interest rates are also included in weaknesses of this textile company.
Opportunity
There are bright opportunities for the Company in the overseas market. If it can communicate well and capture a significant market portion in the Europe and USA market, it can be the leader in textiles fields. Growth rate of Domestic Textile Industry is increasing. Besides this, Product development and Diversification are also happening to cater global needs.
Threats
For Square Textiles Ltd. Competition level is increasing both in local and abroad market. And the competition will be stiffer among the other foreign competitors like Srilanka, China, Pakistan and India are prominent. To balance between demand & supply and price & quality are also included in threats this company.
Recent changes in company
Bangladesh's textile industry, which includes knitwear and ready-made garments along with specialized textile products, is the nation's number one export earner, accounting for 80% of Bangladesh's exports of $15.56 billion in 2009. Bangladesh is 3rd in world textile exports behind Turkey, another low volume exporter, and China which exported $120.1 billion worth of textiles in 2009. The industry employs nearly 3.5 million workers. Current exports have doubled since 2004. Wages in Bangladesh's textile industry were the lowest in the world as of 2010. The country was considered the most formidable rival to China where wages were rapidly rising and currency was appreciating.
After massive labor unrest in 2006 the government formed a Minimum Wage Board including business and worker representatives which in 2006 set a minimum wage equivalent to 1,662.50 taka, $24 a month, up from Tk950. In 2010, following widespread labor protests involving 100,000 workers in June, 2010, a controversial proposal was being considered by the Board which would raise the monthly minimum to the equivalent of $50 a month, still far below worker demands of 5,000 taka, $72, for entry level wages, but unacceptably high according to textile manufacturers who are asking for a wage below $30. On July 28, 2010 it was announced that the minimum entry level wage would be increased to 3,000 taka, about $43.
The government also seems to believe some change is necessary. On September 21, 2006 then the government declared that on textile firms to ensure the safety of workers by complying with international labor law at a speech inaugurating the Bangladesh Apparel & Textile Exposition (BATEXPO).so ipdc in the one of the best sector in BD.
Conclusion
The flourishment of any industry requires combined efforts and co-operation from several parties. Social , political and macroeconomic environment play pivotal role in this regard . Though Square Textile is a newly Ventured Company in the respective sector, its growth and expansion is praiseworthy. Its contributing the country and serving the nation in different ways. If it can up hold its much toward advancement, it will be able to set a role model in our country.