Overview
"SWIFT" is a soft drinks manufacturer company that heading into its fourth
year of operation and produces mango juice, apple juice, blackberry juice, date juice etc. All of the items mentioned successfully running and continued to future profitability. To give them customer a new juice taste depending on marketing research information of the customer, we are going to launch a new favorite soft drink named "SWIFT Sugarcane Juice".
2.1 Market Description                                
We have more clear and specific information about the market and we are also aware of the customer demand and choices. Based on our Research and Development department we are strictly determined to serve our customer needs and wants with a totally new taste of juice like "SWIFT Sugarcane Juice". We are going to launch our new product for five groups of people. They are shown graphically below:
Geographic:
Our immediate geographic market will be Dhaka city with a population of around 10 million.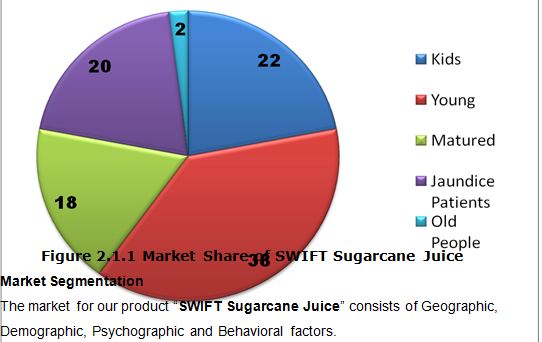 Our total targeted area population is estimated at .80 million.
Demographic:
Male & Female
Generation – kid, young, matured people, old people and jaundice patients.
We know the following regarding the profile of the typical resident of Dhaka City
  22% children
  18% mature
  38% young and
  20% Jaundice Patients
  2% of the old people.
Psychographic:
Social class: Middle Class, Upper Middle Class, and Upper Class.
Life style: Achiever.
Behavioral:
Benefits : Quality
User status: Potential user, first-time user, and regular user.
Product Review
We are going to introduce our new diversified tastes product "SWIFT Sugarcane Juice" initially in 250 ml, 500 ml and 1 liter bottles. It will be launched in plastic and glass bottles and also will be launched in different packages like family, individual or friends' package. According to the survey the target market growth rate is increasing. Our company estimates that the future market will be satisfied with more diversified and segmented product. Our target to make new market segments according to customers needs and wants.
Description of the product
Sugarcane is the most important member of the plant kingdom with a metabolism leading to the accumulation of sucrose. It is transported as glucose and fructose within the growing plant. The crop provides the cheapest of energy-giving food.
The sugarcane belongs to the grass family. It is a perennial plant which grows from 2.5 to 4.25 metres. With sufficient care, it grows upto 7.5 metres. The diametre of steins varies from 2.5 to 8 cm. It has several joints after every few centimeters.
 Origin and Distribution
The names sugar and sugarcane have been derived from the Sanskrit word, Sharkara. Sugarcane is indigenous to India. It was cultivated here from the Vedic period and it is mentioned in some places in the ancient scriptures. Alexander the Great and his soldiers carried sugarcane from India to the west by about 325 BC. Sugarcane is now grown all over the world. India stands first in sugarcane cultivation, followed by Brazil, Cuba, China, Mexico, Pakistan, the U.S.A., South Africa and Columbia.
Food Value
The juice is extracted from the cane by pressing it through iron rollers. It is nutritious and refreshing. It contains about 15 per cent natural sugar and is rich in organic salts and vitamins.
Originally, sugarcane was grown solely for chewing in the pacific and South Eastern Asia, a custom which has now spread throughout most of the tropics. The juice can also be used for Drinking or sweetening. In hot summer days, it forms a soothing drink. A little lime juice may be mixed in the juice to improve its flavor.
Food Value

Minerals and Vitamins

Moisture

90.2%

Calcium

10 mg

Protein

‑0.1%

Phosphorus

10 mg

Fat

0.2%

Iron

1.1 mg

Minerals

0.4%

Carbohydrates

9.1%

100%

Calorific Value – 39

*Values per 100 gms edible portion
Table:  Food Value of Sugarcane* Juice        
Our offerings to the customer through our product are-
High quality drink.
Reasonable price.
Natural test of sugarcane Juice.
Availability to the customers.
Availability through different amount.
Ideal for Smoothies!
Review of Competition
Competition in the area of soft drink industry can be differentiated through test and flavors. The main categories of tests and flavors in the existing soft drink market and the existing competitors are given below in a table-
| | | | | | | |
| --- | --- | --- | --- | --- | --- | --- |
| Competitor | Cola | Orange | Ripe Mango | Lemon | Soda | Others |
| Coca-Cola | √ | √ |   |   | √ |   |
| Pepsi | √ | √ | √ |   | √ | √ |
| Pran | √ | √ | √ |   |   | √ |
| R C Cola | √ | √ | √ | √ |   |   |
| Virgin | √ | √ |   | √ | √ | √ |
| Aarong |   | √ | √ |   |   |   |
Table: 2.3: Market Competition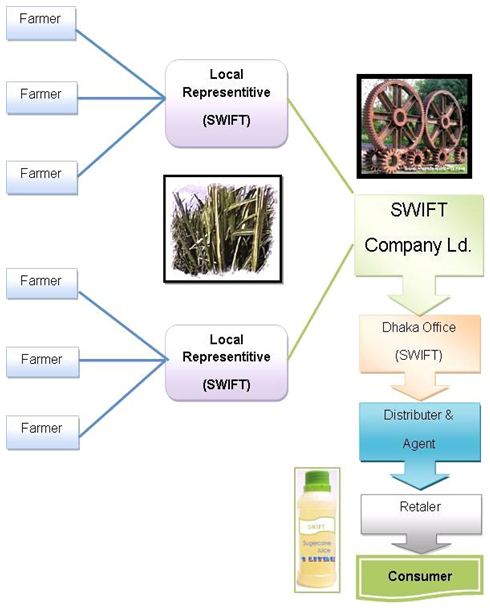 The Research and Development (R&D) department found some major strength and weakness for the new product "SWIFT Sugarcane Juice" of the company. According to the R&D department the SWOT analysis of the product is described below.-
Strengths

Weaknesses

 

Strong brand name
High customer loyalty
Strong relationships with Stakeholder
Excellent, stable and trained staff for customer service.
Strong merchandising and product presentation.
High quality machineries.
Raw materials are available in our country.

Private limited company
Limited Cash
Too many existing competitors.
Less product classification
Challenges of the seasonality of the business.
Challenges of preservation.
New in the market.

Opportunities

Threats

Completely new test in soft drink market.
High growth rate in our target market.
Change in container or product classification
Existing channels of our existing product can be used.
Increasing sales opportunities beyond whole country
Other competitors of soft drink companies same produce same type of drink.
Economic, political and technological factors of the country may be threatening for our product.
New entry of similar soft drink company
Objective:
The key to success of this product are-
Maintaining gross margin in excess of 30% at the first year.
Experienced and eye catching advertisement on the important areas of the Dhaka City.
Quality Enterprise Resource Planning (ERP) management.
Proper channel distribution.
Proper Customer Relationship Management (CRM).
Proper Supply Chain Management (SCM)
Generating average sales in excess of Tk.120,000 per business day.
Online News and Advertisement.
Critical Issues
As the product is new and innovative, the company has to consider some critical issues, which are as follows-
The products sales growth will be slow and our company may face loss in the very first year of their operation. Thus the company has to hold the product's position for first 12 month, which is admirable.
As the product is new in the market, it will take too much time to stay in the heart of the consumer and the beginning consumers will be innovators. Thus attractive and effective marketing will be needed to attract, grow, and retain the customers.
The marketing objectives will be to create product awareness and trial.
The company must use heavy sales promotion to entice trial that is matter of investing huge amount of money.
The products cost per customer will be high, as the product is lunching initially.
Our marketing strategy is based on becoming the potential choice for consumers in the soft drink market. Our marketing strategy is based on superior performance in the following areas-
Product quality.
Product price.
Superior test.
Mission
Our mission for the product is to establish the brand as a sign of satisfaction. We want to spread the product through the whole country and reach each and every consumer.
Marketing objectives
The marketing objectives of the company for the product are as follows:
Maintain a gross margin of 35% each month.
Generate an average of Tk120,000 of sales each business day each month.
Realize an annual growth rate of approximately 25% within the year 2010.
Financial objectives
Financial objectives determined by the company for the product are as follows-
A growth rate in sales of 15% for the year 2010, to total excess of Tk 30,00,000 in total revenue
An average sale per business day in excess of Tk.120,000.
Reducing existing variable costs by 3% within the year 2010.
Target markets
Our target markets are separated into three segments. The segments are kids, young, and adults. The segment details are as follows-
Kids:- The kids are a large portion of the population. According to our marketing investigators, kids are the second major consumer of soft drinks. Kids like soft drinks. They like different tests and colors and according to market research kids are going to love our new product "SWIFT Sugarcane Juice".
Young:- There is a large portion of the population occupied by the young people. According to the marketing investigation most of them like soft drinks and they appreciated our new product. As young generation is the highest consumer of this type of product, they are our one of our potential customer to serve.
Adults:- Adults are another portion of the population. Adults are most careful and sophisticated consumer and are most concern about the price and the quality. So, targeting the adults is also one of our effective decisions.
Jaundice Patients:- The juice is very essential for jaundice patients. It can recover jaundice very quickly. Therefore the jaundice patients are one of targeted customer of our "SWIFT Sugarcane Juice."
3.5: Positioning
To the soft drink consumers, who are tired or looking for a refreshing drink, "SWIFT Sugarcane Juice" is offering them the highest refreshment with the test of sugarcane "SWIFT Sugarcane Juice" is offering the consumer a clear differentiated test from the other drinks. You can experience the difference.
3.6: Strategies
The greatest objective is to establish our new brand in the industry. The marketing strategy will seek to first create customer awareness regarding the product and establishing connections with targeted markets and work toward building customer loyalty and referrals.
The major marketing strategies are-
Increase awareness and image.
Cross selling.
Quality and test leadership.
Mass distribution.
Increase awareness and Image: Informing the consumers about our new product "SWIFT Sugarcane Juice". Through, advertisement, leaflets, events we can increase awareness of the product and establish image of our product.
Cross Selling: We can use our existing distributors to distribute our new product. We will also be able to cross sell our new product with our existing products. This will help us promoting our new product to the market.
Quality and test leadership: Our strategy is for being the quality and test leader in the market. We will offer the best quality drink in the market which will make us quality leader in the market. We are also offering the best test in the soft drink market.
Mass distribution: We will also going for mass distribution of our product. We want to distribute our product each and every corner of the country. We hope to make our product available to all the customers within 2011. Consumers will get the drink where ever he of she goes.
3.7: Marketing Mix
Our marketing mix for the new product "SWIFT Sugarcane Juice" is as follows:
Pricing: The Company established the price of its new product "SWIFT Sugarcane Juice" with the concept from cost based pricing. According to our calculation the cost of our product is Tk.8 taka, and we set Tk10 for our product.
Distribution: We will primarily use our existing distributors for distributing our new product "SWIFT Sugarcane Juice". Then, we will make some new channels and assign some distributors to promote our new product to all over the country.
Advertising and Promotion: The most successful advertising will be through NTV, Channel I, ATN Bangla and RTV, which are the most popular television channels in the country. We will also use some bill-boards and leaflets and we will hold a sport event for the young generation to promote the product.
3.7.1: Product marketing
Our product will enable our customers to have a different experience to test in soft drink. They will be able to differentiate our product in quality and test which are unique in the soft drink market. They will not be able to feel the same way for the other soft drinks in the market.
3.7.2: Pricing
In the current market of Bangladesh, there are a number of juice products exist. Through the market research we have revealed that most of these products' price range is in between Tk10 to Tk15.
As we are striving to launce similar product but with a different test, it is better to set the price based on other products to which we will compete. W have gone through our entire production process and found that this competition based pricing will also cover our total cost.
So, the selling price we set for our product is Tk10
| | |
| --- | --- |
| NAME OF THE COMPANY | PRICE |
| COCA-COLA | 12 |
| PEPSI | 12 |
| VIRGIN | 15 |
| RC Cola | 15 |
| ARONG | 14 |
| PRAN | 12 |
| SWIFT | 10 |
Table 3.7.2: Comparison with the other product *price
The new brand of "SWIFT Sugarcane Juice" will be introduced in January. We make an action program for the next six months. And we believe that, if our six month action programs will run well, then we will achieve our goals easily. And we will continue our business according our cycle.
January:
As we know there is no alternative without advertising to reach the product to the customers mind. Therefore at the eve of month we will advertise to the newspapers about our new product. We will advertise to the newspapers. We will advertise for new dealership customer. Then we will collect their information of different dealers. At the last of Month we will start production new sweet favorite sugarcane juice named "SWIFT Sugarcane Juice".
February:
At the beginning of the month will arrange a meeting for the suppliers, dealers and some specific customers. We like provide them T- Shirt with our product and brand name. At meeting we will arrange questions and answer sessions to learn to about the market affects and proper suggestions. We will about our product quality, product development as well list of the dealers.
March:
Getting experience from the meet will apply some initiatives and at this month we will advertise of our new product in the Television, Radio, Bill Board, Banners, and in the Poster. Then we will launch our product in to the market. In the primary stage we will produce 250ml can, and 500ml bottles.
April:
After doing our successful operations of three month, at the forth month we give extra benefits to the dealers and sellers to improve our sales. We will give small toys for the kinds.
May:
Observing the situations, at this stage we will produce 250ml can, and 500ml bottle for the consumers. In this month we will start to produce 1 litter bottle for the small family. And this month our product will be available in almost every shop and out site the country.
June:
Observing and analyzing we take necessary actions to develop product sales and increase our profit. We can easily understand the marketing position of our product. If we learn that our condition is suitable then we will make divisional dealers to distribute to the whole country. Side by side we take control over it in necessary. In this way we will continue our production and give a particular image to the mind of every customer.
Variable Cost: –                                                          Taka

Direct Material

3

Direct Labor

1.25

Indirect Material

1.05

Indirect Labor

0.3

Fixed Cost

1.2

Manufacturing Cost

6.8

Sales & Promotion

1.2

Total Cost

8
At the very beginning, we want to go for Taka 2,20,000 Pcs juice production. And producing price is to be Tk 8 per pc.
Our fixed cost is Taka 400,000 .
So our total cost is= 400,000 + (8* 220,000) Taka
= 2,160,000 Taka
Our selling price is = 10 taka
At the very beginning, we want to go for Taka 2,20,000 Pcs juice production. And producing price is to be Tk 8 per pc.
Our fixed cost is Taka 400,000 .
So our total cost is= 400,000 + (8* 220,000) Taka
= 2,160,000 Taka
Our selling price is = 10 taka
Control:
All of our administrative members are planning to measures to closely monitor quality and customer service satisfaction to achieve our goals. This planning will enable us to very quickly in correcting any problems that may occur. Other early warning signals that will be monitored for sings of deviation from the plan include monthly sale and Monty expenses.
Marketing Organization:
Based on our organizational hierarchy we have constructed a framework that will help to manage and perform the activities of our new product.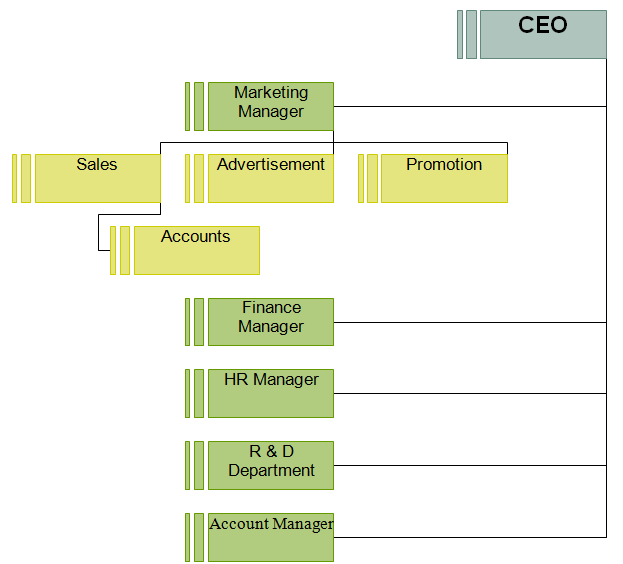 Control System Framework:
First we will set our central office in Dhaka. From there we will keep contact with the local representative through mobile call, SMS and MMS. The responsibility of local representative will be to deal with the producers, send a copy of the deal to the head office and make sure that the producers are getting the right price. The payment of purchasing sugarcane will be cleared through banks, post offices and using several technologies.
We have two different ways to carry the product toward Dhaka office-
By Road
By Rail
Comparison and Contrast between Two Ways
| | | |
| --- | --- | --- |
| Characteristics | By Road | By Rail |
| Cost | High | Low |
| Time | Low | High |
Table 4.1 Comparisons and Contrast between by road and by rail
Whether we use By Road or By Rail we will use "Global Positioning System" (GPS). But in case of By Road we will maintain a contract with a specific petrol pump. We will receive the bill of petrol through fax, e-mail or SMS and the bill will be cleared by banks through "Electronic Data Interchange" (EDI).
After receiving and checking the consignment we will store some quantity of juice in the Dhaka office and rest of the product will be sent to the warehouse. The Dhaka office will contact with the warehouse through mobile. Though we are not using any distributor the retailer will collect carrot from our Dhaka office. So, we can say that the Dhaka office will be our "Point of Selling" (POS).
Conclusion
In conclusion we can see that, the product the company is going to launch has a bright future in its market. As the product is innovative, the consumers are going to appreciate it. And according to the R&D (Research and Development) department this product will be a strong product mix for our company. And once our "SWIFT Sugarcane Juice" will reach to the hand of every of our targeted customers.