Artificial photosynthesis is the process of using technology to mimic the natural process of photosynthesis in plants, where energy from the sun is used to convert carbon dioxide and water into oxygen and glucose. This technology is being researched as a way to produce sustainable energy and reduce carbon emissions, by using the excess carbon dioxide in the atmosphere as a source of fuel. It is also being investigated as a way to produce chemicals and other useful products.
The goal of artificial photosynthesis is to use solar energy to generate fuel, such as hydrogen, through the use of specially-designed materials and systems. This process has the potential to be a sustainable source of energy, as it utilizes renewable resources and does not produce greenhouse gases. However, it is still an area of active research and development, and there are still challenges that need to be overcome before it can be widely adopted.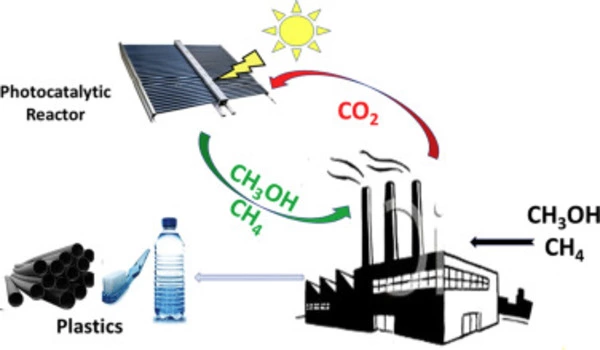 In photosynthesis, plants use energy from the sun to convert carbon dioxide and water into oxygen and glucose. Artificial photosynthesis aims to replicate this process using man-made materials and technologies to produce usable forms of energy, such as hydrogen fuel. Research in this field is ongoing and is considered a promising way to create sustainable energy sources. Researchers are trying to replicate this process using artificial materials and techniques, such as semiconductors, to produce hydrogen fuel and other useful chemicals. The goal is to develop a sustainable, clean energy source that can help reduce dependence on fossil fuels.
Artificial photosynthesis can be used to generate hydrogen fuel from water, capture carbon dioxide and convert it into useful chemicals, or produce other types of renewable energy. The technology is still in the research and development phase, but it has the potential to be a significant source of clean energy in the future.
The term "artificial photosynthesis" refers to any scheme for capturing and storing solar energy in the chemical bonds of a fuel (a solar fuel). Photocatalytic water splitting is a major research topic in artificial photosynthesis that converts water into hydrogen and oxygen. Another process being researched that mimics natural carbon fixation is light-driven carbon dioxide reduction. The design and assembly of devices for the direct production of solar fuels, photoelectrochemistry and its application in fuel cells, and the engineering of enzymes and photoautotrophic microorganisms for microbial biofuel and biohydrogen production from sunlight are all part of this research.