United Commercial Bank (UCB) is one of the first generation private sector banks in Bangladesh, commenced its commercial operations from mid 1983 and has since been able to establish one of the largest networks of 110 branches in six different districts. United Commercial Bank offers all kinds of Commercial Corporate and Personal Banking services include Corporate Banking, Retail Banking and Consumer Banking right from industry to agriculture, and real state to software. UCB Uttara branch is one of the branches which facilitate all kind of facilities that a bank offers. It has General Banking, General Advance as well as Foreign Exchange Department.
Customers are very important for every business. Banking in Bangladesh has grown significantly as "service-industry" overtime. My report is based on the service marketing of United Commercial Bank entitle "Analysis of United Commercial Bank"s Service Marketing". In this report I tried to lift up a general condition of service marketing of UCB as bank promised and delivered to the customers.
The first part of the report contains information of the organization itself, the services that bank is providing to the customer and vision for the future. The second part of the report contains the nature of job, my duties and responsibilities towards the job and some suggestions how they can improve their current banking condition. The third part contains the project part that I was involved in my internship. In this part I have discussed about UCB's
service marketing, employee"s behavior and cooperation to the customer. The last part contains analysis and result of the analysis. For the analysis I talked with 20 customers who are engage in doing banking with UCB. Based on their answer I interpreted the data and tried to figure the actual service quality of the bank. Before drawing any conclusion based on this report it may be noted that there might be lack in data, but still it may be useful for designing any further study.
Overview of United Commercial Bank
United Commercial Bank (UCB) is a Bangladesh based financial instituition that provides banking services. The services include personal and business banking, loans, credit cards, online banking and money transfer services. The bank operates in Bangladesh, where it is headquatered in Dhaka. With its firm commitment to the economic development of the country, the Bank has already made a distinct mark in the area of Private Sector Banking
through personalized service, innovative practices, dynamic approach and efficient Management. The Bank, aiming to play a leading role in the economic activities of the country, is firmly engaged in the development of trade, commerce and industry thorough a creative credit policy.
Product/Service offerings:
The bank provides a broad range of financial services to its customers and corporate clients. The Products and Services of UCB is as follows: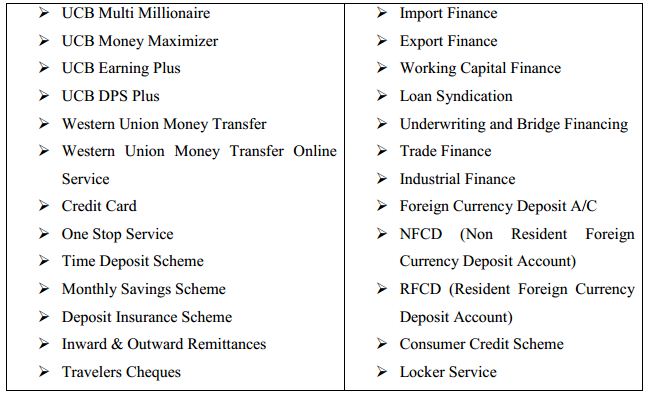 United Commercial Bank divided its branch into several departments. The three main departments are:

Project Part
Summary:
A commercial bank performs an essential function in the economy. It helps to mobilize money by a continuous procedure of borrowing and lending money. It accumulates its capital through both own sourcing and out sourcing. This amount is then lent to the other party. Being a service industry a bank provides various services to its customers. So, every commercial bank has to think about their customer first, because the customers are the sovereign. Marketing is one of the most essential parts of any organization. Starting with the product promotion to giving the best service to the customers marketing is everywhere. Financial success often depends on marketing ability. My report basically prepared on whether the bank delivering superior service, better and faster answering the inquiries, delivery the services on-time and quicker resolution of complaints etc. and the topic is "Analysis of United Commercial Bank's Service Marketing".
Description of the project:
Objectives of the project:
The objective of the report is to gather practical knowledge particularly regarding any business organization and its operations. In BRAC University, the department Bachelor of Business Administration program provides us knowledge regarding theories and models whereas internship program gives us the chance to view those systems and their operations (based on theories and models) in practice. Apart from this broad objective we can identify the objectives of this report as follows:
Understanding the environment, functions and management of the organization for my case it is UCB.
Narrating experience in working in UCB.
To apply theoretical knowledge and relate it with the practical content.
To learn about banking more and analyzing the service marketing of UCB.
To identify the employees attitude towards the customers.
To find out how fast the bank is serving on queries of the customers. 19
Methodology
Some simple and common methods have been used to carry out in making the report. Sources of information:
Primary:
I joined as an intern in UCB at Uttara Branch on April 24, 2011. I was assigned to work under all the 3 departments within 3 months. I am allocated for 1 month for each department. As I am working on service marketing of UCB so I focused more on it. I am working under my supervisor and directly communicating with the clients.
Secondary:
I will also go through UCB"S websites and the reports regarding this topic, which I believe will give me a wide breadth of information that will make the report more informative.
What is Service?
Services are economic activities offered by one party to another. Service is an intangible offering with little or no transfer of physical products to the customer.
What is Service marketing?
It is a sub field of marketing, which can be split into the two main areas of goods marketing and services marketing. It refers to both business to consumer (B2C) and business to business (B2B) services, and includes marketing of services like telecommunications services, financial services, all types of hospitality services and professional services.
Characteristics of Service:
Intangibility: Customer is unable to experience the "product" prior to "purchase.
Inseparability: The production of the services can't be separated from its consumption.
Perishability: It can not be stored for future use.
Variability: Services quality and consistency are subject to great variability because they are delivered by people, and human behavior is difficult to control.
Most Popular Product/Services of UCB:
There are some schemes which are very popular among the customers. These are:
Money Maximizer:
UCB money miximizer is a time deposit product. After a specific time period the person receives double amount of money of deposited.
Lowest installment- tk 2500
Highest installment-tk. 50000
Maturity and Interest rate: 8 years and 9.10%
Deposit Pension Scheme Plus:
It is one of the most popular schemes of UCB. The lowest monthly installment is tk. 500 and highest is tk. 25000. The bank gives 9% interrest on this scheme. The scheme is for 5 years and 10 years. At the end of a specified term a person receives an attractive fixed amount.
Monthly Savings Scheme
This is a Savings Scheme in which a person gets the opportunity to build up savings by contributing monthly installments and receives an attractive fixed amount at the end of a specified term. The Scheme is designed to help the fixed income group to save money.
Deposit Scheme: UCB has several types of deposit scheme of its customers. These are Savings Bank Account, Current Deposit Account, Short Term Deposit Account and Fixed Deposit Receipt Account.

On-Line Banking Operation:
The UCB has 110 branches and all transaction among the branches are done through Online. UCB uses PcBank2000 customized software for its dat to day transaction. The activities are
• Deposit cash in any branch in any account
• Withdraw cash from any branch
• Transfer from any account to any branch
Analysis
The analysis is b ased on the feedback of the customers who are receiving services from the bank. The results are presented according to the various services quality and customer"s satisfaction. Each dimension consists of two specific questions. The results of the survey are presented according to these questions that were asked to the respondents with the help of a structured questionnaire. The analysis is as follows:
1. Fees and Service charges: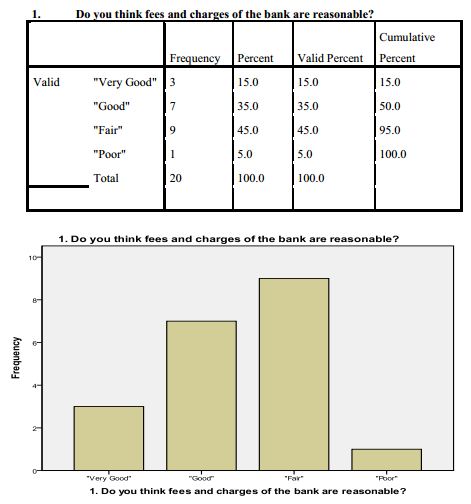 45% of the people said that fees and service charges are fair. 35% people said that it is good and 9% people said that it is very good and few people said that poor in their opinion.
Rates on Services: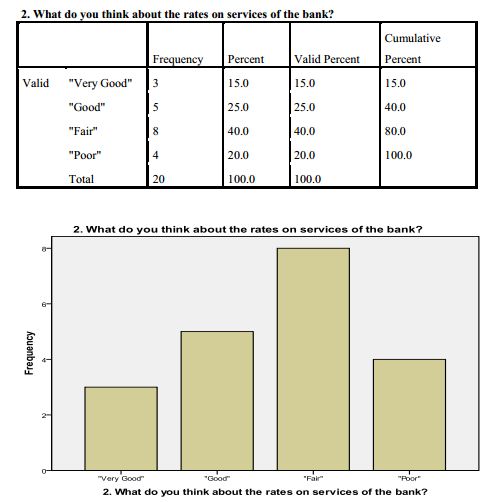 Majority of the customer (40%) said that rates on services that the bank is providing is fair. (25%) people said that it is good and (15%) considered as very good. Few people (20%) said that it is poor.
Provide services On time: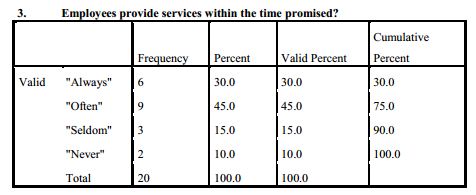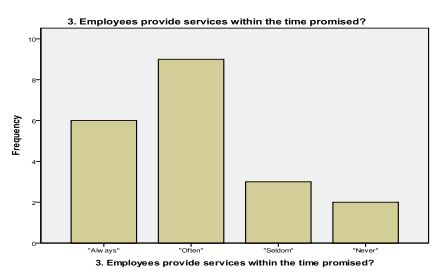 The data shows that often employees give services on time. 30% of the people said they always provide services on time, 15% said seldom and 10% said never.
Give appropiate solution to the problem: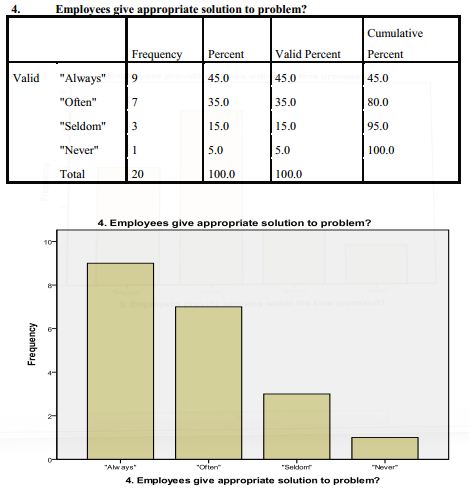 The data shows that 45% customer always get the solution of their problems and 35% customer said they get solution often and 5% customer said they never get the proper solution of the problems.
Willingness to help: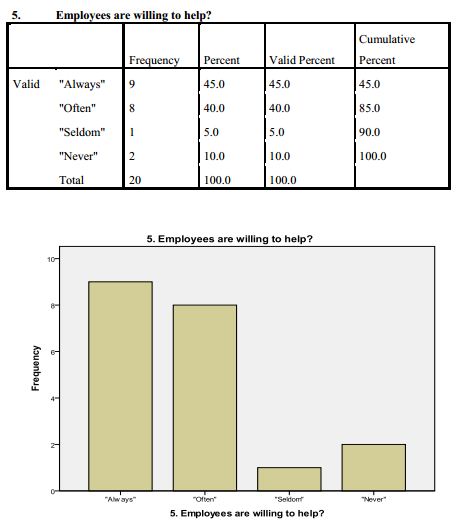 The above data shows that 45% of the customer said employees are always willing to help. And 40% customer said they often helpful. 10% customers are dissatisfied and said that they never show interest to help the customers.
Professionalism of the employees: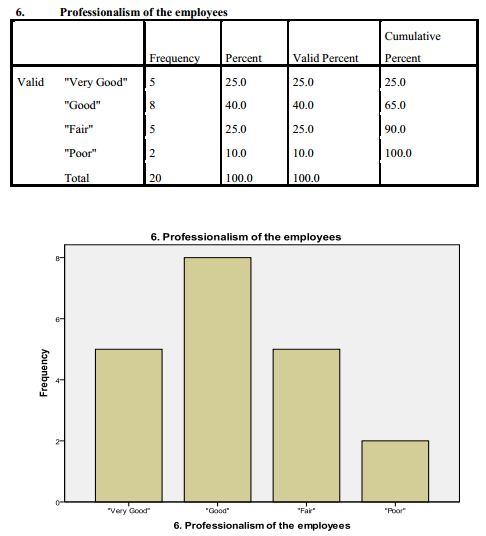 From the data we can see that majority of the customers agreed that professionalism of employees is good. 25% customer said very good and same percentage customer said they have fair professionalism attitude.
Results and Discussions:
In order to come up with a result and to carry on with the research various statistical tools were employed. Series of data were acquired through fieldwork and then computed in frequency distribution. But the number of respondents being chosen for sampling is relatively low to represent the entire large population of United Commercial Bank. Based on above analysis it can be said that
UCB has a well reputation in the market. The management and employees are well qualified and experiened.
Customers are happy with the fees and charges of the services but compare with other banks interest rates on different services should be increased.
Due to lack of manpower and work load sometimes employees cannot provide services on time but most of the customers are satisfied with the service.
Majority people are quite happy that whenever they have queries or problems employees always give proper solution to them. Due to work pressure sometimes employees to do not give proper solution to the customer's problem. If they have customer representative who will monitor the customers and give the basic information in response to inquiries the customers will be more satisfied.
The errors and mistakes are corrected promptly.
Customers are satisfied with the attitude of the employees but sometimes employees cannot give individual attention to the customer due to pressure of work.
A large amount of customers think that UCB has visually appealing facilities but they need to advertise. So that customers get more attracted to it.
Respondents are not much satisfied with employees work speed. They think employees are little bit sluggish. There should be more swiftness on giving services to the customer so that customer do not have to wait for a long time.
Most of the customers agreed that they have modern equipments but a large amount of people do not think so. They said the bank should upgrade their technologies.
Customers are very much impressed with banking hours.
Online services should be better. Customers are quite dissatisfied with online services. Frequently online servers of different branches do not work properly and sometimes there is a shortage of cash in online transaction.
From time to time senior management can discuss with the employees that what kind of problems they are facing while dealing with customers, what are the needs and requirements of the customers, what kind of services customers expect from the bank etc. It will give an idea how to do better in future.
Conclusion
United Commercial Bank is providing and maintaining pleasant working environment for delivery of better quality services to maintain edge over the competitors. It is not possible to make a profitable business without concerning the customers" benefits. UCB bank has a great potential in the country to achieve the desired position in the market, timely improvement in services is essential. This research has provided some interesting insight into what kind of
service the customers give importance to and what quality service they get from UCB. It is quite obvious that the customer requirements are not fully met and they are sometimes dissatisfied with some of the aspects of the bank. UCB should attract these customers so that the bank can link up strong relationship with the customers. The efficiency and effectiveness in services only in customer service is not mandatory. It is a collective responsibility of all
the departments. So, all the concern departments should be more prompt and efficient to compete with the challenging opportunities of the future. The executive management also should be enthusiastic in to the development of administration and operational system as per demand of the age.
Questionaire