Executive Summary
Bluespa is a company that has created a brand concept consisting of both skin care and athletic apparel utilizing multiple channels of distribution. We are seeking recurring investment to fund the growth of the brand, and position the company for an IPO. The plan that follows explains our market, our value proposition and our market segmentation strategy. The detailed financial plans provide a clear view of our sales and profit forecasts. These plans show how Bluespa will reach profitability in our third year of operation and generate shareholder return on equity within five years.
1.1 Objectives
Launch Bluespa retail by the second quarter of Year 1.
Launch Bluespa wholesale by the third quarter of Year 1.
Achieve an above median maintained margin rate by the end of Year 4.
Generate a return on equity by end of year end 2005.
Position bluespa for a successful IPO in 2006.
1.1 Objectives
Launch Bluespa retail by the second quarter of Year 1.
Launch Bluespa wholesale by the third quarter of Year 1.
Achieve an above median maintained margin rate by the end of Year 4.
Generate a return on equity by end of year end 2005.
Position bluespa for a successful IPO in 2006.
1.2 Mission
To establish Bluespa as an important brand that represents quality in skin care, fitness apparel and accessories. We will accomplish this in the following ways:
High quality manufacturing and research.
A creative marketing and PR program.
Creation of a brick and mortar retail presence in 2001.
Development of a wholesale distribution network by the third quarter of 2001.
The successful launch of a Bluespa Web presence by the first quarter of 2002.
The successful launch of a consumer catalogue in the third quarter of 2003.
1.3 Keys to Success
Quality product.
Manpower.
Product logistics and quality control.
Product placement in key retail accounts.
A vertical retail presence in brick and mortar, catalogue and e-commerce.
The creation of a "buzz" about this "hot…new" brand among opinion leaders through a combination of PR and product placement.
Company Summary
Bluespa is a multi-channel concept, combining a wholesale distribution network with a retail strategy, e-commerce, and a consumer catalogue. The face of retailing is changing. These changes are creating the potential for a new business model. This model will eliminate the need for a traditional brick and mortar retailer to open thousands of doors in order to reach the market, yet not eliminate the need for brick and mortar. At the same time it will eliminate the heavy ad spending that has been associated with e-commerce by utilizing a brick and mortar retail presence to develop brand awareness. Portions of this model exist in successful retail companies like Williams Sonoma and Crate and Barrel. Other pieces exist in successful wholesalers like Bliss and Clinique. A few players have even touched on all the pieces (i.e. Aveda, MAC and Ralph Lauren). By utilizing this multi-channel approach we will be able to reach the niche market for quality personal care products rapidly and efficiently. It will allow us to develop Bluespa as the brand for quality skin and body care products within our target market. Our target consumer is interested in total mind nd body fitness. She most likely participates in yoga, tai chi, pilate's or some form of mind and body program. She is a professional over the age of 25 with a hectic lifestyle and high disposable income. Her busy lifestyle creates the need for self centering and pampering. She appreciates quality-–especially in concert with service and selection. Bluespa will provide this customer with a total fitness brand. We are working with some of the best manufacturers globally to develop, and bring to market, high-quality products for skin and body care. In addition we have developed a Bluespa line of yoga and fitness apparel, a natural extension of the brand. These products have been developed utilizing the finest fabrics and proven fit specifications. Bluespa garments will provide the active female consumer with a brand of apparel d
2.2 Start-up Summary
Start-up costs are shown in three areas. The first is in the start-up table, the second is within the cash flow assumptions and the third is in the P&L.
Start-up expenses: legal (incorporation and trademark registration), stationery (business cards and office supplies), etc., brochures, consultants (graphic design for logo and packaging), research and development (architecture fees for store and trade fixture design).
Start-up costs expressed in year one cash flow: FF&E for first Bluespa retail store.
Start-up costs included within year one P&L: brand marketing, management staff, travel costs to coordinate product development.
2.3 Company Locations and Facilities
The company's main office is located in Portland Oregon. The office is approximately 400 square feet. An additional 800 square feet of office space can be made available within the building. This should be sufficient for planned staff size within the first few years. The company has a five-year lease on the current space with an additional five-year option. An option exists on the expansion space as well.
Distribution in the first year will be managed from a facility in Southwest Portland. In years two through five we plan to manage distribution through a contract resource capable of handling both wholesale distribution and retail fulfillment.
Skin and body care products will be developed and produced at our contract facilities in Pontrieux and Nice, France and Compton, California.
Production of apparel products will be managed through our contract manufacturer of sport-related apparel. They have a 50,000 square foot production facility in Portland, Oregon for high-quality technical apparel and a 200,000 square foot facility in Mexico for the production of t-shirts and other knitwear.
Production of accessories will be managed through a contract with a manufacturer of quality sports-related accessories including: bags, hats, totes and socks for the wholesale market. Their office and distribution facilities are located in southern California.
Products
Bluespa distributes quality personal care products, fitness apparel and related accessories. This is accomplished through a combination of company-owned retail outlets and wholesale distribution.
3.1 Product Description
Skin Care
The initial launch for skin care products will be our "Water" range. The products in this range have been developed in our labs in Brittany. The Brehat archipelago is unique in the entire world for its wide range of sea algae and seaweed. For four billion years the warm waters of the Gulf Stream have been flowing north along the French coast creating a unique ecosystem. The details of our product development and the relationship between the sea and the human body will be explained in greater detail in the marketing section. In this section we intend only to define the initial product range, each products benefits and our pricing strategy. Our methodology in choosing the water range for our initial launch is based on two primary issues:
The benefits of thalasso treatment are just coming to light in America.
Our name and logo make this launch of products from the sea a natural. We will be able to develop a meaningful and moving product story through this relationship.
3.2 Competitive Comparison
Bluespa will occupy a unique market position. No other brand offers a specialty line that includes skin care, cosmetics, fitness apparel and accessories. However, within each category significant brands do exist. Quality and price vary widely within each group. Bluespa will be positioned as a quality brand. We have eliminated the drugstore and discount brands from this comparison.
In the skin care and cosmetics category the competition can be divided into three groups: Commercial–i.e. MAC, Origins, Philosophy, Erno Laslo and Shesheido; Clinical–i.e. Kiehl's, Clinique, Clarins and Dr. Hauscha; Spa–private label brands associated with spas.
The commercial brands are primarily sold through department stores. They vary widely in quality from Origins to Shesheido. They also vary widely in price. Their major advantage is their financial strength and their department store relationships.
The clinical brands are perceived to be "authentic." Their image is based upon the perception of treatment qualities verses purely cosmetic benefits. These brands are sold through their own retail outlets, specialty stores, department stores and/or health food stores. Kiehl's is perceived as one of the most authentic of the clinical brand.
The spa brands are sold almost exclusively at the spas they are associated with. This close affiliation provides a validation for the products but limits their ability to achieve wide market distribution. Bliss and Aveda are notable exceptions. These two brands have achieved wide market distribution and brand recognition.
In fitness apparel and accessories the female customer has been grossly overlooked. Reebok and Avia had the best chance of capturing her at one time. However Reebok abandoned her to try to become a "legitimate" sports brand and acquired Avia. Avia has since been sold and has all but disappeared. Meanwhile the big two brands (Nike and Adidas) have ignored her. Recently Nike announced the formation of a women's division as a separate business unit. While this offers the possibility of a major competitor in the women's fitness category, it also highlights the opportunity. Puma is the only brand that has developed a line of fitness apparel focused specifically at this consumer. Their Nuala line has been developed with Christy Turlington. They have positioned this line to sell through women's specialty stores rather than traditional sport retailers. Early sales have been exceptional, further highlighting the potential within this category.
Bluespa will develop our market position by combining a retail strategy that includes a day spa with a wholesale distribution strategy. Bluespa will acquire the validity afforded the spa brands and access to broad distribution. Bluespa skin care and cosmetic products will offer therapeutic benefits to the user based upon the principles of Thalasso therapy in our water line and Botanical treatments in our earth line. Our color cosmetics will be mineral based and provide the user with esthetic benefits while nourishing the skin. In addition to providing retail appropriate packaging we will develop bulk sizes for distribution within the spa trade. Most day spas use generic products and do not have the ability to develop a private label line. The apparel and accessory lines will combine the newest in technical fabrics with fit specifications that allow the wearer full range of movement. We have developed affiliations with select yoga and fitness facilities for our apparel. All of our products will be positioned at the quality conscious consumer. Our marketing campaign and PR positioning will reinforce the Bluespa image. Our message will be to identify the benefits of our products and to develop an image that makes Bluespa products highly desirable. Meanwhile, our pricing strategy will be to maintain retail price points in the lower quadrant of the top quality brands. A detailed comparison of our pricing as it relates to our target market is in the appendix.
3.3 Sourcing
Skin care
Our skin care creams and lotions are manufactured in three OEM facilities. Two are in France, one is in Southern California.
Our primary facility is located in Brittany, on the north coast of France. They are considered one of the top algae specialists in the world. They process in excess of 500,000 tons of algae per year (30% of the current dry weight production world wide) for both agrochemical and cosmetic use. Founded in 1957, the company has grown to $300,000,000 in annual sales with 300 employees.
Our partnership gives us access to the following critical resources:
The ability to produce both small run (10 kg) and large volume (10,000 kg per day) of creams and lotions.
An innovative R&D department with a strong technical background.
An experienced quality control department.
Managed compliance with Government rules and regulations.
Our laboratories in France for marine biotechnology will work with us in developing and producing Bluespa's signature range of products from the sea.
Our second facility is located in the South of France. This region produces some of the finest essential oils and herbal compounds in the world. The facility gives us access to the latest developments in aromatherapy, skin care, fragrances and essential oils.
Our third factory is located in southern California. Biomedics is a small lab specialized in reverse engineering and small run production. We will utilize this resource to develop and test items i
our own stores.
Packaging for the skin care products is being purchased from Luxepack. They manufacture in Europe and have distributors in the United States. This combination allows us to have access to the needed packaging at each of our production facilities without the need to purchase or warehouse large quantities. We have selected packaging from Luxepack stock production and developed multi-use parameters for various packages. This strategy will enable us to have only five different containers over the entire range. We will label each product with a self-adhesive label rather than screen-printing the packages, further leveraging the cost and efficiency of the packaging.
Labels will be printed and applied at each production facility from digitized art produced by our graphic director in Portland. This will provide us with complete creative control while allowing us to maximize efficiency at the factories.
Apparel
Our apparel manufacturing is being managed through a contract facility in Portland, Oregon. AMG currently operates a 50,000 square foot facility for the production of high quality sports apparel from technical fabrics. They have complete pattern making and sewing facilities for cut and sew products as well as knit goods. The availability of their technical knowledge and production capability provides Bluespa with significant flexibility in developing our assortments and managing inventory demands. During the early phases of development AMG will also handle fulfillment of apparel orders.
Pricing structure – skin care
The pricing for skin care products is a bit more complex than for apparel. Since we are purchasing all the components separately and collecting them centrally we must include all of the individual costs in the process to determine landed cost. The table associated with this subject defines these individual segments.
Pricing structure – apparel
Our apparel pricing structure positions Bluespa as a quality brand. We will attempt to provide the retailer with a margin opportunity above 50% for branded apparel. Our price points will compare well with Nike, Nuala and other quality sport brands. We will be very well priced in comparison to Prada sport, Polo sport and the other designer brands venturing into this area.
3.4 Future Products
A corner stone of our strategy is the creation of sustainable growth through a combination of new product launches and replenish-able basics. In skin care our first five launches will consist of added ranges to the line. Bluespa's product line is based on five elements of the universe. Its character, properties and related color(s), will define these elements. Body care products will be scented with essential oils that are known to create or improve the related character. All body and bath products, except after sun care, will ultimately be offered in five ranges. Sun care will only be offered in balancing, calming and soothing. Because face creams and lotions are meant to rebalance and moisturize the skin, face care will be unscented and will only be offered in the Water range. Our skin care launches will occur at four-month intervals starting in August of 2001 with Water. Followed by the Earth range in the spring of 2002, Air in mid 2002, Fire in August 2002 and Metal in spring of 2003.
The colors associated with each range will allow us to create a line of cosmetics that works for all skin tones and an apparel assortment that covers the basics and can respond to color trends. The initial apparel launch will be August 2001. Our cosmetic launch will occur in spring 2002. These dates are for wholesale. Our retail stores will have the respective groups available by Spring 2001. Future products will be tested in our retail stores four to six months prior to their wholesale launch. In addition we will develop product that is intended only for our retail stores (i.e. brushes and sponges). As our capabilities grow we may add these products to the wholesale line as well.
Bluespa is launching a brand. The successful execution of this strategy will provide us with the ability to transcend into other categories in the future, as long as we define our image and stay true to the base precepts. (Much like Ralph Lauren has done with his tie business.) For example, properly executed these five precepts can be applied to home products. We believe our ability to create new product opportunities and growth will only be limited by our imagination and our ability to attract talented people who understand the concept of branding.
Market Analysis Summary
The U.S. cosmetics market grew by over $1 billion in 1999. (A rate of 6.6%.) A major factor in the growth of this segment was the impact of niche lines with spa positioning. Clear divisions between categories are becoming blurred. The Spa theme now touches on virtually all product categories. Aromatherapy has gained mainstream acceptance and is present in all product categories. All categories (except Men's) experienced growth. 1999 sales (x$1,000) and growth by category broke down as follows:
Within the market there are several distinct channels of distribution/price point classifications. They are:
Prestige–department and specialty stores (Macy's, Neiman-Marcus, Fred Segal and Sephora)
Broad–mass merchandisers, cosmetic discounters, drug stores, food stores and wholesale clubs (Costco, Sam's Club, etc.)
Alternate–direct sales (Avon, Mary Kay)
Specialty–(Body Shop, Bath and Body Works), Spas and Salons
Of these categories Alternative accounted for the largest volume ($7,288,000,000), the largest growth rate (+8.4%) and the largest market share (36%). Broad was ranked second at $6,645,000,000 in sales, a 6.4% growth rate and a 33% share of market. Prestige was third at $6,112,000,000 in sales, a 4.5% growth rate and a 31% market share.
4.1 Market Segmentation
For the purpose of this analysis we are focusing solely on the female market. Therefore our potential customers base (for the purpose of developing projections) does not include any statistics or provisions for male consumers. We have used the demographic report for spa goers conducted by spa weekly as a basis for our assumptions. Based upon this survey the spa goer is predominantly female (85%), well educated (46% attended college), and crosses income levels (26% earn less than $35,000; 32% earn between $35,000 and $74,999 and 42% earn over $75,000).
Using this demographic as the basis for our methodology we developed our potential customer base with the following parameters: Women with some college between the ages of 25 and 65. We completely discounted women with no college, women between 18 and 25, women over 65 and the entire male population. It is estimated that the female population will grow at a rate of 5.18% annually from 2000 to 2025 (source: the U.S. census bureau). This data is for the entire United States. Of the 33,642,000 women represented between the ages of 25 and 65 who attended college, 29,293,000 (87%) reside in major CMSA's.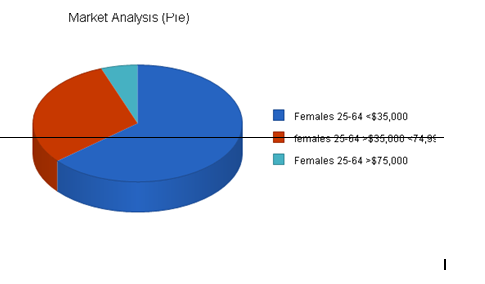 4.2 Industry Analysis
The cosmetics industry is in a state of flux. Traditional brands (Revlon, L'Oreal, Lancôme etc.) are viewed as old. The consumer is looking for more holistic and healing benefits from her skin care products. She is no longer content with just the appearance benefits offered by traditional brands. The Body Shop brought her an awareness of cruelty free and natural products. These initial nudges lead to today's consumer being more informed and more inquisitive about the benefits of her personal care products. Her skin crème needs to protect her from the suns
damaging rays, moisturize her skin and reduce the effects of aging. She is seeking relief from the effects of a hectic 24/7 lifestyle. She has learned the benefits of herbal therapy and aromatherapy. She has either experienced or read about the benefits (both physical and emotional) of a Day Spa.
Traditionally the dynamics of the industry have favored large houses because they can fund the major advertising and marketing campaigns associated with this industry. Today an underground (or gorilla) marketing effort can be more effective in gaining credibility with this market segment. In the past the volume of product required to produce a batch, and the cost of producing packaging have favored the larger players. Today, technology has evolved to allow the efficient production of small batches. Packaging resources exist that allow for efficient cost controls and rapid delivery of these components. In brief, the advantages of size that created barriers to entry for new players have been swept aside. The cosmetic giants still hold a dominant position in this industry and they will most likely continue to. But they have realized the need to acquire new brands and to keep their affiliation in the background. LVMH and Lauder have done an excellent job of identifying emerging brands and acquiring them.
In recent years names like MAC, Bloom, Bliss, NARS, Fresh and Kiehl's have been acquired. This strategy indicates that a few of the traditional big players recognize the benefits, for themselves and the industry, of emerging niche brands. Add to this equation the growth of the day spa industry in the United States over the last 20 years. In 1980 there were 25 day spas in America. By 1990 that number had risen to 200. Today there are over 3,000 day spas in the U.S. and 300 in Canada. Americans are beginning to understand the benefits and pleasures of taking care of themselves.
4.2.1 Main Competitors
Because we will develop our brand image and market positioning primarily through our skin care line, we will focus our competitive review on that segment of the market. The skin care market is very broad. It includes products labeled as body crème that range in price from $10 for a five-ounce container to over $300 an ounce. Our market positioning will be in the lower price quadrant of high quality natural products.
Our primary competitors for this customer are:
Kiehl's: Founded in 1851, this brand has an image that is well established with the consumer. Their main strength has been that the products work. Kiehl's has been a family business for four generations. The products are being made in small batches in a New York City facility. They have a wide and varied distribution strategy. Their packaging and labeling is very clinical in appearance. In recent years the brand has experienced almost geometric growth. This has caused them serious internal problems. They have been unable to meet demand and have stopped adding customers. In spring 2000 Estee Lauder acquired them. According to internal sources Lauder will move the manufacturing to OEM facilities and shut down the internal capabilities. They plan to focus growth on traditional department stores and on a roll out of Kiehl's own stores. The obvious plus of this marriage is the availability of cash and technical resources. The potential risk is that Lauder will associate the brand closely with Department stores and that the OEM manufacturing will result in the changing of certain formulas and a reduction in product effectiveness.
Aveda: Founded in 1978 by Horst Rechelbacher (an artist), Aveda has become synonymous with quality hair-care products and salons. They are distributed, worldwide, by over 3,000 Aveda salons. It has nurtured a well-defined image and secured a very effective distribution network. Aveda salons are a combination of licensed properties and company owned locations. Their product philosophy is centered in Ayurveda healing and aromatherapy. Recently Estee Lauder acquired them.
Clinique: Clinique was launched in 1968 with skin care and makeup products that are all allergy tested and fragrance free. Clinique products are marketed as part of a three-step system: cleanse, exfoliate and moisturize. The products are marketed primarily through department stores. In recent years their image has become dated. Clinique makes a significant amount of their sales through "bonus week" at department stores. The 18 to 35 crowd does not consider them current and their product development hasn't kept pace with changing consumer awareness. Clinique is a division of Estee Lauder.
Fresh: Fresh distributes body and skin care products through their own stores, a consumer catalogue and wholesales globally to department and specialty stores. Their products are more "fashion" influenced than treatment based. They currently have two stores in New York City and one in Boston. Their target market is younger and less affluent than Bluespas'.
Essential Elements: A former stock analyst started essential Elements in 1995. The products are botanical based natural body crèmes and lotions. They are distributed primarily through day spas and specialty stores. Informed sources say they will be launching a consumer catalogue. Their main target for increasing distribution is through day spas and resorts.
4.3 Target Market Segment Strategy
Because Bluespa is a combined retail (direct to end user) and wholesale (to the end user through a reseller) strategy our target customer must be broken into two distinct groups, the end user and the reseller.
Our targeted end user is between the ages of 24 and 65. They are urban professionals with at least some college. This consumer has an active lifestyle. They are concerned about social and environmental issues. Mind and body wellness are important to them. They belong to a health club; take yoga, pilate's or tai chi lessons. The effects of aging and the maintenance of a youthful appearance are a part of their life. A recent survey conducted by The American Spa Industry revealed the following demographic for day spa goers: 85% are female, 46% have some college and 39% are college graduates, 63% are married, 32% have an annual income between $45,000 and $74,999, 40% have income above $74,999 and 26% have incomes below 45,000, 47% are between 34 and 52 years of age.
They are predominantly female. They are well educated. Between 1993 and 1998 20% more BAs and MBAs were awarded to women than men. Women received 59% of all associate degrees, 55% of bachelor degrees, 53% of masters' degrees and 40% of doctoral degrees earned in the United States. Today college campuses are over 60% female. The buying power of this segment of the market continues to grow. There are currently over 109 million female consumers. Their buying power is estimated at $4.4 trillion. (In comparison, the junior market is estimated at $100 billion). In 1997 64% of working women earned more than one half of the family income. Today, businesses owned by women generate over $3.6 trillion in annual sales. Of the net increase in the workforce between 1992 and 2005, 62% are projected to be women. In retail the female consumer is the primary decision maker in 85% of households. Women buy or influence the purchase of 80% of consumer goods. Their increasing educational attainment makes young women even more sophisticated and demanding consumers.
Today's female consumer is living a transactional life with multiple constituencies. Her life is on fast forward. In the last few years the sales of anxiety drugs to this consumer has surpassed the sales of anti-depressants. Her definitions are shifting, blurring the lines between home and office; private and public; professional and casual; even male and female. Age has become irrelevant. Life stages are no longer defined cleanly by age. (A 44-year-old first-time mother has much in common with a 22-year-old first-time mother.) Links between generations and mindsets are becoming very spread out. Today's female consumer defines herself more by mindset or approach to life than by age. Parents and teens are often on parallel treadmills. The older segment is interested in staying young and the younger segment is acting older.
In addition there has been a democratization of luxury. The upper-class family group is massive. More than eight million households have incomes above $100,000. Luxury spending is growing four times faster than overall spending. Working women of all ages have more money and they are spending it on personal luxuries. This is a reaction to the chaos of 24/7 consumerism. She'll buy, but she wants more than just another product. She is not seeking empowerment–she is empowered. She is choosing to take better care of herself and others. She is looking for peace, solutions and fulfillment. Purchasing has moved beyond price. The Price:Value ratio has become more meaningful. She is seeking a "value added" experience or product. Our strategy of combined channels of distribution allows us to fit into her schedule while our product philosophy provides her with the benefits she is seeking.
Our target customers (vs. end user) for wholesale distribution will be resellers who recognize the needs of this consumer and who she identifies with. We have used the term resellers because they will not be limited to retailers. We will reach the consumer through four distinct reseller channels.
Spas and Health Clubs:
Most high-quality day spas and health clubs (and many upscale spas at resort properties) use generic products. (Much like the hair salon industry before Aveda.) Our goal will be to develop affiliations with select spas in urban areas and vacation destinations. Our manufacturing partnerships will allow us to offer these customers bulk product at favorable prices to them while allowing us excellent margins.
Lifestyle Retailers:
Our target retailer will be lifestyle-based rather than the typical soaps and potions or natural product retailers. These retailers exist in almost every city. Whether it is Wilkes Bashford in San Francisco, Mario's in Seattle, Harold's in several south central cities, Fred Segal in Los Angeles, Bergdorf Goodman in New York or Colette in Paris. These retailers have developed a loyal and sophisticated customer base. They understand the concept of lifestyle.
Cosmetic Specialty Retailers:
Sephora is the major force in this category.
Boutique Department Stores:
This category is composed of what was once called "Carriage Trade" retailers. We will limit our distribution within this segment to Saks, Niemans and Barneys.
4.3.1 Market Trends
The U.S. cosmetics market (measured in shipments from manufacturers) grew by over $1 billion last year. (A rate of 6.6%.) A major factor in the growth of this segment was the impact of niche lines with spa positioning. Clear divisions between categories are becoming blurred. Spa theming now touches on several product categories. Aromatherapy has become mainstream and is present in all product categories. All categories (except Men's) experienced growth. The categories are:
Skin Care–facial treatment and sun care
Color Cosmetics–face makeup, eye makeup, lip color,nail color, applicators and organizers
Women's fragrances–perfumes, colognes, fine fragrance and ancillary products
Body & Bath–all hand and body care, bath and shower products (not included in fine fragrance) and aromatherapy
Men's products–fragrances and ancillary products specifically for men's treatment
Within the market there are several distinct channels of distribution/price point classifications. They are:
Prestige–department and specialty stores (Macy's, Neiman-Marcus, Fred Segal and Sephora)
Broad–mass merchandisers, cosmetic discounters, drug stores, food stores and wholesale clubs (Costco, Sam's etc.)
Alternate–direct sales (Avon, Mary Kay)
Specialty–(Body Shop, Bath and Body Works), and Spas and salons
Of these categories Alternative accounted for the largest volume ($7,288,000,000), the largest growth rate (+8.4%) and the largest market share (36%). Broad, was ranked second at $6,645,000,000 in sales, a 6.4% growth rate and a 33% share of market. Prestige was third at $6,112,000,000 in sales, a 4.5% growth rate and a 31% market share. The very narrow spread between Prestige and Broad is indicative of the consumers desire for quality products rather than price point driven creams and lotions.
The growth of the Body and Bath category and the Alternate channels is being driven by three major market influences:
An acceleration of cross distribution creating new opportunities for branded day spas and catalogues.
Pampering has taken a front seat in the consumers mind and is viewed as a need rather than a want. This has created an opportunity for new spa lines, spa-oriented products encompassing aromatherapy and new age positioning.
The day spa influence is creating consumer awareness of the benefits of quality skin care and body & bath products.
Today's skin care customer is looking for magic. She wants to believe that there is a potion in a bottle that will erase her wrinkles. Consumers spent a record $11 billion on skin care alone in 1999. Approximately $3.6 billion (32.7%) of that was spent on upscale creams. The baby boomers, who don't want to age without putting up a fight, have been spurring this growth. But even men and women in their early 30's have been turning to expensive creams and lotions. Most manufacturers believe this is being driven primarily by vanity.
At Bluespa we believe it is a result of a better-educated consumer base and easier access to information. We believe that you only need to look at the proliferation of personal trainers, gyms, spas and yoga schools, the awareness of vitamins and the benefits of eating and living healthy for both mind and body. These indicators are not unrelated and we believe they signal a change in values and lifestyle rather than just a fashion trend. While it may well have been spurred on by the growth in the stock market and the general economy, we do not believe that it is dependent upon the continued rapid growth of these factors. Once the consumer has recognized the benefits of these products they will not be willing to simply give them up.
The two major growth categories within these segments are face creams and anti-aging creams. In face creams the hottest "new" product is Crème de la Mer. This crème was formulated from, Alfalfa, Citrus, Kelp and Vitamins by a NASA physicist to heal scared tissues. A five-ounce bottle costs $1,000. In interviews women have described it as "magical." Demand for these products is so high that retailers have begun to limit the quantity a customer can buy. When the cream was introduced in Hong Kong last September there was a waiting list of more than 500 people. When Sisley, another high-end facial crème, hit the shelves at Saks in San Francisco (at $300 per ounce) the store had trouble keeping it in stock according to the cosmetics manager.
Certainly these are not your mothers' facial creams. This new generation of creams is more scientifically advanced than anything previous manufacturers brought to market. Research has shown that alpha hydroxy acids, retinol and anti-oxidants can smooth out wrinkles and even out irregular pigmentation. Other natural ingredients can speed up the regeneration process of skin cells, tone the skin, clarify the complexion, and reduce wrinkles as well. Even the legendary firm La Prairie, who pioneered sheep placenta in its formula and has women flying to Europe to use it, has begun to shift formulation to vitamins, anti-oxidants and herbal extracts.
Many manufacturers site the high cost of research as a major reason for the high price of their products. However this "new" trend is more a returning to age old, time proven, natural remedies than new science. One noted chemist and cosmetics researcher recently stated that charging more than $100 for a vial (ounce) of any serum is unwarranted. She stated that while there are some very special ingredients that are costly, when prices go above this level it is just maxing out snob appeal. When you combine these facts with the rapidly increasing level of consumer education and the demand for a price-value equation, you can begin to see the market niche that is developing for high-quality skin care at price points reflective of their ingredients and value.
Management Summary
The initial management team is very compact. Our CEO and founder is the only current (full-time) employee. However we have utilized significant external resources and have secured a committed and talented team to join Bluespa as our funding gets in place. Ms. Kelly Anderson will be our director of retail and spa operations. Mr. Dane Johnson will join us as creative director. (Mr. Johnson is currently a creative director for Nike.) Ms. Brunner will be the director of product development. Ms. Fran Wonnacott will join the team as administrative assistant to Mr. Brunner. In addition to our internal resources we have access to a significant pool of senior management and design talent. This resource has been detailed in the management team section.
6.1 Management Team
Ray G. Brunner, president and CEO:
Mr. Brunner has over 30 years of retail experience. During his career he has successfully held senior management positions with several major retailers.
In 1977 he joined the GAP Inc. as a regional manager. During his 10 year career with GAP he managed every region in the U.S. In 1984 the then-new president, Millard Drexler, tapped him for the position of vice president of visual merchandising. In this capacity, Mr. Brunner played a significant role in the repositioning of GAP.
In 1986 he was assigned the responsibility of developing a kids business for GAP. This resulted in the creation of GAPKIDS where he served as VP and general manager until 1988 when Mr. Brunner joined Storehouse PLC as president and CEO of Conran's Habitat North America. His responsibilities there included developing a U.S. roll out strategy for that business. In 1989 a decision to sell the business was taken and Mr. Brunner joined Eddie Bauer as VP of real estate and retail operations. While in this capacity he was instrumental in developing a complete face-lift for the core business as well as assisting in the development of the Eddie Bauer home concept.
In 1991 Mr. Brunner left Eddie Bauer to begin a very specialized consulting business. His clients have included Esprit Europe, Asia and America, Fruit of The Loom, The Luchesse Boot Company, Adidas International, The Guggenheim Museum and Adidas America. The nature of each of these consulting engagements has been to assist the client company in developing a strategy for a retail rollout or expansion and to oversee the successful execution of these strategies. In 1998 Adidas America decided to execute a retail strategy developed in conjunction with Mr. Brunner's consultancy, on the condition that he agree to manage the business and launch the strategy. From February 1998 through September 2000 he served in the capacity of president for retail operations with Adidas America. In this capacity he planned and managed the development of the Adidas in-line retail stores now open in Los Angeles, Seattle and Boston. In addition, he coordinated the development of the organizational structure and rollout strategy for this business.
Mr. Brunner attended Western Connecticut State College and did graduate work at UCLA.
Barbara Brunner, vice president product development:
Ms. Brunner has over 25 years of retail experience. Her career started with GAP in 1975 as an assistant store manager. She quickly became a store manager and then a senior store manager responsible for overseeing the Washington DC metro. In 1980 she was tapped to become one of the first managers in the new Banana Republic Division, where she opened and successfully managed the South Coast Plaza store. In 1982 she joined Ann Taylor to manage the Beverly Hills and Century City stores. As a training manager she was instrumental in developing top store talent for this prestigious retailer.
In 1990 Ms. Brunner co-founded Planet Stores in Seattle Washington. Planet quickly became a recognized leader in the market and grew to five stores in the Pacific Northwest. By 1998 the retail scene was beginning to change and the Brunner's sensed an opportunity to develop a quality lifestyle business that focused on personal care. The new business would go beyond just body care creams, lotions and essential oils. It would extend into the other areas this customer spends her personal time in, such as yoga and fitness training.
In 1999 the Planet store locations were sold and the idea for Bluespa began to take shape.
6.2 Personnel Plan
From 2001 through 2005 we will grow in head count from ten to sixty-five. The majority of this growth will come in store personnel, going from four in 2001 to 32 in 2005. This will be a direct result of adding retail locations. Our support staff will grow from six to thirty-three in the same period. During this time frame our wholesale revenues are planned to grow almost exponentially. We believe the plan shows a controlled and conservative ramp up of personnel. In the first year (2001) we will fill the following critical positions: vice president of product development, director of retail and spa operations, director of finance, creative director and administrative manager. In the first years of
Financial Plan
Bluespa will become profitable in our third year of operation. Initial growth will be financed by a combination of equity investment and debt financing. Our ratios are well within prudent limits and our growth plans are challenging, but realistic. The tables in this section explain the detail behind our financing plan and our growth plans.
7.1 Important Assumptions
Our assumptions are detailed in the proceeding tables. We have planned for relatively slow but stable general economic growth and an interest rate on borrowing of 9.5%. Because our business is a combination of retail and wholesale our collection days may look somewhat optimistic. That is caused by our assumption that approximately 70% of our retail sales will be done on credit cards and debit cards. There is a three-day payment lag on these sales. We assumed that wholesale customers would pay on an average of 50 days and that in year one 60% of our business would be on terms. As we develop our customer base (at wholesale) this number is ramped up to 80% by year five. (Our terms will be C.O.D. on all opening orders.) Our payments to vendors are assumed at 45 days.Appendix