Trump Government Imposes New Iran Sanctions over Missile Tests
The Trump government imposed new sanctions on 3rd February, Friday on nearly two-dozen individuals and companies in response to Iran's recent missile tests, quickly moving to increase the pressure on the regime after putting Tehran "on notice" earlier this week.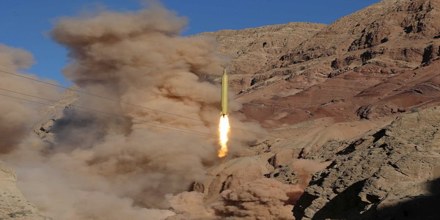 In a statement Friday morning, the Treasury Department published a list of 13 individuals and 12 entities facing new restrictions, some for contributing to proliferation of weapons of mass destruction and others for links to terrorism. The entities include companies based in Tehran, United Arab Emirates, Lebanon and China.
The Trump administration has taken a hard line on Iran, banning its citizens from entering the U.S. and accusing the nation of interfering in the affairs of U.S. allies in the Middle East. While such an approach could satisfy hawks in Washington who were never comfortable with President Barack Obama's tentative rapprochement with Iran, it could also unsettle domestic Iranian politics where President Hassan Rouhani is seeking re-election in May.
The president's national security team had previewed possible action earlier in the week, with National Security Adviser Michael Flynn saying Iran was "on notice" and Trump warning Friday morning on Twitter that Iran was "playing with fire" with its recent actions.
The sanctions, coming in the first weeks of Trump's term, reflect his administration's desire to take a strong stance toward Iran from the start. Throughout his campaign, Trump accused the Obama administration of being insufficiently tough on Iran and vowed to crack down if elected.
A senior administration official said they are prepared for further sanctions against Iran.
None of the new sanctions announced Friday appear to reverse the Obama administration's suspension of sanctions as part of the 2015 nuclear deal.
Nevertheless, the action will almost surely increase tensions with Iran.
The Islamic republic has insisted that new sanctions violate the deal and that it has the right to conduct ballistic missile tests now that its nuclear program has been sharply curtailed. The U.S. and Western countries argue otherwise, noting that Tehran agreed to an eight-year extension of a ban on ballistic work in nuclear negotiations two years ago. That agreement was concluded in parallel, but separately to the nuclear accord.
Reaction about New Iran Sanctions over Missile Tests
Shortly before Friday's announcement, Iranian Foreign Minister Javad Zarif defended his country's actions, saying on Twitter: "Iran unmoved by threats as we derive security from our people. We'll never initiate war, but we can only rely on our own means of defense."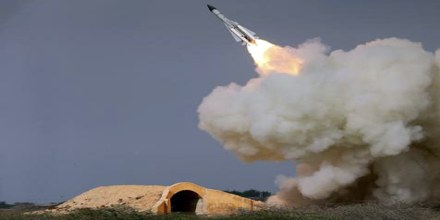 "Our missile drills are a show of our might," added Tehran Friday prayer leader Ayatollah Ahmad Khatami. "We are living in a world of wolves — wolves such as the arrogant government of America. In this world of wolves, should we remain unarmed and they do whatever damn things they want? No way! This will never happen!"
In Washington, lawmakers who have sought a sterner policy toward Iran applauded Trump's decision.
"It is a new day in U.S.-Iran relations," Bob Corker of Tennessee, the Senate Foreign Relations Committee's Republican chairman.
House Speaker Paul Ryan said the "swift and decisive response proves that our new administration is serious about holding the Iranian regime accountable for its illicit behaviour."
Mark Dubowitz, CEO of the Foundation for Defense of Democracies and a critic of the Iran deal, praised Friday's announcement as a "good start" but warned the "procurement networks" targeted could be reconstituted.
"The Trump administration should adopt ideas promoted by Congress that sanction key nodes of Iran's economy and the international companies involved in supporting Tehran's missile program. Unless the Iranian regime pays a severe price for its malign activities, they are unlikely to stop," he said in a statement.
Nuclear Deal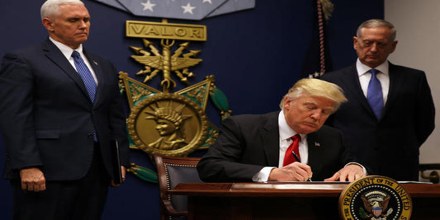 The White House said that while the sanctions were a reaction to recent events, they had been under consideration before. It added that a landmark 2015 deal to curb Iran's nuclear program was not in the best interest of the United States.
White House spokesman Sean Spicer said the missile test did not violate the nuclear agreement.
Citing a foreign ministry statement, Iran's semi-official Fars news agency said the missile program is "the undeniable and inalienable right of our nation under international law and the UN charter. Any foreign interference in this regard is a violation of international law."
The sanctions' impact will be more symbolic than practical, especially as they do not affect the lifting of broader U.S. and international sanctions that took place under the nuclear deal.
Also, few of the Iranian entities being targeted are likely to have U.S. assets that can be frozen, and U.S. companies, with few exceptions, are barred from doing business with Iran.
Meanwhile, the U.S. moved a Navy destroyer, the USS Cole, close to the Bab al-Mandab Strait off the coast of Yemen to protect waterways from Houthi militia aligned with Iran.
Designations
German Foreign Minister Sigmar Gabriel on Friday expressed understanding over the sanctions, but warned against conflating Sunday's test with the nuclear deal.
Earlier on Friday, Trump tweeted: "Iran is playing with fire". U.S. Senator Mark Warner expressed support for the sanctions, adding:
"I urge the Administration to bring clarity to their overall strategy towards Iran, and to refrain from ambiguous rhetoric – or provocative tweets – that will exacerbate efforts to confront those challenges."
Some of the entities sanctioned by the U.S. Treasury are based in the United Arab Emirates, Lebanon and China.
"This announcement makes clear that it is a new day in U.S.-Iran relations and that we will no longer tolerate Iran's destabilizing behavior," Senate Foreign Relations Committee Chairman  Bob Corker, R-Tenn., said in a statement. "A coordinated, multi-faceted effort to pushback against a range of illicit Iranian behavior is long overdue."