People are a key resource, critically influencing every element of strategic management of businesses (Millmore et al. 2007, 5). Managing human resources effectively in alignment with company"s strategy has become a critical success factor for companies to keep up with the constantly changing business environment and a tough competition. Nowadays, the human resource management is a scientific field with very high business relevance, higher than ever before and therefore many practitioners focus on this area either academically or professionally.
One of the major objectives of fruitful human resource management is to ensure that the company and its people will be ready to face current and future challenges in order to succeed in the market. Employee development and training is an area of human resource practice that directly focuses on this. It is a complementary part to efficient recruitment and selection of personnel – it enhances, develops and improves the skills, knowledge, behaviour and attitudes that employees bring with them when entering the company.
In the field of Human Resource Management (HRM), Training and Development (T&D) is the field concerned with organizational activity aimed at bettering the performance of individuals and groups in organizational settings. Training and Development is a continuous learning process that involves the acquisition of knowledge, sharpening of skills, concepts and rules or changing of attitudes and behaviors to enhance the performance of employees in the organization.
In simple words, Training and Development refers to the imparting of specific skills, abilities, knowledge to an employee in order to enhance knowledge and skills of the employees.
According to Raymond Training and Development is-
"It is any attempt to improve current or future employee performance by increasing an employee's ability to perform through learning, usually by changing the employee's attitude or increasing his or her skills and knowledge."  – (Raymond A. Noe, Employee Training and Development, 3rd Edition.)
Training and Development plays an important role in the effectiveness of organizations and to the experiences of people in work. Training has implications for improving productivity, health and safety at work and personal development. All organizations employing people need to train and develop their staffs.
Most organizations are aware of this requirement and invest their resources in Training and Development. Such investment can take the form of employing specialist Training and Development staff and paying salaries to staff undergoing Training and Development. Investment in Training and Development entails obtaining and maintaining space and equipment. It also means that operational, personnel, employed in the organization's main business functions, such as production, maintenance, sales, marketing and management support, must also direct their attention and effort from time to time towards supporting Training & Development and delivery. This means they are required to give less attention to activities that are obviously more productive in terms of the organization's main business.
Training may be defined as planned program to improve performance and bring about measurable changes in knowledge, skills, attitudes and social behavior of employees for doing a particular job. A formal training is an effort by the employer to provide opportunities for the employee to acquire job-related skills, abilities and knowledge.
Development refers to those learning opportunities designed to help employees to grow through education. Development programs help the executive to increase analytical ability of the high level executives.
Development is not primarily skill-oriented. Instead, it provides general knowledge and attitudes which will be helpful to employees to increase conceptual skills. Efforts toward development often depend on personal drive and ambition and organizational policies. Development activities, such as those provided by Management Developmental Programs, are generally voluntary. Development is an ongoing education to improve cognitive knowledge and conceptualizing skills of the executive level people in the organization.
However, investment in Training and Development is generally regarded as long term investment for ensuring skilled and high qualified manpower for meeting future challenges and organizational growth.
BACKGROUND
Training and developments is an important part for any organizational activity. Training provides knowledge and skills required to perform the job effectively. Training can and often does, cost considerable terms of money. Training and development is very essential-
To prepare employees for their jobs and the place where they can adjust into the organization and can perform their job properly
To prepare more established members of the company for new tasks and techniques for meeting new challenges and changes
To help resolve 'gaps' that analysis has suggested exist in the 'skills bank' possessed by either individuals or the total work force of company
To enable manpower to adapt more easily to innovation and change for organizational betterment
To promote, transfer or upgrade individuals or groups of workers for improving productivity and skills of workers
So, as a student of MBA while the major subject is Human Resources Management this study is very effective and time demanding to analysis the ability, skill, performance, adaptability of the employees deeply of  any organization through training and development.
On the other hand, this study was an attempt to produce a constructive and analytical research report on Training and Development Program as a partial fulfillment of the requirement of Masters of Business Administration Degree from Atish Diponkar University of Science & Technology, Dhaka.
SIGNIFICANCE OF THE STUDY:
In this modern age, electronics has great importance.  As we see in our daily life, electronics is playing huge role in our life including each and every field. So we can't live without electronics in this time.  We are totally dependent in electronics; every activity of our life is connected to electronics directly or indirectly as for example-The American public is dependent on the usage of many electronics in their lives such as the television.
Though Bangladesh is an agro based developing country but in modern era we cannot think without electronics. Electronic goods and device has made our life easier and comfortable. Electronic sector is one of the most important sectors for a country's wealth building activities. At present the modern business, industrialization, foreign trade even daily recreation all depends on electronic device. There are so many companies that are playing an important role towards the growth and economic development of Bangladesh which are associated with electronics. Among the companies Rangs Electronics Ltd. is one of the leading companies. Rangs Electronics Ltd deals with assembling, manufacturing, retailing distribution, import, export and marketing of electrical & electronics products in the local market and abroad. At present the number of total manpower 1815 who are fully trained & experienced personnel at all levels in the field of manufacturing, marketing, sales, distribution, finance & accounts and also audit.
Consistently strong performance of any organization is the result of the team of committed, knowledgeable and dedicated employees who are focused on achieving the excellence. According to the HR professionals working for the HR Division, "Human resources is the most valuable asset for the organization." Every organization is committed to recruiting high-caliber employees and providing them with the motivation, training, working environment and compensation package they need to perform at the highest level. In REL HRM division recruits such manpower analyzing their skill and experience of the employee.
CORPORATE PROFILE OF RANGS ELECTRONICS LTD.
COMPANY PROFILE:
Rangs Electronics Ltd. is one of the sister concern of Rangs Group of Companies (RGC) which  is one of the most reputed and largest group in Bangladesh. The Group has always been known as a pioneer in the field of consumer technology in Bangladesh. The company was registered under the Companies Act of 1913 and was incorporated in Bangladesh on 29th March, 1984. In course of time the company has spread its branches in various field of business and achieved remarkable success. At present there are sixteen sister concerns and each of them is a complete division with individual strategy & policy and employees. Such as:
Rangs Electronics Ltd,
White Products & Electronics Ltd,
Sky Bangla Aviation Ltd,
Sharp Travels Ltd, Pharmasia Ltd,
TVS Auto BD Ltd,
Hussain Trading Co Ltd,
Dion Industrial Co Ltd,
REL Motors Ltd,
REL Plastic Recycling Ltd,
REL Telecommunication Ltd,
REL Petro Chamical Ltd.
Rangs has achieved the name of trust of the customers. Customer satisfaction is the prime focus of all its Divisions. The group stands in the front line in paying Government revenue also.
CORPORATE MISSION & VISION OF RANGS ELECTRONICS LTD.:
Providing the population of Bangladesh with modern technology by offering quality products and proper after-sales-service through multi distribution channels to make their lives easier, more comfortable and convenient.
The objective of our mission is by establishing a congenial working place with content employees and by offering quality products at reasonable prices we want to create a bond with every customer in order to maximize profit through perfect competition.
REL is one of the reputed organization in Bangladesh . REL is also pioneer in the field of electronics & electrical products in Bangladesh. REL enjoys number one position in assembling, manufacturing , buying, selling, importing, exporting, repairing, exchanging, dealing and marketing all sorts of electronics & electrical goods including Color Television, Hi-Fi, Radio Cassette Corder (RCR), CD, VCD, DVD Player, VCP, VCR, Digital Camera, Mavica, Cyber shot camera, Radio, Home theater, Telephone, Cordless Telephone, Battery, Headphone, Micro-Cassette Corder, Handycam, Walkman, Refrigerator, Deep freezer, Washing machine, Micro-Oven, Gas Burner, Gas Oven, Black & White TV, Voltage Stabilizer, Fan, Air Conditioner, all sorts of kitchen appliances incandescent light and ballast for better illumination. In 1978 the company started with only one 12" black & white TV and one RCR of SONY. Now almost 350 (Three Hundred Fifty) number of products in our product line up.
REL, is the authorized license from SONY CORPORATION, TOKYO, JAPAN. for assembling, marketing and distributing all sorts of SONY Products in Bangladesh. REL is also authorized distributor world famous brand like AIWA, FUJI and it has own brand RANGS. REL is also dealing with big projects in the fields of telecommunication, television broadcasting, transmitters, radars- especially weather radars, steel bridges, marine port infrastructure and equipments etc.
REL, aim is to achieve business excellence through quality product by satisfying consumer expectations. REL, has a network of 54 Sales & Service Center and more than 150 authorized dealers throughout the country to offer the products and services at consumers doorsteps. Most of our products carry a warranty for one to five years. REL, always committed to provide service to the consumer and no sacrifice for quality. Necessary spare parts and well trained technicians are available with all our Sales and Service Centre. That's why REL is the biggest marketing company of Electronics and Home Appliances in Bangladesh occupying 35% of the total color TV market share and 15% market share of home appliances.
The management of Rangs Electronics Limited (REL), is dedicated to its commitment of quality and all employees of the organization fellow documented procedures to ensure quality standards. Our strength lies in our fully dedicated and quality team of sales personnel's. The team has some of the best salesman, marketing professionals, financial experts. Each area of work is departmentalized on a purely functional basis and is directed to achieve qualitative superiority.
NATURE OF BUSINESS:
Assembling, Manufacturing, Retailing Distribution, Import, Export and Marketing of Electrical & Electronics products in the local market and abroad.
Hypothesis of the Proposed Research:
As defined by Goode and Hatt (1952), "A hypothesis is a proposition which can be put to a test to determine it's validity. It was seem contrary to, or in accord with common sense. It may prove to be correct or incorrect. In any event, however, it leads to an empirical test". A hypothesis simply means a mere assumption or some supposition to be proved or disproved. But for a researcher, hypothesis is a formal question that he intends to resolve. According to Kerlinger (1973), "A hypothesis is a conjectural statement of the relation between two or more variables. Hypothesis is always in declarative sentence form, and they relate either generally or specifically variables to variables". Hypothesis may be broadly divided into two categories, namely, research hypothesis and null hypothesis. In studying relationships between variables, an investigator first formulates research hypothesis which states anticipated relationships between the variables. However, for statistical test it becomes necessary to formulate null hypothesis. A null hypothesis states that there is no relationship between concerned variables.
Null Hypothesis Ho: There is no relation between training and development with job satisfaction of the employee of REL.
Alternate Hypothesis H1: There is a significant relation with training and development with the job satisfaction of the employee of REL.
Objective of the Study:
Considering the above facts and features this research project will be carried on under following objectives:
To find out the importance of training and development for improving employees productivity.
To find out the plans and programs undertaken by the Rangs Electronics Ltd. for implementing training and development.
To recommend Rangs Electronics Ltd. based on the research findings.
To find out the relation between training and development with job satisfaction.
METHODOLOGY OF THE STUDY
The methodology used in conducting any research is critically important and deserves careful consideration. It enables the researcher to collect valid and reliable information in terms of hypothesis or research instrument and to analyze the information properly to arrive at valid results.
Research Design:
The research has been done through face-to-face interviews with the respondents using the questions through a questionnaire (Anex-1). These questionnaires are the pillar stone of the study. The HRM manager, Training department principal, Executives and the employees has filled the questionnaires. The questionnaires were prepared based on two aspects, which were Training and Development. The questionnaires might also involve with whole of organization.
In order to research employee training practice in the electronics industry in Bangladesh, sample was focused to employers' side or people in the company accountable for human resource management, especially to training and development.
Sampling Design:
Sampling Frame:
In statistics, a sampling frame is the source material or device from which a sample is drawn. It is a list of all those within a population who can be sampled, and may include individuals, households or institutions.
Importance of the sampling frame is stressed by Jessen:
In many practical situations the frame is a matter of choice to the survey planner, and sometimes a critical one. Some very worthwhile investigations are not undertaken at all because of the lack of an apparent frame; others, because of faulty frames, have ended in a disaster or in cloud of doubt.
—Raymond James Jessen
For this project the employees of Rangs Electronics Ltd. from different sections will be under sampling frame.
Sampling Technique:
There are two types of sampling technique:
Stratified Sampling and
Survey Sampling
For this research project survey sampling technique had been followed. In statistics, survey sampling' describes the process of selecting a sample of elements from a target population in order to conduct a survey. A survey may refer to many different types or techniques of observation, but in the context of survey sampling it most often involves a questionnaire used to measure the characteristics and/or attitudes of people. Different ways of contacting members of a sample once they have been selected is the subject of survey data collection. The purpose of sampling is to reduce the cost and/or the amount of work that it would take to survey the entire target population.
Sample Size:
Sample size determination is the act of choosing the number of observations or replicates to include in a statistical sample. The sample size is an important feature of any empirical study in which the goal is to make inferences about a population from a sample. In practice, the sample size used in a study is determined based on the expense of data collection, and the need to have sufficient statistical power. In complicated studies there may be several different sample sizes involved in the study: for example, in as survey sampling involving stratified sampling there would be different sample sizes for each population. In a census, data are collected on the entire population; hence the sample size has to be equal to the population size. In experimental design, where a study may be divided into different treatment groups, there may be different sample sizes for each group.
The total number of employee in Rangs Electronics Ltd. is 1810 where except material and the employee are more or less 1400, the total respondents were 110 where they are divided in a way that can evaluate whole division employee in homogeneous way.
Data Collection:
For the purpose of data collection, an interview schedule was prepared. It was prepared keeping the objectives of the study in mind. The schedule contained both open and closed form questions. Direct and simple questions were included in the schedule to collect data on the selected dependent and independent variables. Appropriate scales were developed to operational the selected factors of the respondents.
To come up with pertinent findings and to provide credible recommendations, this study utilizes two sources of research: primary and secondary.  Primary research data was obtained through this new research study.
This research based its findings partially through quantitative research methods because this permitted a flexible and iterative approach. During data gathering the choice and design of methods were constantly modified, based on ongoing analysis. This allowed investigation of important new issues about employee training and questions as they arose, and allowed the researcher to drop unproductive areas of research from the original research plan. Data has been collected from different sources.
The Primary Sources of Data:
The primary sources of data and information has been collected:
Through questionnaire
Discussion with managerial level officials of Rangs Electronics Ltd.
Discussion with the officials of HRM division officials of REL.
Personal observation.
The Secondary Sources of Data:
The secondary sources of data have been collected from:
Annual report of the Rangs Electronics Ltd.
Web pages of Rangs Electronics Ltd.
Different Journals, Books, Newspapers, Magazines, Periodicals
Internet Browsing.
Methods of Data Collection:
Specific method of data collection has been used for collect data. The methods of data collection were as follows:-
Questionnaire Method: Before commencement of the study some particulars question for the study to gather information has been prepared (Anex-1). The questionnaire was both open-end and close-end type. The papers were supplied to the related personnel to answer.
Observation Method: To collect some information relating to the infrastructural & environmental matter an observation was conducted. Findings of this method are going to represent in the major findings section of this research report.
Open Discussion Method: To collect some information relating to the organizational structure, training and development procedure open discussion method has been followed. Findings of this method will be represented in the major findings section of the research report.
Thus by using the above methods the data has been collected from Rangs Electronics Ltd. to prepare the research report.
Data Analysis:
When the entire survey questionnaire was collected, the researcher used statistics to analyse all the data. The researcher was assisted by the SPSS in coming up with the statistical analysis for this study.
The collected data were compiled, coded, tabulated and analyzed in accordance with the objectives of the study. Qualitative data were quantified by means of suitable scoring techniques. The statistical measures such as range, mean, standard deviation, percentage distribution and rank order were used to describe both the independent and dependent variables.
Limitations of the Study:
There are a few limitations faced while conducting the study. Some of these limitations are as follows for further study:
Some parts of the data used in the report are given on an approximate basis due to Company's tendency towards confidentiality. It also served as a major limitation.
Lack of required information, which is the main obstacle I have faced to prepare this report. Another reason of insufficient information in this study is lack of information, as the employees were busy.
Difficult to collect the necessary information (sometimes difficult to realize the actual required information)
Time is always a constraint to prepare this report.
Lacking of practical skills as I am not enough experienced. Since I carried out such a study for the first time so experience is one of the main factors that constitute the limitation of the study.
Having a lacking in required knowledge about different situational requirement.
Office secrecy was one of the most important problems. Not all the officers of the REL were opening minded. Disclosing of some information was restricted.
REVIEW OF LITERATURE
Training and development of employees is one of the important parts of human resource management. Jackson and Schuler (2000, 2) claim that tomorrow"s most competitive organisations are working now to ensure they have available tomorrow and a decade from now employees who are eager and able to address competitive challenges. I have decided to focus on learning and development of employees because of the huge contribution it makes to achieve this goal.
Training and development of employees are terms that are often used interchangeably. Noe et al. (2008, 400) defines development as the acquisition of knowledge, skills and behaviors that improve an employees ability to meet changes in job requirements and in client and customer demands. Training, on the other hand, is defined by the same author as a planned effort to facilitate the learning of job-related knowledge, skills and behavior of employees (Noe et al. 2008). Table 1 explains the differences between training and development as perceived by Noe et al.
Table 1: Comparison between Training and Development
| | | |
| --- | --- | --- |
| Issues | Training | Development |
| Focus | Current | Future |
| Use of work experiences | Low | High |
| Goal | Preparation for current job | Preparation for changes |
| Participation | Required | Voluntary |
According to Jackson and Schuler (2000, 350) training refers to improving competencies needed today or very soon and development refers to improving competencies over the long term. Milkovich and Boudreau (1997, 408) basically agree by saying that development is a long-term process of enhancing employee capabilities and motivation to make them valuable future members of the organization. They incorporate training into development as one of the experiences. Training is by the same authors perceived as a systematic process to foster the acquisition of skills, rules, concepts or attitudes that result in an improved match between employee characteristics and employment requirements. I personally prefer the definition of training of Note et al. due to its preciseness and clear distinction between training and development. The term learning in Armstrong's  perception  evokes in me and reminds me of the term education. In my thesis I am going to use the term learning in Armstrong's perception and as a similar term to education. The term training and development I will use according to the definition of Noe et al. (2008).
The adoption of quality management practices has long been associated with an increase in the provision of employee training. The founders of quality practice in manufacturing emphasized the importance of employee development, education and training for the improvement of quality performance and firms or organization seeking to implement quality management has consistently found it necessary to improve their training effort (Deming 1982, Ishikawa 1984). The organization pursuing a quality strategy have found it necessary to invest in 'human–capita–enhancing' activities such as training, in order to enhance performance improvements in productivity and customer satistisfaction (Youndt, Snell, Dean and lepak 1996).
Employees require some training in order to manage the enlargement of their work role following the delegation of responsibilities for quality, they also require some training in non-technical skills to be able to participate in quality improvement activities and  they need a broader range of skills in order to flexibly respond to changing customer and market requirements (Schonberger 1994). Training for quality management requires the development of specific skills sets that support quality management practice, but also to ensure the achievement of the broader quality mission of improved firm competitiveness (Dertouzos, Lester and Solow 1992). The success of the quality strategies adopted by the firm and the effectiveness of the quality management system employed within the firm are dependent upon the supply of appropriately skilled labor (Mason, Van Ark and Wagner 1996, Paris 1995).
There are well established links between the provision of employee training and use of quality management practices but there is some debate about the extent to which the two practices may work together to enhance performance outcomes. Several empirical studies of enterprise training and performance have to found no necessary link between employee training and use of other management practices (d' arcimoles 1997, Bartel 1994, Hozler. Block, ceatham and knott 1993). These studies suggest that training, in and of itself., can enhance the performance outcomes of organization.
Snell and Dean (1992) found that the use of advanced manufacturing technology and the use of the quality practices were both associated with the 'comprehensiveness' of employee training but they found no interaction effects from the use of these practices in combination.
Bartel (1994) examined job redesign, performance appraisal and employee involvement, finding that training was 'unaffected' by the implementation of these practices. In its performance enhancing effects, Bartel used a value added measure of productivity based upon net sales per employee and found that the introduction of the new training programs led to a productivity gain of 18.86% over three years. Significantly, this gain applied across the board of low performing and high performing companies, leading Bartel (1994) to observe that: the implementation of formal employee training programs can enable business that are operating at below-expected levels of labor productivity to eliminate this gaps."
Holzer, Block, cheatham and knott (1993) studied the effect of training grants on organization training effort and found that the one of training grants led to a tripling of the training effort during the period of the grant. This increased training effort was associated with a 0.5 to 0.7 persentage points decline inn the scrap rates, a gain which persisted after a decline in the training effort. It was the extent of the training effort that seemed to influence improvements in quality outcomes rather then any necessary use of quality practices.
D'Arcomoles (1997) examined the effects of employee training upon the financial performance of 61 French firm and found there were significant immediate and lagged effects. Expenditure on training by firms was associated with 'immediate and permanent' improvements and productivity and profitability. Leading d' Arcimoles (1997) to find that; substantial training expenses seem to be a good sign of future economic performance"
Training some would suggest, has a direct effect on productivity, internal quality and financial outcomes for firms. By raising the general level of skill and enhancing the human capital of the firm. This effect is seemingly independent of the application of quality management and other management practices. Employee training, of this view, is a stand alone practice the practice that leads to effective task performance on the part of employees and this reflected in enhanced firm performance.
Employee training has frequently accompanied the introduction of total quality management programs. A survey of fortune 1000 companies in 1993 ( Lawer, Mohrman and ledford1995) found 72% US firms had provide some training in problem solving skill and 63% had provided some training in the use of quality tools, when introducing quality management practices.
Australian firms, likewise, have implemented employee training programs in order to support the introduction of quality management practices. Australian manufactures (Allen Consulting group 1999) found the improvement in quality (93%) and competitiveness (88%) were the most common objectives of firms implementing training. Whilist smith and Hayton (1999) in there survey of Australian  firms, found that an emphasis upon quality improvement was "a consistently significantly driver of enterprise training."
The emphasis placed upon training by Australian firm to achieve quality objectives is supported by the available case study evidence (Rimmer, Macneil , Chenhall, Langfield –smith and Watts 1997, Dawson 1994, Dawson and Palmer 1995) and survey evidence (Park Erwin and Knapp 1997, smith and Hayton 1999). Park, Erwin and Knapp (1997). For Example, surveyed 47 of the largest firm in the Australian automotive industry and found that 89% provided training in problem solving skill and 81% provided training in the use of quality tools.
Training delivers grater  benefits, some scolers argue. If management focuses upon the strategic effectiveness  of that training rather than the simply upon it ability to enhance employee task effectiveness. Employee  training of a greater value to the firm in developing human capital its affects is mediated by the quality management system. If organization specific skill are developed that not only improve the skill of individual employees but also enhance the effectiveness of the quality management system.
This line of argument posits a mediated effect as an explanation for the effect of training upon performance. As a counterpoint to the direct effect examined above, the strategic effectiveness thesis holds that there are a benefits to be derived from employee training. If that training is part of consistence set of human resource management practices (Brown, Reich and stem 1993) and that set of human resource management practices is aligned to production practices for the achievement of strategic business objectives. If there is internal consistency in the work and production system of the enterprise. then this generates a systemic benefit that is reflected in higher performance (Mac Duffie 1995). In the case quality, the strategic effectiveness thesis holds that the training effort should be targeted to the type of quality management program.
FINDINGS
The findings of the study and interpretations of the results have been presented in this Chapter. study. The first section deals with the selected characteristics of the respondents, while the second section deals with the training and development of the employee and their assesment.
Distribution of the Employees in Different Sector: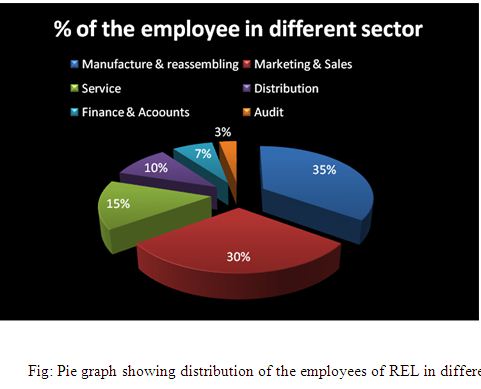 Through open discussion, observation and secondary data source it was found that maximum employees (35%) of REL involved in manufacturing and reassembling department and 30% employees involved in marketing and sales department while it was found minimum in audit department (3%). REL, aim is to achieve business excellence through quality product by satisfying consumer expectations. REL, has a network of 54 Sales & Service Center and more than 150 authorized dealers throughout the country to offer the products and services at consumers doorsteps. So their maximum employees engaged in sales and service department after production, manufacturing and reassembling sector.
Selected Characteristics of the Employees (independent variables)
Five characteristics of the employees were selected to find out their relationships with the training and development. The selected characteristics included age, level of education, farm size, annual income, agricultural knowledge, extension media contact, cosmopoliteness, innovativeness and attitude towards modern agricultural technologies. These characteristics of the farmers are described in this section. The findings on the selected characteristics of the presented in Table 4.1.
 Age:
Age is an imporant factor in job sector. In REL the rang of age of the employee were between 20-68 where the average age of the employees were 42.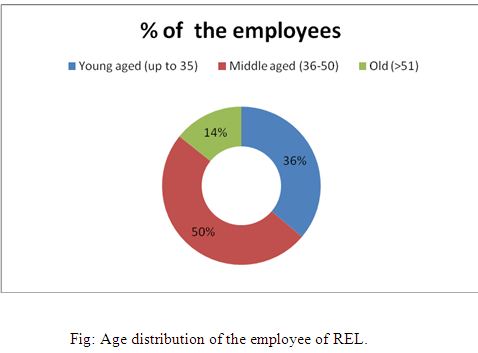 Among the employees of REL maximum employees (50%) were middle aged i.e., between 36-50 while minimum (14%) employees were old aged. On the other hand, only in marketing and sales department the maximum employees were young aged but in the all other department, the maximum employees were middle aged.
Education Level: 
Among the employees of REL maximum employees (36.21%) have completed achieved their Bachelor degree while minimum (13.14%) employees have completed their masters. On the other hand, in marketing and sales department the maximum employees have completed their bachelor degree.
Dependent variables:
Amount of Training Available
According to the study, 100 percent of the employees in the REL organizations are eligible for training. In 2010, 80 percent of those employees received some sort of training. But only 58 percent of the people surveyed in this research received training within the ten months prior to the study. However, for people employed by companies with more than 840 employees i.e., 70 percent received some sorts of training.
Among the training division maximum employee has taken training on manufacturing and reassembling of the goods in REL where as minimum number of employee has gotten training on audit. Actually maximum number employees engaged in manufacturing and reassembling department. Without training it is not possible for them to be aware about the new product.
Employees satisfaction level on duration of training:
Maximum numbers of employees were satisfied on above 5 days training while few employees are dissatisfied on training. Maximum 51% employee was satisfied at more than 20 days training. But a great percentage (32%) of the employee did not comment about training.
Training Method:
An employee's satisfaction with training and the effectiveness of that training are very dependent on the method in which the material is presented. More than half the respondents (68%) indicated that they learn best via on-the-job training.  Additionally, the job instruction technique is the most suitable method according to the employees of REL while lecture is the most suitable technique for off-the –job training method.
REL deals with electronic products. So for the manufacturing reassembling of the products as well as to have concept about the new product, is on the job training is very essential. The other hand to give idea about the new products to the customer, leaf-let, booklet or any other equipment is essential for the employees of REL who are doing job in sales and service section.
Employee Empowerment in Development
A key tenet of the REl is empowering their employees and supporting that empowerment. The company put the responsibility for development on the individual employees, then go to great lengths to support these effort support comes from higher level of the employees such as manager deputy manager that worker knowledge is significant to business success. The REL derive on creative ideas and ingenious ways of doing things therefore, they must have employees who are constantly looking to learn and grow professionally. REL main target is to sale their products and want to present their finishing products in a way that the customer will want to buy at a first glance. But no good is free from error. So when any problem arises they have full confident on their employees that they will able to solve the problem while the customer will be not unhappy.
In REL 64% employees think that they take instant decision about the product and higher authority remains satisfy with their decision. During training program and audits report proves the statement.
About 42% employee strongly agreed that training is very essential for a company to build up their decision making ability and professionally while 30% employees remain neutral on it.
Table : importance of training in profetionality.
| | | | | | |
| --- | --- | --- | --- | --- | --- |
|   | Strongly agreed | Agreed | Neutral | Disagreed | Strongly disagree |
| Training helps in current position | 10% | 66% | 22% | 1% | 1% |
| Training helps to develop the employees for higher level of job | 48% | 27% | 21% | 4% | 0% |
 About 66% indicate that their training has helped them improve in their current positions while 48% respondents strongly agreed that training helped there in preparing themselves for a higher level job.
Organizational Culture:
One of the most significant success factors for the REL is their organization culture with which their employees can identify and take pride. They ensure that the opportunities for growth and support mechanisms for their employees to move from training to development. RELs theme trust me feel me then you will buy me. This theme is not true for the product but also true for the employees. REL want to represent their employees, in such a way in which the customer remains pleased.
REL is engage in human performance management practices. They clearly identify and define the knowledge skills and abilities related to each job with n the company. Upper managerial level help the employees to evaluate their skills and utilizes them too and achieving career goods.
In REL more than half 53% respondents agreed that after training assessment is essential to establish proper training system.
It indicates that the average job period of the employees are 4 years which indicates that the REL has good cultural practices that is way the employees of REL is interested to continuing their job here.
Recruitment and Retention:
The REL believe that continuous employee development initiatives are integral to recruitment and retention. In a standard survey, they all ranked "employee growth and development" and the "chance for advancement" a very important in these initiatives. 42% considered that training is very important in determining whether or not they will stay with the company.
About 78% deem training "very" or "somewhat" important when pursuing a new job opportunity. Development opportunities are clearly valuable in the recruitments and between of employees. Therefore, companies must have systems in place to keep the link between them.
Job Satisfaction:
No matter what type of recruitment and retention efforts a company makes, most employees will not stay with an organization if they are not happy. Although job satisfaction factors can be very unique to each individual, training and development are most important to most people. More than 505 of the respondents received training with in the past year identified themselves as satisfied. Only 10% indicated a level of dissatisfaction.
Correlation:
A direct correlation was also found between the amount of training received and job satisfaction. More training lead to higher satisfaction, while less training lead to lower satisfaction. Even higher levels of satisfaction were found among workers who had input into training decisions. Although about one-third of the respondents are neutral on the issue of training and job satisfaction, many of these people may have no opinion because they are not aware of the opportunities they could have. People may not believe training and development are important because they are not exposed to it, or they function in a culture that trains for the sake of training rather than using it as a business strategy.
The REL use training and development as a business strategy, and they have higher job satisfaction rates than the average companies in their industries. They know they have high employee satisfaction because they track it along with applicants, new hires, and turnover. They each believe that their employees are satisfied because they make such a large investment in them. Not only do they provide growth and development opportunities, but they supplement them through fair and equitable human resource practices. All employees are given equal opportunities for development if they each take ownership for their goals and action plans. The systems they have in place to develop and support employees allow for individuals to find intrinsic value in the work they do. Although extrinsic benefits are useful and appreciated, there is no way to quantify the value of feeling good about one's job.
Employee development plans are not simple and cannot be viewed as a supplement to other business practices. They must be a part of the overall business strategy. Companies must not only offer training to employees, but they must empower employees to create career plans and determine their own training need. They must offer training through a variety of methods to accommodate different styles and needs. Most challenging, they must create an organizational culture that embraces employee growth and development as a key factor in business success. The drive for training initiatives cannot come just from the Human Resources department. It must be an underlying philosophy of the entire company. This type of culture will allow companies to make the very important leap from training to development. Rather than viewing training as an entity in and of itself, training becomes one component of employee development that works in conjunction with such things as career planning, mentoring, performance review, and competency monitoring. Mangers must also understand employee development and their role in helping employees establish and accomplish their goals. Managers can be fatal to individual success if they are not invested in the culture of building human capital. Additionally, employees must initiate and maintain their own success. Employers can help them along the way, but they must use that empowerment to grow and develop.
Recommendations :
The information in this study can be used in many different ways by a variety of organizations. Although the companies in the REL study are portrayed as somewhat ideal, they do not offer perfect solutions in all situations. The key point is that companies must put the utmost value on their human resources and develop a culture and practices that show that type of commitment. People need to feel like they are making a significant difference to business success or they will run out of reasons to do their jobs well. Although all companies cannot develop corporate universities and offer extensive opportunities for internal promotion, they can help people develop career goals and action plans to develop throughout their careers. Some companies may find that they develop employees who leave and utilize their knowledge and skills for other companies, but they will also find that they are engraining a sense of loyalty from other employees. The risk of losing employees is worth the benefit of keeping loyal and satisfied employees.
In some cases the employees are not happy with company's salary structure but quit happy on leave structure as they get their total yearly leave. On the other hand the company deals with only electronics product so this research is not applicable for all other company but can give a idea to the HRM for the importance of Training and the way of development of the employee.
Conclusion:
All of the research objectives for this study were attained. Through an extensive review of current literature and an examination of a qualitative and a quantitative study, the role and importance of employee development program were displayed. The study shows the significance of development opportunities on employee retention and the value of employee development for business success. This chapter will give an overview of how each of the
It was found that maximum employees (35%) of REL involved in manufacturing and reassembling department and 30% employees involved in marketing and sales department while it was found minimum in audit department (3%).  Their age and educational level indicates that the employees of REL very experienced and they are good trainer for the follower which shows significant relation with their job satisfaction and duration of their employment in REL.
The organizational culture and recruitment and retention procedure also pleased the employees of REL. the empowerment of the employee really help them for their better growth and development.