Hospitality Industry: 
The hospitality industry is major service sector in the world economy. The industry encompasses an extensive variety of service industries that include food service, tourism and hotels. Hospitality industry suffers from fluctuations within an economical every year. Hospitality industry can be empirically divided into two parts: entertainment areas like clubs and bars, and accommodation. Accommodation takes the form of public houses, resorts, inn, campgrounds, hotels, hostels, serviced apartments, and motels.
 The clubs and bars category include restaurants, fast foods, and nightclubs.
The hospitality industry also includes tourism support commercial activities like airline cabin staff and travel agents. Travel technology like applied information technology (IT) and its workers in hospitality, travel and tourism are included in the hospitality industry.
A hotel is an establishment that renders lodging in lieu of payment. This lodging is usually given in exchange for a specified predetermined amount of money. Modern hotel rooms come equipped with climate control and attached bathrooms. Higher end hotels offer guests internet connectivity within rooms and also throughout the premises. A combination of meals and accommodation comes as a package in most hospitality establishments. Hotels are usually managed by professionally qualified managers. Junior workers usually maintain the hotel. Functions like cooking is usually done by professionally trained chefs.
Viewpoint of Lodging Industry:
As per we know about the hotel Industry in the world it's one of the most popular or new innovative and marvelous businesses in the whole world. In past it was too little and minimum business but now a day it highly income and maximum business in the world. Because we know that as a human being every one should go to another place for their recreation and have fun, do enjoy the environment and anything else. Hotels are in the growth stage. The demand for hotels is on the rise because more and more foreigners are visiting the country because huge amount of business is flourishing in Bangladesh. Moreover, people from other districts of the country need to come to the city for business purposes because garments and other industries are concentrated here. Because businesses are increasing in various sectors and hoteliers earn their revenue from these businesses, their demand is also increasing. Moreover, due to increase in business, people too are better off and so they can afford to stay in luxurious hotels in the city when they come here for business. In most cases, the company that the guests represent pay for their accommodation expenses when they are traveling.

Definition of Hotel
Commercial establishment providing lodging, meals, and other guest services. In general, to be called a hotel, an establishment must have a minimum of six letting bedrooms, at least three of which must have attached (unsuited) private bathroom facilities. Although hotels are classified into 'Star' categories (1-Star to 5-Star), there is no standard method of assigning these ratings, and compliance with customary requirements is voluntary. A US hotel with a certain rating, for example, is may look very different from a European or Asian hotel with the same rating, and would provide a different level of amenities, range of facilities, and quality of service. Whereas hotel chains assure uniform standards throughout, non-chain hotels (even within the same country) may not agree on the same standards. In Germany, for example, only about 30 percent of the hotels choose to comply with the provisions of the rules established by the German Hotels & Restaurants association. Although both WTO and ISO have been trying to persuade hotels to agree on some minimum requirements as world-wide norms, the entire membership of the Paris-based International Hotel & Restaurant (IH&RA) opposes any such move. According to IH&RA, to harmonize hotel classification based on a single grading (which is uniform across national boundaries) would be an undesirable and impossible task. As a rough guide: A 1-Star hotel provides a limited range of amenities and services, but adheres to a high standard of facility-wide cleanliness. A 2-Star hotel provides good accommodation and better equipped bedrooms, each with a telephone and attached private bathroom. A 3-Star hotel has more spacious rooms and adds high-class decorations and furnishings and color TV. It also offers one or more bars or lounges. A 4-Star hotel is much more comfortable and larger, and provides excellent cuisine (table d'hote and a la carte), room service, and other amenities. A 5-Star hotel offers most luxurious premises, widest range of guest services, as well as swimming pool and sport and exercise facilities.
History of Hotel Agrabad
The Founder and Managing Director Late Alhaj Mohammed Sabder Ali was established Hotel Agrabad in 1965. They started their business in the early part of the year 1971. From the start of their business, Hotel Agrabad has got very good response from the people of every part of the world. Hotel Agrabad has a good number of employees which is almost around 300. As because it is a business class hotel, so the main target market of this establishment is the foreign people who comes in Bangladesh for business purpose.
Though there are a good number of tourists spend their nights in this hotel, who comes to our country for traveling. Hotel Agrabad offers up to 50 percent discount for its corporate and group guests. Even they give 30 to 35 percent discount to its regular guests. In Hotel Agrabad guests generally reserve their rooms through telephone call, guest can reserve their room correspondence by mail and fax so on. Guests can reserve their room through its website as well. There is a reservation form in the website and to do reservation guests have to fill in the form correctly. Guest payment method is very much liberal here in Hotel Agrabad. Here guests can pay through cash (any foreign currency), credit cards, Visa card and traveler's check (TC). Guests are asked during the time of doing registration/check in that how they will pay, because the hotel management needs to know the method of payment of the guests for the security purpose.
Hotel Agrabad, "The Only Deluxe Class Hotel in Chittagong". Hotel Agrabad Chittagong, an international business hotel, ideally located in the heart of the Agrabad commercial area, Chittagong's financial business vicinity. The hotel is within easy access from Chittagong's ShahAmanatInternationalAirport and Port area, which encompass the Chittagong Export Processing Zone (CEPZ). At Hotel Agrabad, both the Business and Leisure traveller to Chittagong will experience a wealth of warmth and hospitality. From arrival to departure, their aim is to make guest stay, both enjoyable and efficient.
Establishment
Hotel Agrabad, "The Only Deluxe Class Hotel in Chittagong". Hotel Agrabad Chittagong, an international business hotel, ideally located in the heart of the Agrabad commercial area, Chittagong's financial business vicinity. The hotel is within easy access from Chittagong's ShahAmanatInternationalAirport and Port area, which encompass the Chittagong                  Export Processing Zone (CEPZ). At Hotel Agrabad, both the Business and Leisure traveller to Chittagong will experience a wealth of warmth and hospitality. From arrival to departure, their aim is to make guest stay, both enjoyable and efficient.
The Hotel offers deluxe accommodation in well-appointed guest rooms and suites. The panoramic views of the ChittagongCity, the majestic hills and the natural beauty of the tamarisk trees are all wonderfully complemented by luxury facilities and Bangladesh hospitality.
Hotel Agrabad is the first name in luxury and hospitality services for last three decades of the commercial capital city Chittagong of Bangladesh. It is true, a meeting paradise for the business travelers and tourist, integrated to provide an amazing range of service with 101 centrally air –conditioned rooms included 6 royal suites, banquet halls, valet and laundry services, swimming pool, beauty saloon, massage parlor, shopping center arcade, art gallery, banks, airline offices, three restaurant, bar, coffee shop, billiard room, business center, car rental, pharmacy, fitness club, safe deposit lockers, distinctive lobby lounge, roof garden, king size beds, weak up call system, concierge service and 24 hour  room service, Money Exchange facilities, Outside Catering Services. Hotel Agrabad is the ideal venue for Banquets/Conference, Seminars, Executive retreats, Board meetings and Parties.
'Hotel agrabad' – the five star hotels is nicely designed and decorated. It's a hotel of gorgeous and glamorous looking really attracts to all – the tourists or visitors, the foreigners, the people of host country and even me. Any kinds of guest become delighted to see its views and construction. Besides this Hotel Agrabad has a big lawn in front of the building. This Lawn is planted by green grasses, which are brought from other district of the country.
Hotel Overview
The Hotel has top of the grade rooms for the satisfaction of all strata of the society. The rooms are:
Executive Single 60
Executive Twin 04
Royal Single 23
Royal Twin 08
Royal Suite 06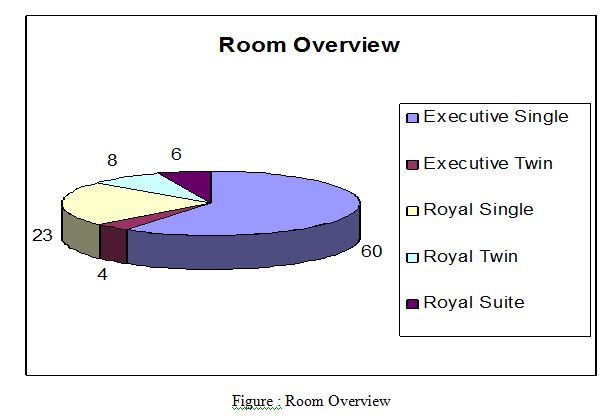 Vision of the Hotel
Vission of Hotel Agrabad is to be a world-class hotel, renowned for its service excellence and product quality.
Mission of the Hotel
Mission of Hotel agrabad will be providing a caring environment for our associates to learn, devolop, and grow for the customer providing a caring environment for our providing a caring environment for our associates to learn, develop, and grow for the customer providing a caring environment for our associates to learn, develop, and grow for the customer.
Objectives
The objective was to create a competitive advantage via delivering better experiences, including better food for the customer.
 Broad Objective
The broad objective of this practicum report is to "Explain the Current Activities of Different Departments of Hotel Agrabad."
Specific Objectives
To fulfill the broad objectives, the specific objectives of this report are as follows: 
To examine the present scenario of the Hotel activities practiced in  Hotel Agrabad
To find out all the problems and give solution of these problem
To identify departmental efficiency
To know actual feelings of the employees
To identify the perfect work
To gather experience from different areas
To determine the provable alternatives to solve all the problems
To analyze the way of implementation policy to overcome the problems which I have found in my study.
Organogram of Hotel Agrabad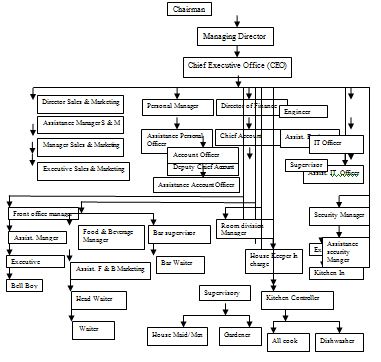 Agrabad Rooms Description
Executive Single: A room with one single bed for one person.
Executive Twin/Double: A room with two separate beds of similar size, each for one person.
Royal Twin: A room with a twin bed. May be occupied by one or more guest.
Royal Twin/Double: A room with large sized bed or two separate beds. May have one or two guest
Royal Suite: Two rooms interconnected one is bed room and the other one is living or sitting room.
Extra bad: An additional bed given to the normal arrangement of room
Services of Hotel Agrabad At present Hotel Agrabad is providing as well as offering the following services to the guests and the business like:
Individually controlled central air- conditioning
24 hours room service
Three specialty restaurants
Coffee Shop – serving multi-cuisine menu
Bar-well stocked choice of liquor
Travel Desk
Running hot and cold water
Money Exchange
BusinessCenter
Shopping Arcade
Laundry Service
Health Club/Fitness center
Swimming Pools
Safe deposit lockers
Beauty parlor and barber shop
Doctor on call
Luggage room
Elevators – 3 units
Power Generator
Rent A Car Service
Valet Service
Airport Transfers
Current Position of Hotel Agrabad
Hotel Agrabad started its journey from the year of 1971. This is the thirty-five years that Hotel Agrabad is performing their activities to satisfy the needs of their valuable guests.   The real positions of Hotel Agrabad in the year of 2006 can be figure out by mentioning the following key points:
Average 45% of room occupancy
Average Tk. 56 lac revenue in the last five months
Average 4 corporate per month
No media advertising, befitting the status of a five star hotel
No segment that we exclusively cater to
No publicity campaign
"Can do" atmosphere Brand awareness is high but brand image is average, thus not separating us from other hotels in Chittagong  Visible problems in commuting to Chittagong Packages are not selling instead are bending towards discount selling We are in the process of continuous change towards higher efficiency levels and Hotel Agrabad's marketing programs should reflect that.
Operations of Hotel Agrabad
To perform activities as well as to ensure the best service to the guest, the modern concept of departmentalization is very much important to the modern management. Actually departmentalization is nothing but a process in which an organization is structurally divided by combining jobs in departments according to some sheared characteristics or basis. Like the other five star hotel, Hotel Agrabad also continued its activities with several departments.
From the date of its journey as well inauguration Hotel Agrabad has segregated its entire activities in several working departments. Among them some are operational departments and some are non-operational departments.  The operational departments are like:
Housekeeping
Front Office
Food & Beverage Service
Food &Beverage Production
Other than these above operational departments, there are also some non-operational departments like:
Accounts
Sales and Marketing
Engineering
Security
Personnel and General Administration
Chief Executive Pools
Food & Beverage Department
 Food and Beverage Department
In Hotel Agrabad, there are three excellent restaurants under the food and beverage department of the hotel, named Mallika Dining Hall, Manini restaurant and Café Agrabad at the first floor of the hotel building. Those are offers to the guests the best Thai, and Chinese food. They also serve exquisite Bangladeshi, Thai and continental food for their guests. Every restaurant is ideal place for quick business lunch. The service personnel of the restaurant are very much efficient and cordial with the guests. Their target is to give the best service to the people who come to the restaurant to have their meal. The responsibilities of the food and beverage department are divided in to four parts. Those are: 1. Restaurant, 2. Banquet, 3. Bar service, 4. Room service. All the sections of food and beverage department are describing below:
Objective of Food and Beverage Department
The objective of food and beverage department is to sell food, drinks and services, to make profit as well as to make the customer satisfaction.
Restaurant
Restaurant is one of the most important segments of food and beverage department for any hotel. Here different types of delicious food are served to the guests. All the activity of Hotel Agrabad's restaurant are describing below.
Timing of Meals
As I said earlier that they have fine dining restaurant. The atmosphere of inside the restaurant is very nice. It is nicely decorated. The restaurant has special name, the name is Mallika. Mallika Restaurant remains open for 24 hours but there is a timing of every meal in the restaurant for the guests. The timing of breakfast is from 07:00 Hrs to 10:00 Hrs. Lunch time starts at 12:00 Hrs and ends at 15:30 Hrs. Dinner starts at 19:00 Hrs and continues up to 23:00 Hrs. Without this meal time sometimes guests may come in the brunch time to have chicken, beef or cheese sandwich or guests may come in the early evening to have delicious soups or any item of the restaurant.
The Mallika Restaurant offers exotic cuisine from the traditional South-east region in a cosy ambience. One of Mallika's specialities is its seafood, including prawns, lobsters, oysters, dry- fish, and traditionally cooked fresh- water fish.
Seating Capacity of Mallika restaurant
The seating capacity of the restaurant is around 50 persons. That means the restaurant authority can arrange seating of 50 guest at a time.
Manini Chinese restaurant
Food is pre-plated and the atmosphere informal. Table cover layouts are less elaborate and have basic essentials only. It is Chinese restaurant, provides a sophisticated setting in which to enjoy the best Chinese and Thai cuisine. Skilfully created, its menu encompasses a generous choice of seafood, shark's fin, abalone, barbecued meats and roast poultry, soups, noodles, desserts and delicious delights available for lunch daily. Basically it isoffers lunch and dinner for the guest. The timing of Lunch time starts at 11:00 Hrs and ends at 15:30 Hrs. Dinner starts at 18:30 Hrs and continues up to 23:00 Hrs.
Seating Capacityof Manini restaurant:
The seating capacity of the restaurant is around 50 persons. That means the restaurant authority can arrange seating of 50 guest at a time.
Café Agrabad
They serve snacks, drinks, as well as fast food in the Café Agrabad. It is situated beside the front office. People can sit here and refresh themselves. They cal also enjoy different types of TV channel. It remains open 10 a.m. to 11.p.m everyday.
Staffing
Restaurant is managed and operated by some very good employees who are efficient and experienced in the field. The head of the restaurant here is the assistant food and beverage manager. Under his control there are three captains who work throughout the whole day divided in to three shifts. Captains are supported by some efficient waiters, who generally serve the food and remove the dirty from the guest table. The restaurant is operated in three shifts, which are morning, evening and night shifts. Morning shift starts at 07:00 Hrs and ends at 15:00 Hrs, the evening shift starts at 15:00 Hrs and finishes at 23:00 Hrs and the timing of night shift is from 23:00 Hrs to 07:00 Hrs. As because demands are less in night time, only two/three restaurant personnel (waiters) remains present at night. During the time of religion festivals like Eid, all restaurant personnel do not get vacation at a time. They get festival vacation by rotation; like: if somebody gets vacation for Eid-Ul-Fitre, then he or she will not get vacation for Eid-Ul-Azha.
Types of Food Offered
In Mallika restaurant, there are different types of foods are available. Those are: In breakfast there are three types of food, guests can enjoy like: American breakfast, Continental breakfast and Bangladeshi breakfast. In American breakfast, the items are- sun a side / both side fried egg, bread, orange juice, butter, jelly and tea / coffee. In Continental breakfast the items are- omelet, bread, orange juice, butter, jelly and tea / coffee. In Bangladeshi breakfast they give: roti / paratha / luchi, dal / bhaji, orange juice, tea / coffee. In lunch and dinner there is a well arranged menu in the restaurant and whatever the guest is ordered from that menu, the waiter bring those food generally within 15 to 20 minutes in front of  the guest. In lunch and dinner they have some special Thai food items, Chinese food items. There are some Bangladeshi delicious food items are also available in the restaurant.
Types of Services Offered in Mallika, Manini Restaurant
In Mallika restaurant there are two types of service are basically offered to the guests. Those are: I. A la Curte service and II. Buffet service.
A la Curte Service:
In this type of service, after the arrival of the guests, orders are taken by the waiter from the person by showing the restaurant menu. Then guests are served "Garlic Toast" as a starter. Then the waiter make a kitchen order token (KOT) and send that as quickly as possible to the kitchen for the food order. In Mallika, all the food items are prepared approximately within 15 to 20 minutes. Then food is served to the guest. During the time of enjoying food, the waiters remain ready to hear guest's next request or order. At the end of the meal the waiter removes all the dirty of the table. At last the waiter gives the bill of the guest.
Buffet Service
The other name of buffet service is self service. In this type of service, all the food items remain arranged in front of the guest in a buffet table over a buffet burner. In buffet service guests take food from buffet table with their own hand. In this type of service comparatively less staffs are required. Guests can eat any items from the buffet table and the cost of the meal is fixed. Sometimes restaurant department arranges special buffet lunch or dinner at the end of the weak or featuring any upcoming festivals.
If Hotel Agrabad's occupancy rate is high, then the restaurant authority arranges buffet breakfast and in between lunch and dinner, any one service is arranged as buffet service.
Table Setup for Different Types of Meals
In Mallika, Manini restaurant table setup is given according to the meal's demand. Cutleries, china wares and other equipments are used in different types of meals are given below.
Breakfast Table Setup
Knife and Fork, Bread and Butter (B & B) plate, Tea Cup and Saucer, Salt and Pepper shaker, Ashtray, Goblet and Tissue.
Lunch Table Setup
Knife and Fork, Table Spoon, B & B plate, Salt & Pepper shaker, Ashtray, Napkin, Goblet [Dessert Fork- If necessary].
Evening snacks Time Table Setup
Knife and Fork, Soup spoon, B & B plate, Salt and Pepper shaker, Ashtray, Napkin, Goblet.
Dinner Table Setup 
Knife and Fork, Table Spoon, B & B plate, Salt & Pepper shaker, Ashtray, Napkin, Goblet [Dessert Fork- If necessary].
Operational Activity of the Restaurant
At 07:00 A.M in the morning, starts the daily activity of the restaurant with bringing all the breakfast food and utensils from the kitchen and pantry. Before this the night shift employee gives the table setup for the breakfast. Toaster and all the required equipment make ready to use, butter and jelly are given setup to all the tables of the restaurant. Tea, coffee and the packet of orange juice arranged in the side table. Then they wait for the guests. In the breakfast time, the restaurant remains most busy comparatively the other meals of the day. There may be a reason that in Hotel Agrabad, breakfast is not complementary for all the room guests. Then service starts with giving a glass of orange juice and tea / coffee to the guest. Then according to the order within 15 minuets the main part of the breakfast are served to the guest. After the finishing of the breakfast all the dirty utensils of the restaurant returns to the kitchen. Then table set up is given for lunch. Lunch starts 12 p.m. and it continues till 3.30 p.m. According to the order of the guest from the menu food is served. Back side of the restaurant always remain clean because if back side is clear then half of the work of a waiter is completed. Because if the dirty equipment remain spread out at the back side, then service will not be smooth and faster.
Special Packages / Offers
Sometimes Hotel Agrabad's restaurant department arranges some special packages for the whole months for their guests as part of their marketing activity. Like: From 20th July they are organizing a Quick Chinese lunch at Manini, Quick Business lunch at Mallika restaurant. Every evening, they are also arranging a musical show in their first floor bar where some renowned band will perform throughout the whole evening from 18:00 Hrs to 23:00 Hrs.
Take Away Delivery
Agrabad's restaurant also has take away delivery system. If any guest wants to take food to their home, they can do that. The restaurant personnel provide the ordered food with a very attractive food container.
Training Department
The staffs of Hotel Agrabad are qualified and experienced. They do not have any training department but some time they arrange different types of training for the staffs of the Hotel.
Staff Organogram of food and beverage department
In the food and beverage department of Hotel Agrabad, they have a good number of staff. They work together for the better food and beverage service to the customer. The number of staff is approximately 48 people. They work shiftily. The shifts are morning, afternoon, and night. Now we will see the staff Organogram of food and beverage department of Hotel Agrabad.
Departmental Hierarchy of Food and Beverage Department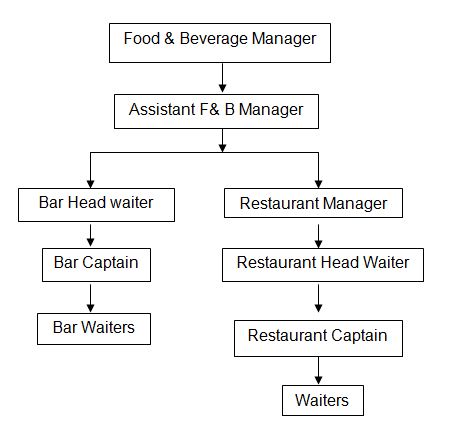 Introduction of the kitchen
The kitchen is the place where food is prepared. The responsibilities of the food and beverage department are divided into four parts. Kitchen is very important part one of them.
Department Staff Status of Agrabad's Kitchen
In the kitchen department of Hotel Agrabad, have almost thirty-one persons. Those are: one executive chef, three kitchen incharge, one assistant kitchen incharge, one kitchen controller, two supervisors and other cooking and cutting helper. The executive chef conducts all the activities in a particular shift. The executive chef of Hotel Agrabad normally works 10/11 hours per day and he stays in between morning and evening shifts of the department. The duty roaster of all the employees of this department make fixed at the start of the every week.
Agrabad's Kitchen
In Hotel Agrabad, there are two kitchens, one is Main kitchen and another one is Minini Chinese kitchen. Both kitchens are situated in the 1st floor of the building. The kitchens are divided into ten parts. Those are: I. Cutting and butchering, II. Cooking, III. Pastry and Bakery, IV. Pantry, V. Grill, VI. Vegetable Preparation, VII. Still, VIII. Mini Store Room, IX. Stewarding or Wash-Up Area, X. Cold stores.
Cutting and Butchering
In this segment of kitchen, all the raw food items like: vegetable and all kind of meats are cut and sliced for cooking. They keep all the sliced and chopped raw food material separately in an organized way. When any food material need, they just give supply that item to the chef.
Cooking
This is the main part of the kitchen where all the raw food materials are cooked and delicious items are made for guests. There are main three chefs in the kitchen who are specialized in their own field of cooking. Some of them are specialist in cooking Thai food; some of them are experienced in cooking Chinese and Bangladeshi food as well. There are thirteen gas burners in the main kitchen and four gas burner in Minini Chinese kitchen. There are three electric hot cases and one micro oven in main kitchen and one hot case in the Minini Chinese kitchen.
Bakery
In one part of the kitchen there is a place of producing bakery items like: bread, pizza, dinner roll, patties, sweet cookies, crosen, cream caramel, Danish pastry, plane cake, sponge and pastry cake. There are some items made by according to order. There are three persons in the bakery segment who make all the bakery items.
Pantry
In this part of kitchen, different types of sandwiches, fruit platters, and different types of juices are made.
Grill
In this segment of kitchen, all the grilled items like steaks, cheese barger, fish, chops are made.
Vegetable Preparation
In this part of kitchen, all raw vegetables are cut into smatters presentable portion.
Still
In this segment of kitchen, tea and coffee are brewed. In still place water is continuously boiling and for tea service a waiter fill the teapot with tea leaves according to portions to required and fill the pot with boiling water from the still.
Mini Store Room
It is a place where, tea leaves, different types of juices, tuna fish, nes coffee, baked beans, mushroom, asparagus, different types of sauce, sterilized cream and white oats are storing.
Stewarding or Wash-Up Area
Actually this department primarily controls the storing and issue of cutlery, crockery, hollowware, chinaware and glassware to the restaurant and kitchens. The waiter to get his supplies of the above items from this department. The department is also responsible for washing soiled service ware and subsequently furnishing clean items.
Cold stores
In this segment of kitchen, all the raw materials are storing
Food production area
In this segment of kitchen, all types of food items are providing.  Kitchen Order Token are comes from different places like, room service, restaurant, then food production area provide food according to the guest order.
Problems of Hotel Agrabad's kitchen
Ventilation: There is no ventilation system in Minini Chinese kitchen. As a result, Minini Chinese kitchen are not provide proper working conditions for the staff. Because the heat, steam, cannot move inside the kitchen and room are becoming moisture and stuffy. A stuffy, moist room helps bacteria to grow. So it is very important problem.  
Hygiene Control: Hygiene Control is very important thing for any hotel. When I observe in kitchen area I found following things:
In kitchen outlets, work surfaces, chopping board, utensils and equipment are very dirty. Because of equipment and work surfaces can easily become contaminated by foods particularly raw meat and poultry by pets and even by the food handler.
In kitchen outlets most of the staff do not wear hat. They are touching their hair frequently. For that reason bacteria fall into food. Kitchen staffs are not maintaining a high standard of personal hygiene. They are touching food without wash their hand, coughing, sneezing over food. For that reason bacteria on their hand may be transferred to food in the dish or cutlery. When I observed I found that, cockroaches are moving to and fro in the kitchen area. It is very big problem for foods because cockroaches carry bacteria on their bodies. The staffs of kitchen are not wear clean clothing. For that reason, dirty cloths bring bacteria into the food area.
Cold stores 
In cold stores they keep raw and cooked foods together. For that reason, one type of flavor comes from raw foods and another type of flavor come from cooked foods. Whenever both types of flavor add together on that time it may cause food poisoning.
Problems of Food and Beverage Department
The quality of food is not good
Their food price is also high
Old furniture, equipment
Staffs are not very much qualified
They are not very much skilled
They have no training department
They are not maintaining sanitation and hygiene
BanquetFacilities at Hotel Agrabad
In Hotel Agrabad they have different types of banquet hall. They sell their banquet hall for different types of program like; wedding, reception, seminar, convention, meeting, conference and birthday party etc. There is a team of professional staff is always available to assist with the planning and serving of all events together with the perfection of the most advanced technical equipment's. There is no fixed menu for banquet hall, but they provide food according to the guest requirement. The capacity of different types hall are as given bellow:
Information's for Banquets hall of Hotel Agrabad
Name of Halls

Size

Sqr.ft

Theater Style Setup

Classroom Style Setup

With Rectangular Tables

Banquet Reception

Standing Buffet

Ichamati Hall

85¢´36¢

3060

500

180

280

750

750

Karnaphuli Hall

66¢´32¢

2112

250

100

180

250

250

Mini Conference
Meeting Aids available under the Banquet Department
Lecterns and microphones
Radio microphones, overhead projectors and screens
Slide presentations
Lapel microphones
White boards and flip charts
Public address systems
Bar Service
In Hotel Agrabad there is a Trishita Bar in the first floor of the hotel building. Here different types of alcoholic and non-alcoholic beverages are available. In alcoholic segment, there are beers, liquors, different types of wine (red wine, white wine and some sparkling wines), and some spirited beers like vodka, ram, jean etc are available. In non-alcoholic segment, all the soft drinks of the country are available. Guest also can enjoy tropical cocktail in the midst of heart felt music and in a wonderful cozy atmosphere. The bar Head Waiter, Captain and the waiter has a good know about the alcoholic drinks and they are experienced. The capacity of Trishita Bar is around 46 persons. Operational time of Trishita Bar is 10 a.m. to 11 p.m. everyday. It is remains open everyday except Friday.
Room Service
In a full time hotel like Hotel Agrabad, room service is very much important. As because it is a business class hotel, most of its guests remain busy during the day time and especially in dinner time they get tired and want to have their dinner in room. When any order comes from the room, restaurant waiters give the order of the food to the kitchen. When food becomes ready, waiter goes to the guest room with food. Carrying food to the guest room, need special training; because waiters carry a tray which is full of foods in his one hand. In every guest room there is a menu book and from that menu guest can give order through telephone.
Front office Department
The front office is the most visible department in a hotel. This is the central point where all checks or bills of hotel residents are collected and then recorded in their overall bill. The front office keeps a record of all guests residing in the hotel. If resident wishes to sign his bill, the waiter may contact this department for confirmation of the guest name and room number. Being one of the first and often last points of contact with the hotel guests, the front desk plays a major role in a hotel. We may saw it as a key corner of a hotel. In case of Hotel Agrabad there is nothing exception of it. It is the responsibility of the front desk to mange the in and out flow of guests on a daily basis. The front desk is often called the "hub" or "command centre" of the hotel because so much information is passed through it. The front desk is the logical point of contact for the dissemination of information for guests and other hotel employees. In Hotel Agrabad front office is divided in to two parts. Those are front desk and uniformed service.
Main Functions of Front Office
There are various functions of the front office department in a hotel. Hotel Agrabad maintaining all the functions of the front office department that are as listed bellow:
To welcome guest in pleasant manner
To sell rooms
To register the guests
To handle guests reservation
To answer telephone calls and keep page for guest when necessary
To receive and deliver letters, fax, parcels and messages for the guest
To provide general information to the guests about the hotel, the city, current events and attraction
To show rooms to guest if policy permits
To sell the hotels special services, e.g. restaurant and bar facilities, entertainment facilities, laundry services etc.
To receive payments and provide credit when necessary
To deal with guests' complaints
Staff Organogram
There are a good number of staff In the Front Office Department of Hotel Agrabad. They work together for the better service to the customer. The number of employee working at the front office department is 20 people. They work shiftily. The shifts are morning, afternoon, and night. Now we will see the staff Organogram of front office department of Hotel Agrabad:
Front Office Operations of Hotel Agrabad
In Hotel Agrabad operate 24 hours a day, 365 days a year. Excluding some seasonal resorts, most hotels operate continuously. In Hotel Agrabad sleeping rooms, outlets/ancillary venues, banquet services, bar service and other facilities are available for its guests. The front desk must operate in some manner 24 hours a day and Hotel Agrabad is not beyond of this culture. The specific duties vary but the most universal functions of front desk are:
Communications
Staffing and
Operations administration.
Communications  
Communication with front office staffs of other staffs is very important. Making staff aware of occupancy levels and projected arrivals/departures are the most fundamental communication needs. Front desk agents and the bell staff need to know what to expect and when to expect it. Communications with other department is significant as well. The relationship between the front office and housekeeping is vital to successfully maximizing room revenue. The arrival and departure reports generated by the front desk manager are often reviewed by the housekeeping manager to ensure that room status reconciliation is error free.
Staffing
The 24 hours nature of front office operations requires constant staffing. Working hours of Hotel Agrabad's front office is divided into three shifts. Those are morning, evening and night shifts. Morning shift begins at 8 Hrs; the evening shift begins at 16 Hrs and the night shift stars at 23 Hrs.
Operations Administrations
Front office managers need to be good communicators first and foremost. Proper staffing levels are required to operate efficiently. Operations administration differs from shift to shift. Each shift has different duties to perform. Documents are usually developed to aid each shift's duty manager in completing every assigned task.
Problems of Front Office Department
The staffs of front office are not very much qualified
They are not skilled
Customer dealings are not up to the mark
Hotel Agrabad's room tariff is so high
Housekeeping Department
The Housekeeping Department is responsible for the cleanness, maintenance and the aesthetic standard of a hotel.  A waiter should know that the Housekeeping Department is the source for staff uniforms, restaurant linen and flowers. In residential establishment like hotels, one of the basic and important requirements of the guest is accommodation. Accommodation being the space and facilities needed for sleeping or living comfortably. Housekeeping department's primary task is to prepare and decorate guest rooms and public areas. From the reception desk the guest goes to the lift, staircase or corridor to reach the allocated bed room, possibly passing the lounge and other public areas. On reaching the room the guest probably has time to explore the surroundings more closely. They may take a closer look at the decoration, the furnishings and furniture especially the bed and the cleanliness and comfort of the surroundings. By this time the guest is better able to judge the standards of the establishment and to decide whether it is likely to meet with requirements and to provide satisfaction.
Main Functions of Housekeeping Department
There are various functions of the housekeeping department in a hotel. Hotel Agrabad maintaining all the main functions of the housekeeping department that are as listed bellow:
To see that rooms are in good condition before they are sold to guests
To check the cleanness of the guest rooms as well as the public areas
To check the sanitation of guest rooms, public areas and the hotel in general
To see that all the requirement needed in a guest room are present in the room
To control and supply linen
To inform the Front Office on
The number of occupied rooms
The number of empty rooms
The number of rooms ready for sell
The number of rooms that can not be sold
The Aims of the Housekeeper
Achieve the maximum efficiency possible in the care and comfort of the guests and in the smooth running of the department.
Establish a welcoming atmosphere and a courteous, reliable service from all staff of the department.
Ensure a high standard of cleanliness and general upkeep in all areas for which she is responsible.
Train, control and supervise all staff attached to the department.
Establish a good working relationship with other departments.
Ensure that safety and security regulations are made known to all staff of the department.
Keep the general manager or administrator informed of all matters requiring attention.
Housekeeper's Works / Responsibilities
Co-operation with other departments.
Deployment, supervision, control and training of staff.
Checking the cleanliness of all areas for which department is responsible.
Completion and checking of room occupancy lists.
Dealing with guests' complaints and requests.
Reporting and checking of all maintenance work
Control and supervision of the work of the linen room possibly an in house laundry.
Dealing with lost property.
Controls of all keys in the department.
Prevention of fire and other accidents in the department.
Pest control.
Keeping inventories and records of equipment, redecoration and any other floral decorations.
Housekeeper's Attributes
An interest in people and tact in handling them.
Physical strength and fitness.
A pleasant personality and the ability to converse with all types of people.
An ability to hide personal likes and dislikes and to be conscientious, fair and just.
Strictness regarding punctuality and the keeping of necessary rules.
Loyalty to the establishment and to its staff.
Critical powers of observation and have to be keen sighted.
A sense of humour.
An adaptability and willingness to experiment with new ideas use initiative and take responsibility.
A cool head to deal with any emergencies.
The possession of a strong heart and good feet.
If all the above attributes are incorporated in one person, he / she would be a paragon in the field of housekeeping. Co-operation between Housekeeping and Front Office Department in Hotel Agrabad
Housekeeping and front desk are both concerned with guest rooms- the former with letting and the latter with preparation and later servicing of the rooms. For this to be done efficiently there must be a constant exchange of information between the two departments and each must understand the work and possible difficulties of the other. The housekeeping department relies on the front desk to let her know on which days guests are arriving or leaving, when VIP's are expected, any special requests are has or not. Moreover, housekeeping needs to know there are any group arrivals are expected or not. If there is any late departure of guest that is also been informed to the housekeeping department by the front desk. The gusts who have done their reservation earlier, housekeeping department are told earlier about their time of arrival so that they can make ready the rooms. The daily expected departure list is also given from the front desk.
Housekeeping Operation Management and Staffing
In Hotel Agrabad's housekeeping department there is a housekeeping team leaded by the executive housekeeper. Under his superintendence, there are two supervisors who work continuously through out the whole day in three shifts. In Hotel Agrabad housekeeping department have 38 staff, 23 is permanent and rest of the staffs are casual. Morning shift starts at 07:00 Hrs and finishes at 15:00 Hrs. Evening shift starts at 15:00 Hrs and finishes at 22:00 Hrs and night shift starts at 22:00 Hrs and ends at 07:00 Hrs. Housekeeping department has divided the hotel floors in three parts to manage there work perfectly. That are- bottom floor which is with 1st ,2nd and 3rd floor; middle floor- which is with 4th, 5th and 6th floor; and the top floor which with 7th, 8th floor. Generally there are three room attendants work together for one floor. On the other hand the housemen do the cleanliness of the other parts of the hotel like: the lobby area, floor corridors, restaurant, roof top bar, fitness centre, conference room and the banquet hall. Housekeeping employee works in those different floors by rotation according to the schedule.
Housekeeping Planning and Forecasting
In Hotel Agrabad, the executive housekeeper conducts the planning and forecasting for his department. A housekeeper should look ahead and try to predict future happenings like- staffing for high and low occupancy, annual cleaning, redecoration etc. He will plan in order that these eventualities are met and that his objectives are reached within the time available. It is possible of course that however carefully he plans and forecasts, circumstances arise over which he has no control. A good planner thinks on the lines of economy making the best possible use of time, labour and materials and this will be made easier for the housekeeper if he has been consulted at the designing and equipping stage of any new or altered building. It should be borne in mind that labour costs account for 90 to 95% of the total cleaning costs and that cleaning and maintenance costs over a period of about twenty years may equal the initial cost of the building, but it should also be remembered that the planning of areas should be as flexible as possible to enable multipurpose use. The house keeper thus concerns himself with staffing requirements and studies the advantages and disadvantages of the whole range of cleaning equipment, agents and methods and endeavors to bring into use those which make cleaning easier for their staff, save time and are more efficient in producing the final result. In this way he will not only improve the working conditions but also reduce expenditure and ultimately labour costs.
Different Types of Cleaning Equipments and Agents Used by Housekeeping
In housekeeping department there are different types of cleaning equipments are using now a days to make the guest rooms and public areas clean and hygienic. Those are: brushes, mops, Cloths, vacuum cleaner, scrubbing machines and hot water extracting machines. They also use various types of cleaning agents like: water, detergents, toilet cleaners, window cleaners, and bleaches. They also use some polishes like: metal polishes, furniture and floor polishes etc. These equipments and agents are helping housekeeping staffs to complete their work easily.  The description of all the above cleaning equipments and agents are given below.
Cleaning equipments:
Brushes:
Brooms and brushes may be used for removing dust usually for dry work from a variety of surfaces- floors, walls, upholstery etc and may have bristles of animals, vegetable or man made origin.
Mops:
Dry mops consists of a head of various shapes and sizes, made from soft twisted cotton yarn or synthetic fibers and attached to a long handle; the synthetic fibers are electrostatic and the dust. Wet mops or sponge mops are used for cleaning lightly soiled floors in conjunction with a bucket hot water and detergent.
Cloths:
Dusters and mitts are use for the collection of dust from hard surfaces and are usually made of soft cotton or short life material and mitts may be impregnated. Dusters should be washed frequently.
Vacuum Cleaner:
Vacuum cleaners remove dust and other loose particles from hard and soft surfaces by suction. In addition it has brushes to aid the collection of dust. The dust is collected to a container which may be enclosed within the body of the machine or on the outside in the form of a bag.
Scrubbing Machines:
Scrubbing machine consists of one large or several small brushes, which revolve and scrub the floor; the water and detergent are released from a tank attached to the machine. With suitable brushes these machines can be used for shampooing carpets, polishing, spray buffing, spray cleaning or polishing floors.
Cleaning Agents:
Water:
Water is the simplest cleaning agent and some forms of dirt will be dissolved by it, but normally unless it used in conjunction with some other agent, for example a detergent, water is not an effective cleanser.
Detergent:
Detergents are cleaning agents which, when used in conjunction with water, can loosen and remove dirt, and the hold it in suspension so that the dirt is not redeposited on the clean surface. There are many different detergents are available in packets and bottles, each one differing only in the mixture of chemical substances of which detergents may be composed.
Bleaches and Disinfectants:
Bleaches used for cleaning purposes which have germicidal properties and great care should be taken to prevent spotting of other surfaces. Disinfectants are not strictly cleaning agents but often used during cleaning operations.
Polishes:
Polishes do not necessarily clean but produce a shine by providing a smooth surface from which light is reflected evenly. Generally there are three types of polishes are available in the market. Those are: metal polishes, furniture polishes and floor polishes.
Metal Polishes:
These remove the tarnish resulting from the attack on the metal by certain compounds in the air and some foodstuffs. They consist of a fine abrasive which, when rubbed on the surface of the metal, provides friction to remove the tarnish and produce a shine.
Furniture polishes:
A special blend of waxes, spirit solvent to soften the wax and silicones give a harder and more lasting finish, improve resistance to heat, moisture and sunlight.
Floor Polish:
Floor polishes are spirit or water based. Spirit based floor polishes contain a blend of mainly natural waxes dispersed in a spirit solvent; they may be paste or liquid and are suitable for use on wood, cork and magnetite floorings, those harmed by water.
Room Tariff of different Qualities of Hotel Agrabad
In Hotel Agrabad there are five categories of room tariff. Now we can see the room tariff of different qualities. These are as bellow:
| | |
| --- | --- |
|    Room Categories | Rates |
|    EXECUTIVE SINGLE | US $ 154.00 |
|    EXECUTIVE TWIN | US $ 168.00 |
|    ROYAL SINGLE | US $ 203.00 |
|    ROYAL TWIN | US $ 217.00 |
|    ROYAL SUITE | US $ 581.00 |
|    EXTRA PERSON IN ROOM | US $ 28.00 |
Above rates are Subject to 15% VAT and 15% service charge, Rates are subject to change without prior notice. Rates are based for rooms only, meals are not included. No additional charge for children under 12years, occupying their parent's room, maximum 03 person including the child per room. Room reservation will be held until 18-00 hours unless late ETA/ advice received well in advance. Check out time 12-00 noon Accepted credit cards: American Express, Diners Club, Master Card & Visa.
Different Hall for Party and Others
In hotel Agrabad Varies Party, Seminar, Conference, and Wedding ceremony are held almost everyday. When arrange any party or conference then housekeeping department make set up and after that end of the party or seminar on that time housekeeping staff do clean that rooms. In Hotel Agrabad there are some hall for party and others. These are as listed bellow:
 Ichamati Hall
 Karnafully Hall
 Mini Conference Room (419)
 Trishi bar
 Mallika Dinning Hall
 Manini Restaurant
 Cafa Agrabad
 Roof Garden
 Pool Loung
Tower House
Billiard Room
Swimming Pool
In Hotel Agrabad, there is a wonderful swimming pool. It is situated beside the fitness center in ground floor. Anybody can get yearly membership. If anybody wants to get a individual yearly member, he or she has to pay TK 20.000. Family membership also offered on TK 30,000 in Hotel Agrabad. In that case, two children up to 12 years and husband and wife can get the swimming facilities. Without membership, if anybody wants to swimming daily basis in the swimming pool on that time children has to pay taka 250 and adult has to pay taka 450 . It offers cool dip in the blue water with swim in bar. Sun bath terrace and jogging track. Bar-B-Queue features a variety of seafood and delicacies on charcoal grills in summer night's delight. Table Tennis and exercise equipments for physical fitness are nearby.
Problems of Housekeeping Department
Housekeeping department has no adequate houseman
The staffs of housekeeping department are not well trained up
They are not maintaining record by the computer
They have no public area supervisor
They have no first aid facilities
Rooms' decorations are not up to the mark
Old lift system
A. C does not work properly
Bad is comfortable
Sales and Marketing Department
Marketing is the major key to our business success is our marketing. Innovative marketing strategies clearly drive a business such as ours. But our marketing program is not simply about food. We use it to enhance our customers experiences, we use it to build the overall perception of Hotel Agrabad's in the market place as the eat out restaurant of first choice and we use it to let people about our services, rooms and etc, who perhaps have to yet experienced Hotel Agrabad, know what we can do for them and how the Hotel Agrabad's experiences to evolve to satisfy what our customer are asking us for.
Major function of the Sales and Marketing Department
Marketing is the key functional department of Hotel Agrabad. It is basically focusing for our services. It's main job to motivate the customer/ gust, to convince the customer/ guest. Sometime it deals different types of reservation and booking room by the telephone or correspondence by the e-mail.
Observation Sales and Marketing Department
The overall functions of the sales and marketing department very clearly reflects the continuous attempts to actualize the core strategies like focusing on core service and building on brand position through continuous innovations. Basically, this department is the heart of the organization.
So, sales and marketing departments act as complementary to each other. Formulation and implementation of best possible strategies by this department will only bring about optimum results and foster growth of the establishment or hotel.
Responsibilities of sales and marketing department
The Marketing Manager in the overall in charge of the sales and marketing department. He prepares and evaluates strategies that the whole sales and marketing department performs its best.
There is one marketing manager in this department. The marketing manager reports directly to the Chief Executive Officer (CEO)
Strategic decision making and monitoring the overall operations of the sales and marketing department
Sales planning and sales development
Analyzing markets and opportunities for new keeping track with the global competitive market
Planning the time frame for the launching of new service
Monitoring and evaluation of the assistant manager and executive and providing feed back
Departmental Hierarchy of the Sales and Marketing Department of Hotel Agrabad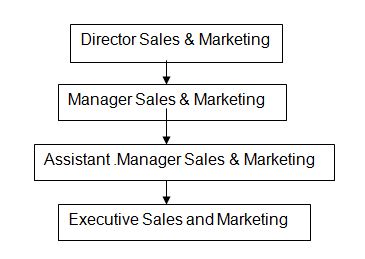 Analysis of Data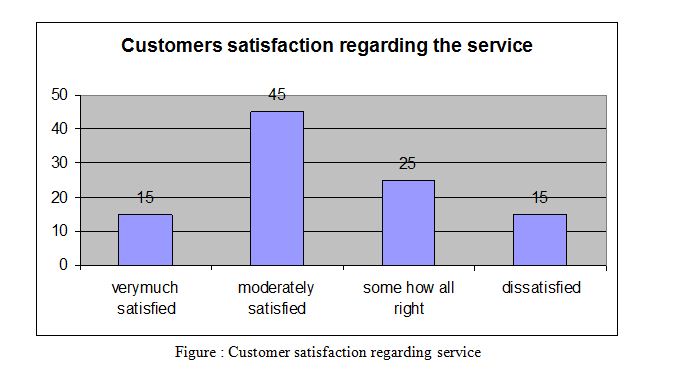 Interpretation: The above graph regarding the customers' satisfactions towards the existing service of Hotel Agrabad represents that customers are moderately satisfied with the existing services offered by hotel authority as 45% of the survey data indicates that most of the customers are moderately satisfied with the service quality of the hotel. Hence, in order to increase customers' satisfaction hotel authority should upgrade the service quality of the hotel.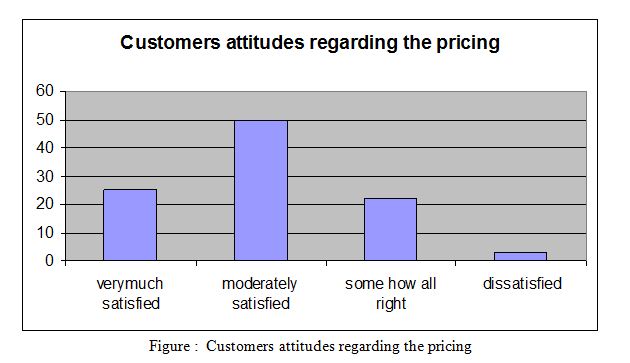 Interpretation: The survey data regarding the customers' attitude towards the service charge & pricing policy of hotel Agrabad implies that they have positive attitudes towards the existing pricing of hotel Agrabad as almost 25 percent of the survey data represents that they are very much satisfied with the existing pricing policy of hotel, whereas 50 percent of the same replied they are moderately satisfied with the existing service charge of the hotel.
Findings
Subscribers and customers are moderately satisfied with the service quality of the hotel Pricing and charges of the hotel are somehow all right and people are moderately satisfied with the existing pricing policy of the hotel People are satisfied with the behavior and attitudes of the personnel of the hotel Subscribers and customers expects more facilities and events from the hotel authority Customers are satisfied in terms of using hotel conference halls and its charges The existing promotional campaign of the hotel is not successful in terms of attacking the attention of the customers towards the hotel Agrabad in comparison with other hotels
Problems of Sales and Marketing Department
The employees of sales and marketing department do not take appointment before going to meet anybody
Sales and marketing department has no any vehicle for sales call
They do not take proper planning before going to visit any organization
Shortage of executive in sales and marketing department
Department of Personnel & Genera Administration
Management of Hotel Agrabad  
The Management decided that the next logical step was to bring in fresh and youthful citizens of Bangladesh, train them and give those positions in various arms of the Organization. The Management needed to take bold steps here. On one hand, there were guests who expected the best out of Hotel Agrabad and on the other hand there were the expectations of the Trainees who were exploring newer horizons in their life.
The Management succeeded in bringing up the Trainees to a certain professional level. These Trainees are now working in Hotel Agrabad in various positions. There are many Trainees who have been recruited subsequently by other Hospitality Organizations in Bangladesh and are successfully deputed there at competitive salaries. Then, the Management realized the importance of having an institution that shall give meticulous coaching in Hotel Management Theory and Practice to deserving citizens of Bangladesh and preparing them for the rigors of the profession. The Management did arrive at a consensus on this.
Human being is always looking for something new to discover where he gets interest. He or she wants to discover within him or herself. It is possible only when a person go outside. If a person is not extrovert or if he does not like to go somewhere or does not like to mix with the other people, he cannot enjoy or discover something new within him. A person cannot build himself without going outside or to build something new for himself. If he confines himself with the books only, he could be literate but to know the whole world, it is a must to go in some other historical places.
Departmental Staff status and Their Activities
In the personnel and General Administration Department of Hotel Agrabad, have 16 persons. Among them one is Executive and rest of the Staffs. Those are: one Personnel and General Administration Manager, one Chief Time Keeper, one Personnel Assistant. A Personnel and General Administration Manager conduct all the activities. The duty roster of all the employees of this department make fixed at the start of the every month.
Reasons for Personnel Department
According to ILO-International Labor Organization, from the year of 2005 in every government registered organization where more then fifteen employees are working should have one Personnel Department.  In the year of 2003 ILO passed one hundred sixty nine conventions. One of the conventions was regarding this issue. Not only this, the need of Personnel Department is now a demand for the modern management.  In the early age of the organizational concept, there were no several departments. But now the concept has been changed. Now the modern business concept has realized the facts that to overall development as well as run the activities smoothly, it is necessary to go for departmentalization.  As a consequence of this, different departments are found in an organization like, Accounts, Production, Marketing, Engineering, Security and Personnel etc.
Hotel Agrabad needs a Personnel Department because of the following reasons:
To ensure the concept of TQM- Total Quality Management
To maintain the efficient flow of information
To ensure EEO- Equal Employment Opportunity
To reduce employee turnover rate
To maintain the management hierarchy
To improve the employees skills
To increase the motivation level of employees
To ensure the employees welfare activities
To ensue the employees rights
To ensue a proper working environment
To maintain the organizational ethics
Maintaining Employee's Profile
Since Hotel Agrabad is a running organization and it is continuing its services by employing near about two hundred employees, so the first initiative to introduce a Personnel Department was to create employees database manually. By an urgent notice all employees were informed to submit their details resume, with a copy of their educational certificates, experience certificates, training certificates and obviously with two copy of passport size picture. Within a specific given period after collecting all the documents a manual employees profile has been created and kept in separate files according to department wise. By using these profiles an Employee Excel Sheet has developed to maintain the Employee information with the help of computer software.
Taking Performance Review
From the very beginning of Hotel Agrabad maintaining the proper Employee recruitment system. As a result of this, it is easier to maintain all the important document. They are also maintaining salary scale, Employees performance sheet. The performance review was conducted to determine the Employee position regarding the following attributes:        
Job Knowledge
Job Aptitude
Job Attitude
Communication
Interpersonal Relationship
Responsibility at Work
Loyalty and Honesty
Punctuality
Uniform and Behavior
Hygiene and Health
Maintaining Pay Grade
For ensuring greater employee satisfaction, it is one of the most important tasks to maintaining pay grade. Since from the very beginning Hotel Agrabad maintaining grading system regarding the employees' salary or in any other benefits of employees. I have found that different employees are getting different amount of salary. They are getting salary for several posts and several designations.
The developed pay grade system of Hotel Agrabad is divided into ten categories. Like:
 Grade One
 Grade Two
 Grade Three
 Grade Four
 Grade Five
 Grade Six
 Grade Seven
 Grade Eight
 Grade Nine
 Grade Ten
Distribution of Appointment Letter
After completing the task of Creating Employee's profile, doing Performance Review, Establishing Management Hierarchy, Establishing Pay Grade, and Determining of Salary Scale then the initiative has been taken to distribute appointment letters to the existing employees. For distributing the appointment letters the whole employees of Hotel Agrabad are divided into two categories like:
Permanent employees
Trainees or Probationer employees
It is a universal fact that organizations consist of positions, which have to fill by staff. To recruit staffs the last and final stage is to give appointment letter. From the periods of its inauguration Hotel Agrabad recruited lot of staffs and the top-level management distribute the appointment letter to the staffs.
Before the distribution of appointment letter to the employees, it is very much essential to gather information about the following key point's like:
Job Analysis
Job Description
Job Specification
Job Analysis
Job Analysis is the procedure through which the management determines the duties of those positions and also the characteristics of the people to hire for a particular post. For conducting the job analysis the initiative was taken to figure out the information regarding the type of work activities, required human behavior, nature of machines, tools equipments, and work aids, the performance standards of the job, the details contents and finally the human requirements essential for each individual jobs.
Job Description
Job Description is prepared after collecting as well as summarizing the information of job analysis. Actually job description is nothing but the list of a job's duties, responsibilities, reporting relationship, working conditions and the supervisory responsibilities. Another way it can be said that a job description is a written statement of what the worker actually does, how he/she does it, and finally what the job's working conditions are. Job description contains the sections of job identification, job summary, job responsibilities and duties, authority of incumbent, standards of performance, working conditions and job specifications.
FinallyJob Specification
Finally Job Specification is the human requirements for a particular job that is the requisite education, skills, personality, and so on.  It takes the answer of the question, "What human traits and experience are required to do this job well". It also shows what kind of person to recruit and for what qualities that person should be tasted.
Determining Hotels Rules and Regulations
To run a hotel or any organization systematically it is essential to have some rules and regulations. Besides different types of rules and regulations to be followed by guests, there are also some rules and regulations that are followed by the staffs. As Personnel and General Administration Department activities I have also found some rules and regulations to be followed by the employees of Hotel Agrabad. The Employees of Hotel Agrabad are abide be the followings miscellaneous hotels rules and regulations:
Employees are not allowed to misuse the Hotels Property
Employees are not allowed to carry out Hotels Property
Employees are not allowed to remain in the Hotel apart from their duties at other things
Employees are not allowed to conduct any other business in or out of the premises on a professional basis
Employees are not allowed to accept any money that is not a part of official transaction
Employees are not allowed to use Hotels Vehicles for personal transportation
Employees are not allowed to borrow any Hotels items for personal use without proper authorization
Destruction of Hotels Property is an offence and can be charged to your salary
Selection of candidates
For recruiting new employees as well as fill up the vacant position in Hotel Agrabad, after vacancy announcement the necessary steps in selection of candidates is choosing the best candidates for interview by analyzing the CVs of different candidates. Then the selected candidates are called for interview. The interview board, which is, consists of a group of experienced and knowledgeable persons interviewed the candidates and select the best candidates.
By the interview and sometimes by written test those candidates are selected who can fulfill the need of that particular post. At the time of interview employee's salary and other applicable benefits are also made settled. Finally as an end of recruitment process the appointment letter has been distributed to the employees who are newly recruited.
Maintaining Attendance register
For running any organization smoothly as well as successfully it is obligatory to maintain proper discipline. Discipline is the main key to achieve the organizational goals within a specific period of time. Here it is a fact that employees' discipline in organization starts at the time of when employees enter into the organization and ended up when employees leave the organization. From the very beginning of its journey Hotel Agrabad maintaining all type of employee attendance register.
Maintaining Yearly Leave Policy
Leave is not the human rights rather than it is the ultimate benefits for the employees, which is approved by the management of an organization for a specific period of time. Actually leave is the permission to be absent tram duty or an authorized absence from duty or employment. According to government rules and regulations the employees can take different types of leave during the year. Obviously this may vary from organization to organization.  The introduced yearly leave policy of Hotel Agrabad is divided into four categories. Like:
Earned Leave
Instead Leave
Casual Leave
Medical Leave/ Sick Leave
Maintaining Yearly Leave Register
Yearly leave register is nothing but the records of employees consumed leave throughout the year. Now the Yearly leave register of Hotel Agrabad is maintained by both in manually and also by computer software. Hotel Agrabad maintaining all the annual leave register; As a result it is too much easy to decide which employee has taken how many leave during a particular year.
Employee Welfare activities
One of the important aspects of introducing a Personnel Department in Hotel Agrabad is to initiate some employee's welfare activities. This is one of the noticeable reasons for which employees feel insecure in their job, which leads employee to be de motivated while performing job.
After the inauguration of the hotel in personnel department in Hotel Agrabad several initiatives has been taken for the betterment of the employees. The mostly noticeable employee welfare activities that I have found in Hotel Agrabad are:
Introducing of Funeral Ceremony's payment for employee
Introducing Increment
Employee gratuity Program
Introducing Provident fund Policy
Maintaining Staff Canteen Discipline
Like other renowned hotels, Hotel Agrabad is also providing the food facilities to the staffs. At present Hotel Agrabad has two dining hall. One is known as Officers Canteen and another one is known as staff canteen. Around two hundred employees gather there during the mealtime for having their breakfast, lunch and dinner. In the canteen area the assurance of cleanliness and maintaining the discipline is very important task. Personnel Officer the initiative has been taken to take care the discipline in the staff canteen.
As a disciplinary action some rules and regulations has been introduced which required to be followed by the staffs of this hotel inside the canteens.  If any staffs break the discipline inside the staff canteen then necessary action has been taken by the Personnel department to ensure proper discipline inside the canteens. The action can be either warning letter or monetary compensation.
Besides maintaining the discipline, the maintenance of cleanliness also goes under the personnel department. For this reason some staffs of public's area are allocated for performing that job. As a Personnel Officer he has to monitor their activities. At the same time employee's health and hygiene issues also a considerable issue which required to look after by the Personnel Department of Hotel Agrabad.
Section of Time Keeper
In Hotel Agrabad there is a Time Keeping Section situated back side of the Hotel. This section maintains several kinds of activity. Those are as bellows:
Daily Marketing Report
Daily Staff Time Keeping Report, that means whenever any staff In and Out in the hotel on that time, time keeper keep record very properly
All the purchasing essential goods are also In and Out in the back gate of the hotel
SWOT Analysis
To know the real scenario of a particular organization the simplest and also the easiest way is review the SWOT analysis of that organization. Actually, SWOT analysis is the summarized analysis of the Strengths, Weakness, Opportunities, and Threats. Hotel Agrabad's SWOT analysis has been explained below:
Strengths
Hotel Agrabad is continuing its business having lot of strengths with the comparison of the other hotel located in Chittagong. The noticeable strengths of Hotel Agrabad are as listed bellow:
High level of brand awareness
Strong Image
High ambition
Doing monopoly business in Chittagong
Best hotel services then the other competitors
Good profitability
Adaptability
Well equipped hotels services
Well equipped gym facilities
Huge investment
Emphasis of customer comments
Large establishment
Weaknesses
Weakness is just the opposite of the strengths of an organization. From the time of inauguration to till now Hotel Agrabad does not able to ensure the best service to the guest, since its mission is to provide world-class service. Besides this due to having lots of weaknesses, Hotel Agrabad is facing problems to achieve their organizational goal. In spite of success as a renowned hotel, there are still some apparent weaknesses.
The main weaknesses of Hotel Agrabad's are as given below:
Lack of strong support by the owner
Lack of trained manpower
Some negative imagery- old building, equipment, strategy
Lack of proper marketing policy
Higher rate of employee turnover
Poor promotional activities
Lower salary structure
Lack of educated employees
No accommodation facilities for employees
Poor management policy
Service not matching with the five star Hotel standard
Room size is below five standard
Opportunities
Now a day everybody accept the fact that hospitality industry is the fasted growing industry throughout the world. We the Bangladeshi people have a very good chance in this sector, since we have the world's longest sea beach. For this reason, the tourism industry of Bangladesh has very good possibilities and as consequences of this near future. There are lots of opportunities waiting for Hotel Agrabad. The noticeable opportunity of Hotel Agrabad's has been including here:
      Can get maximum foreign guest
      Can create a trained man power in the hotel and travel industry
      Can open a market for global tourism
      Be the best hotel in Chittagong with modern hotel services provider
      Maximize revenue
Threats
Like the strength and weakness, a threat is also just the opposite of the opportunity of an organization. It is true that in the near future lots of opportunities are waiting for Hotel Agrabad. Nevertheless, this is also true that, besides the lots of probabilities Hotel Agrabad's also have to face some threats. The most perceptible threats that Hotel Agrabad will face are as figure out below:
Lack of government interest towards the development of the tourism in the Chittagong area like; FoyzLake, SeaBeach (Potanga)
Frequent changes of political environment
Coming up new four star standard hotels in Chittagong
Lack of supply of trained manpower in Bangladesh
Recommendations
Now in Bangladesh Hotel Agrabad is a brand name to the tourist, business people and local customer as well. Since at present in Chittagong Hotel Agrabad are the only five star deluxe class hotels, so it is doing a monopoly business. Hotel Agrabad earned its goodwill by its attractive buildings and attractive location facilities. Though Hotel Agrabad is a brand name to the guest, but it is an unfortunate true that among the staffs of the hotel industry of Bangladesh, Hotel Agrabad has built-up a bad reputation in terms of management.
Some useful recommendations for the Hotel Agrabad emerge from the study and these are put forth here:
Authority should take proper strategy for renovate the entire hotel
Should minimize the room tariff  as soon as possible
Should change the elevator as early as possible
The employees of sales and marketing department should take appointment before going to meet anybody
Sales and marketing department should buy a  vehicle as quickly as possible
They should take proper strategy/planning before going to visit any organization
Shortage of executive in sales and marketing department
Maintain a modern employee recruiting policy, which will ensure qualified and knowledgeable personnel for a desired post
Should maintain a compatible salary structure with the other existing five star hotel in Bangladesh
Continue employee performance review at least twice or thrice a year for increasing employees salary and also giving promotion
Improve the staffs food provided in the staffs canteen and also be careful about the health and hygiene of the staffs
Employees retrenchment and termination should be done logically and the other existing staffs should be informed about this type of activities
Should arrange proper training for improving the employees both operational and non operational skills
Arrange accommodation facilities for the employees
Hotel authority should put adequate ventilation immediately in the Minini Chinese kitchen. An effective system of ventilation is essential to remove the heat, stem, condensation and cooking odours of the kitchen and to provide proper working conditions for the staff.
As a five star hotel, they should maintain high standards of hygiene as well as personal hygiene by take proper strategy.
Food handlers should wear suitable clean clothing. They should wear clean protective over clothing also.
Remove cockroaches immediately in the kitchen area by use dangerous chemicals.
Always ensure that the workplace is clean before preparing food. They should use clean kitchen utensils and equipment and must clean them thoroughly before and after use. They should use clean wiping cloths.
They must keep raw and cooked food separate when handling and storing them.
They must keep their hair covered with a hat in the kitchen
They should avoid touching those part of dishes or cutlery that come into direct contact with food.
They shouldt not touch food with their hands. Whenever possible use clean tongs to handle food.
Conclusion 
After the whole discussion on practicum report, I can conclude that Hotel Agrabad is one of the pioneer hotel industry in Bangladesh. They started their hotel business with great expectation and high ambition. To achieve their goals and objectives still they are developing their effective strategies. In recent observation, I have found that Hotel Agrabad is the pioneer/ peak point in hotel business in Bangladesh. And when I visited this hotel, I also found that the outside looking and the inside decoration of the hotel is wonderful. The staffs of the hotels are very much cooperative and decent. The staffs are very much skilled and they are trying to provide the best quality services to the customers. This positive approach is the way to the top. In the circumstances of Bangladesh, it is really a brave step. The hotel proves that gradually Bangladesh is also developing in hotel sector. From the whole discussion I should say hotel industry is such a practical based industry that if somebody does not work in this field then he or she will not be able to understand its operational activity. In this industry each and every employee has to hard working. Sacrificing mentality is must needed to coup up with its different department and their employee's perception. A standard hotel generally runs throughout the whole year. Any time guest can come and hotel authority bound to provide them accommodation, food and other facilities. Hotel Agrabad is also a full time business class hotel. It runs 365 day in a year. So the employees of the hotel need to work continuously. In hotel industry the number of festival and yearly vacation are comparatively less than the other industries of the world. The employees of this hotel industry always abide one rule. That is, "Guests are the King". That means whatever, the guest will tell, the guest will order then the employees will have to follow that. Otherwise, hotel business will not be proved profitable for them. A hotel's front office, housekeeping, food and beverage, sales and marketing, personnel and
general administration department is the most valuable department. Without these five departments, a hotel cannot be imagine. Front office department provide all the information to the other department of the hotel. Housekeeping department arranges the accommodation facilities for the guests on the other hand food and beverage department provide food and beverage service, before that this department also produce the food in kitchen. Sales and marketing department basically focus the services. It's main job to motivate the customer/ gust, to convince the customer/ guest. Sometime it deals different types of reservation and booking room by the telephone or correspondence by the e-mail. Personnel and general administration department maintains all the activities such as; employee's profile, taking performance review, establish management hierarchy, establish pay grade, determination of salary scale, distribution Of appointment letter, determining hotels rules and regulations, employee recruitment, introducing attendance register, establishing yearly leave policy, maintaining yearly leave register. However, each department depends on each other to facilitate the guest service in an organized manner.