Tin tabernacle is a temporary church of galvanized iron erected by any denomination. It is also known as an iron church, is a type of prefabricated ecclesiastical building made from corrugated galvanized iron. The very rapid growth in urban population during the Victorian era caused a new wave of church and chapel building. They were developed in the mid-19th century initially in the United Kingdom.
Tin tabernacle is a Church, usually nonconformist, clad in corrugated iron. It is a type of prefabricated ecclesiastical building made from corrugated galvanized iron.
Tabernacle is a moveable dwelling – a temporary church erected before permanent buildings can be provided. Corrugated iron was first used for roofing in London in 1829 by civil engineer Henry Robinson Palmer, and the patent was later sold to Richard Walker who advertised "portable buildings for export" in 1832. The most common type was timber-framed, externally clad with galvanized corrugated iron (CI), and lined with high-quality tongue-and-groove boarding. In the 19th and early 20th centuries, many churches were designed and made in kit form to be bought from catalogs.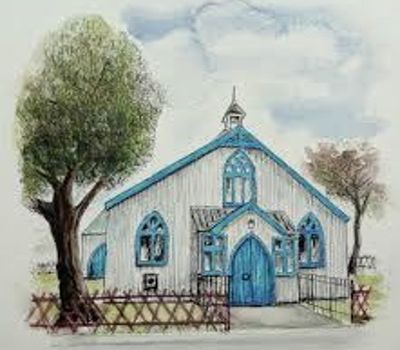 The Industrial Revolution had brought an increasing demand for large industrial buildings. Many of these simple 'tabernacles' had high levels of decoration: outside, timberwork was often richly carved; inside, panelling and other surfaces were usually enriched with delicate stencilling. In response to overwhelming pressures to provide cheap, rapidly erectable buildings that could be sited far from developed sources of traditional materials, it is no surprise that CI buildings started to be mass-produced by engineers and builders. These were excellent buildings which proved surprisingly durable. Traditional roofing materials, such as tiles and slates, were not suitable for large spans, particularly where the roof pitch was shallow, because of the excessive weight load.
The technology for producing the corrugated sheets improved, and to prevent corrosion, the sheets were galvanised with a coating of zinc, a process developed by Stanislas Sorel in Paris in the 1830s. Tin churches may meet few of the rules of 'great architecture', but they tell us as directly as any others about the aspirations, fashions and economic privations of ordinary people. After 1850, many types of prefabricated buildings were produced, including churches, chapels and mission halls.
Information Source: