Executive Summary:
The Modern civilization has come to an end every step. At first work had been done by PC( Personal Computer) in a corner of the room. But now the technology has built a new thought which is laptop. Bangladesh has also reached by crossing every door steps of the technology. Nowadays laptops are not only familiar but also daily useable things. In the market lot of brands are showing them out with its individual identification. Some of them emphasis on looks, some of them are on configuration. Among all them Fujitsu the first super computer maker is preparing to launch their product (laptop) in Bands like Bangladesh. Bangladesh is very competitive market where brand like Asus, Acer and Dell, HP etc has already made their position by selling laptops at very lower price. In this
Competitive market it will be huge challenge to promote a well reputed but highly priced product.
Current Market Situation
Fujitsu Limited (Fujitsu Kabushiki-gaisha)is a Japanese multimedia computer hardware and IT service company headquartered in the Shiodome city center complex in Minato, Tokyo. Fujitsu's central focus is on providing IT- driven business solutions, but the company and its subsidiaries also offer a diversity of products and services in the areas of personal computing, telecommunication and advanced microelectronics. With over 185,000 employees worldwide, including subsidiaries and affiliates in 70 countries, Fujitsu is the world's  IT service provider and the largest Japan.
The slogan is Fujitsu company "The possible are infinite".
Fujitsu has its enlisted products in the market;
Life book notebook computers
Stylistic Tablet PC
Mobile
Tablet personal computers, pen based computers
As Fujitsu was the first super computer maker and top five notebook sellers in global market. It has a good reputation with a competitive recognition trough the world. In Bangladesh it will be a great challenge to enter into the market for Fujitsu. A leadership will be purchased and Fujitsu products will be sold by authorized dealer in the market.
Market Description:
Fujitsu laptop's market consists of consumer and business users who prefer to use an external device for communication, calculations, printing, networking, information storage and exchange, entertainment on the go. It is also easy to carry from one place to another place. Specific segments being targeted during the first year include professional, students, teachers, medical users, and engineers.
Every specific model will be targeted by individual segments of the market. Table shows Fujitsu M1010, Fujitsu life book All20 and L1010 under targeted marketing.
Product Review:
Fujitsu 2 product; the Fujitsu M1010 with XP OS offers the following configuration: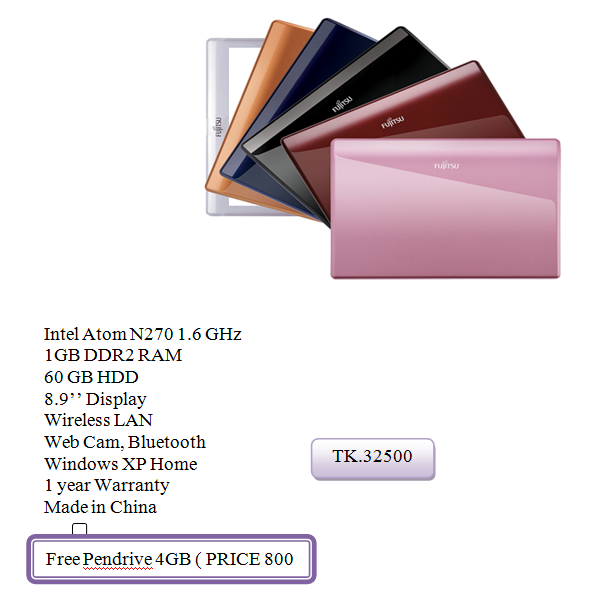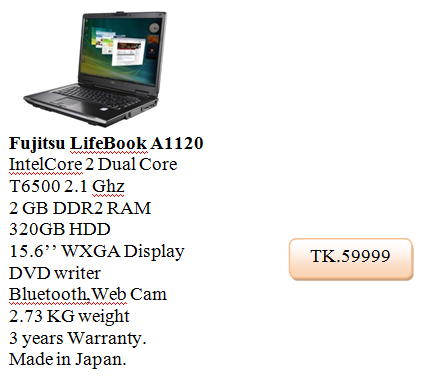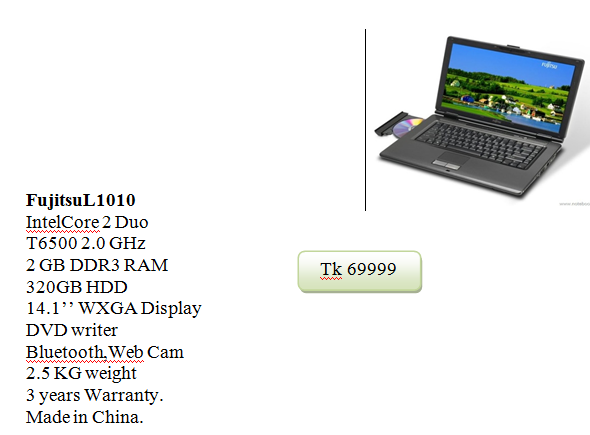 BCG Matrix :
The position of Acer is star point. This company is high growth and it produces high share business or product. Example, a minimum configuration 1GB RAM, with 160 GB hard disk with Bluetooth device and webcam price is 50,000.
The position of Asus is cash cow. This company is low growth and is produces high share business or product.
The position of Fujitsu is Question mark. This company is high growth business or product. It gives warrantee of 3 years compared to another laptop company which gives warrantee of 1 year only but has the same price as this company has.
The position of Samsung is Dog. This company is low growth and it also produces low share business or product.
Distribution Review:
Fujitsu- branded laptops will be distributed though a network of retailers in top 5-10 markets. Among the specific channel partners being contacted are.
Head office: in commercial area authorized dealer will sale promote the product Fujitsu.
Computer Stores: Ryans sale them on having computers and Decagon Valley will sale them on having 5% interest.
Online retailers: Clickbd.com will carry fujitsu laptops for a promotional fee.
SWOT Analysis:
Fujitsu has several powerful strength on which to build, but our major weakness is lack of brand awareness.
Strength:
Fujitsu is well known Japanese brand which will be first time in Bangladesh. Japanese products are more reliable than Chinese or Malaysian products.
Fujitsu is well known brand if used in a proper way can help to increase the sales volume.
Weakness:
In our market there are low priced laptops , i.e. Acer, Asus are available. In this market it is hard to sale to low earned people.
Laptops like Dell, Toshiba and Lenovo have a lower weight than Fujitsu. Normally everyone prefers a lower weighted laptop.
Opportunities:
Fujitsu can take prices as an opportunity to make marketing.
Fujitsu is a new brand in Bangladesh and has good opportunities to compete with the first selling cheap laptops like Acer and Asus. This is because though it is a Japanese well known brand, the pricing is not that high and is reasonable.
Threat:
 Bangladeshi market is very competitive and is unstable. People normally prefer lower priced products. So it might be a problem for Fujitsu to capture the market in early stage.
It may take longer than predicted to break even and make profits.
Objective:
During the first year we will target to sale approximately 2000-2400 Fujitsu laptops. The pricing will be fixed up 5% profit only. Our target will be just to break even with lower profit to capture the market.
We will try to increase the sales volume the sales volume by targeting students. The lower priced laptops will be promoted in private university students.
Issues:
A huge amount if investment is required to capture a market and to create a memorable and distinctive brand image which is already available in the outside world. It is important to focus on quality with regards to value which is not a problem for a well-recognized brand for Fujitsu.
Marketing strategy:
Marketing strategy comprises with its product differentiation which is measured by the positioning of the market.
First consumer target is the professional consumer.
Reason of target first consumer as professional is:
Interacting with family and colleges.
Stay in touch conveniently.
Second consumer target is student.
The reasons are part of studies
Can easily do daily assignments, presentation and communicating.
More comfortable to work than PC and easy to carry in every places.
Positioning strategy:
Fujitsu L 1010 plans to focus on:
Positioning MORE FOR LESS basis
More information capability (as we are providing 250 GB, 1 GB DDR3 RAM)
Easy to buy with exclusive offer a Free MODEM of 2GB
Fujitsu M 1010 plans to focus on:
Positioning MORE FOR LESS basis
Convenience
Easy to buy with exclusive offer of 4GB
Product strategy:
Fujitsu M 1010 will be sold with the 1 year warrantee
Also introduce 1010 for more compact, powerful model during the following year
Through the marketing campaign 3 steps should be followed:
1)      display on the product
2)      expose its packaging
3)      reinforced by its prominent
pricing strategy:
the prizing strategy will encourage the consumers to buy the larger amount because it will help them save money. Also by keeping the consumers' needs and satisfactions in our mind, as in priority, Fujitsu will strive to provide quality and affordable prices.
Distribution strategy:
Fujitsu's current target consumers who the dwellers of the DHAKA city but in near future we also target CHITTAGONG & SYLHET market. This means the products will be available only at potential area where student always visit and corporate areas GULSHAN, MOTTIJHELL.
Marketing Communication Strategy:
Mainly leaflets and banner posters will be used for advertisement. The leaflets will be distributed with newspapers. The posters will be displayed in the computer stores. We will also promote our laptops through radio and television channels.
Marketing research:
It will continue its research and survey after launching the product. Knowing what consumer like about the laptops and what they don't, are vital for the businesses to win a place in the minds as well as the heart of the user. Feedback will help to maintain a consistent, and moreover through research and service, we can provide user the impression of a new product.
Marketing organization:
Fujitsu chief marketing officer, Christopher K. Williams holds overall responsibility for all of the company's marketing activities. Beside this, we also have advertising manager, promotion manager, and regional sells in total six persons marketing organization. Fujitsu has hired worldwide marketing to handle national sells campaign.
Action Programmes:
The following are the summaries of the action programmes we will use in the first year to achieve our stated objectives.
January and February:
There is an upcoming trade fair in the end of January which will last till February where we will showcase our products. We will distribute leaflets in different corporate offices, school, colleges and universities so that they have an incentive to visit our stall.
March and April:
We will start an integrated billboards, radio (radio foorti), internet campaign targeting professionals and consumers.
May and June:
From may, we will start advertising in newspapers (daily stars, prothom alo and weekly magazines)
July and August:
From this month, we will use personal selling campaign, for example, our sells agent will go to different corporate offices and educational institutions.
September and October:
We plan to roll out a new national advertising campaign which will be featured by the well-known celebrities and highlight positive reactions of the consumers about laptops.
November and December:
As the multimedia advertising campaign continues, we will add consumer sells promotion tactics such as, giving away leather carrying cases as premiere.
Budgets:
| | |
| --- | --- |
| Sales Revenue | 912,925,600 |
| Less:  Cost of Goods Sold | 703,678,600 |
| Gross Profits | 209,247,000 |
| Less: Operating Expenses: |   |
| Administrative & Selling Expense | 67,313,600 |
| Depreciation Expense | 3,677,900 |
| Bank charges & commission | 836,700 |
| Total Operating Expenses | 71,828,200 |
| Operating Profits | 137,418,800 |
| Non-operating income | 2,760,700 |
| EBIT | 140,179,500 |
| Add: Interest Income | 400,000 |
| Less: Interest Expense | 50,117,900 |
| Net Profits Before Taxes | 90,461,600 |
| Less: Taxes | 18,980,000 |
| Net Profit After Taxes | 71,481,600 |
|   |   |
Control:
Fujitsu will plan for closely monitor quality and customer service satisfaction. It will enable the product to react quickly in correcting any problems that may occur. 24 hours instant support service, (e.g. 01616 000 111) via call center and one day express service will be included to control the management of this product. Other early warnings signals that will be monitored for signs of deviation from the plan which include monthly sells (by segments and channels) and monthly expenses.