On Mars, there's a celebration going on right now, with all of the planet's rotorcrafts (one) celebrating Ingenuity's record trip. The brave helicopter (just observed from orbit) has sent back a video so that we ordinary Earthlings may see what it's like to blast off from the surface of Mars. "Ingenuity's downward-looking navigation camera provided us with a breathtaking sense of what it would feel like gliding 33 feet above the surface of Mars at 12 miles per hour for our record-breaking flight," said Teddy Tzanetos of NASA's Jet Propulsion Laboratory in Southern California, who led the Ingenuity team.
Ingenuity soared to a height of 10 meters (33 feet) and reached maximum speed in three seconds as it flew southwest. A succession of sand ripples, followed by boulder fields, before ending in a landing-friendly length of flat, featureless ground, are notable markers on the Martian landscape below. While it was Ingenuity's fastest flight on Mars, the real-time speed was nearly five times slower than the film, which has been sped up to cut the entire flight duration from 161.3 seconds to under 35 seconds. In that time, it soars 704 meters (2,310 feet) across Mars at a speed of roughly 5.5 meters per second (12 miles per hour), which is double the speed of an American crocodile.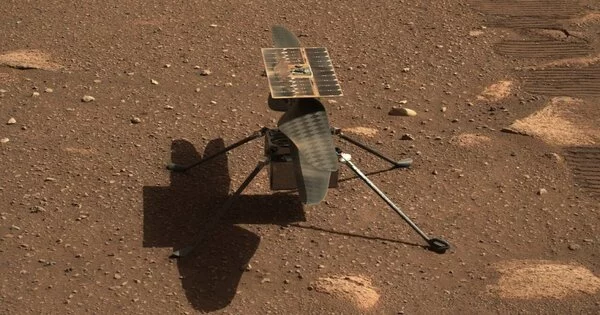 The record-breaking flight took occurred on April 8, exactly a year after Ingenuity first lifted off on Mars in April 2021. There's a lot to be happy about, but there's still work to be done, as Ingenuity prepares for its 29th trip. Ingenuity does these flights independently, despite the fact that it seems to be a remote-controlled vehicle. The flight plan, on the other hand, is designed by "pilots" at JPL, who send it to the Perseverance Mars rover, which passes it to the Ingenuity helicopter.
Ahead of the helicopter's first flight, we chatted with Taryn Bailey, a NASA mechanical engineer who is part of team Ingenuity, to learn more about what it takes to join some of the world's brightest minds and perform experiments on Mars. The interview may be found here.) Once in the air, Ingenuity can monitor and adapt to the scenery as well as the aircraft's progress using its internal sensors and flying computer. The helicopter recently lost contact with mission control due to a little power outage, but now that its solar array is fully charged, we can expect more footage like this from everyone's favorite Mars helicopter.